With 5 kids I love any dinner idea that is easy to make and something the entire family will enjoy.  This build your own burrito bar is a simple way for everyone to enjoy dinner and be able to customize it however they want.
Once the burrito bar is ready, I usually make a few easy side dishes to go with it.  My family loves having a batch of Spanish Rice, warm tortilla chips with my famous Homemade Salsa or fresh Guacamole on the side.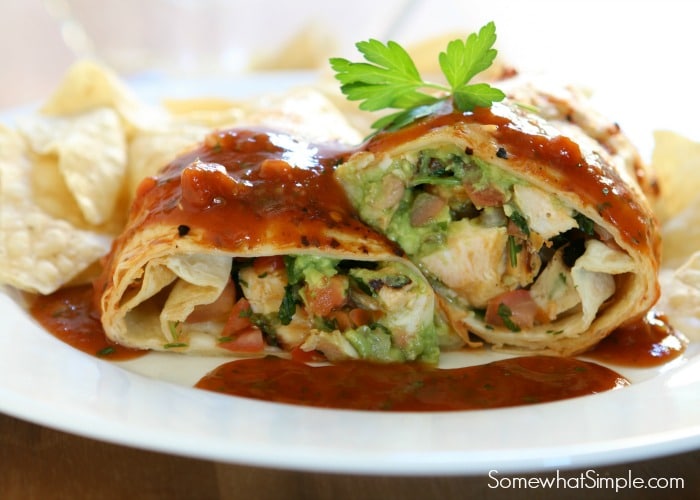 Burrito Bar
If you're looking for an easy dinner tonight- we've got you covered! Putting together a build your own burrito bar can be as simple or as fancy as you want it to be. This is one of those dinners I use all the time. It can be tailored to fit every budget, dietary need, allergy, taste preference etc.
Lay out any ingredients that work well for your family and then let everyone add what they want to their own burritos- everyone is happy. This works especially well for picky kids (and husbands)!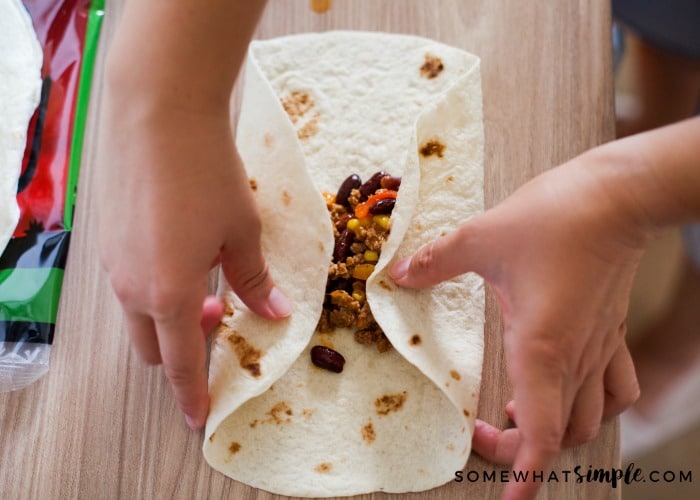 Burrito Bar Ideas
So what I thought I would do today is make a list of all the ingredients my family uses or has used for our burrito bars so when you're planning your menu this week (or planning for dinner tonight) you can have a bunch of variety to go off of.
If you're feeling extra ambitious, you should try this recipe for the best Homemade Flour Tortillas to add to your burrito bar.  I prefer the ease of just using store-bought tortillas but there's nothing like the taste a fresh made one.
Burrito Bar Ingredients
Here's a list of the ingredients you can put in a burrito.  We typically use all of these when setting out a burrito bar but by no means is this an exhaustive list.  I will also open up the comments on this post so you can add  any ingredients to the list that I may have forgotten. Here we go:
Tortillas – flour or corn
Refried beans
Black beans
Spanish rice
Cheese
Tomatoes
Avocado
Sour cream
Salsa
Lettuce
Onions
Cilantro
Olives
Bell Peppers
Burrito Bar Tip
We always have left over ingredients when we're done having dinner.  What I love about a burrito bar is that the ingredients are so simple you can either have burritos again the next day or save the ingredients for numerous other dinner recipes.  One of my favorites to use up the extra ingredients are these Crock Pot Chicken Tacos.  Simply store all of the extra ingredients in an airtight container and put them in the refrigerator.  They should stay fresh for up to five days after you cut them up.
More Easy Dinner Ideas
How To Make Your Own Burrito Bar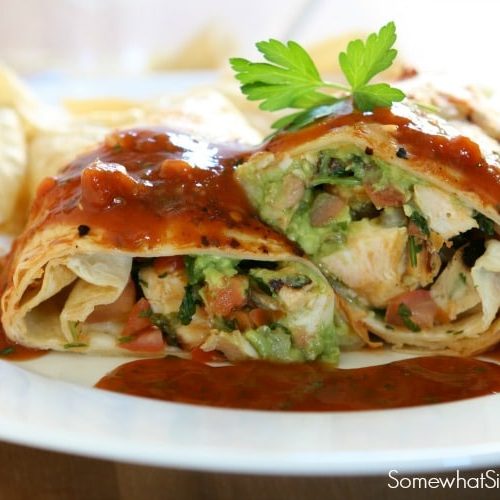 Burrito Bar
This build your own burrito bar is a simple way for everyone to enjoy dinner and be able to customize it however they want.
Ingredients
Tortillas- flour or corn

Beans- re-fried beans

black beans, kidney beans

Meats- ground beef

strip steak, grilled chicken

Spanish Rice

Cheese

shredded

Lettuce

shredded

Tomatoes

diced

Olives

sliced

Bell Peppers

diced

Onions

diced

Cilantro

Salsa

Sour Cream

Guacamole
Instructions
Heat the tortillas, beans, meats and rice, then serve the rest fresh!

Serve with some chips and salsa, Spanish rice, re-friend beans, corn-on-the-cob etc.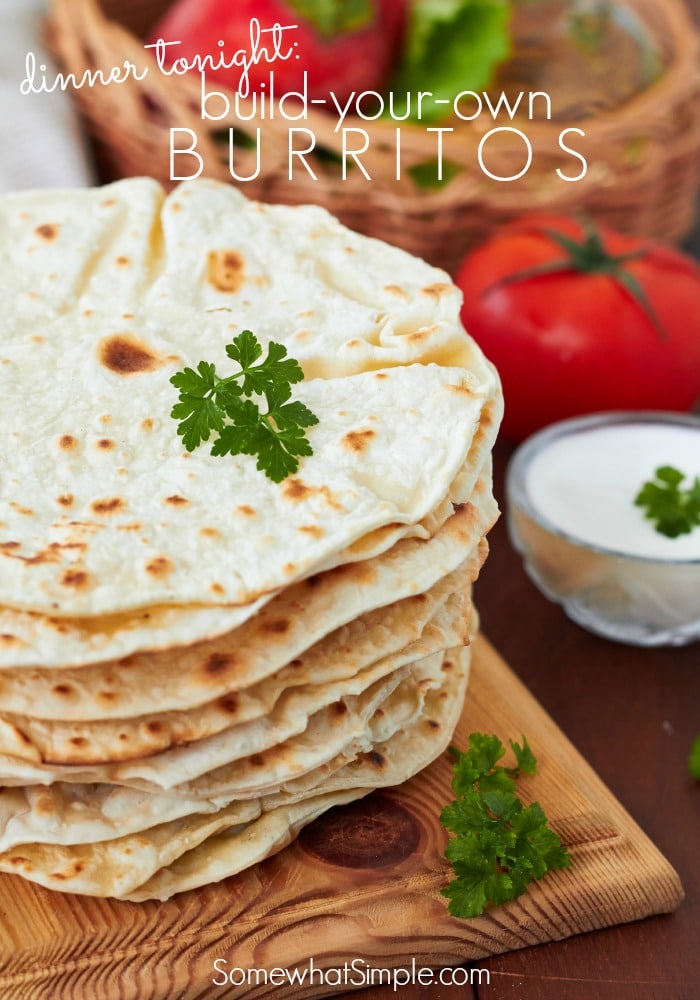 ENJOY!