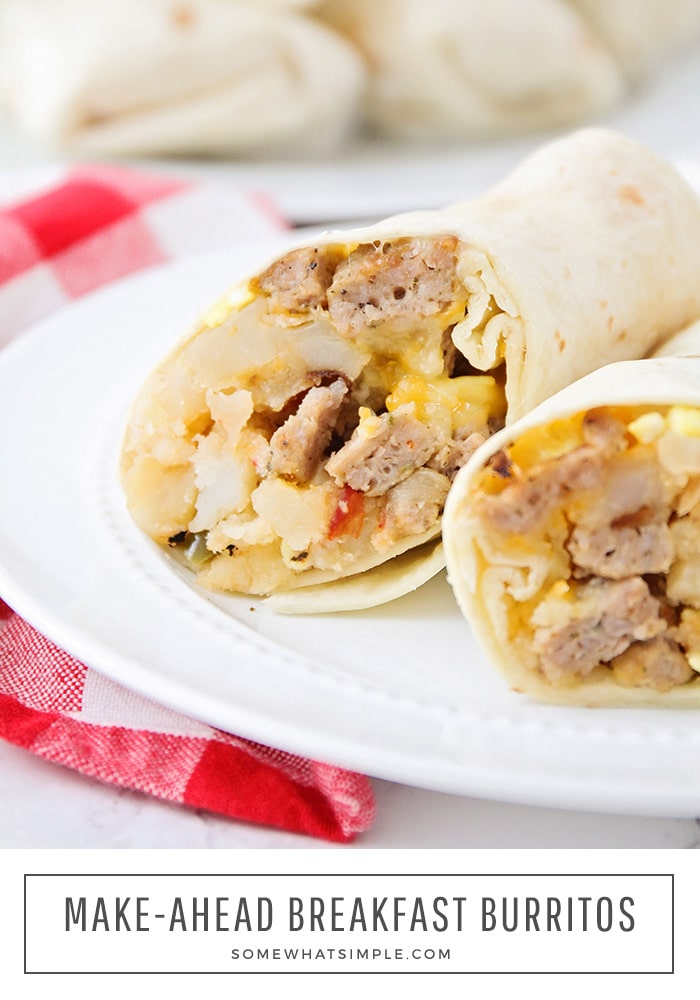 These breakfast burritos are so easy to make and a perfect breakfast to make ahead of time for those busy mornings! Enjoy this delicious recipe in the morning for breakfast or freeze them to eat later.
Eggs are one of my favorite things to eat for breakfast. Some of my other favorite breakfast recipes that use eggs are these Make Ahead Breakfast Sandwiches, Breakfast Egg Casserole and this Ham & Cheese Quiche recipes.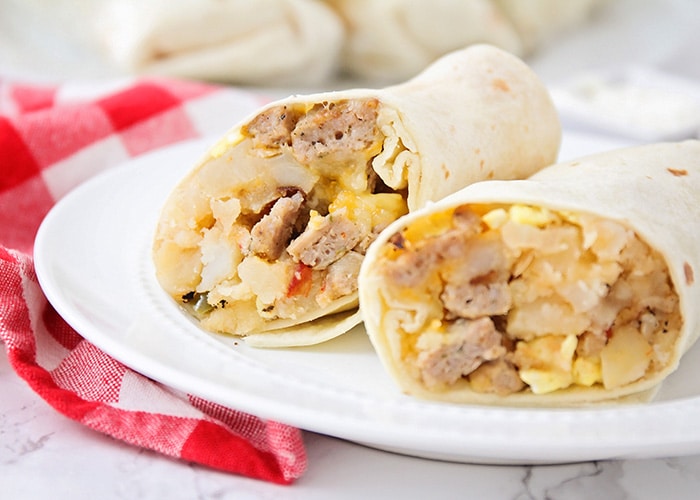 An Easy Make-Ahead Breakfast
Back to school time is just around the corner, and I can hardly believe it! It's time to get back into our usual routine of school drop offs, activities, and homework. I'll miss the lazy summer days of running through the sprinklers and eating watermelon on the porch, but I'm excited to get back into our family routine and have a little more structure to our day.
The older my kids get, the busier our routine seems to get, and school mornings are always the worst! It seems like we're all running in different directions, trying to find that missing math homework sheet, or tracking down the running shoes someone needs for PE that day. I don't usually have the time or energy to put together an elaborate breakfast, and that's why these make-ahead breakfast burritos are a lifesaver! I can whip up a batch on Sunday night and have a hearty breakfast for the kids ready to go all week, with almost no effort on my part. My kids will always eat them without complaining, and they're a favorite at our house!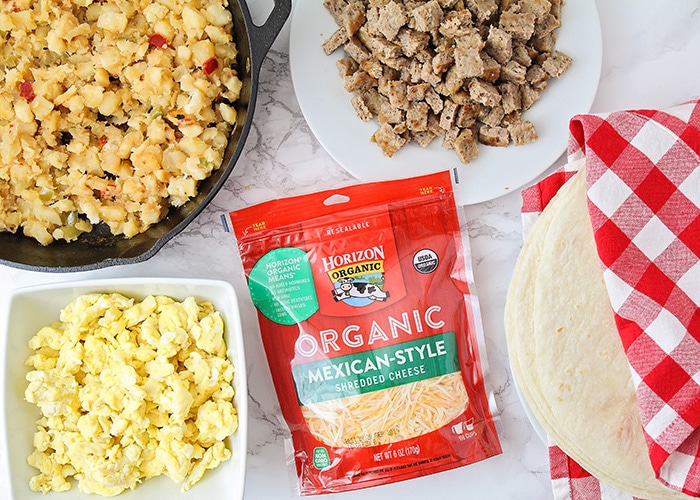 How To Make Breakfast Burritos
Cook The Ingredients – First, you'll need to cook the frozen potatoes according to the directions on the package. Next, you'll want to scramble the eggs in a large skillet. Depending on how many burritos you plan to make, you may need to make a couple batches of eggs. Finally, you'll want to warm up the frozen sausage patties in the microwave and then cut them into small pieces.
Assemble The Burritos – Once you've got all of your ingredients cooked and ready, it's time to assemble your breakfast burritos! Start with a layer of potatoes, then top with scrambled eggs and sausage, and finally a sprinkle of shredded cheese.
Optional Ingredients – If you plan to eat these right away, you can add additional ingredients like sour cream and salsa before rolling them up. If you plan to make them ahead of time, I would wait on these ingredients until you're ready to eat them, otherwise they'll get soggy.
Wrap'em & Store'em – Roll up your burritos and either serve them or store them to be eaten later.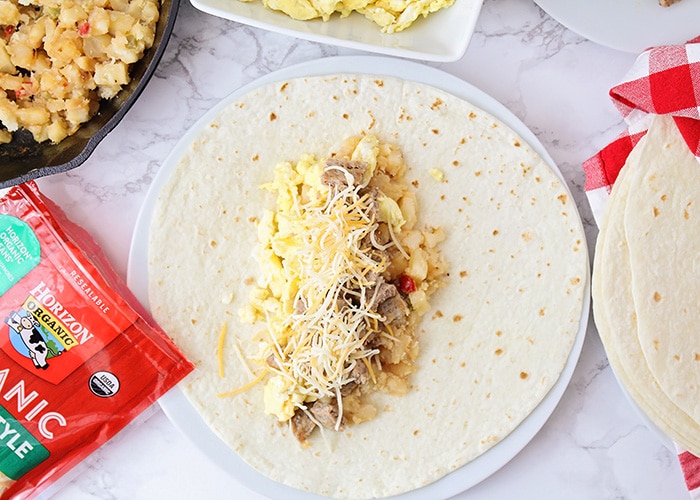 How To Fold A Breakfast Burrito
Start At The Edges – Now that you've loaded up your burrito with goodness, it's time to fold it! It's important to fold it the right way, or all of your delicious filling is going to fall out when you eat it and make a mess everywhere. Start by folding two of the edges toward the middle of the burrito…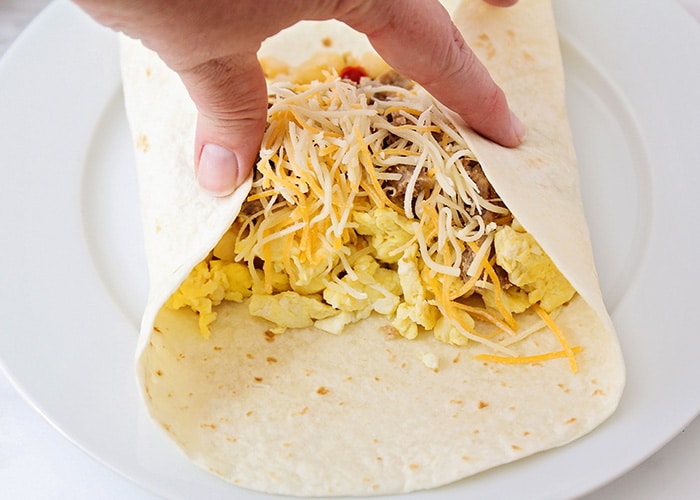 Tuck & Roll – … then tuck the bottom edge over the filling and start rolling it up. You'll want to tuck it in tight and keep it snug while you're rolling it, so the finished burrito stays together.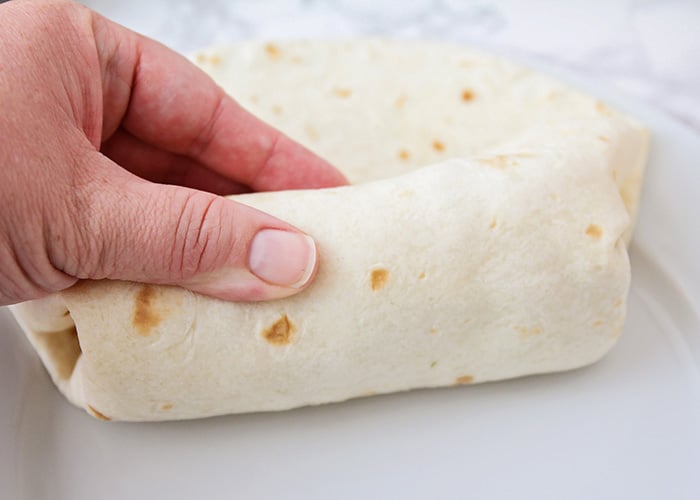 Storage & Reheating
Storing Them – Once your breakfast burritos are all rolled up, wrap them in foil or plastic wrap, and put them in the fridge until you're ready to eat. They'll stay fresh in the fridge for about 4-5 days so they'll be good for breakfast all week.
Freezing Breakfast Burritos – If you plan on freezing some to be used even further down the road, I like to first wrap them in plastic wrap and then cover them in foil. Wrapping them in two layers will better protect them against freezer burn. In the freezer they'll stay fresh for about 2 months.
Reheating – When you're ready to heat them up for breakfast, just remove the wrapping, place them on a microwave safe plate, and microwave for 60-90 seconds, until heated through. If they're frozen, I like to let them defrost in the fridge overnight before reheating them in the morning.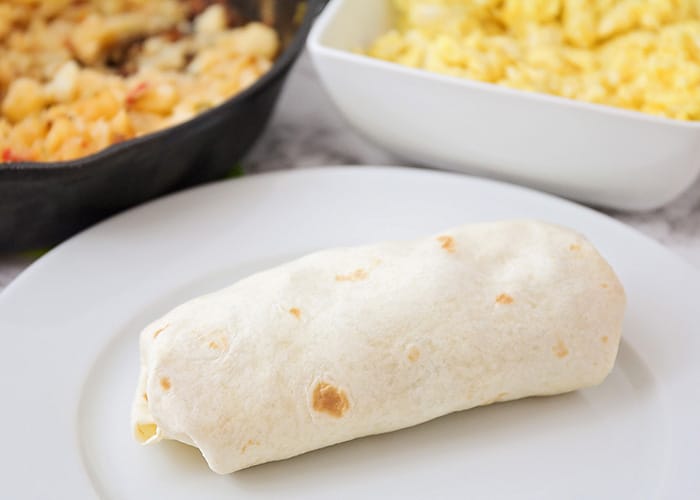 Recipe Tips
Easy Rolling – I try to keep all of the fillings in the center of the tortilla to make it easier to roll up.
Be Careful With Wet Ingredients – Because I usually make these burritos ahead of time, I leave out the sour cream and salsa because they can make the burritos soggy while they're sitting in the fridge. If you're eating them right away, feel free to add salsa, avocado, sour cream, and/or fresh cilantro!
How To Keep Eggs From Burning – I hate having that overcooked layer of eggs when I'm scrambling them in a frying pan. It takes a little extra effort but I like to use a flat plastic spatula turner to scramble the eggs. I'll frequently scrape the spatula across the bottom of the frying pan while the eggs are cooking to keep that thick layer from forming.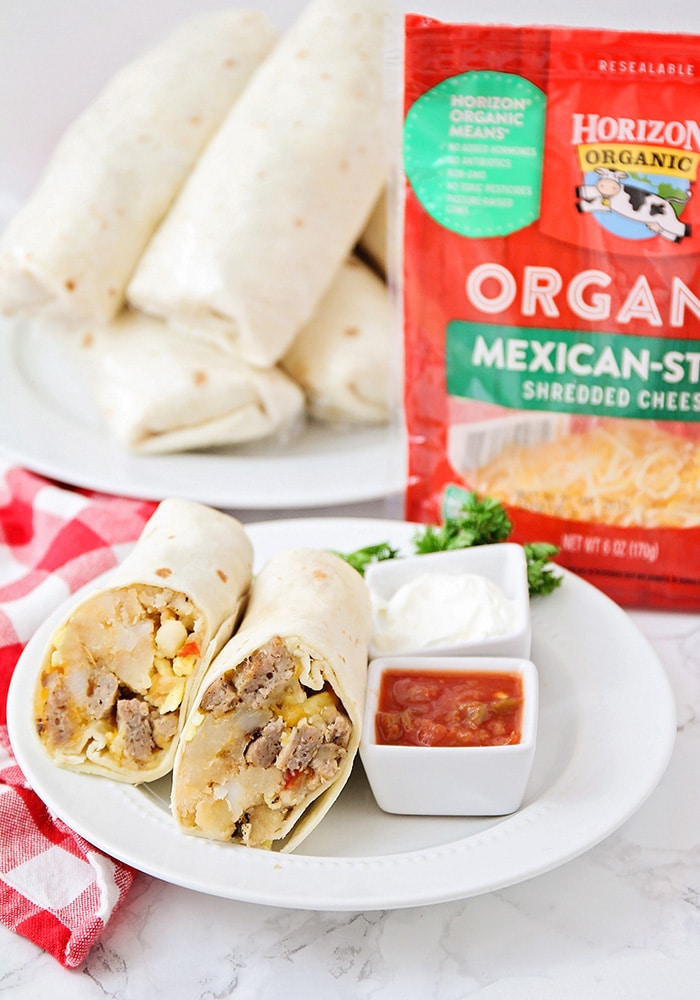 More Easy Breakfast Recipe
The recipe below makes eight burritos, but If you're cooking for a bigger crowd, you could easily double or triple the recipe. Let us know if you make these burritos by leaving us a comment below, or by tagging us on social media.
Make Ahead Breakfast Burritos Recipe
These make-ahead breakfast burritos are a delicious way to start the day, and they make busy mornings easier!
Ingredients
1

package frozen potatoes O'Brien

,

or hash brown potatoes

8

eggs

salt and pepper to taste

8

Tyson frozen sausage patties

1 1/2

cups

shredded cheese

8

burrito size flour tortillas

,

warmed
Instructions
Cook the frozen potatoes according to the package directions.

Preheat a medium nonstick skillet over medium heat. In a medium bowl, whisk together the eggs until lightly beaten. Pour the eggs into the preheated skillet, and cook, stirring frequently to break up the eggs, until they are still soft but cooked through. Add salt and pepper to taste.

Warm the frozen sausage patties in the microwave according to the package directions, then cut into bite sized pieces.

To assemble the burritos, add a scoop of potatoes to the middle of a warmed tortilla. Sprinkle scrambled eggs and sausage over the top, then top with a few tablespoons of shredded cheese. Fold two sides of the tortilla towards the middle, covering the filling, then roll the tortilla up to make a burrito.

Wrap the burritos in foil or plastic wrap and refrigerate until ready to use. When ready to eat, remove the wrapping and microwave on high for 60-90 seconds, until heated through.
Nutrition
Other Notes
ENJOY!