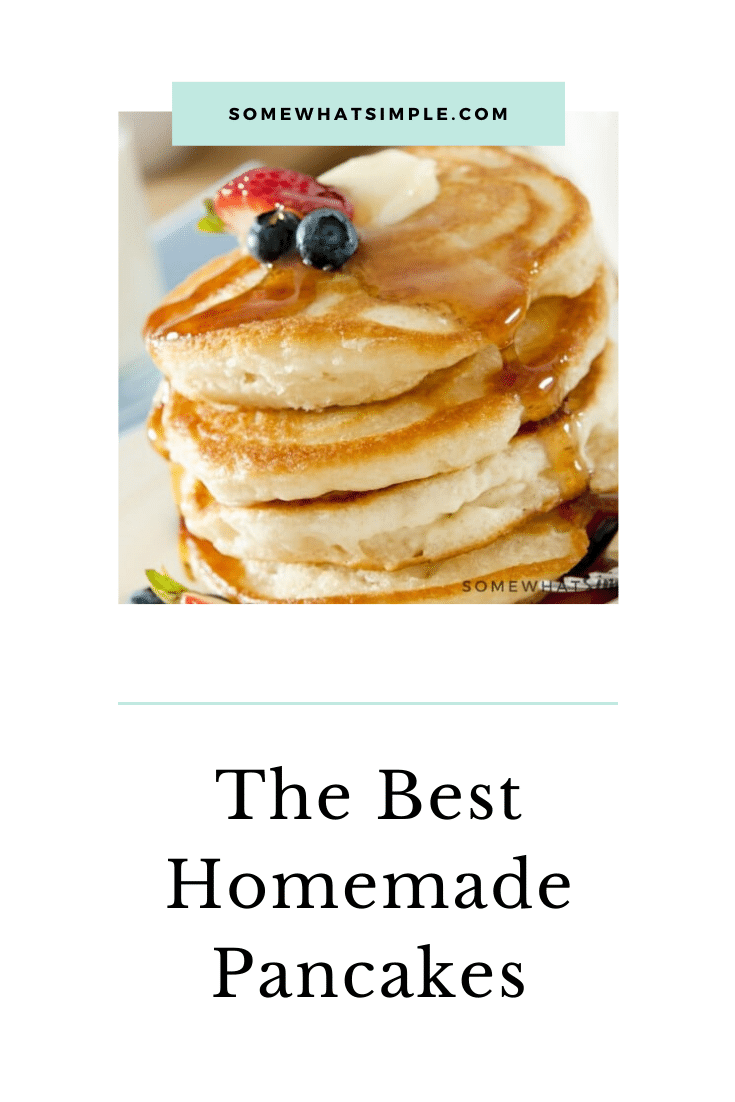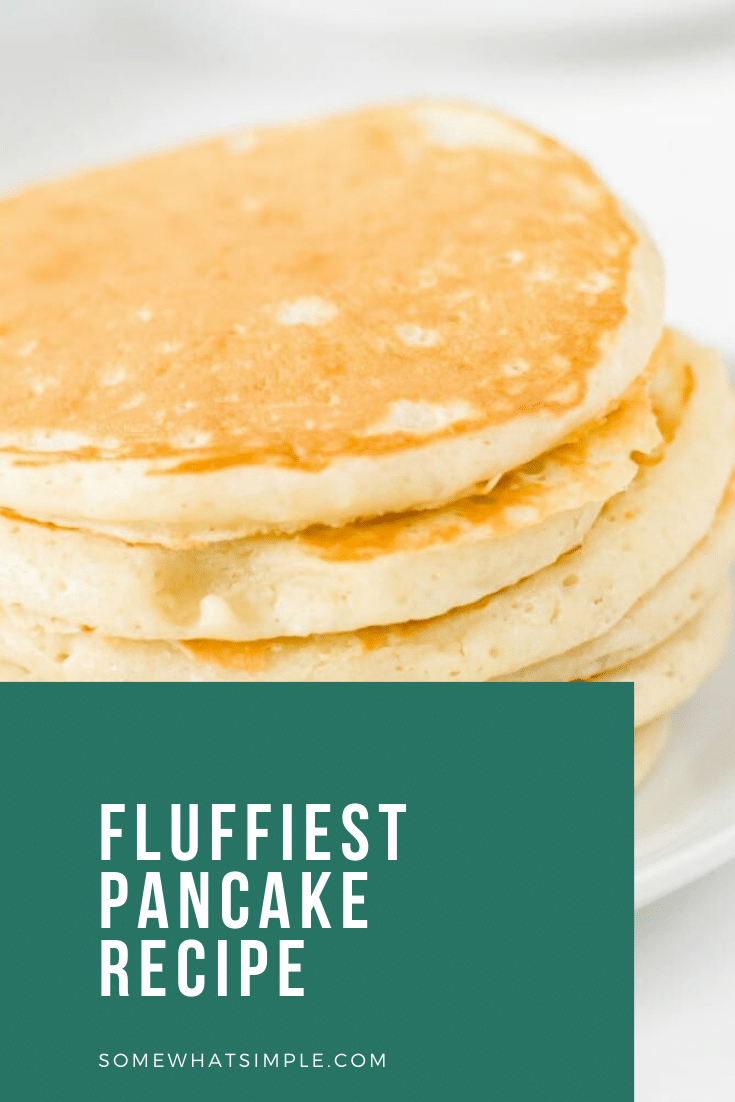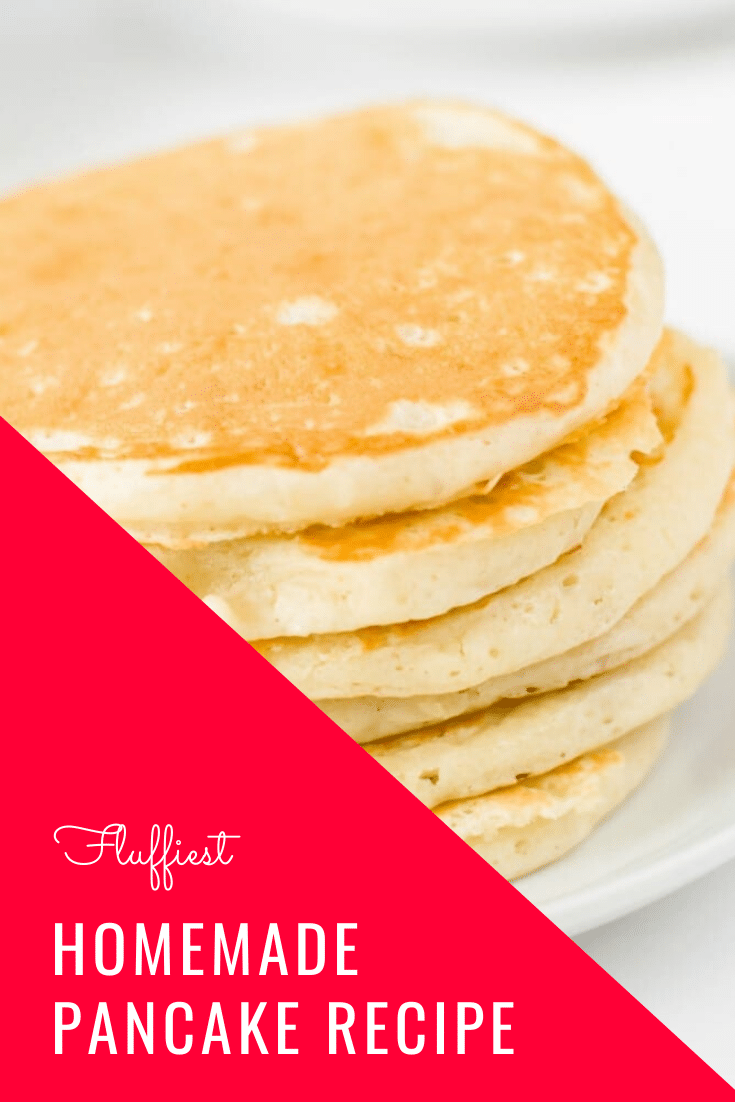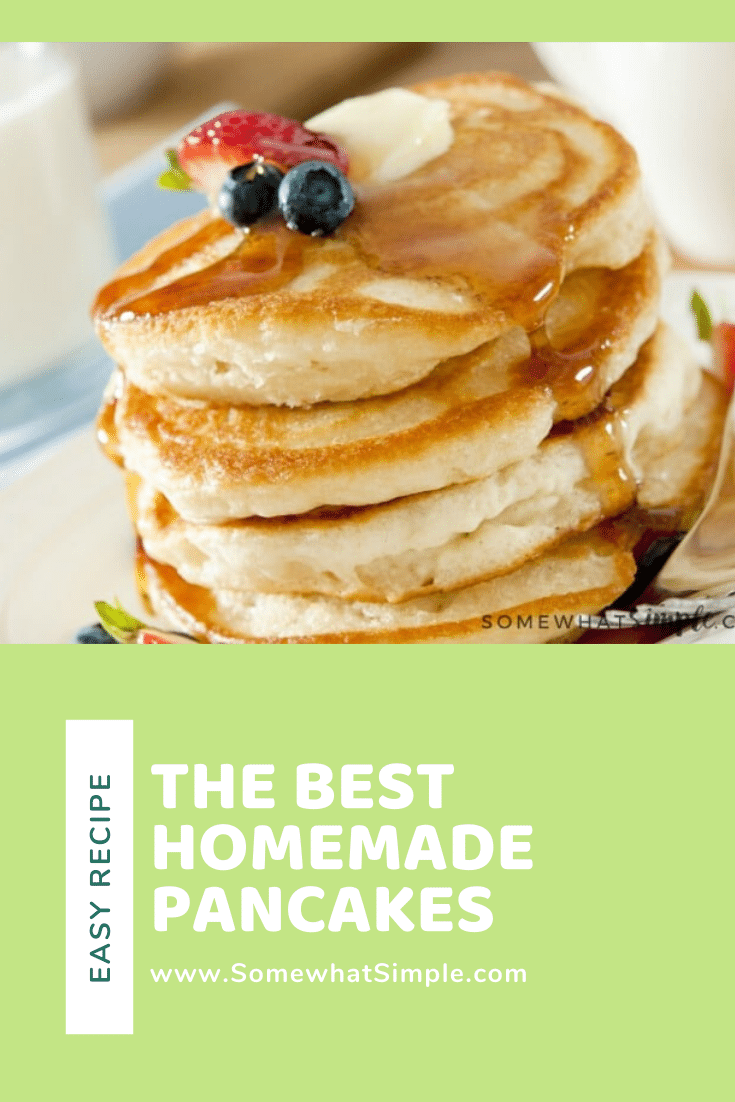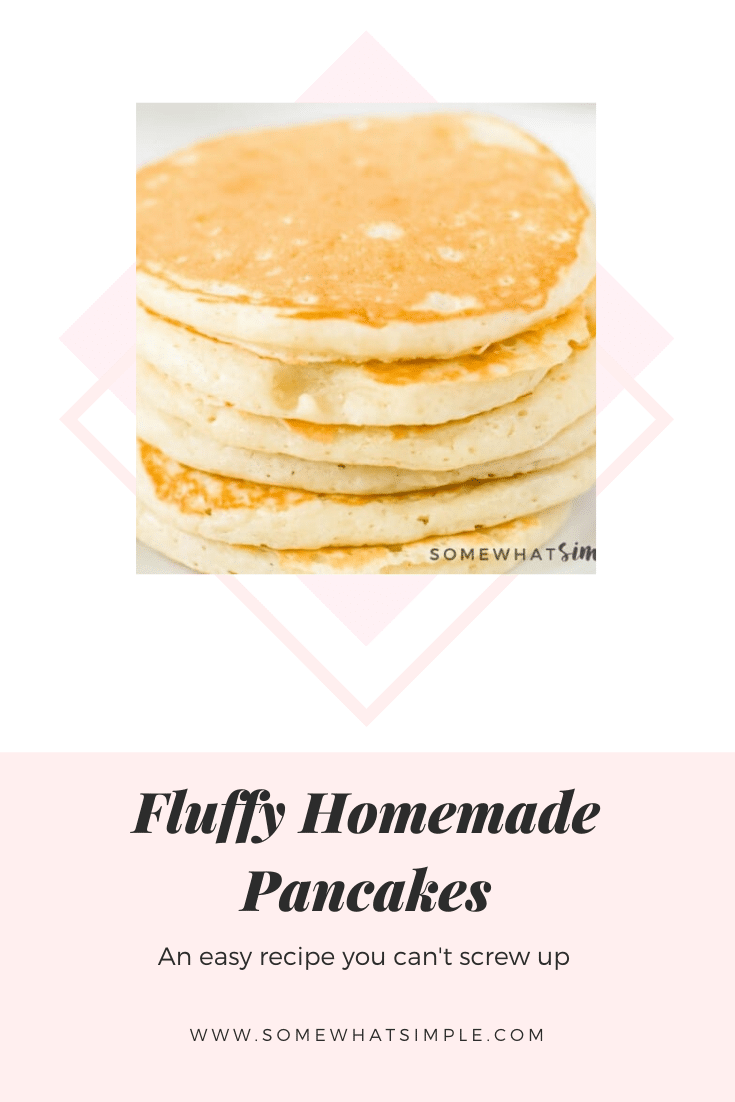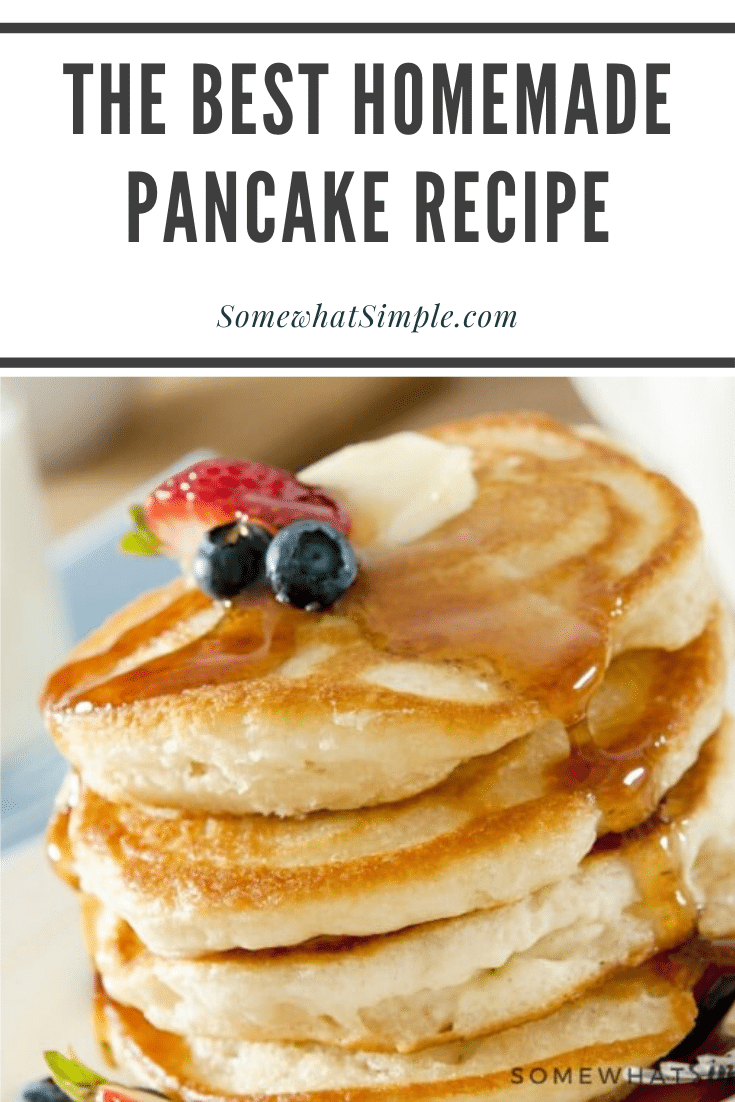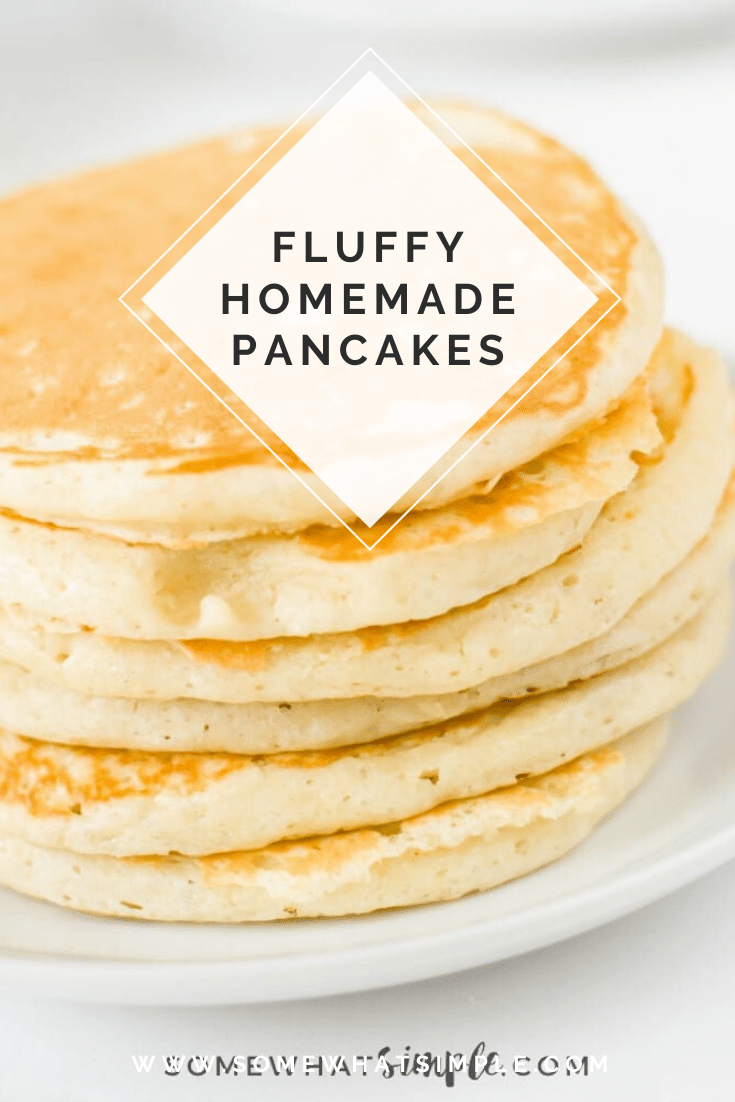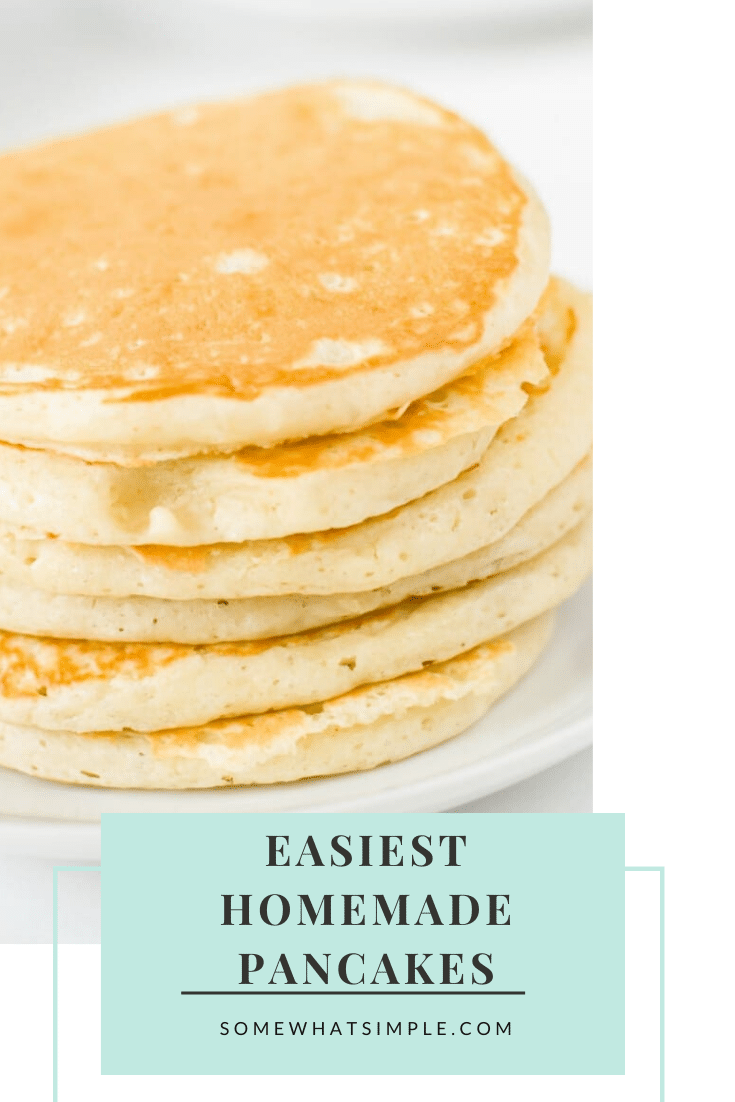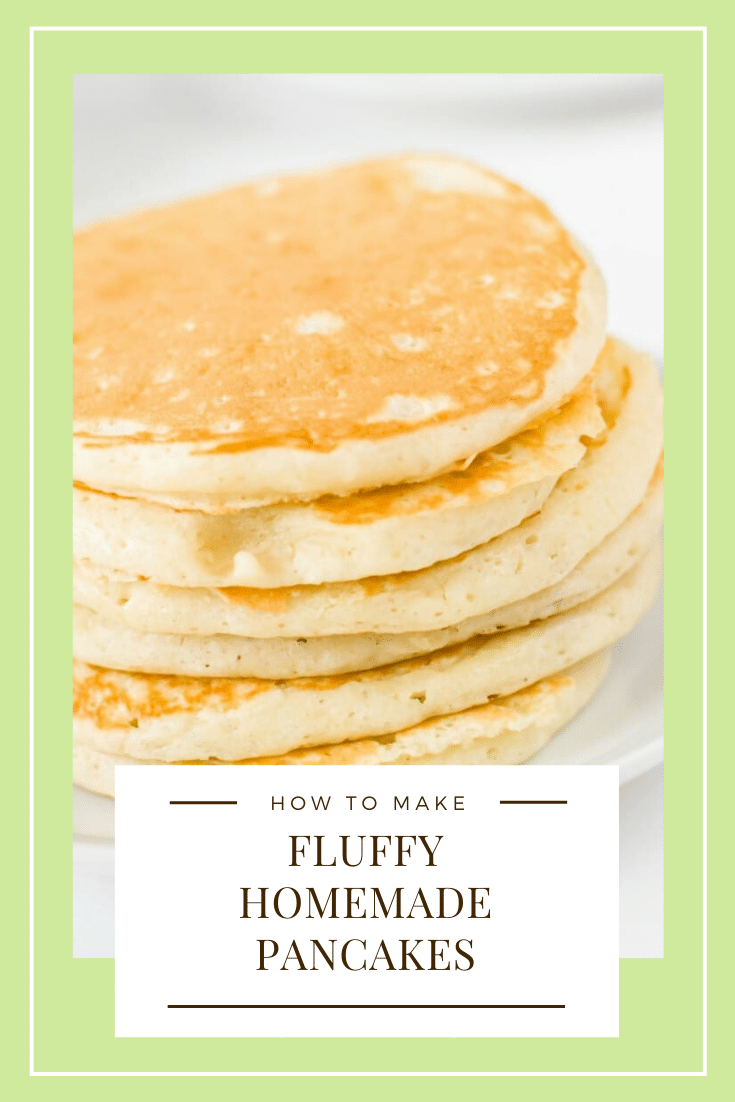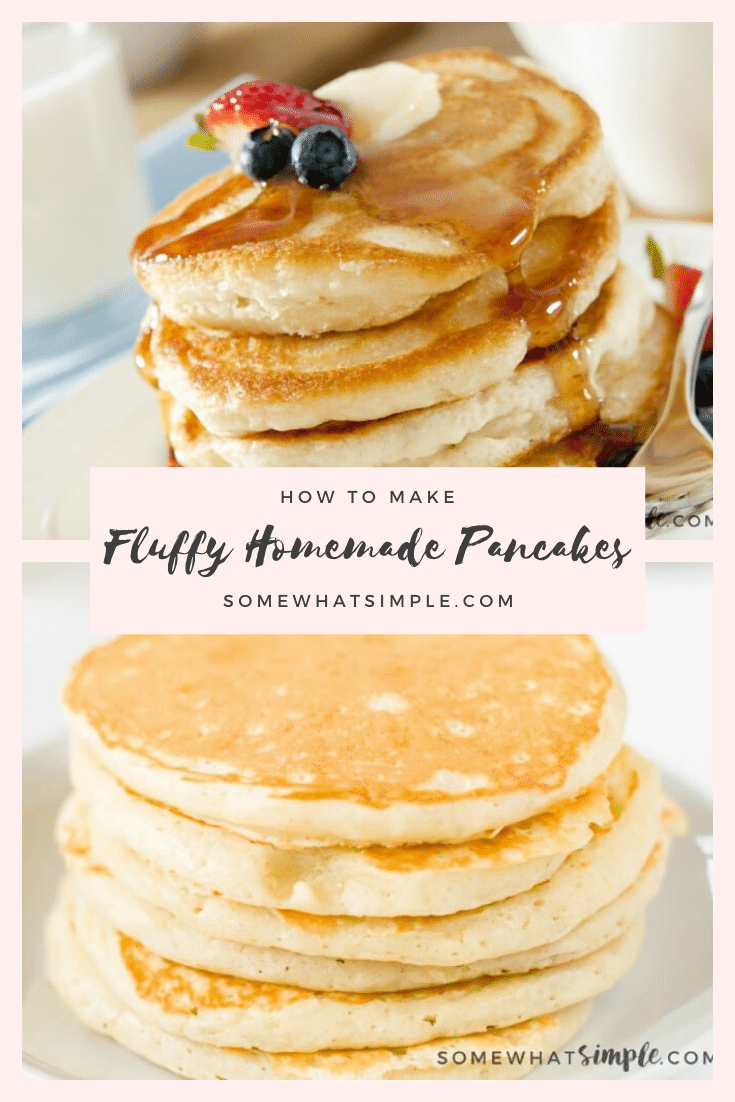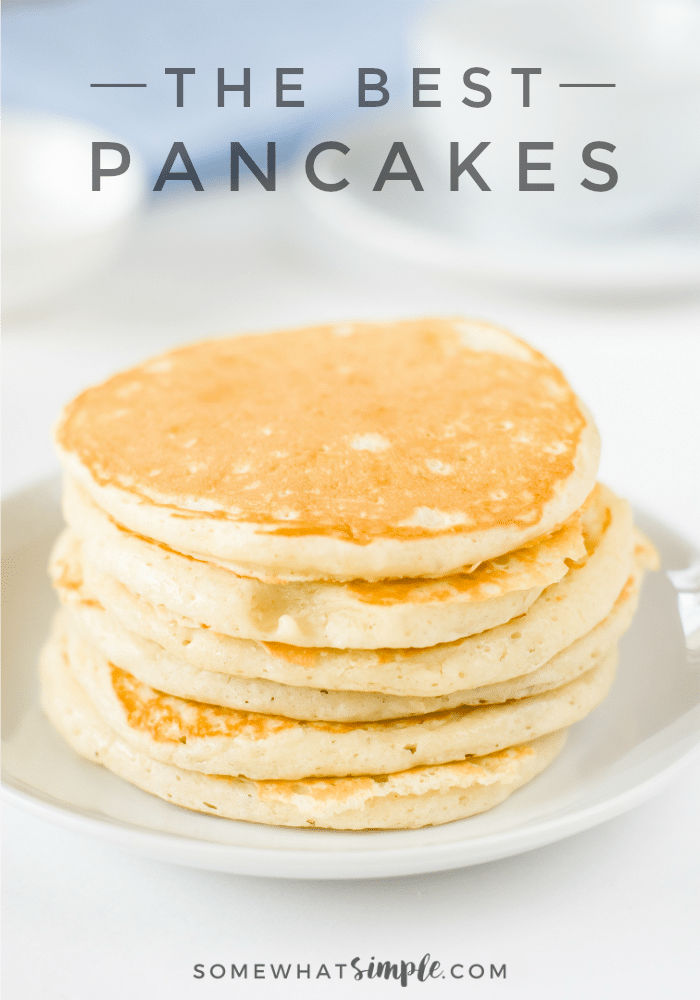 This is my grandma's secret recipe for the best homemade pancakes. They are fluffy, sweet and guaranteed to be the best you'll ever eat!
Serve these fluffy pancakes with a side of Bacon, Poached Eggs, or a slice of Omelet Breakfast Casserole and your family will be begging to eat these every morning!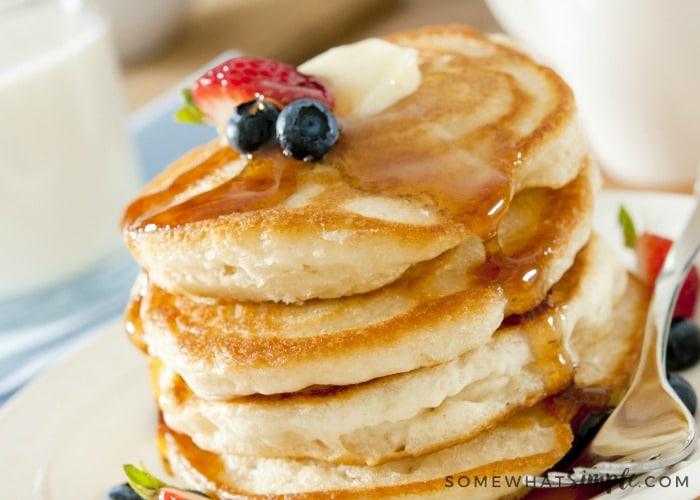 Simple Homemade Pancakes
My grandma made the best pancakes ever. I was 11 years old when she passed away, but I can still remember the smell and the taste and the texture of her family-favorite pancakes. You didn't even need syrup because they were so fluffy and sweet… and that is a lot for someone like me to say because I am one who usually drowns my food in any sauce and condiment I can get my hands on!
Some of my fondest memories of food as a child were eating pancakes at grandma's house. (I miss my grandma and her pancakes more than you even know!) I loved having sleepovers at her house for a lot of reasons, but topping the list was definitely because breakfast the next day was always a treat. Having grandma's pancakes in the morning was as good as having cupcakes for breakfast! They were so deliciously sweet!
And she would always make a TON of pancakes (she at least double the recipe, if not tripled it!) and we would snack on them all day long. We'd help ourselves to the extra in the fridge and carry around a cold pancake while playing with our cousins! 🙂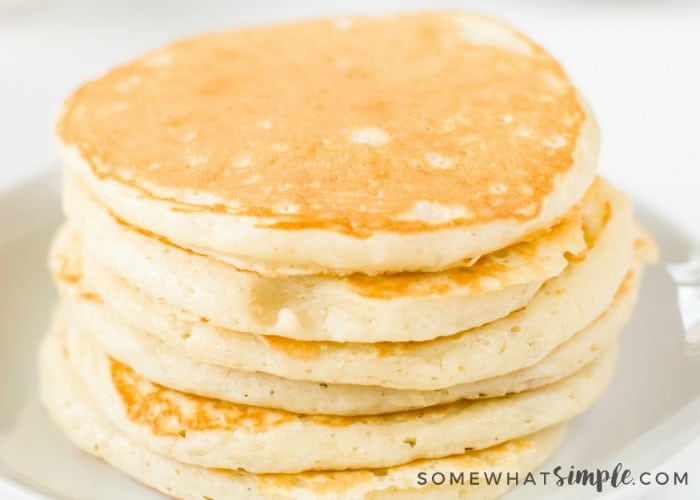 Grandma's Easy Homemade Pancake Recipe
From what I understand, she wrote down the recipe several times , but since she never really measured the ingredients when she made them, no one could ever duplicate her recipe exactly. (I am beginning to think she must have had some magic touch or something.)
Since her passing almost exactly 25 years ago, several of her 10 daughters have searched high and low for a recipe similar to the one she used, but nothing even tweaked or copied has come close… until now!
My aunt Candace emailed me one day several years ago with the news that she finally found the closest recipe yet!
It was love at first bite and happy tears may or may not have been shed!
I literally made these pancakes probably 5 times in the first 2 months and we still make them in my home all the time. This has become the only recipe I ever use, and though they are not exactly what I remember them to be from grandma's griddle, these pancakes are pretty freakin' fantastic!
And so my search is officially over. It is time to toss the pancake mix. I am 100% satisfied with this recipe, and you will be too.
Below is a short video we made of the simple process, but the written recipe is down below, so keep scrolling. 🙂
How To Make Homemade Pancakes
I should probably put in some sort of sugar disclaimer, are you ready for this? These pancakes use a lot of sugar! (Which is what I remember about my grandma's pancakes too!)
In fact, I remember one time, one of my aunts accidentally put salt into grandma's sugar canister, so she made an entire batch of pancakes for the family with a TON of salt. I remember being one of the first to taste the pancakes and I thought I was going to DIE!!! (So don't make that same mistake when you make your pancakes, ok?)
And I wish I could apologize for this amount of sugar or offer an alternative, but I'm not even sorry about it because they taste so good! (Haha!) If you're looking for a sugar-free or healthier pancake recipe, you might want to pass on this. (No worries or offense taken, we can still be friends!)
OH, and another word of caution – there is also a BIG difference between Baking SODA and Baking POWDER. I've mixed the two up when making these pancakes not once, but a few times and the result is less than fantastic! (To see what I mean, make sure you watch the video above. We actually caught one of these mix ups on camera… and it was not my best moment!)
Tip For Making Homemade Pancakes
I learned from my mother in-law to put a small cap full of vegetable oil on your griddle before pouring your batter. This will make the outside of your pancakes just a little crispy, but the insides will still be soft and fluffy! YUM!!!!
Best Toppings For Homemade Pancakes
I have a sweet tooth, so I love to add chocolate chips after I pour the batter on the griddle
Seasonal fresh fruit like blueberries, strawberries and apples
Peanut butter is a savory treat
You can't go wrong with the classic maple syrup
What Are Other Pancake Recipes?
Here are a few other homemade pancake recipes that my family loves!
Tools Used To Make These Simple Pancakes
I love my Presto griddle but any brand will work great
A large mixing bowl to mix the pancake batter
My favorite knives for slicing fruit to put on top of your pancakes
A box of gallon freezer bags if you plan to freeze some for later
Can I Freeze Homemade Pancakes?
Yes, you can definitely freeze these. In fact, I love to make an extra batch of these pancakes and freeze them so my kids can have them for breakfast during our hectic mornings. Just put them in a freezer bag and pull them out when you're ready to eat them. I would use them within 3 months of freezing them.
Best Simple Pancake Recipe
Seriously, how good do these homemade pancakes look?
My grandma would seriously be so proud. (I was always her favorite anyway!) I mean, they aren't exact to her pancake recipe, but they are pretty fantastic. Also, my husband thinks I have this perfect thought in my mind of how the pancakes were, and even if this recipe is 100x's better than my grandma's, I won't ever let anything compare!!! … he's probably right.
Ok, enough of this mindless chatter – here is the recipe that will replace all others:
Simple Homemade Pancake Recipe
A 15-Year Quest To Duplicate Grandma's Famous Pancakes Results In The Discovery Of The Most Delicious Recipe Ever. They are the fluffiest and sweetest you'll ever find!

Ingredients
2 2/3

cups

flour

,

sifted

6

tsp

baking powder

1

cup

sugar

1

tsp.

salt

4

eggs

,

beaten

2

cups

milk

4

tbs.

cooking oil
Instructions
In a large bowl, whisk dry ingredients together.

In a separate smaller bowl, mix together to eggs, milk and oil.

Add the wet ingredients to the dry ingredients and stir just until moistened. *Don't over mix, the batter will be lumpy.

Bake on your griddle or stove top until golden brown on both sides.

Serve with fresh fruit, butter, syrup etc... or eat them plain!
Nutrition
Serving:
1
Pancake
·
Calories:
306
kcal
·
Carbohydrates:
49
g
·
Protein:
7
g
·
Fat:
9
g
·
Saturated Fat:
2
g
·
Cholesterol:
70
mg
·
Sodium:
240
mg
·
Potassium:
367
mg
·
Fiber:
1
g
·
Sugar:
23
g
·
Vitamin A:
174
IU
·
Calcium:
174
mg
·
Iron:
2
mg
Other Notes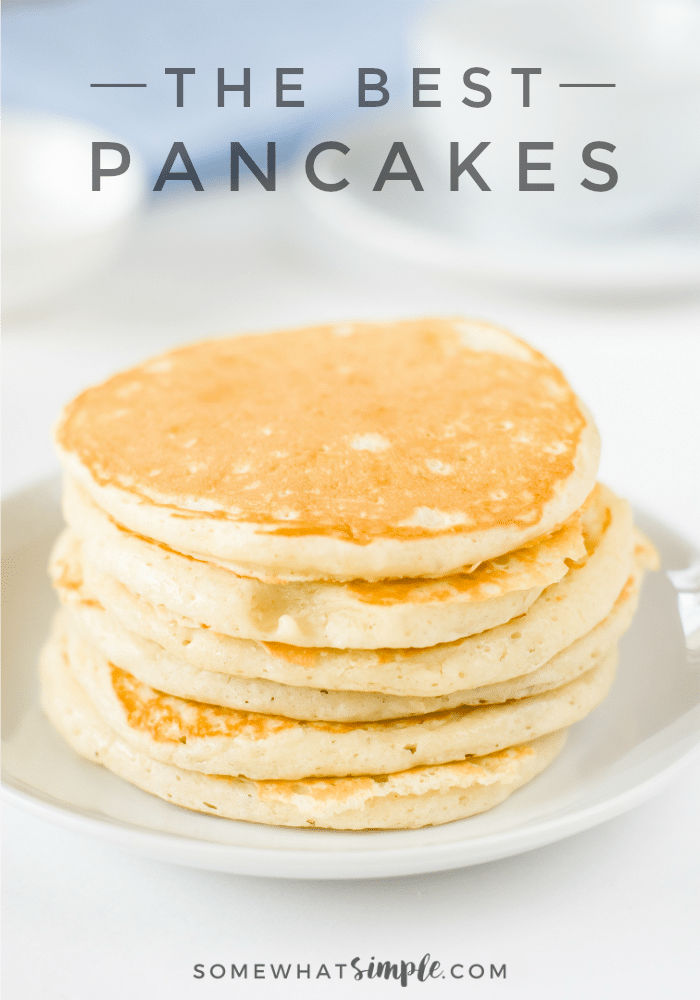 . . . . .
Have I convinced you to try these yet? Let me know your thoughts in the comments section below!
This recipe originally published on Somewhat Simple in April 2010.