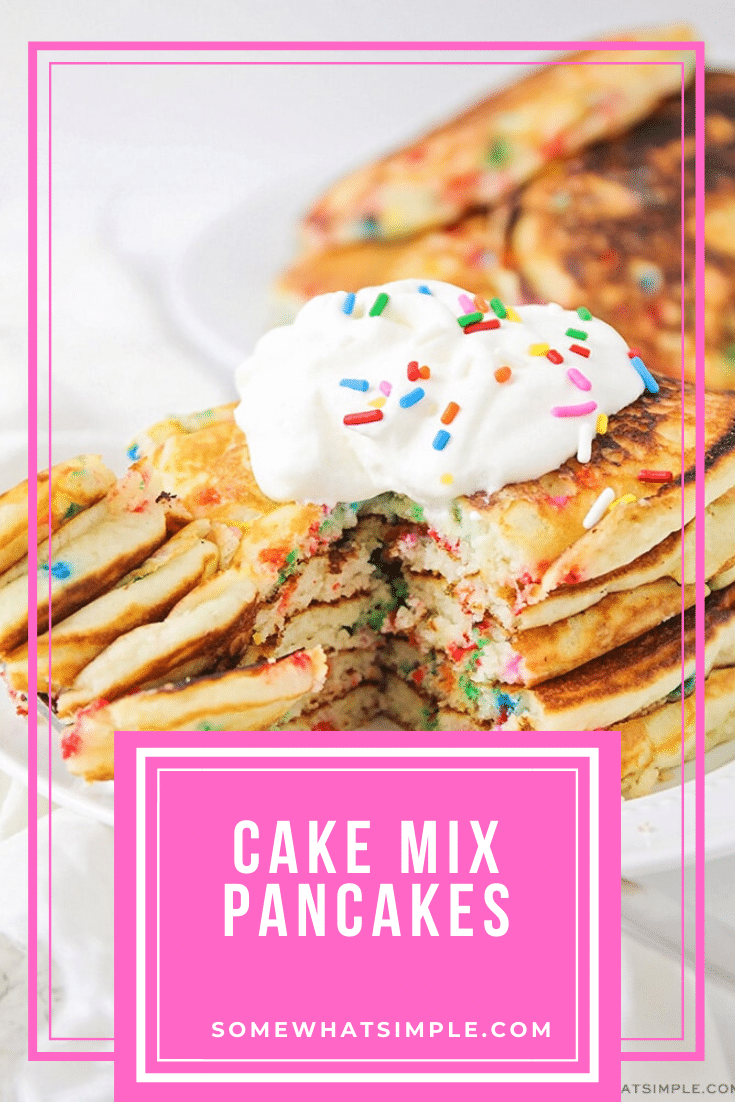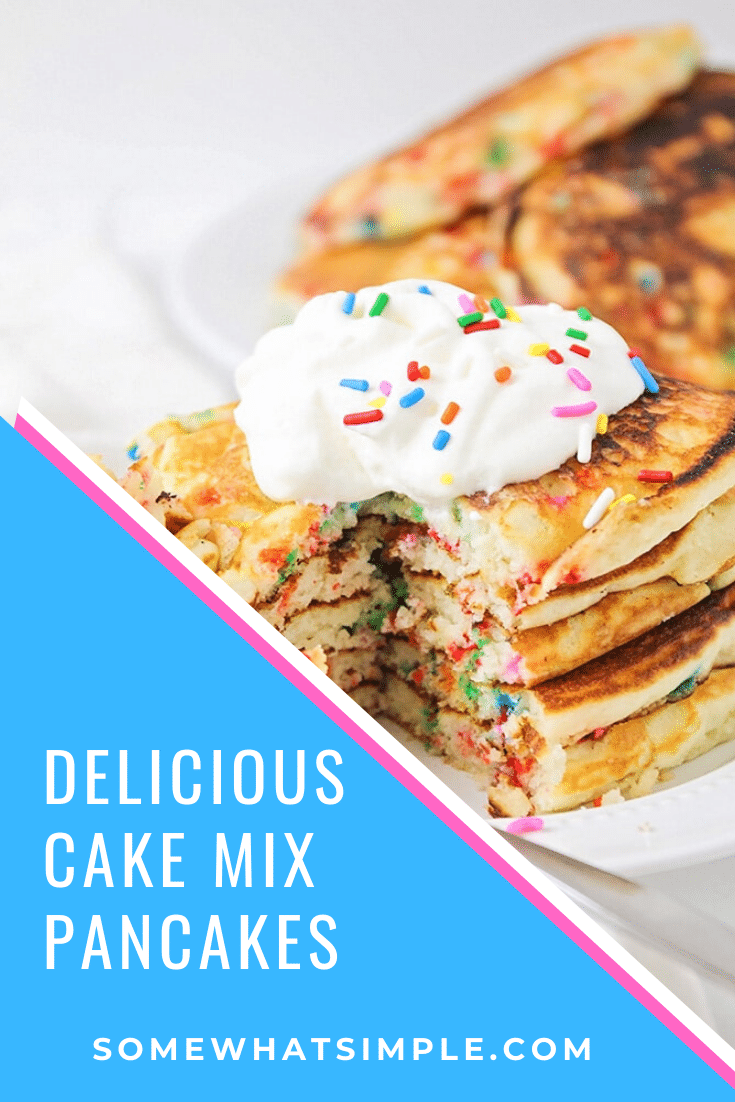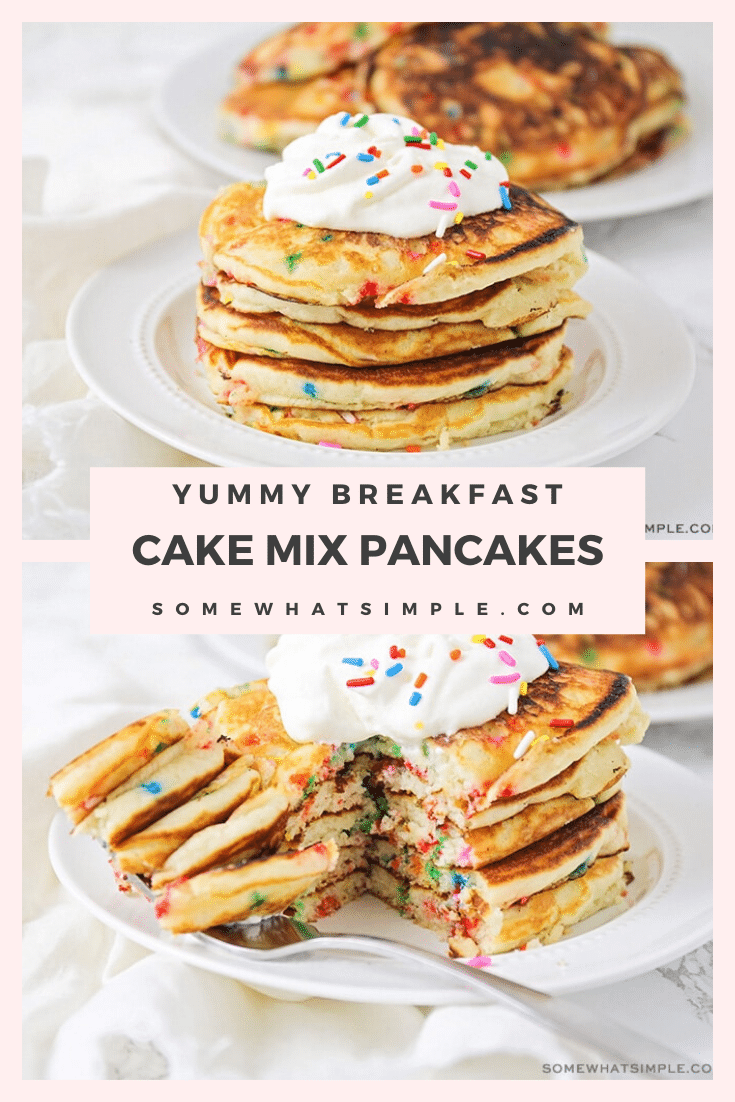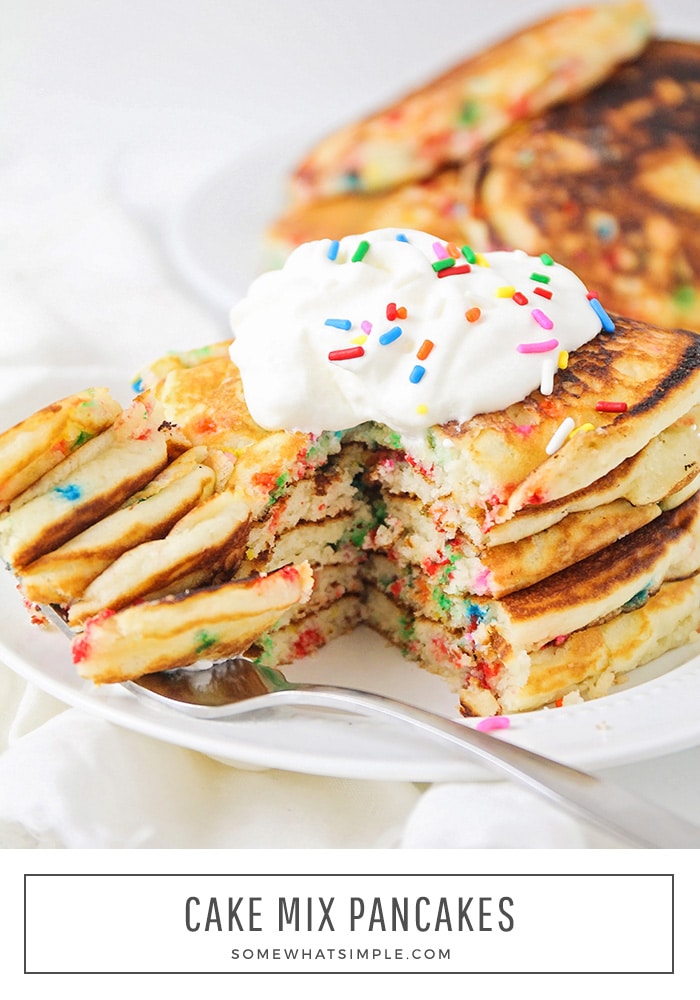 Cake mix pancakes are delicious, fun and so easy to make! They're perfect for a birthday or any other special occasion. Not only are they light and fluffy but they taste amazing!
Cake Mix Recipes are kind of our jam around here! We absolutely LOVE how easy they are, and how little we need to keep stocked in our pantry to make them! If you've never dressed up a box of cake mix to make something great, be sure to try our Cake Mix Cookies, Cake Mix Banana Bread, and Cake Mix Peach Cobbler.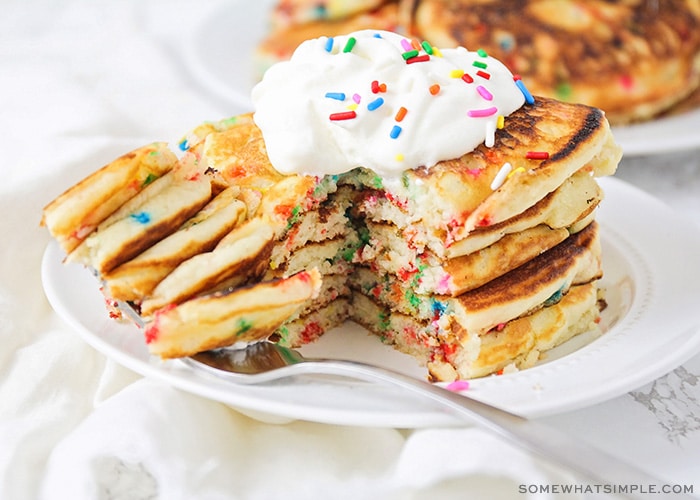 A Breakfast Shortcut
Is it just me, or do sprinkles make everything more magical? They're the perfect way to brighten up any day! I have a whole drawer full of sprinkles in my kitchen, and I love adding them to my baked goods to make things extra fun. These cake mix pancakes are one of my favorite recipes to make with them. They're loaded with colorful sprinkles, and are so festive and pretty! My kids request them for every birthday and special occasion, and I love that they are so simple to make, but they always put a smile on their faces.
How To Make Cake Mix Pancakes
These delicious pancakes start with my favorite basic pancake recipe, but get a boost of sweet cake flavor with the addition of cake mix. I used white cake mix for these pancakes, but you could use yellow cake mix or sprinkle cake mix, depending on what you have on hand.
Dry Then Wet – Start by whisking together the cake mix, flour, sugar, baking powder and salt into a large bowl. In a separate bowl, mix together the milk, oil, eggs and vanilla. Pour the wet ingredients into the large bowl and then mix everything until it combines. Don't worry if there are still some small lumps in the batter.
Let It Rest – Once you've mixed up the pancake batter, let it sit for about 10 minutes so it can thicken slightly.
Prep The Griddle – While your batter is resting, warm up your pancake griddle on medium heat. Lightly grease the griddle before cooking your pancakes. Before pouring the batter onto the grill, mix in those delicious sprinkles.
Cook – Pour about a 1/4 cup of batter on the griddle for each pancake. Let them cook for about 3-4 minutes, or until the top is nice and bubbly. Flip the pancakes over and then cook for about another 2 minutes until they are golden brown on each side.
Finishing Touches – I like to serve these cake mix pancakes with a dollop of whipped cream on top, and a few extra sprinkles for good measure. You can also add syrup or any of your other favorite pancake toppings.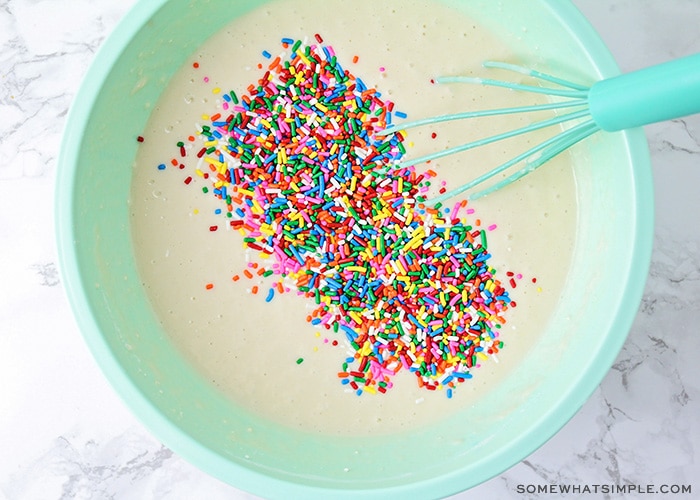 Cooking Tips
Sprinkles – Be sure to wait until just before cooking the pancakes to stir in the sprinkles. If you add them just before cooking, the colors won't bleed into the batter as much, and the finished pancakes will be prettier.
Cooking Tools – I usually cook them on a nonstick griddle, but you could easily use a lightly greased skillet instead.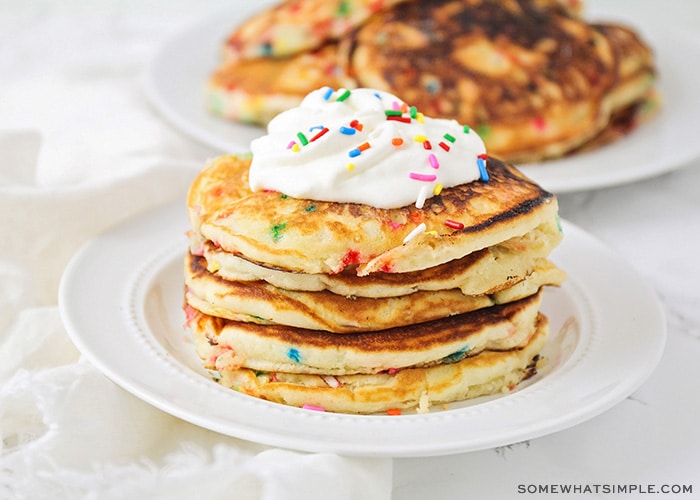 More Easy Pancake Recipes
Pancakes made with cake mix are a little sweeter than typical pancakes. In fact, with the addition of cake mix and sprinkles, my kids don't even miss their usual topping of pancake syrup. These pancakes are so delicious, and perfect for any special occasion! Leave us a comment below and let us know what you thought of them and what type of cake mix you used!
Cake Mix Pancakes Recipe
Cake Mix Pancakes are delicious, fun and so easy to make! They're perfect for a birthday or special occasion, and they taste amazing!
Ingredients
2

cups

flour

3/4

cup

white or yellow cake mix

1/4

cup

sugar

5

teaspoons

baking powder

1

teaspoon

salt

2

cups

milk

1/2

cup

oil

2

eggs

1

teaspoon

vanilla

1/3

cup

rainbow sprinkles

for serving: additional sprinkles and whipped cream
Instructions
In a large bowl, whisk together the flour, cake mix, sugar, baking powder, and salt. In a medium bowl, whisk together the milk, oil, eggs, and vanilla.

Pour the wet ingredients into the dry ingredients, and mix until just combined (a few small lumps are okay). Let the batter sit for 10 minutes.

While the batter is resting, preheat a griddle or large skillet over medium heat. When the griddle is heated, stir in the sprinkles. Lightly grease the griddle, and pour the batter by 1/4 cup scoops onto the hot griddle.

Cook 3-4 minutes, or until there are bubbles all over the tops of the pancakes, then flip and cook and additional 2-3 minutes, until browned on the bottom.

Serve warm with whipped cream and sprinkles.
Nutrition
Serving:
1
pancake
·
Calories:
350
kcal
Other Notes