These red velvet pancakes are so indulgent and delicious!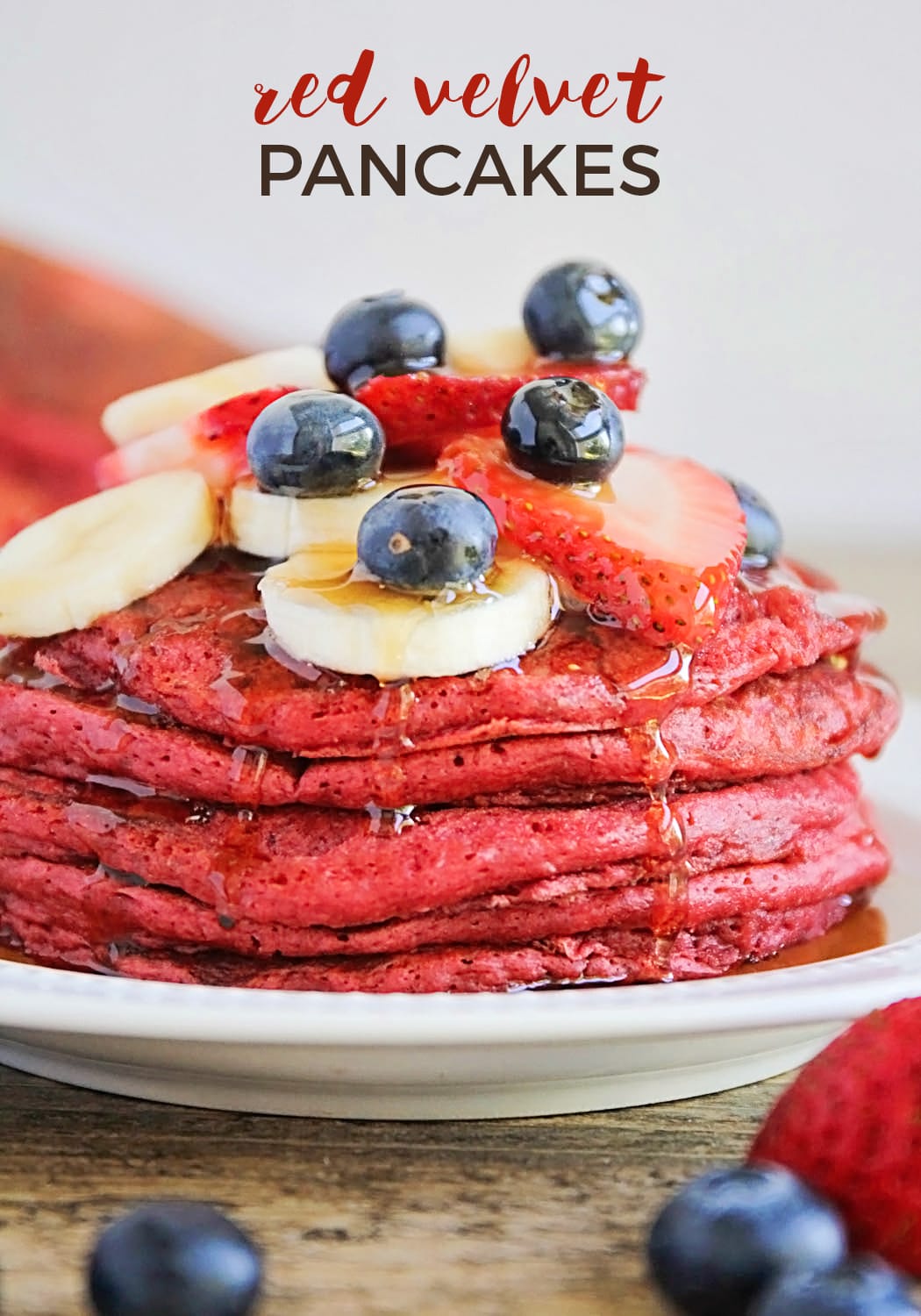 If you're on the hunt for a show-stopping breakfast, look no further! These red velvet pancakes are as beautiful as they are delicious, and perfect for any special occasion breakfast. They would be wonderful for the Fourth of July, for birthdays, or even for Valentine's Day. They take just a few minutes to mix together, and are made with simple ingredients. The red food coloring makes them extra fun and festive, but you can leave it out or reduce the amount if you're not a fan. Either way, they're delicious!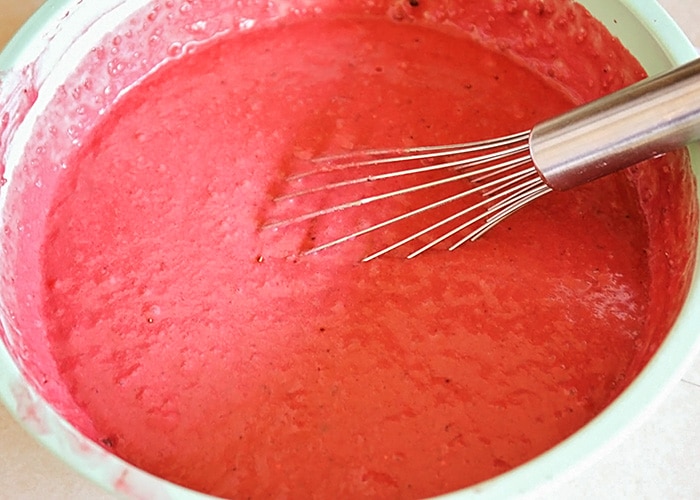 One of my best tips for pancakes is to scoop them with a 1/4 cup measuring cup. The pancakes come out all the same size and shape, and it makes pouring them super easy. Just look at those pretty pancakes!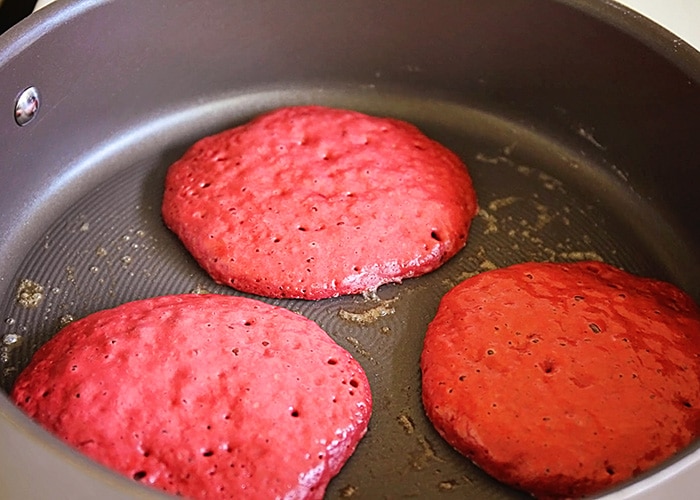 I topped mine with fresh berries and bananas, then drizzled them with maple syrup. They are also wonderful with this homemade buttermilk syrup or this delicious strawberry sauce. The topping ideas are endless! I think they'd also be delicious with freshly whipped cream and some chocolate sauce drizzled over the top. Yum!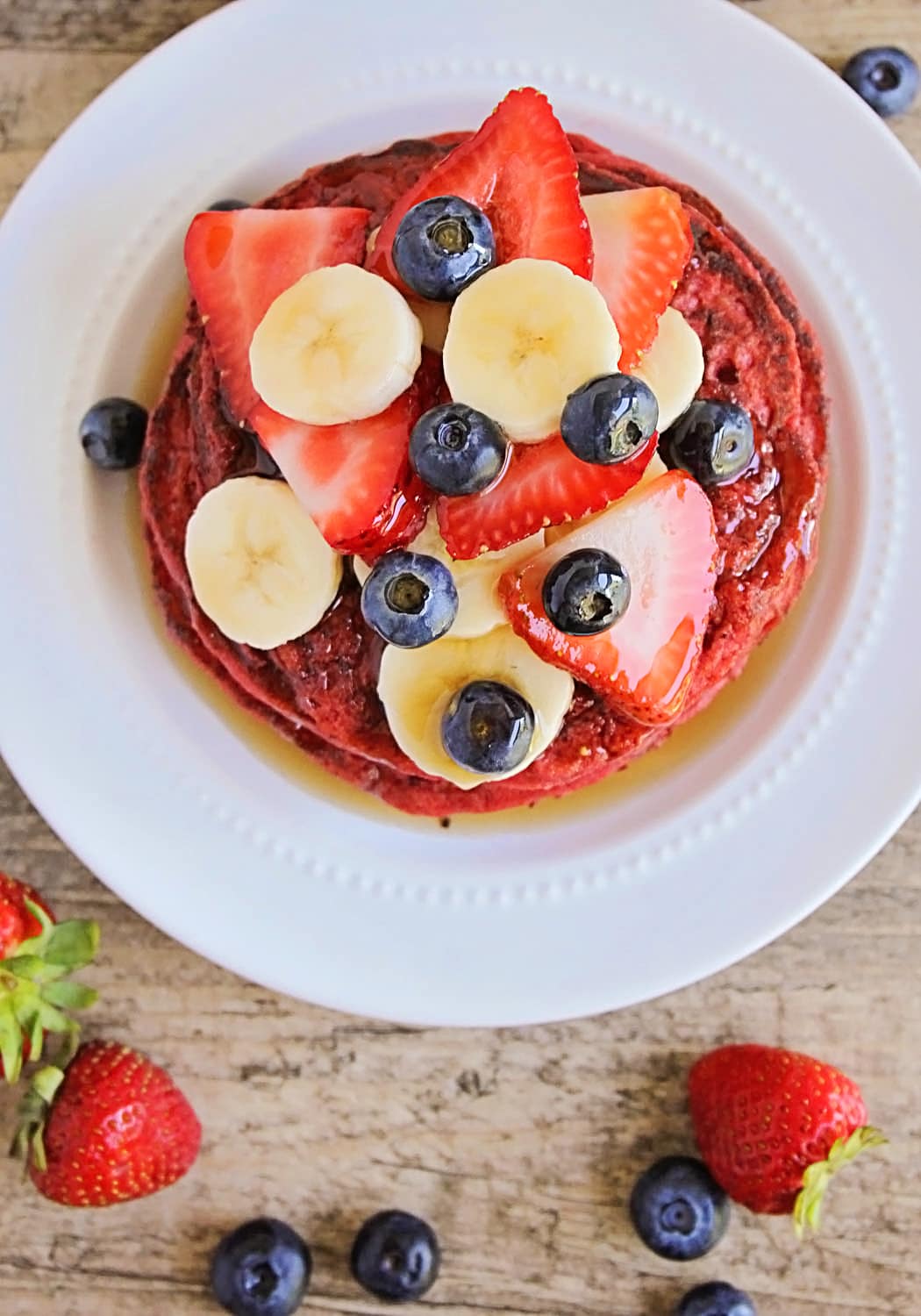 Red Velvet Pancakes
INGREDIENTS:
2 cups flour
2 tablespoons cocoa powder
5 teaspoons baking powder
1/4 cup sugar
1 teaspoon salt
2 eggs
1/2 cup butter, melted
2 cups buttermilk, warmed
2 teaspoons red food coloring
fresh fruit and syrup, for topping
DIRECTIONS:
In a large bowl, whisk together the flour, cocoa powder, baking powder, sugar, and salt. In a measuring cup or small bowl, whisk together the eggs, butter, buttermilk, and food coloring. Pour the wet ingredients into the dry ingredients, and whisk until just combined (some small lumps of flour may remain). Let the batter sit for five minutes.
While the batter is resting, heat a griddle or large skillet over medium heat. Lightly grease the griddle with cooking spray, and pour the batter by 1/4 cup scoops onto the hot griddle. Cook 3-4 minutes, or until there are bubbles throughout the pancake, then flip and cook for another 2-3 minutes, or until cooked through.
Serve hot with fresh fruit and syrup. Makes about two dozen pancakes.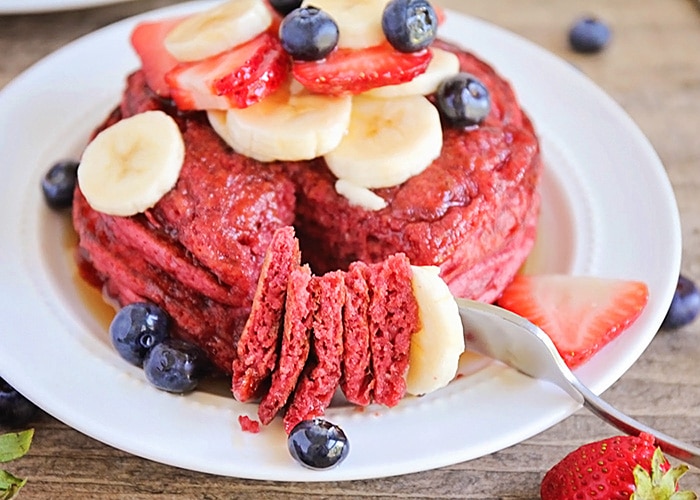 DON'T MISS A THING!
Sign up for our newsletter to receive our FREE Home Organization Binder Printables + weekly updates filled with creative inspiration and exclusive freebies!
---