These blueberry lemon pancakes are so light and fluffy, and bursting with juicy blueberries!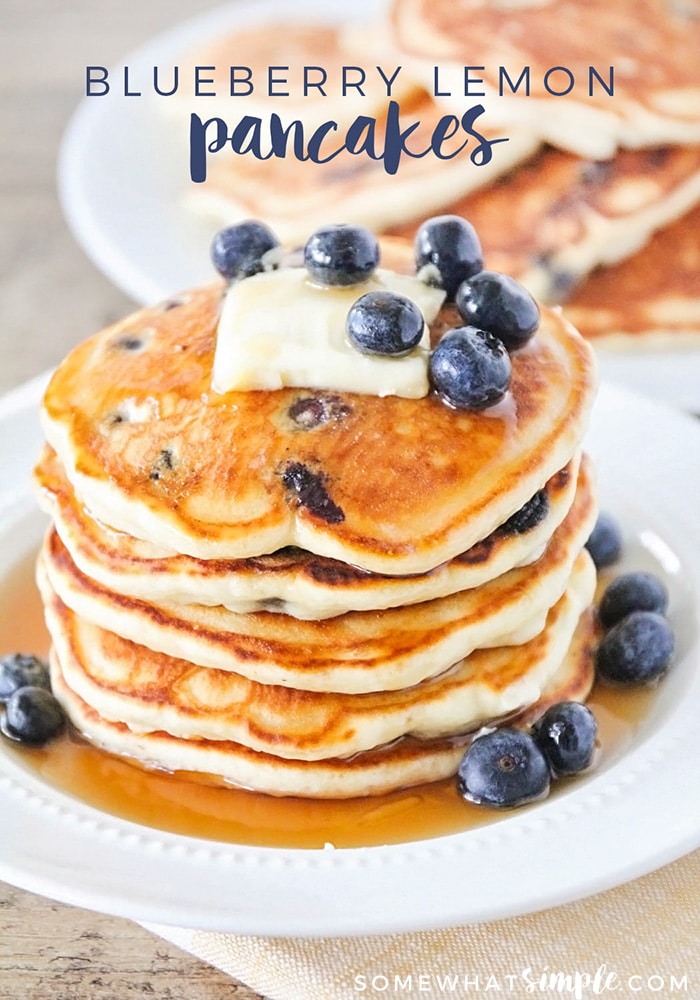 Is anyone else super excited that spring is finally on the way? It has been a tough winter as far as the weather goes, and I am so ready for warmer temperatures, fresh flowers, and sunshine. I'm also excited about having a wider variety of fresh fruits and vegetables to eat!
When I think of spring foods, lemon is always the first thing that comes to mind. And what goes better with lemon than fresh blueberries?! These blueberry lemon pancakes are the perfect flavor combination. They're also super light and fluffy, with a hint of sweetness, and so quick and easy to make!
These pancakes take only a few minutes to whisk together, and they're made with ingredients I nearly always have on hand. They're so quick to make that they're the perfect lazy weekend breakfast, but we've had them for dinner multiple times, too. It's just an all-around great recipe!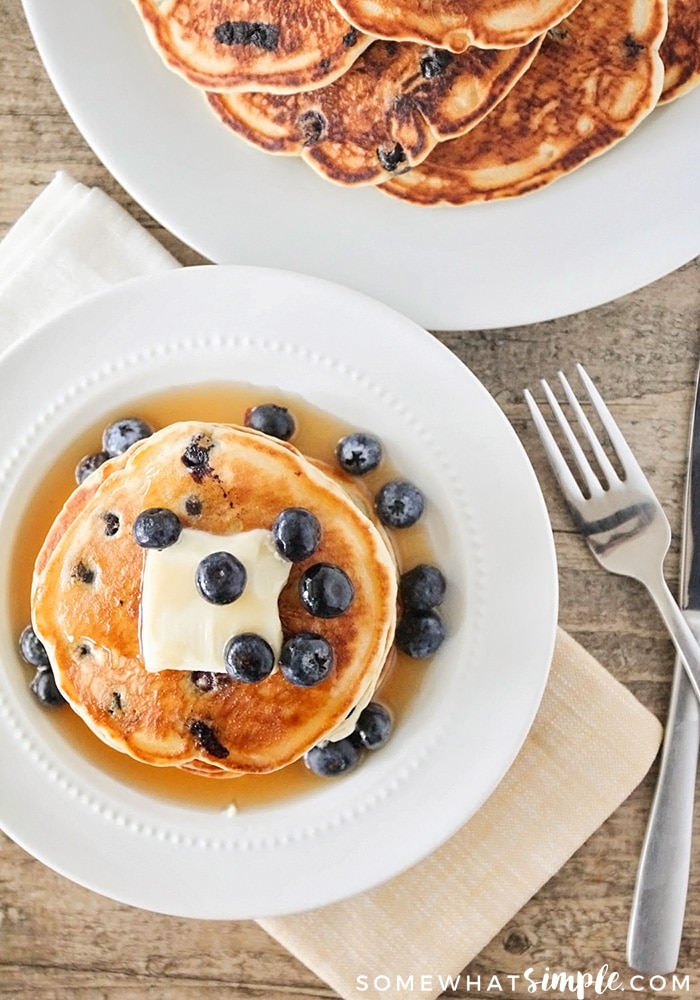 We topped our pancakes with butter, syrup, and a sprinkle of fresh berries, and they were absolutely perfect. My kids gobbled them up in record time and asked for seconds. My favorite part was definitely the big juicy berries! They burst open as you cut into the pancakes, and the color is gorgeous. Yum! These are definitely a new favorite at our house.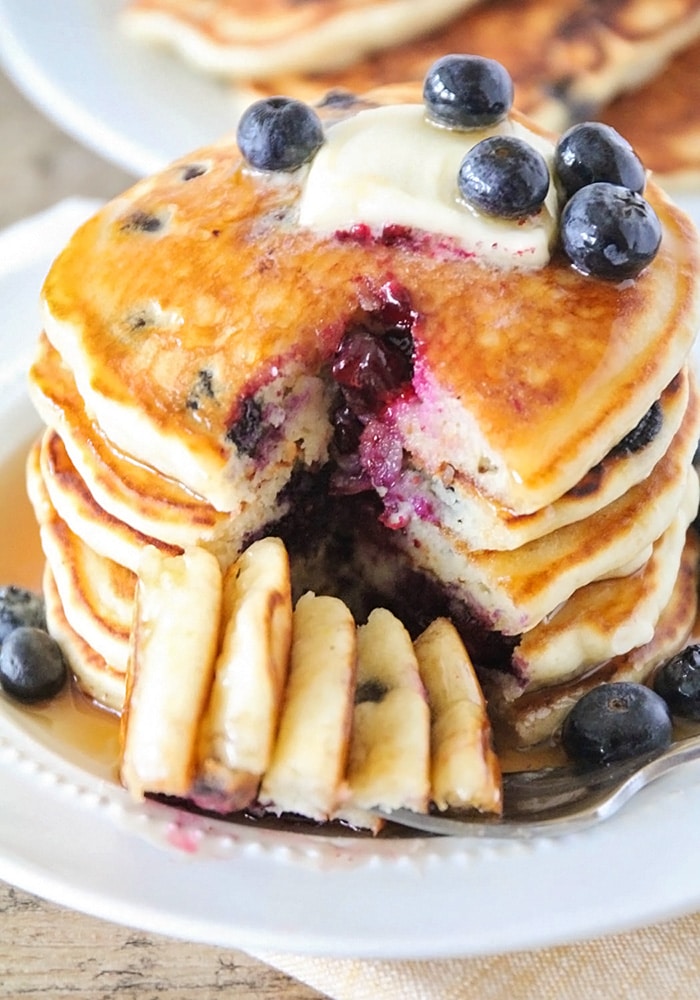 Blueberry Lemon Pancakes
Ingredients –
2 cups flour
5 teaspoons baking powder
1/4 cup sugar
1 teaspoon salt
zest of one lemon
2 eggs
1/2 cup oil
2 cups milk
1 teaspoon vanilla
1/2 teaspoon lemon extract
2 cups fresh blueberries
Directions –
In a medium bowl, whisk together the flour, baking powder, sugar, salt, and lemon zest. In a small bowl or measuring cup, whisk together the gas, oil, milk, vanilla, and lemon extract.
Pour the wet ingredients into the dry ingredients, and mix until just combined (small lumps are okay). Gently fold in the blueberries. Let the batter rest ten minutes.
While the batter is resting, preheat a skillet or griddle. Lightly butter the preheated griddle and pour the batter by 1/4 cup scoops onto the griddle (I always use a measuring cup so they're all the same size).
Cook 3-4 minutes or until there are bubbles throughout the top of the pancakes, and the edges of the pancakes look dry. Flip the pancakes and cook for another minute or until lightly browned on the bottom.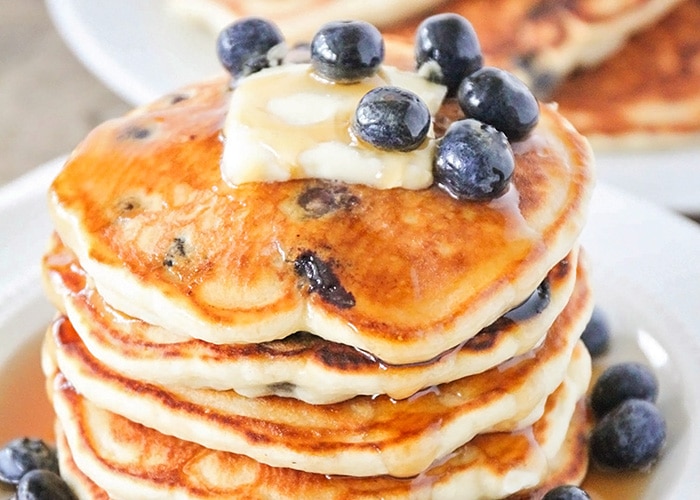 For more fantastic pancake recipes, check out some of my favorites below: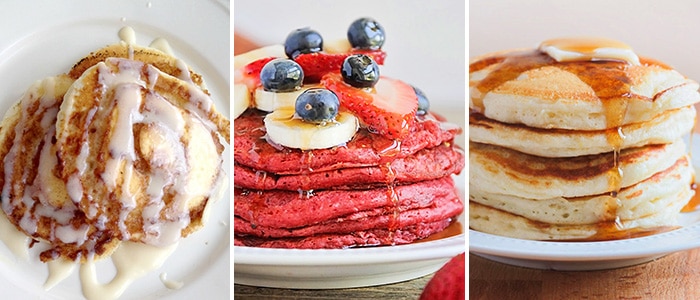 Cinnamon Roll Pancakes | Red Velvet Pancakes | Homemade Pancakes