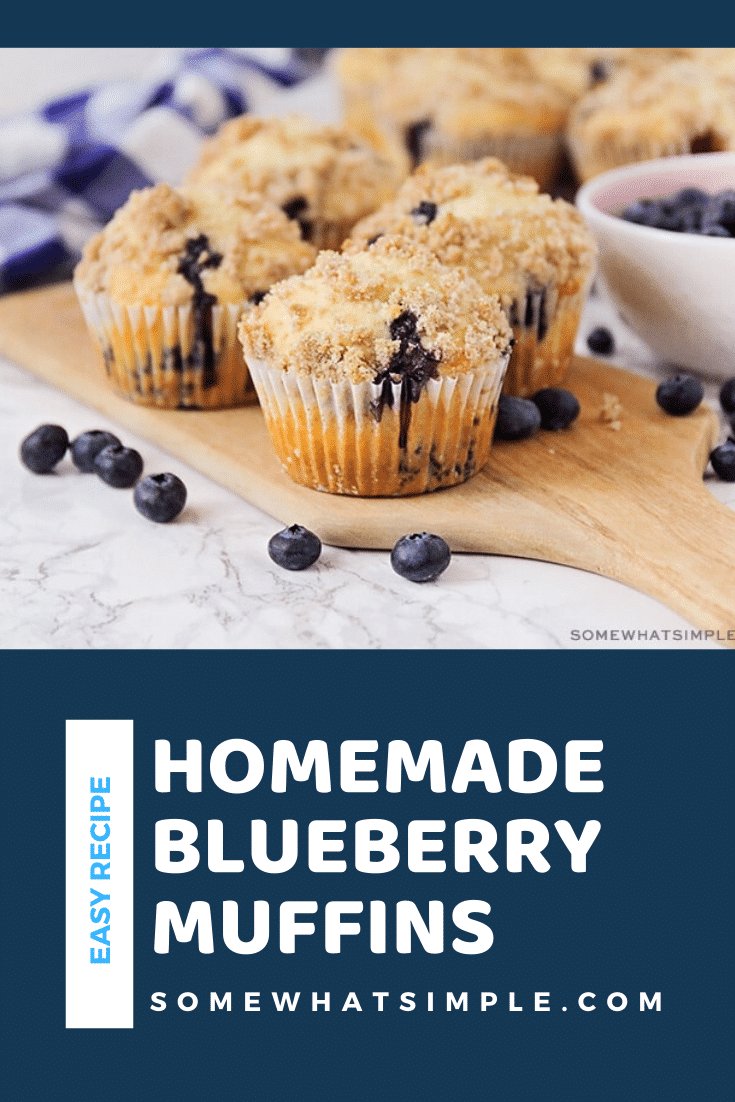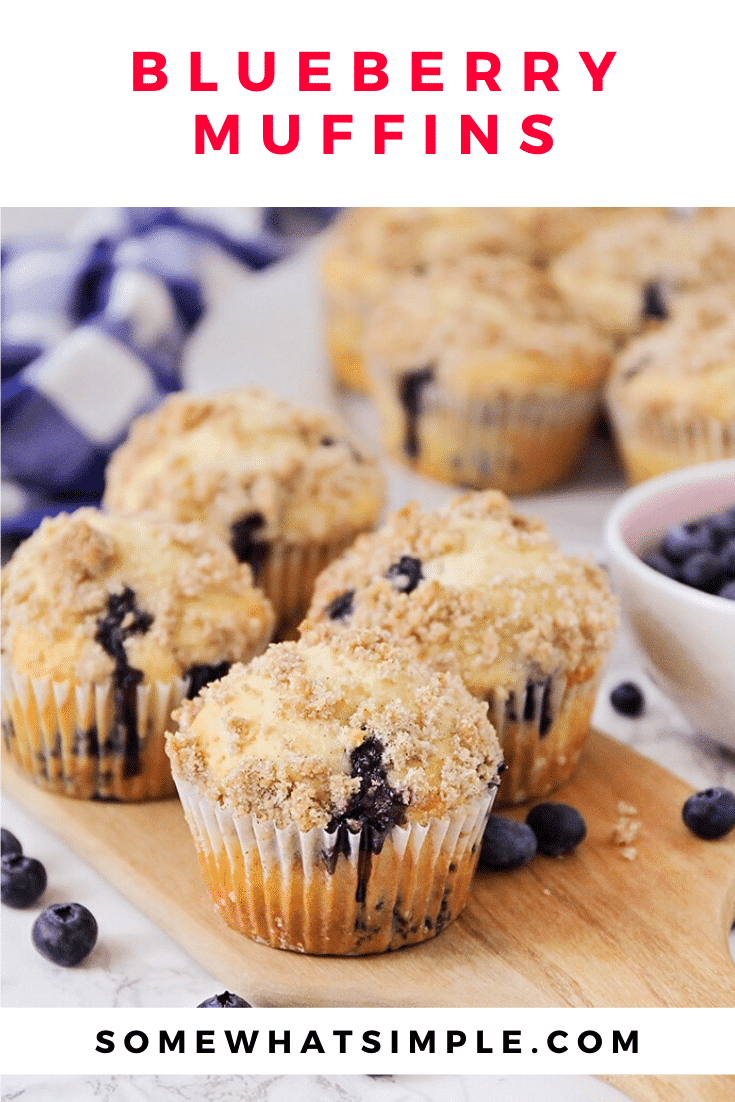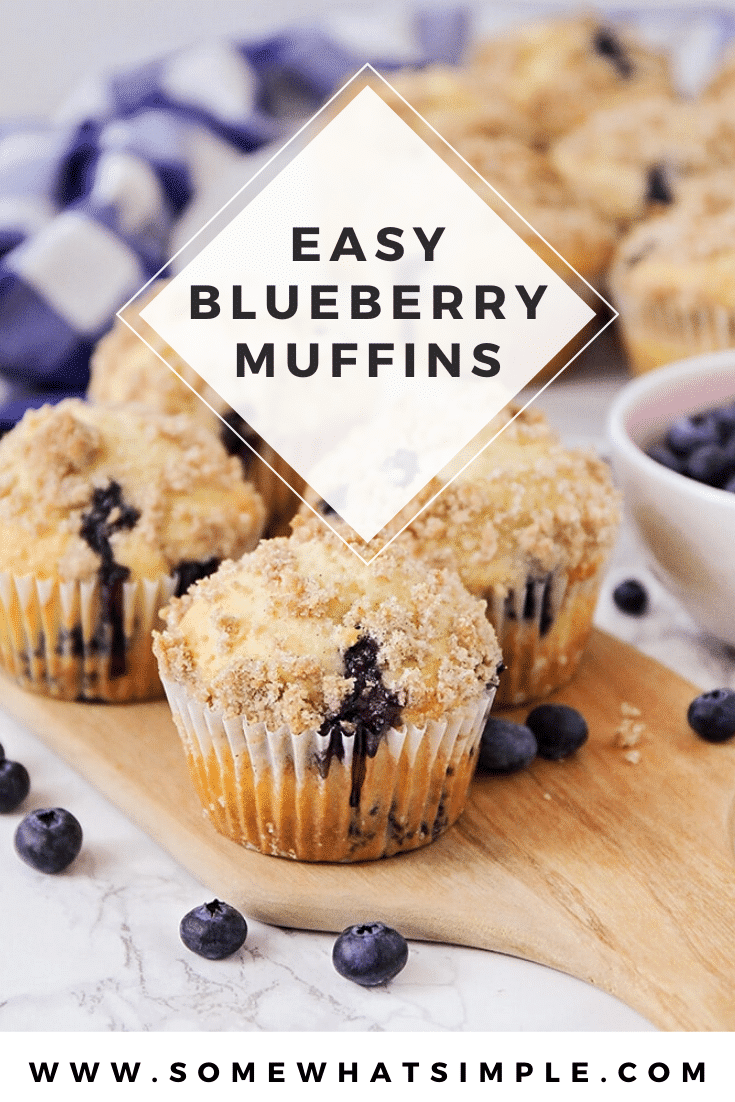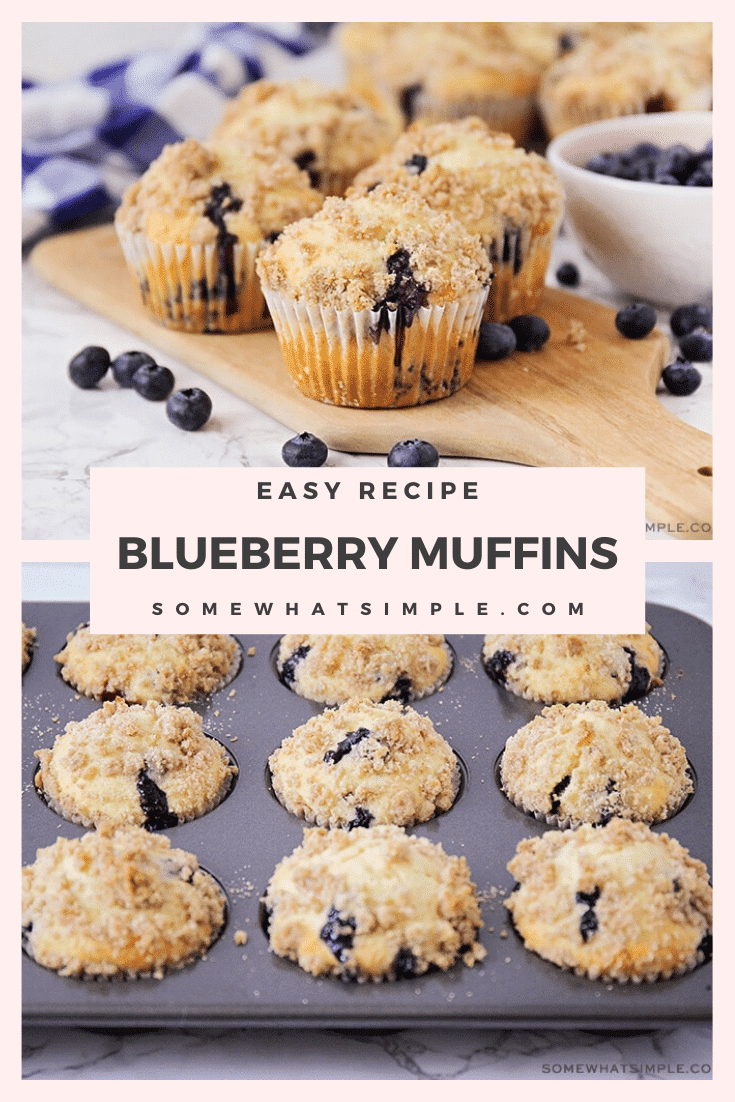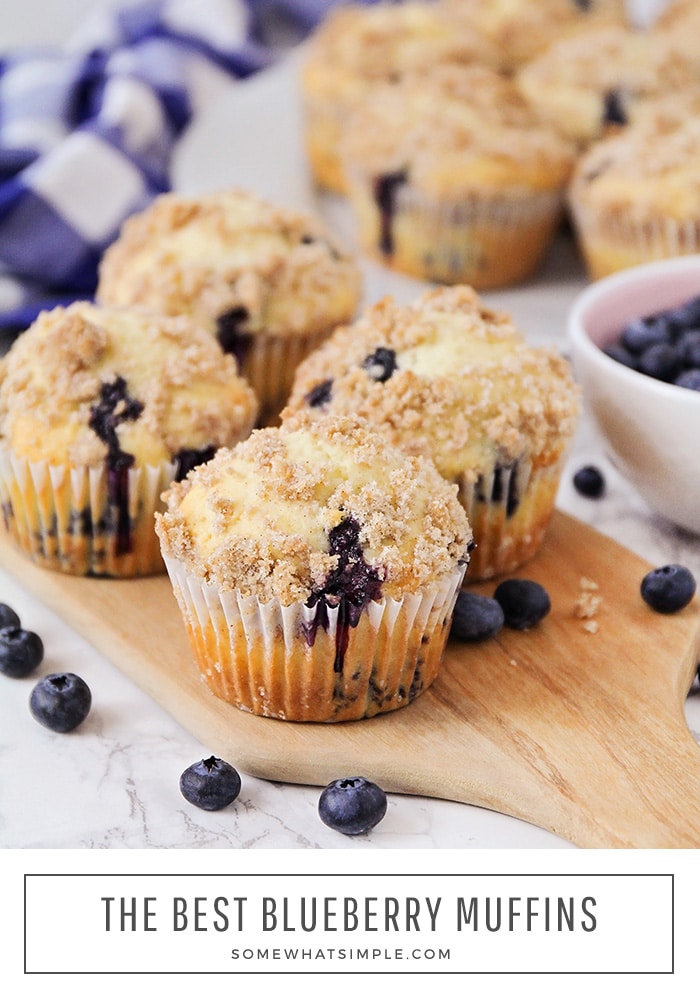 The best blueberry muffins recipe ever! Made with fresh blueberries and a crumb topping, these homemade muffins are so soft and sweet you'll think you just picked them up from the bakery.
Muffins might be my favorite things to bake because I love having them in the morning with a hot breakfast. They go perfectly with a stack of Fluffy Pancakes, a Breakfast Casserole or a thick Belgian Waffle.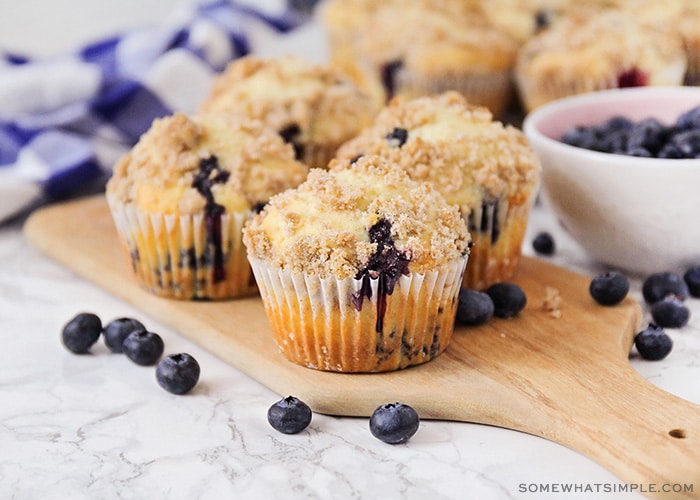 To Die For Blueberry Muffins
Simply put, these blueberry muffins are to die for! Several months ago I went to a baby shower brunch for a friend and the hostesses made the most delicious blueberry muffins I have ever had. (Which says a lot, 'cause I am a huge fan of blueberry muffins!) She emailed me this easy recipe a week later and I've already made them for my family four times!
I just love the extra flavor and texture of the cinnamon crumb topping on these blueberry muffins – it is so delicious!! PLUS, these muffins are super simple to make and with the exception of the fresh blueberries, the ingredient list is made up of things I always happen to have on-hand! Easy and delicious blueberry muffins… what are you waiting for? Let's get baking!
How To Make Blueberry Muffins
Prepare – Preheat the oven to 400 degrees F
You can either line the muffin pan with adorable cupcake liners or grease the pan with non-stick cooking spray
Muffin Mix – In a large mixing bowl, combine the flour, salt, sugar, and baking powder
Place the vegetable oil into a 1 cup measuring cup
Add the egg into the measuring cup and then just enough milk to fill the cup
Pour everything in the measuring cup into the flour mixture
Gently fold in the blueberries but be careful not to over mix
Fill the muffin tin with the batter and then set aside
Crumb Topping – Mix the butter, flour, sugar and cinnamon together using a fork
Sprinkle the cinnamon crumb mixture over the top of the muffins
Cook – Bake the muffins for 20 – 25 minutes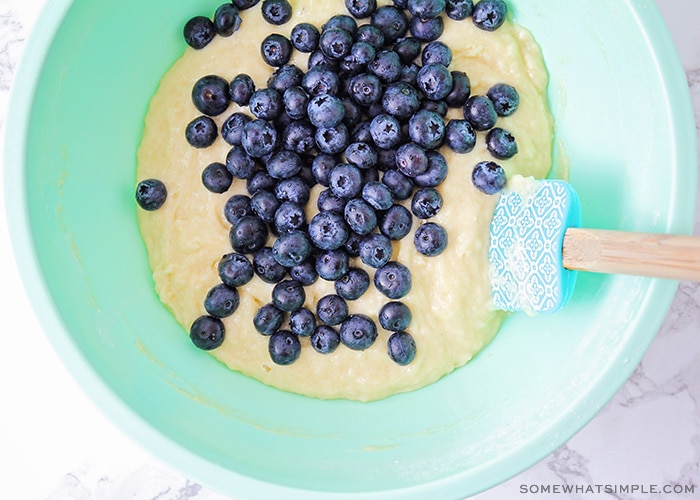 Baking Tips
Don't Over Mix – Be careful not to over mix the blueberry muffin ingredients when you're stirring everything together. If you over mix, the muffins won't be as fluffy. If they turn out dense, then you probably over mixed the batter.
Allow To Cool Outside The Muffin Tin – Once you can safely remove the muffins from the muffin tin, transfer them to a cooling rack to finish cooling. If you don't transfer them to the rack, they will continue to cook inside the tin which will cause them to over cook and dry out.
How Do I Make Mini Muffins – You can use this recipe to make mini muffins but you will need to adjust the cooking time down. The time will vary based on the size of the mini muffin tin but I typically cut the cook time in half. Just be sure to keep an eye on them to make sure they don't burn.
Can I Use Frozen Blueberries – Yes, you can but the frozen blueberries have a tendency to have the colors run more than fresh blueberries. Just be careful how much you fold the blueberries into the batter to minimize the amount they will run.

More Delicious Muffin Recipes
Easy Blueberry Muffins Recipe
Not only do these homemade muffins go perfectly with any breakfast but they also make a great gift for a friend or neighbor. However you enjoy them, leave us a comment below and tell us all about it. We also love seeing you make one of our recipes, so tag us on social media the next time you do!
Blueberry Muffins Recipe
This blueberry muffins recipe is the best ever! These blueberry muffins are so soft and sweet that you'll think you just picked them up from the bakery.
Ingredients
Muffins
1 1/2

cups

all-purpose flour

3/4

cup

white sugar

1/2

teaspoon

salt

2

teaspoons

baking powder

1/3

cup

vegetable oil

1

egg

1/3

cup

milk

1

cup

fresh blueberries
Crumb Topping
1/2

cup

white sugar

1/3

cup

all-purpose flour

1/4

cup

butter

,

cubed

1 1/2

teaspoons

ground cinnamon
Instructions
Preheat your oven to 400 degrees F (200 degrees C).

Line a muffin pan with cupcake liners, or grease them with some non-stick cooking spray.

To make the muffins, combine the flour, sugar, salt and baking powder in a large bowl.

Place the vegetable oil into a 1 cup measuring cup. Add the egg and just enough milk to fill the cup.

Add this with flour mixture.

Gently fold in blueberries. Do not over mix!

Fill muffin cups right to the top and set aside.

To make the crumb topping, mix together the cup sugar, flour, butter, and cinnamon using a fork.

Sprinkle over muffins, then place muffin pan inside the preheated oven.

Bake for 20 to 25 minutes, or until done.
Nutrition
Serving:
1
muffin
·
Calories:
254
kcal
·
Carbohydrates:
38
g
·
Protein:
3
g
·
Fat:
11
g
·
Saturated Fat:
8
g
·
Cholesterol:
24
mg
·
Sodium:
140
mg
·
Potassium:
111
mg
·
Fiber:
1
g
·
Sugar:
22
g
·
Vitamin A:
156
IU
·
Vitamin C:
1
mg
·
Calcium:
45
mg
·
Iron:
1
mg
Other Notes
ENJOY!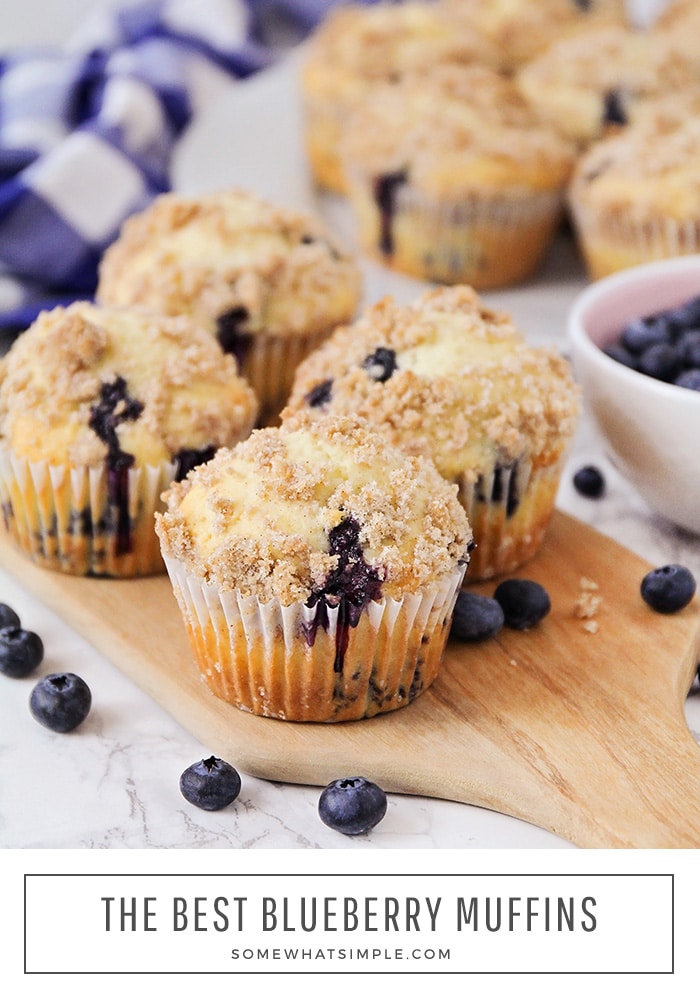 This recipe first published on Somewhat Simple in February 2010 and updated in 2019