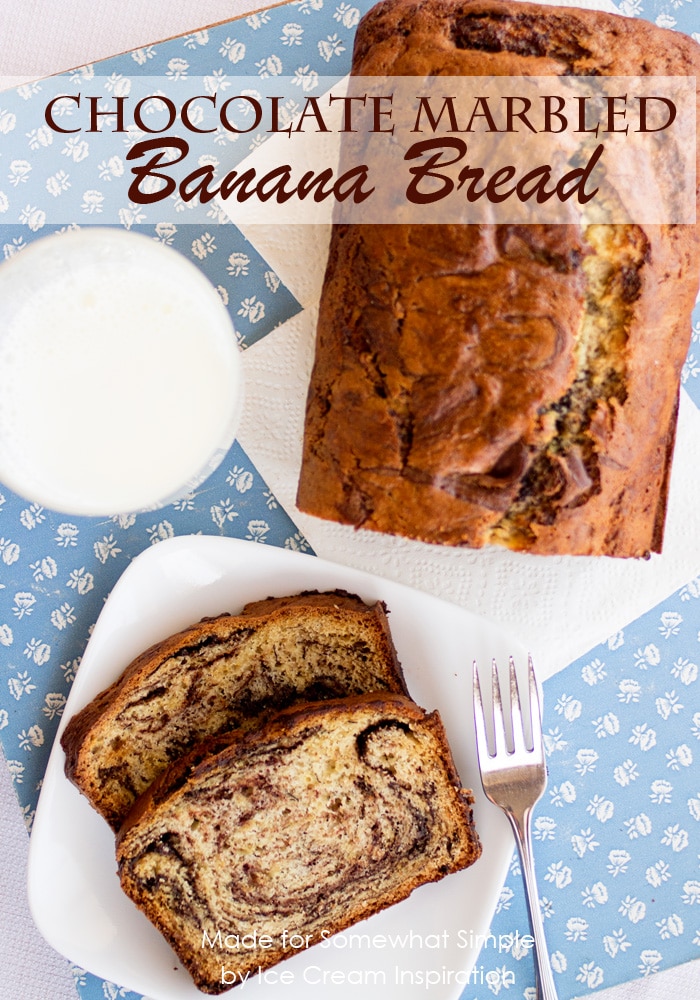 Banana bread is one of those treats that is perfect at any time of the year- do bananas ever go out of season? Today I'm taking my favorite banana bread recipe to the next level by swirling in some melted chocolate. It deepens the flavor and adds something special, while also making the bread look so pretty! This Chocolate Marbled Banana Bread was inspired by the Chocolate Swirl Pumpkin Bread that I made- which is also beautiful and amazingly delicious!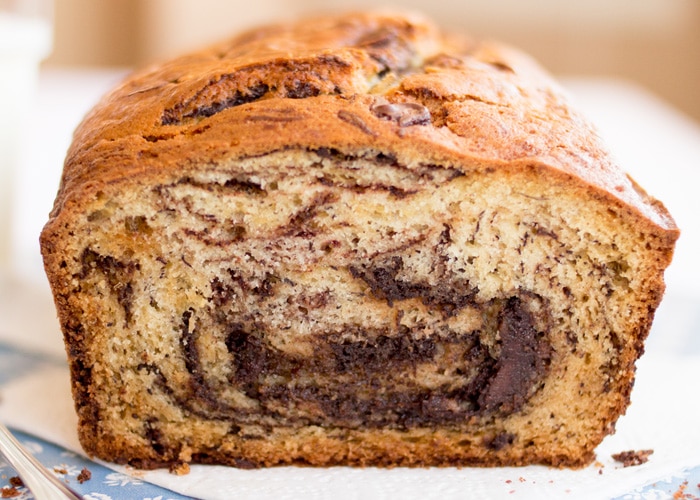 All it takes to make the pretty chocolate swirls is to melt some chocolate (I just used semi-sweet chocolate chips) with a teeny bit of oil so it will be easier to pour. Just before putting the batter into your bread pan, pour the chocolate into the batter and gently fold and swirl it around. Then just pour into your well-greased pan, and you are good to go!
Banana bread is the perfect "welcome to the neighborhood" gift, and can be used for so many other things. A special treat for your child's favorite teacher, a reward for a goal met in a church class, or something fun to bring in to work to share with everyone.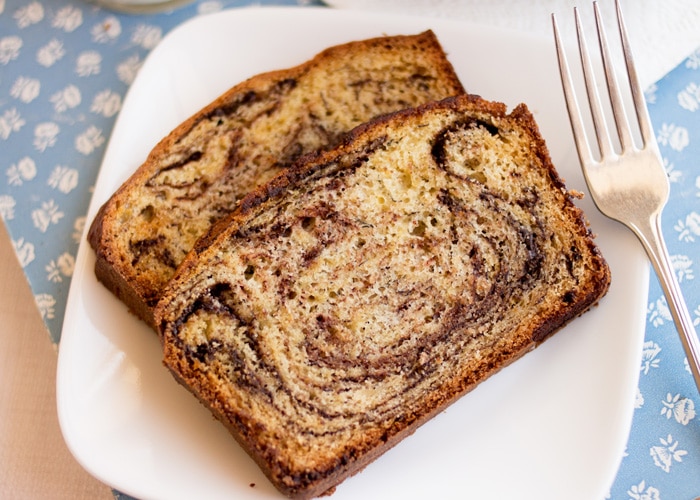 CHOCOLATE MARBLED BANANA BREAD
INGREDIENTS:
1/2 cup oil or butter
1 cup sugar
2 eggs
2 1/2 cups flour
1/2 tsp. salt
1/2 cup water
3 very ripe mashed bananas
1 tsp. baking soda
1 tsp. baking powder
1 cup chocolate chips, melted with about 1/4 tsp. oil
INSTRUCTIONS:
Add baking soda and baking powder to mashed bananas and stir. The bananas will become frothy.
Mix sugar and butter or oil in a separate bowl. (I always use oil and the bread turns out perfectly).
Add eggs one at a time and mix well.
Sift flour and salt together and add alternately with the 1/2 cup of water. (Add a little of the flour, then a little of the water, and repeat until each is used up).
Add the frothy bananas and mix well.
Pour the melted chocolate over the top of the batter and gently fold and swirl it into the batter.
Grease and flour a large (9×5) bread pan, or 4-5 small bread pans.
Pour the batter into pan(s) and bake at 350 degrees for 40-60 minutes for a large loaf, or about 30 minutes for the small loaves. After the minimum amount of time, insert a toothpick to see if it comes out clean. If not, cook for longer. The top crust should be nice and golden brown.
For more fun treats that are great to share, be sure to check these out!

Banana Cream Cupcakes / Easy Orange Rolls / Mom's Butterscotch Brownies