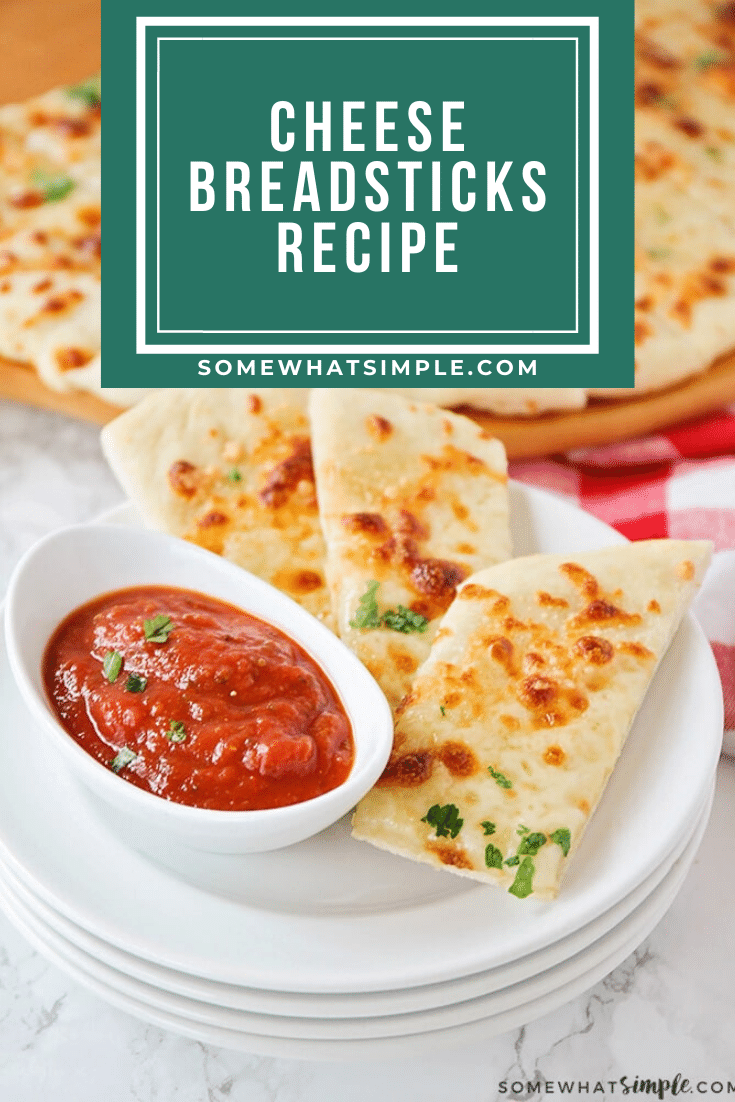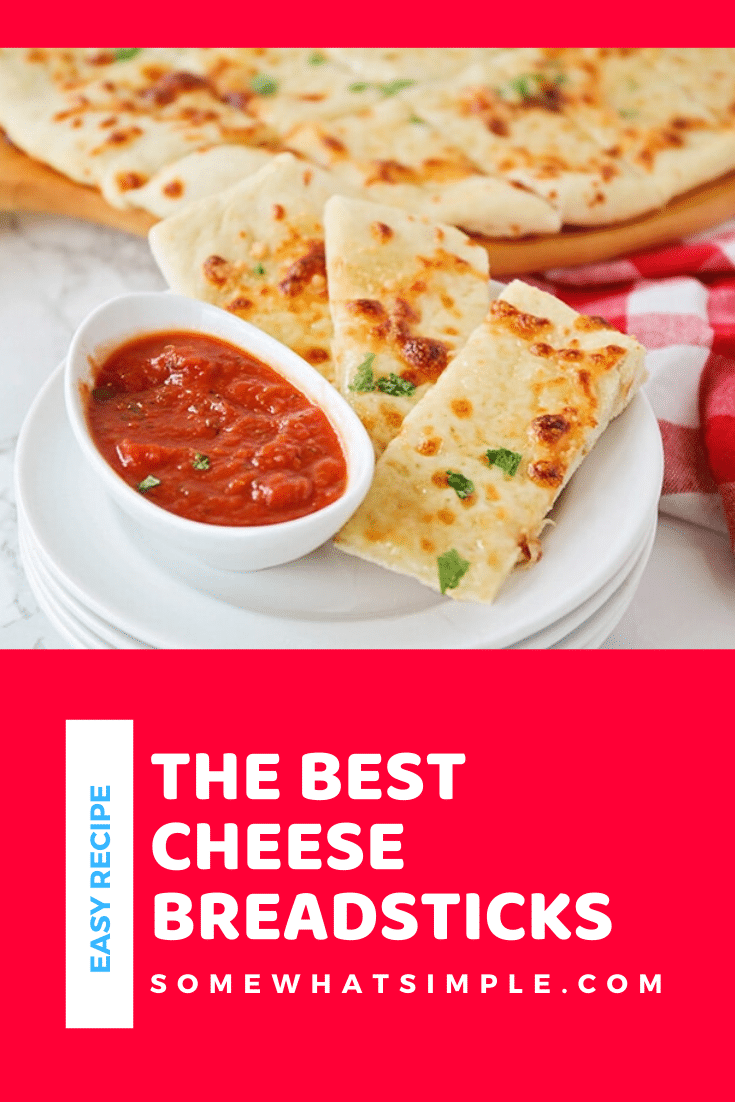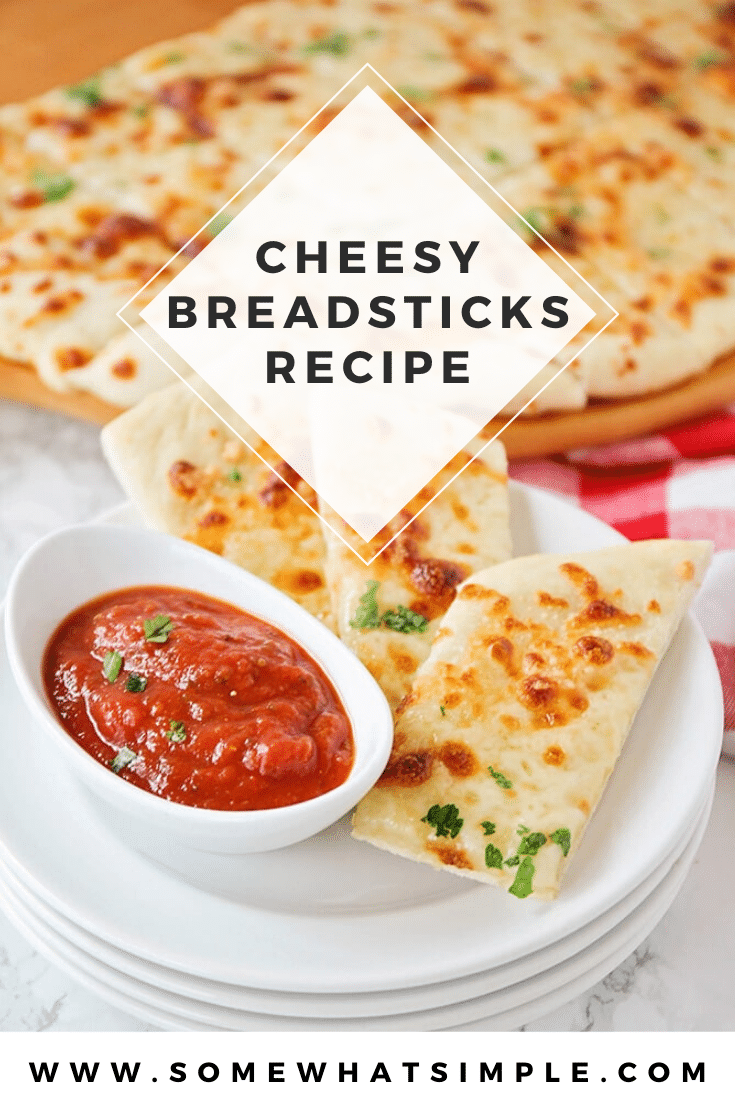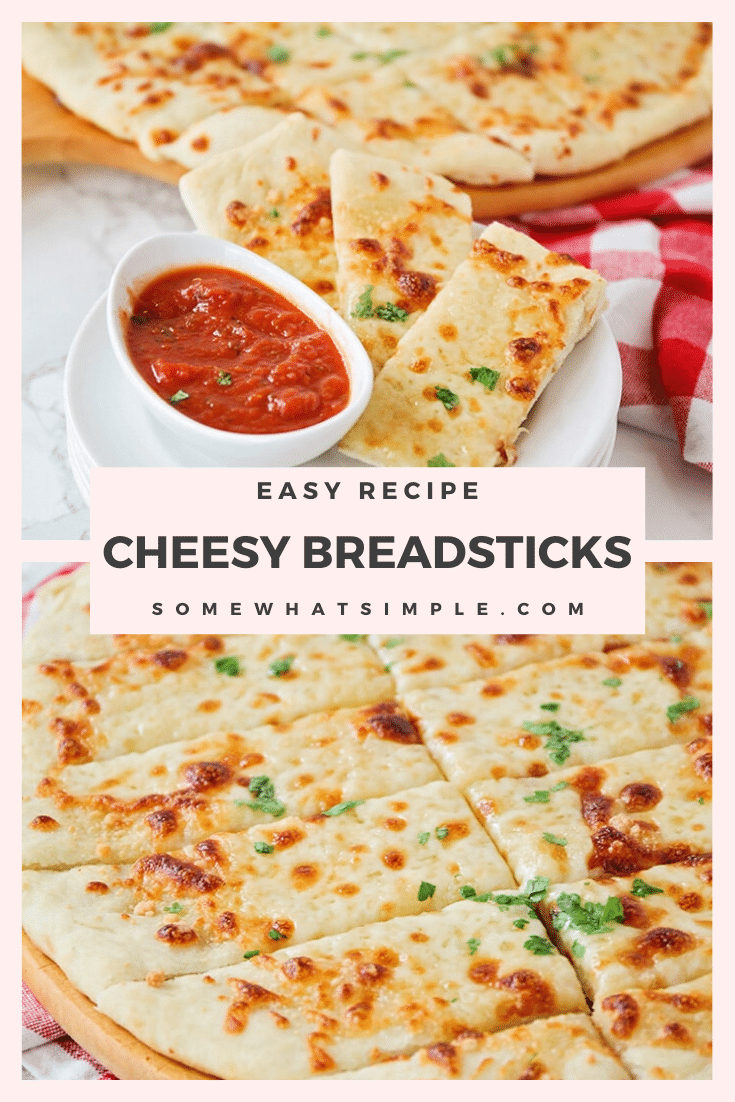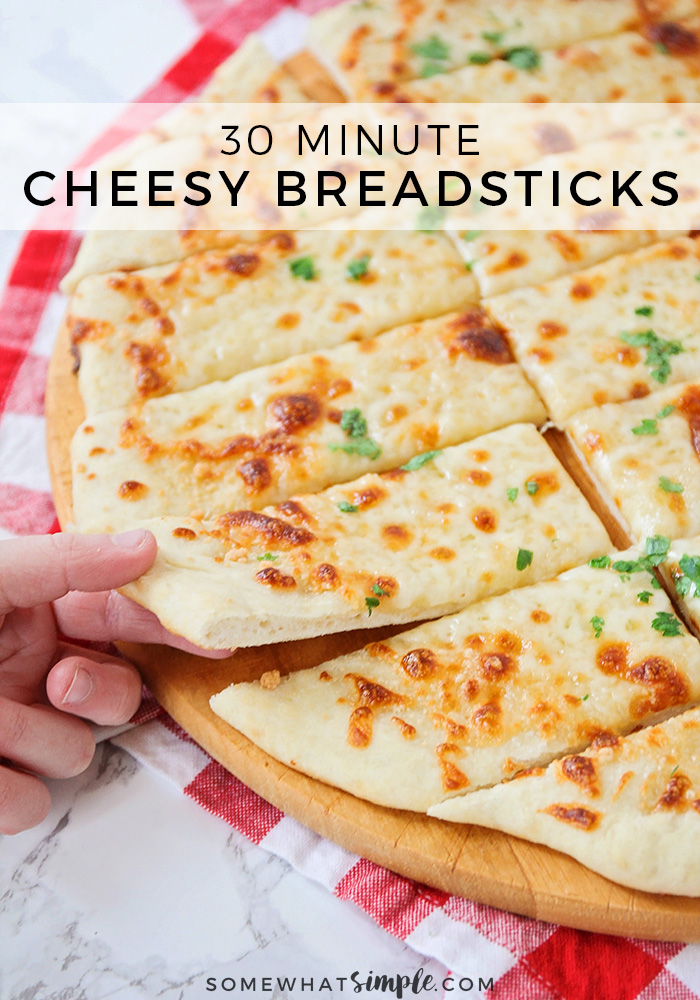 These homemade cheesy breadsticks take just 30 minutes to make, and are the perfect side dish or appetizer. They're easy to make, amazingly delicious and so cheesy!
Breadsticks are incredibly addicting! If you want to try a sweeter version, then you have to make these delicious Cinnamon Bread Twists.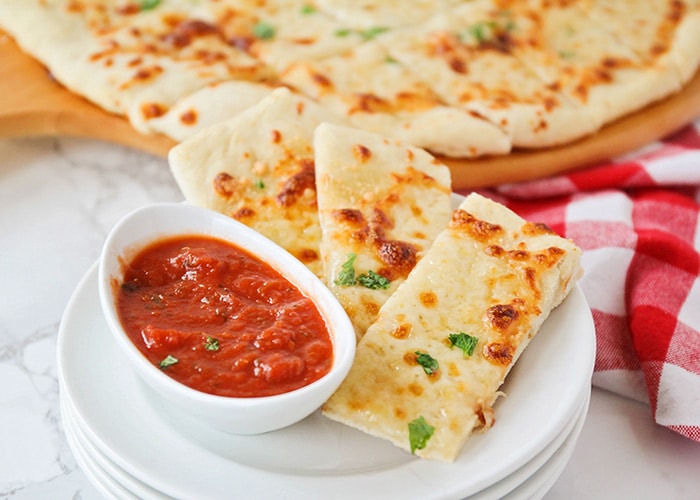 Homemade bread has to be one of my favorite things in the whole world. I bake some form of bread at least once a week, and it's always delicious. As much as I love some of my more complicated recipes that take several hours to make, there's something to be said for a quick bread recipe, especially one as delicious as these cheesy breadsticks!
This recipe is super quick to make and needs just a ten minute rise time. These taste amazing hot and fresh from the oven. They're always a favorite with my kids, and I make them as an after-school snack often because they're just so easy!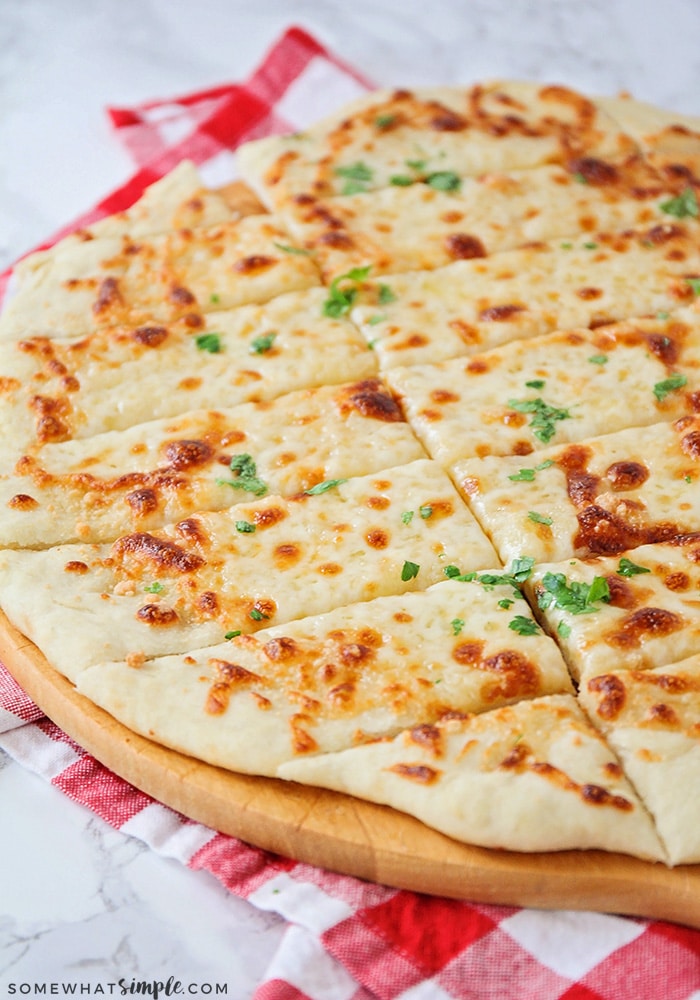 How To Make Cheesy Breadsticks
Baking Prep – Preheat the over to 500 degrees F with a baking stone inside. You can also use an upside down cookie sheet.
Prep The Yeast – Pour the water, yeast and sugar into a medium-sized mixing bowl and whisk everything together. Then you'll let it sit for about 5 minutes or until it's bubbly.
Dough Mixture – Next, add the flour and salt to the bowl and mix everything together until the dough forms.
You Knead This – You'll want to gently knead it to form a soft dough. You can add more flour as needed. Once the dough is soft, you'll cover it and let it rest for 10 minutes.
Roll, Baby Roll – Spread the dough out into a circle but make sure it'll fit on your pizza stone. Next, brush it with some olive oil and sprinkle the dough with garlic powder. Finally, spread mozzarella and Parmesan cheese evenly over the dough.
Cook – Place the dough in the oven and let the cheesy breadsticks bake for about 8 or 9 minutes. The crust should be a beautiful golden brown color and the cheese melted and bubbly.
Serve – These breadsticks are perfect as a side dish with soup, pizza, or pasta. They're also a delicious appetizer on their own! We love to serve them with marinara sauce on the side and a sprinkle of fresh parsley on top.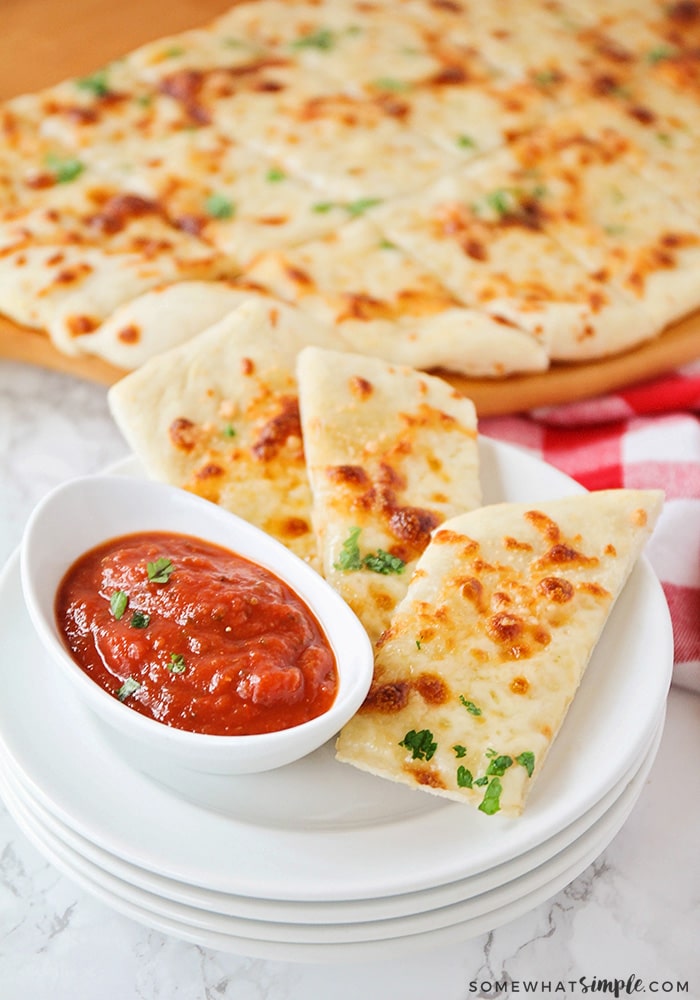 More Easy Appetizers
These cheesy breadsticks are the perfect combination of easy to make and delicious! Give them a try and let us know what you think.
Cheesy Breadsticks
These easy cheesy breadsticks take just 30 minutes to make, and are the perfect side dish or appetizer. They're amazingly delicious and so cheesy!

Instructions
In a medium bowl, whisk together the water, yeast, and sugar. Let sit five minutes, or until bubbly. Add the flour and salt, and mix until a dough forms. Knead gently, adding more flour as needed, to form a soft dough. Cover and let rest 10 minutes.

Preheat the oven to 500 with a baking stone or overturned cookie sheet inside. Spread the dough out to form a large circle. Brush with olive oil and sprinkle with garlic powder. Sprinkle the mozzarella and parmesan over the top, covering evenly.

Place the dough on the preheated baking stone or cookie sheet, and bake 8-9 minutes, or until the crust is golden brown and the cheese is melted and bubbly.
Nutrition
Serving:
1
breadstick
·
Calories:
108
kcal
·
Carbohydrates:
11
g
·
Protein:
6
g
·
Fat:
4
g
·
Saturated Fat:
2
g
·
Cholesterol:
12
mg
·
Sodium:
213
mg
·
Potassium:
30
mg
·
Fiber:
1
g
·
Sugar:
1
g
·
Vitamin A:
92
IU
·
Calcium:
149
mg
·
Iron:
1
mg
Other Notes