If you love gourmet bread with tons of seeds and nuts inside, this Nine-Grain Whole Wheat Bread Recipe is just for you! Now you don't have to pay extra for this kind of bread at your bakery AND your home can smell heavenly while you bake it!
One day when I was going through our old food storage, I came upon a can of nine-grain cracked cereal. Knowing I would never actually eat this, but also not wanting to waste it, I racked my brain thinking of how I could use it. The answer was quick in coming, and surprisingly simple. Make bread!
My nine-grain cracked cereal has red wheat, soft white wheat, barley, oats, corn, millet, flax, hulled barley, and rye. (You can purchase it on Amazon here.) If you don't have ready access to a nine-grain mix, you can make your own or use what you have on hand – wheat, brown rice etc. You can buy other grains as you see fit, but you don't need to crack rolled oats. I also think it would be amazing to add some nuts and seeds to this bread, like sunflower seeds and chopped walnuts. Really, this bread is so versatile and you can mix it up any way you want!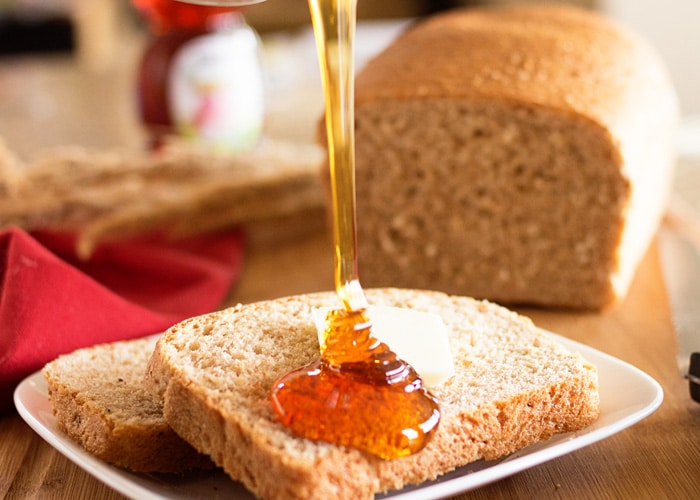 Nine-Grain Whole Wheat Bread Recipe
This recipe will make two loaves.
INGREDIENTS:
2 cups warm water
1 Tbs. yeast
1/4 cup sugar or honey
1/4 cup vital wheat gluten (optional)
1 tsp. salt
1/4 cup oil
6 cups wheat flour, divided (can also use half white flour if desired)
1 cup nine-grain cracked cereal (or any combination of cracked grains, seeds, and nuts)
INSTRUCTIONS:
Add the yeast to the warm water and let proof for about ten minutes. (You can add 1/2 tsp. of sugar to help it proof if you like).
Add the yeast and water mixture, 1/4 cup of honey or sugar, wheat gluten (optional), salt, oil, and two cups of the flour together in a large mixing bowl or your Kitchen Aid mixer. (If using half white and half wheat flour, be sure to add the wheat flour now and save the white for later). Mix well on low speed.
Add the cracked cereal and mix on high speed for a minute or two.
Add about two more cups of flour and mix on low speed.
Switch to a dough hook and add 1 1/2 to 2 more cups of flour. Just add enough so that the dough doesn't stick to the side of the bowl, but still sticks to the bottom a little.
Remove from the bowl and shape into a ball. Dust the bowl with a little flour and put the dough back in the bowl and cover loosely with plastic wrap. (I find that this helps the dough rise faster than just covering it with a towel). Put in a warm place and let rise for 30 minutes to an hour, until doubled in size.
Punch down and shape into two loaves. Place into two greased and floured 9″x5″ bread pans.
Cover loosely with plastic wrap or a cloth. Let rise until just above the edge of the pans.
Bake in a 375-degree oven for 30 minutes.
Let rest in the pans for 10-15 minutes, then turn out onto cloth or paper towel to cool.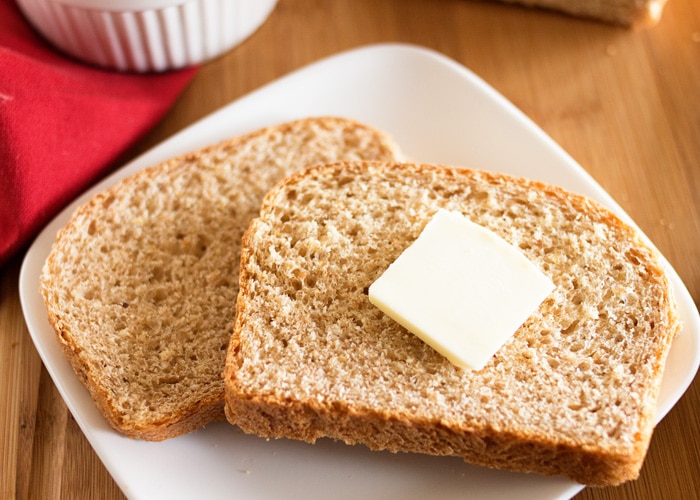 Enjoy!