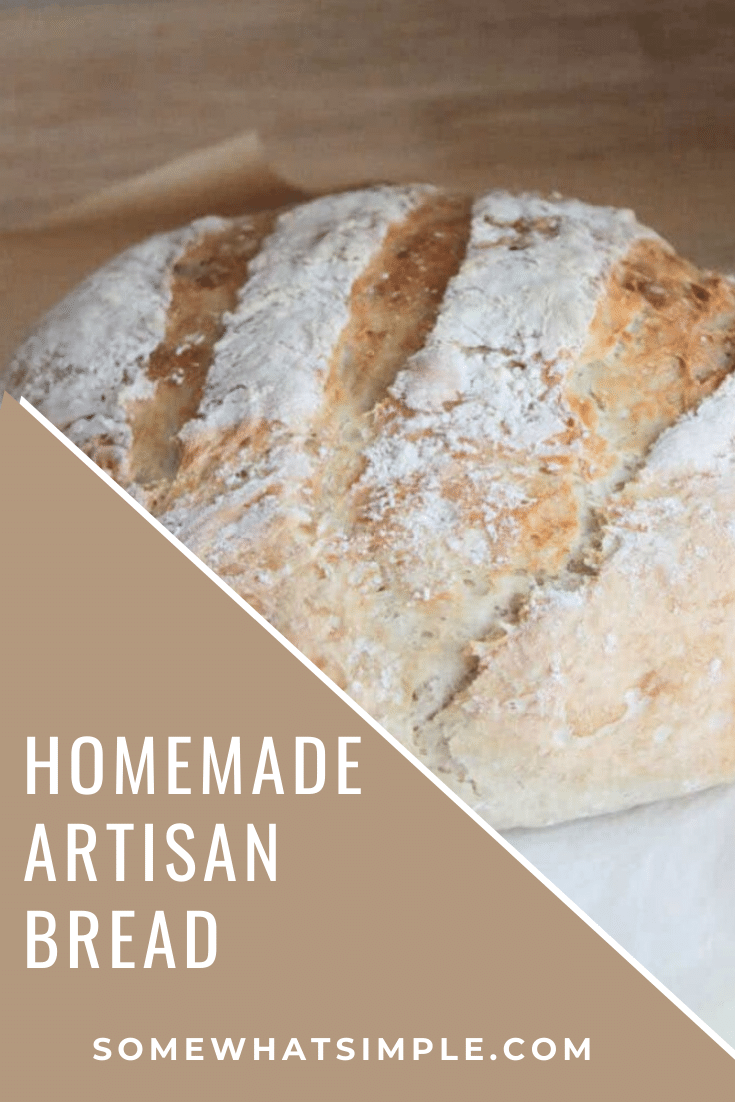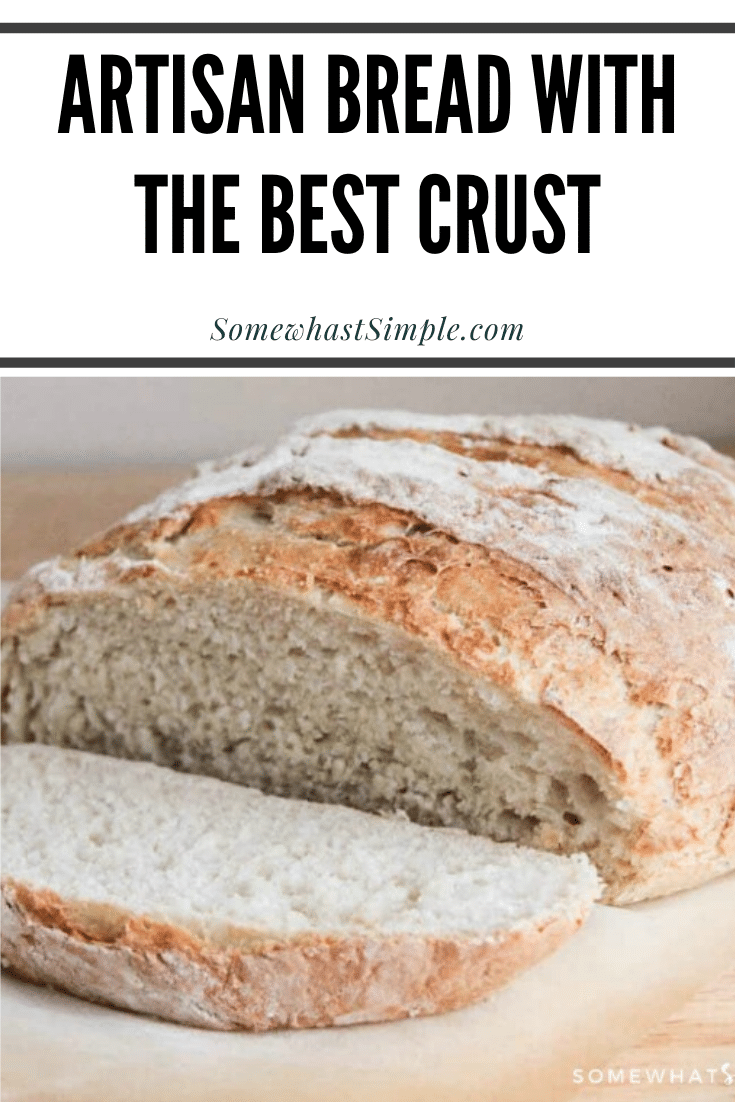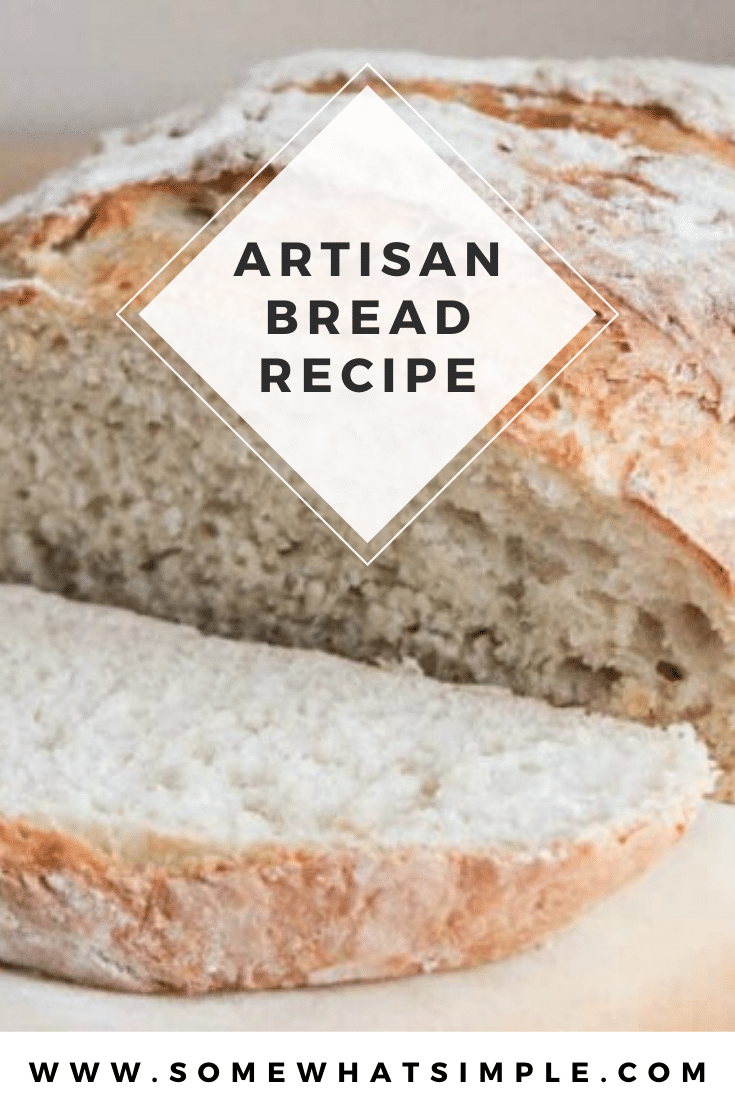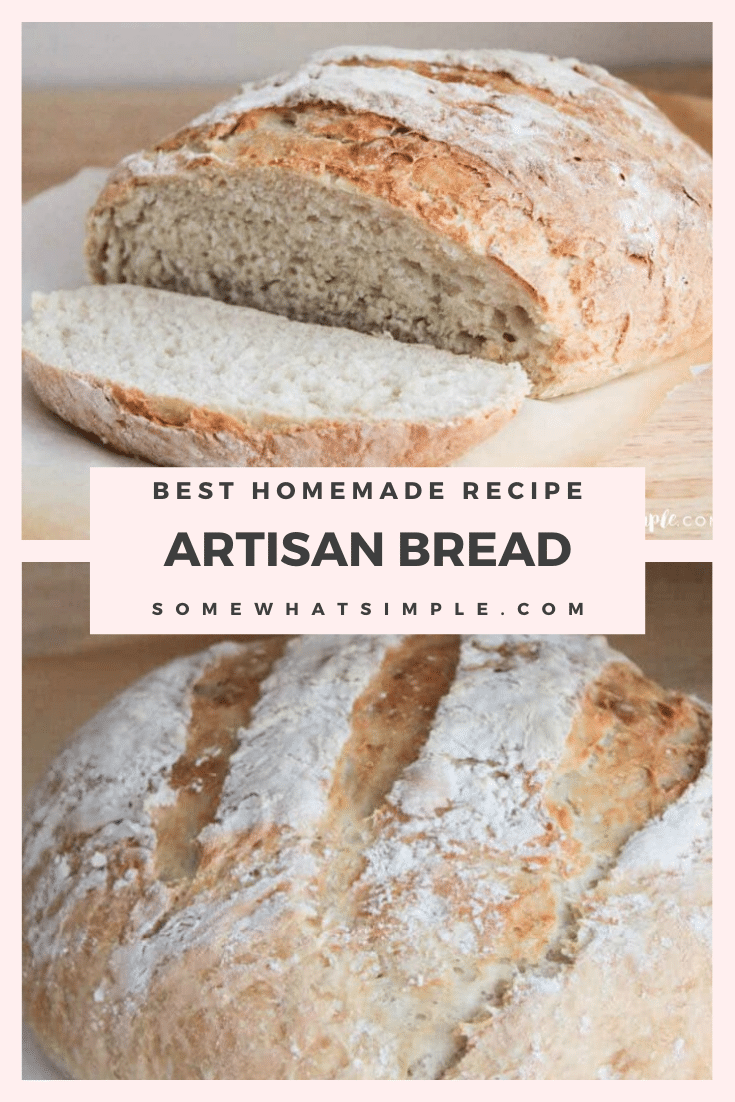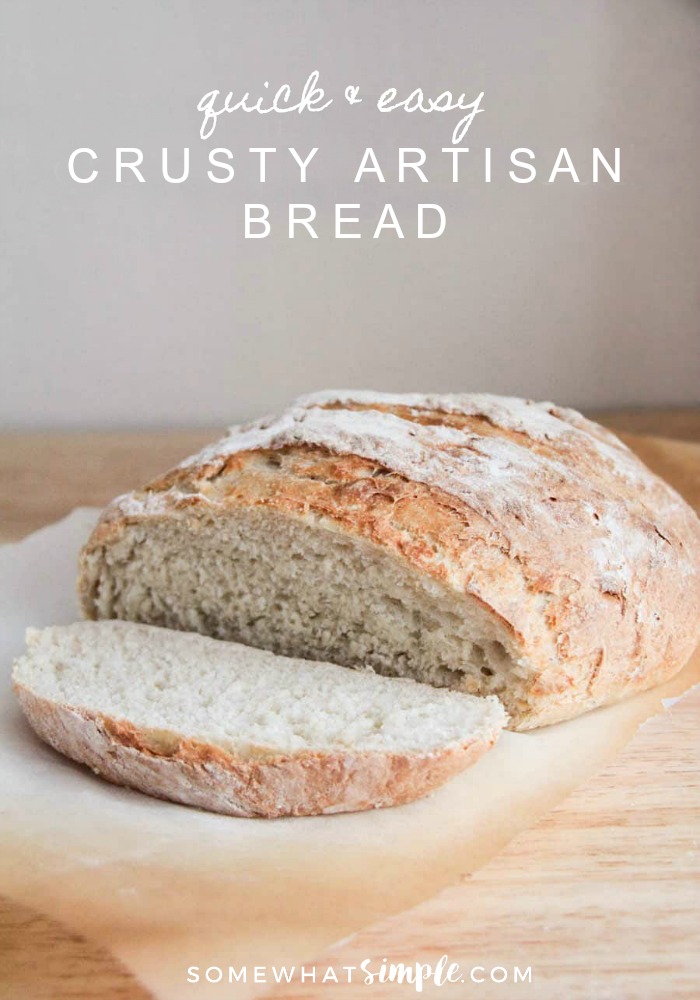 Are you looking for a delicious no knead bread recipe? This crusty Artisan bread recipe comes together quick and easy without all of the extra work!
I love serving bread with virtually every meal I make. Whether you're dipping a slice in a warm bowl of Albondigas Soup, making a Caprese Sandwich or smothering it in Whipped Honey Butter, this bread recipe handles it all like a champ!

No Knead Artisan Bread
I am a huge bread lover, and would prefer a piece of fresh-baked bread to pretty much anything else… even dessert! I've been experimenting with bread recipes a lot during the last year, and have found a few fail-safe recipes that always turns out well. This quick and easy artisan bread recipe is now one of my favorites!
There's a couple things about this recipe that I just love. First, the crust is amazing! It turns out nice and crunchy every time. Second, this bread recipe doesn't require any kneading. Just mix the ingredients, let it rise and then bake it. It's really that simple!
Items Used To Make Artisan Bread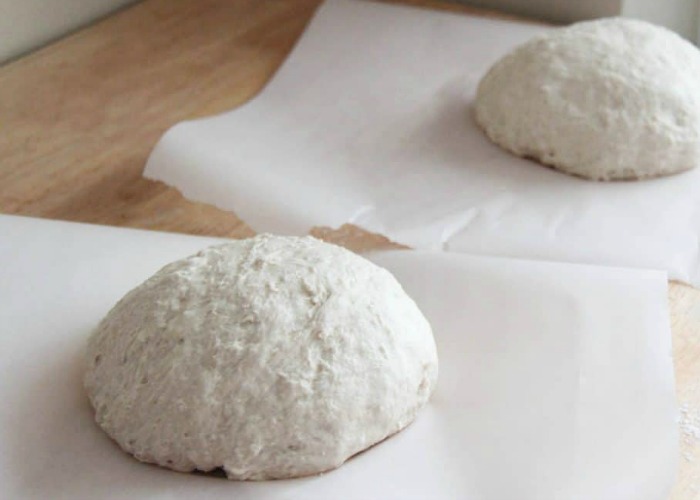 How To Make Artisan Bread
Prep – Preheat your oven to 450 degrees with a pizza stone inside. If you don't have a pizza stone, you can use a cookie sheet turned upside down. On the shelf below the pizza stone, place a broiler pan or cake pan.
Yeast – You start this artisan bread recipe out by first adding yeast and salt to warm water, and letting it proof.
Dough – Next, you stir in the flour until there are no dry spots. This will make a very loose dough.
Rise Up – Cover the dough and place it in a warm spot and let the dough rise for about 2 hours. It will look different than your typical bread dough, but that's okay!
Divide & Conquer – After it has risen, split it in half and shape it into two sticky balls. Let them rest on parchment paper for about 40 additional minutes.
Slash & Dash – When the dough has risen again, dust the top with a dash of flour and cut three deep slashes in the top with a sharp knife. Using a pizza peel (or a cutting board if you're like me and don't own a peel), transfer the dough carefully to the pizza stone.
Bake To Perfection – Pour 1 cup of water into your broiler pan or cake pan, and close the oven door quickly so the steam will stay inside. Bake the loaf of artisan bread for about 24-28 minutes, and enjoy!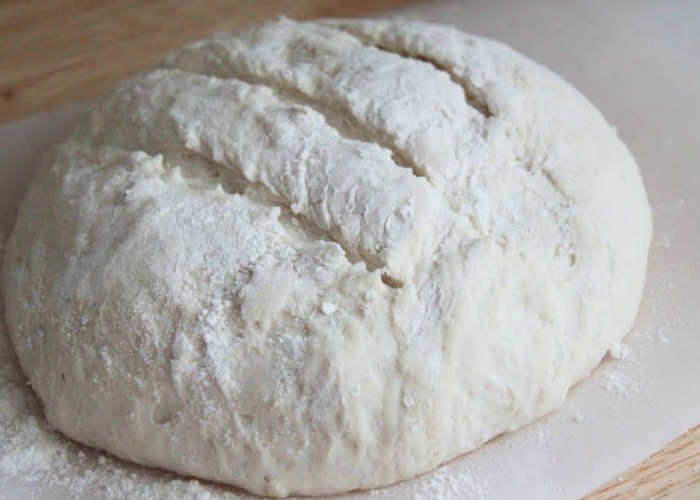 Serve – My favorite way to eat it is just slathered with butter (and sometimes a little honey). We also love dipping it in soup! My husband's favorite way to eat it is to spread it with butter, sprinkle with salt and pepper, and toast in the toaster oven for a few minutes. No matter how you eat it, it's this artisan bread recipe is delicious!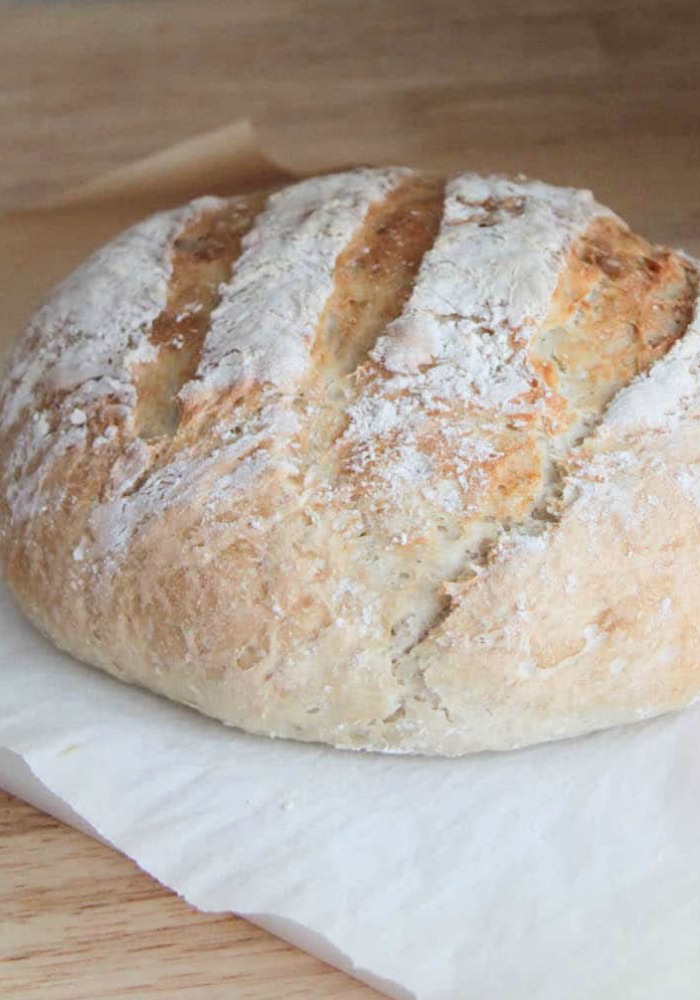 Storage & Freezing
Keeping It Fresh – Whatever you do, don't put the loaf in the fridge. Refrigerating bread makes it go stake pretty quickly. If you're going to eat it within a day or two, wrap the loaf in a linen cloth and store it at room temperature. If you have a large enough paper bag, you can store in there with it wrapped in the cloth as well.
Freezing – Wrap the loaf tightly in plastic and then store it in the freezer for up to 2 months. When you're ready to use it, I like to put it back in the oven to get it nice and crunchy again. Simply preheat your oven to about 425 degrees F and then place the loaf in the oven until it has been heated throughout.
More Homemade Bread Recipes
This really is a great no knead bread recipe! I hope your family loves it as much as mine does!
Crusty Artisan Bread
Looking for a delicious no knead bread? This Crusty Artisan Bread Recipe comes together quick and easy!
Ingredients
1 1/2

tablespoons

instant yeast

3

cups

warm water

1

tablespoon

salt

6 1/2

cups

unbleached

,

all-purpose flour, plus more for dusting dough
Instructions
In a large bowl, dissolve yeast in warm water.

Mix in salt and flour, stirring until there are no dry patches. The dough will be very soft and not like a typical bread dough.

Cover with a kitchen towel and let rise in a warm place for 2 hours.

After rising, divide dough into two pieces and shape each into a round ball.

Place each ball of dough on a piece of parchment paper, and let rest 40 minutes.

During the second rise, preheat oven to 450. Place a baking stone or overturned baking sheet on the upper oven rack, and a broiler pan or metal cake pan on the lower shelf. Heat the baking stone at least 20 minutes before baking.

When the dough is ready to bake, dust it with flour and cut three deep slashes across the top. Slide the dough on the parchment paper onto the baking stone using a pizza peel (or a thin cutting board).

Pour a cup of water into the broiler pan/cake pan and shut the oven door quickly. Bake until golden brown, 24-28 minutes.
Nutrition
Other Notes