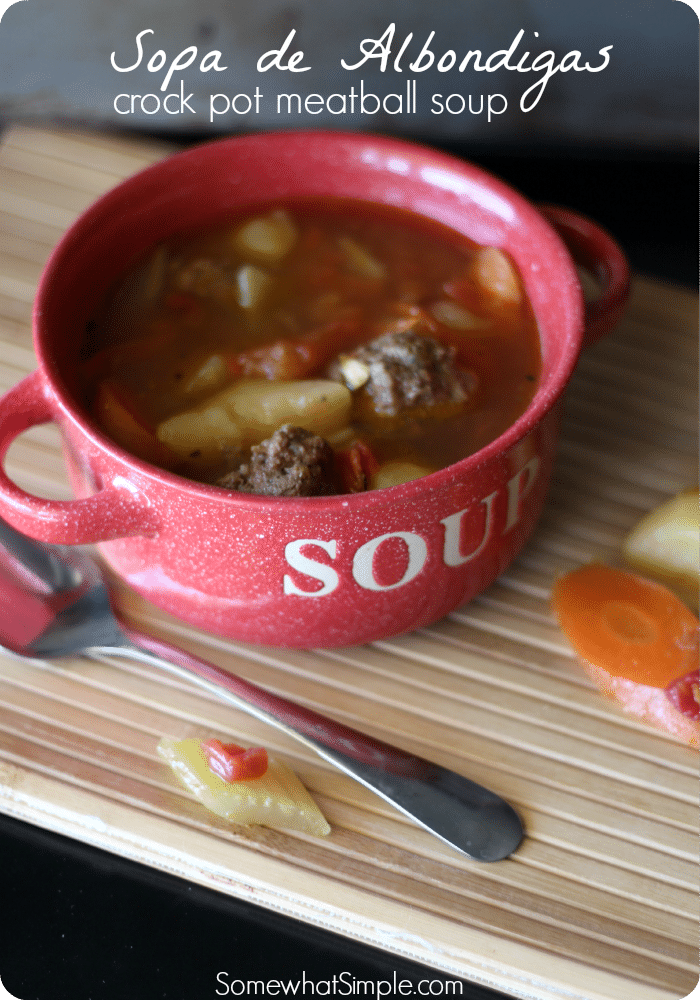 This albondigas soup recipe was one of my family's favorite dinners growing up. This traditional Mexican recipe is made in a slow cooker with meatballs, fresh vegetables and spices. This crock pot recipe will quickly become one of your favorites!
Mexican recipes have always been my favorite type of food to make and eat. Some of my other favorite Mexican recipes are these Homemade Chicken Enchiladas, Tilapia Fish Tacos and a refreshing glass of Horchata.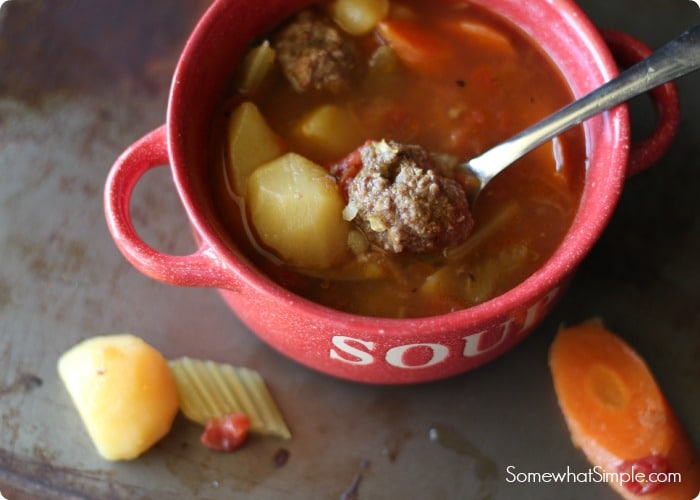 What Is Albondigas?
Growing up, my family had a very favorite Mexican restaurant we ate at all. the. time. While the girls ate way too many chips with delicious salsa, my dad and brother would always order Sopa de Albondigas as an appetizer. Albondigas (pronounced All-bone-dig-us) is Spanish for "Meatball Soup" and it is delicious!!!
Mexican Albondigas Soup
After ordering it all the time at the restaurant, my dad came up with his own recipe and has now been making it for years. My entire family has fallen in love with this soup. My 11 year old would eat it every day if he could. Unfortunately for me, he never keeps track of what he is tossing in the pot, so duplicating his version is not going to happen.
I did, however, find a very tasty version and then I simplified it. So while my dad slaves away at the stockpot all afternoon, I can toss mine in the crockpot and still get the same delicious flavors. Here is how to make it: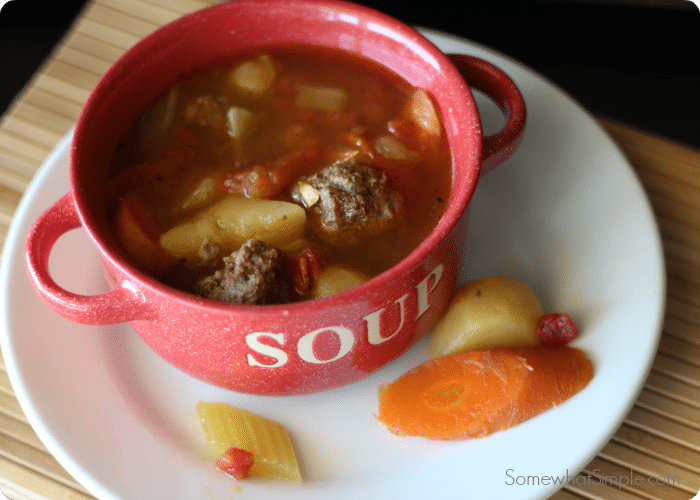 What Goes In Albondigas Soup
Meatballs – homemade or frozen
Beef broth
Sliced carrots
Celery sticks
Potatoes
White onion
Salsa
Chopped fresh cilantro
Salt & pepper
How To Make Crock Pot Albondigas Soup
After a long day, I am all about making things easier when it comes to dinner prep. In the albondigas soup recipe below, I suggest using frozen meatballs because it's easier and faster. If you want to spoil yourself, I would suggest making these Homemade Meatballs ahead of time and using them instead of the frozen ones. Once you have all of your ingredients ready, here's what you need to do:
Put all of the ingredients, except the cilantro and salt & pepper, into the crockpot
Cook all day on the low setting or if you need it quicker, cook on high for at least 4 hours
Before serving, sprinkle on the cilantro and then salt and pepper to taste
Can You Freeze Albondigas Soup?
Yes, you can definitely freeze this soup. Once the soup has cooled, I typically just pour the leftovers into a Ziplock freezer bag. If you don't have these, any air-tight container will do. When you're ready to use it, thaw the leftovers in the refrigerator overnight and then either warm it up on the stove or in the microwave.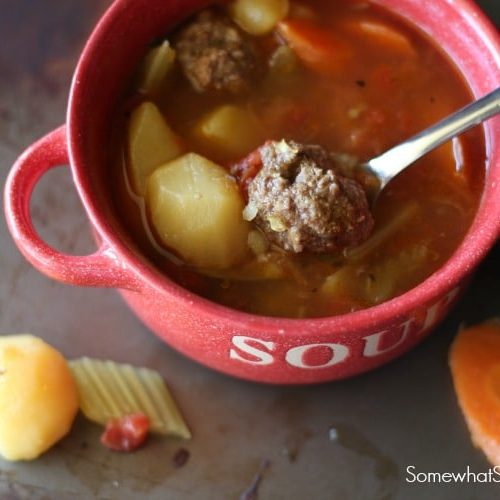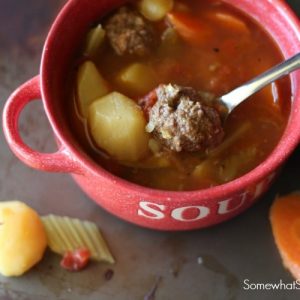 Albondigas Soup Recipe
This albondigas soup recipe was one of my family's favorite dinners growing up. Made with meatballs and fresh vegetables, this recipe will quickly become one of your favorites!
Total Time
4
hours
15
minutes
Ingredients
4

cups

of beef broth

5

carrots

sliced

3

celery sticks

sliced

4 

large

russet potatoes

peeled and diced

1

meduim

white onion

diced

1

jar of salsa

approx. 2 cups

1

small bag of frozen meatballs

approx. 20

chopped fresh cilantro

optional

salt & pepper

to taste
Instructions
Toss all ingredients into crock pot, except the cilantro, salt and pepper.

Cook on low all day or on high for 4 hours or until meatballs are heated through.

Sprinkle with cilantro before serving, if desired and season with salt and pepper.
Recipe Notes
If you like a spicier version, use hot salsa, dice some jalapenos to your liking, or you can even add some curry.
Nutrition Facts
Albondigas Soup Recipe
Amount Per Serving
Calories 250
* Percent Daily Values are based on a 2000 calorie diet.
ENJOY!