Cozy, creamy and so delicious- this easy potato soup recipe is the ultimate bowl of comfort food! It is quick to make on the stove and absolutely perfect for a cold day!
One of the things I love about winter is that it gives me an excuse to make soup. Zuppa Toscana, Crock Pot Creamy Chicken Noodle, Easy Lasagna Soup and THIS Baked Potato Soup definitely top our list of favorites!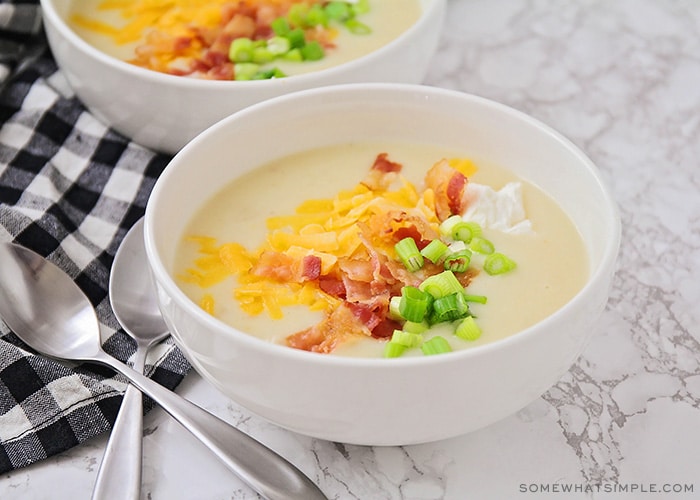 Baked Potato Soup
I am totally a soup girl. While I am always trying new soup to add to my soup recipe box, you are more likely to find me making my favorites over and over and, yes, over again.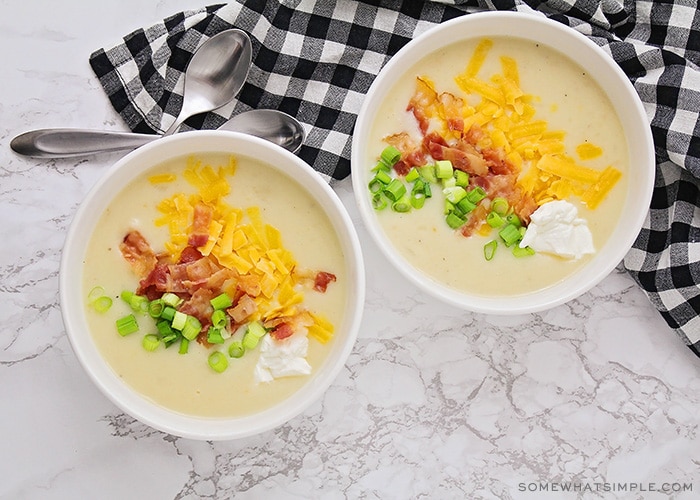 One of my favorites is Baked Potato Soup. This is a recipe I have used for years. This soup is pretty low maintenance ingredient wise. It comes together SOUPer fast…sorry I had to…This soup is also great as leftovers. Woohoo!
Homemade Baked Potato Soup
Ingredients:
2 med. potatoes, baked
3 Tablespoons butter
1 cup chopped onion
2 Tablespoons flour
4 cups chicken broth
2 cups water
1/4 cup cornstarch
1/2 cup instant mashed potatoes
1 teaspoon salt
3/4 teaspoon black pepper
1/2 teaspoon basil
1/8 teaspoon ground thyme
1 cup half-and-half
Garnishes-shredded cheddar cheese, bacon pieces, sliced green onions, sour cream
Directions:
Melt butter in a stock pot. Saute onions in the butter until light brown and translucent.
Add flour to onions and stir continuously  while cooking for 1-2 minutes.
Add broth, water, cornstarch, instant potatoes, and spices. Bring to a boil. Reduce heat and simmer for 5 minutes.
Cut baked potatoes in half and scoop out the pulp and put into the soup, letting it crumble into rough bite-sized pieces.
Add half-and-half. Bring back to a boil and then reduce to a simmer for another 15 minutes.
Serve with garnishes & enjoy!
About the Author: Larissa is a mom of 4 boys who likes to cook and create. The former Food Contributor on Somewhat Simple (2011-12), she now shares her creative adventures full-time on her own blog Just Another Day in Paradise.
This post originally published on Somewhat Simple in January 2012