This delicious and savory chicken pot pie soup is the perfect hearty dinner for a cold night!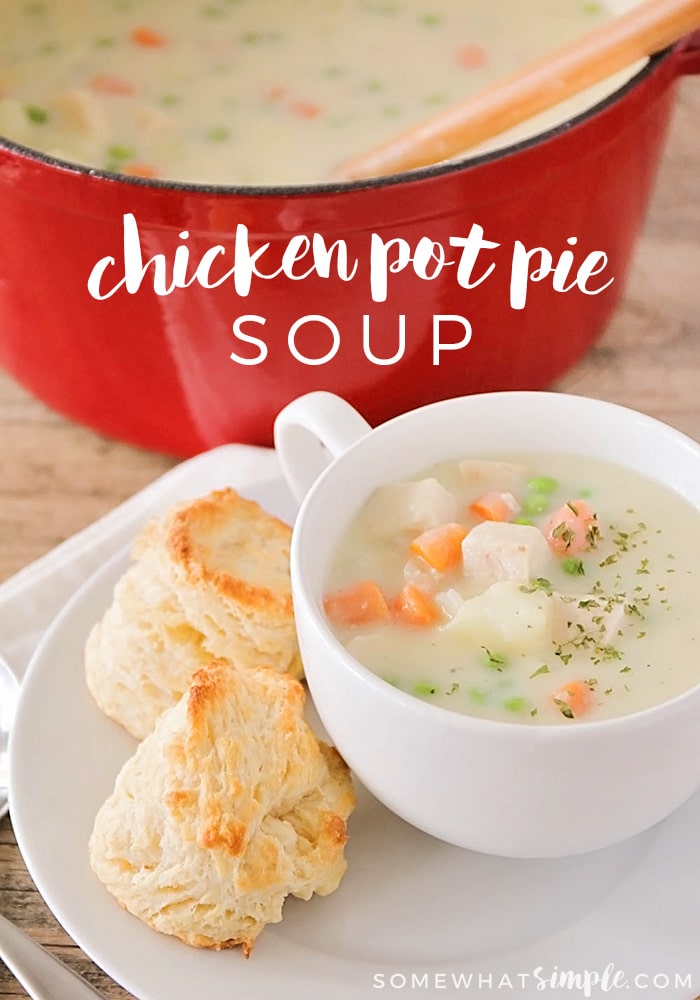 I don't know about you, but I could eat soup for dinner every single night, and never get sick of it. My husband loves to tease me because I eat soup all year round, regardless of the weather. There's something that's so comforting about a big warm bowl of soup! It doesn't hurt that it goes well with my other favorite food, fresh bread. 🙂 I make soup at least twice a week, year round, and my kids love it just as much as I do. We eat a wide variety of soups, from thin brothy soups to thick chowders and stews. I can't say that I have a favorite kind of soup, but I tend to like the thick and hearty ones the best. This chicken pot pie soup definitely satisfies those requires, and it's also incredibly delicious and easy to make!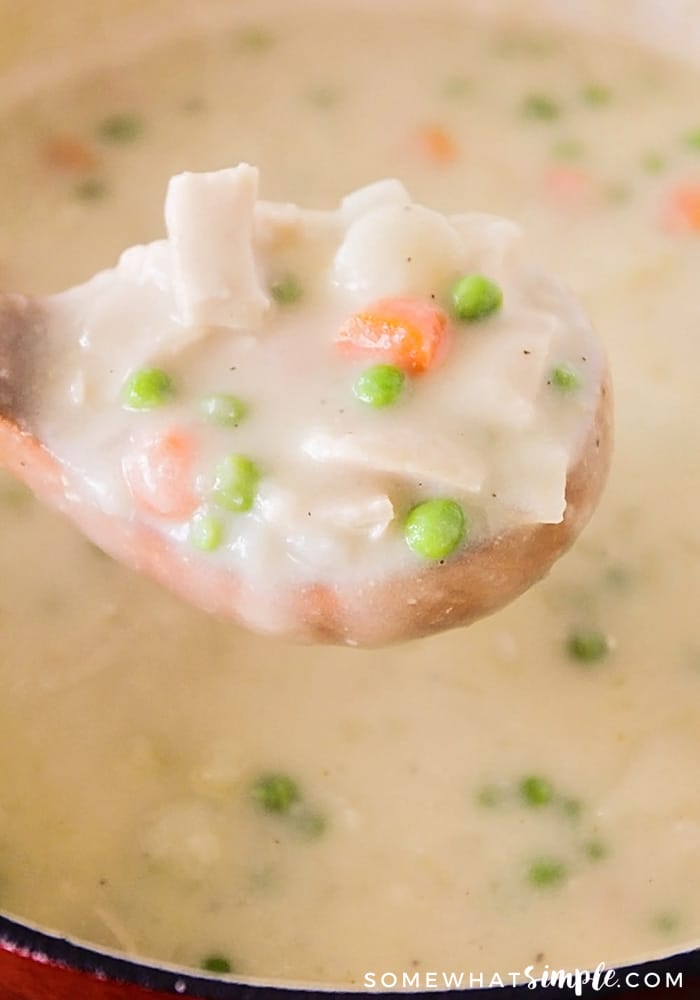 You'll start by simmering your vegetables in chicken broth until tender, then whipping up a quick roux to thicken the soup. Next you'll add some chopped cooked chicken and frozen peas, and season the soup  to perfection. The result is a savory, creamy soup that's sure to be a favorite with the whole family!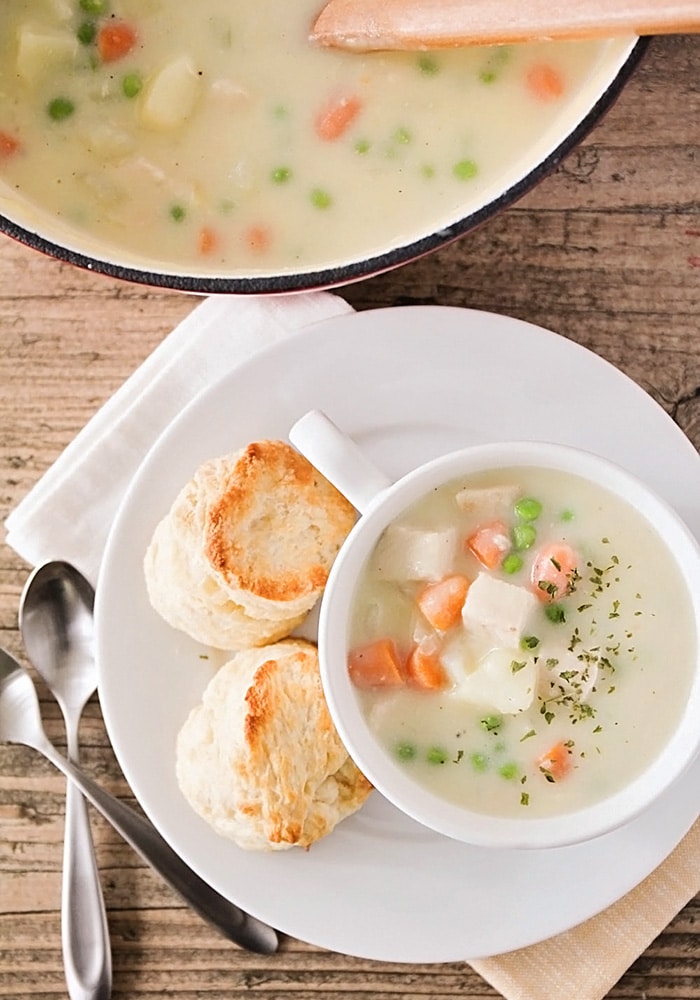 Chicken Pot Pie Soup
Ingredients –
4-5 medium potatoes, peeled and cut into 1/2 inch cubes
2 cups chopped carrots
1 medium onion, peeled and chopped
4 cups chicken broth
6 tablespoons butter
1/3 cup flour
2 1/2 cups milk
2 cups chopped cooked chicken (rotisserie works great)
1 1/2 cups frozen peas
1 teaspoon garlic powder
1/2 teaspoon pepper
2 teaspoons salt
Directions –
Add the potatoes, carrots, onion, and chicken broth to a large pot over medium heat. Bring the mixture to a simmer. Simmer until the potatoes and carrots are tender and easily pierced by a fork (about 15 minutes).
While the vegetables are cooking, melt the butter in a medium saucepan over medium heat. Whisk in the flour to form a paste. Cook 3-4 minutes, until golden. Slowly whisk in the milk, and cook until thickened.
Pour the milk mixture into the vegetable pot and stir to combine. Add the chicken and frozen peas and cook 3-5 minutes, until heated through. Stir in the salt, pepper, and garlic powder. Taste and adjust seasonings, then serve hot.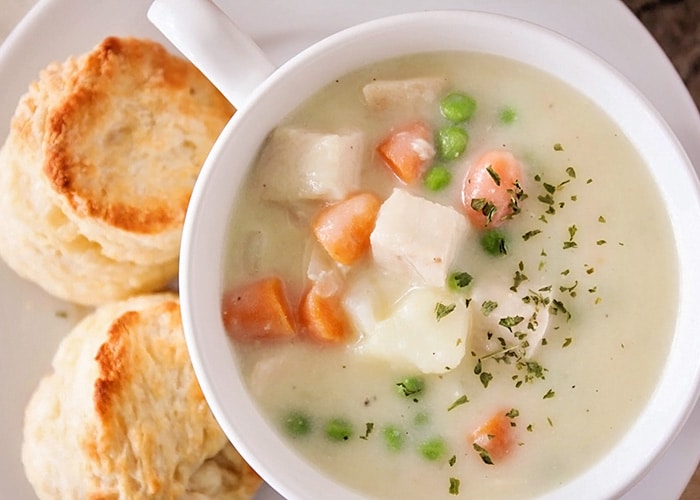 For more delicious soup recipes, check out some of these favorites: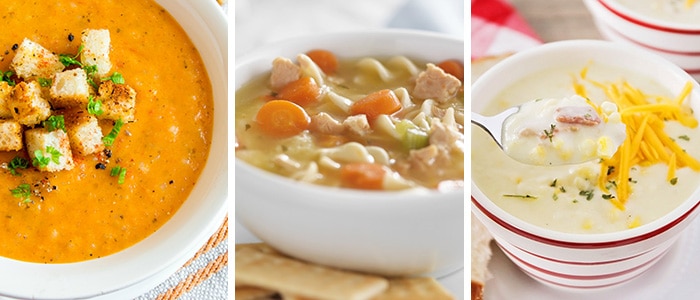 Tomato Basil Soup | Creamy Chicken Noodle Soup | Hearty Corn Chowder