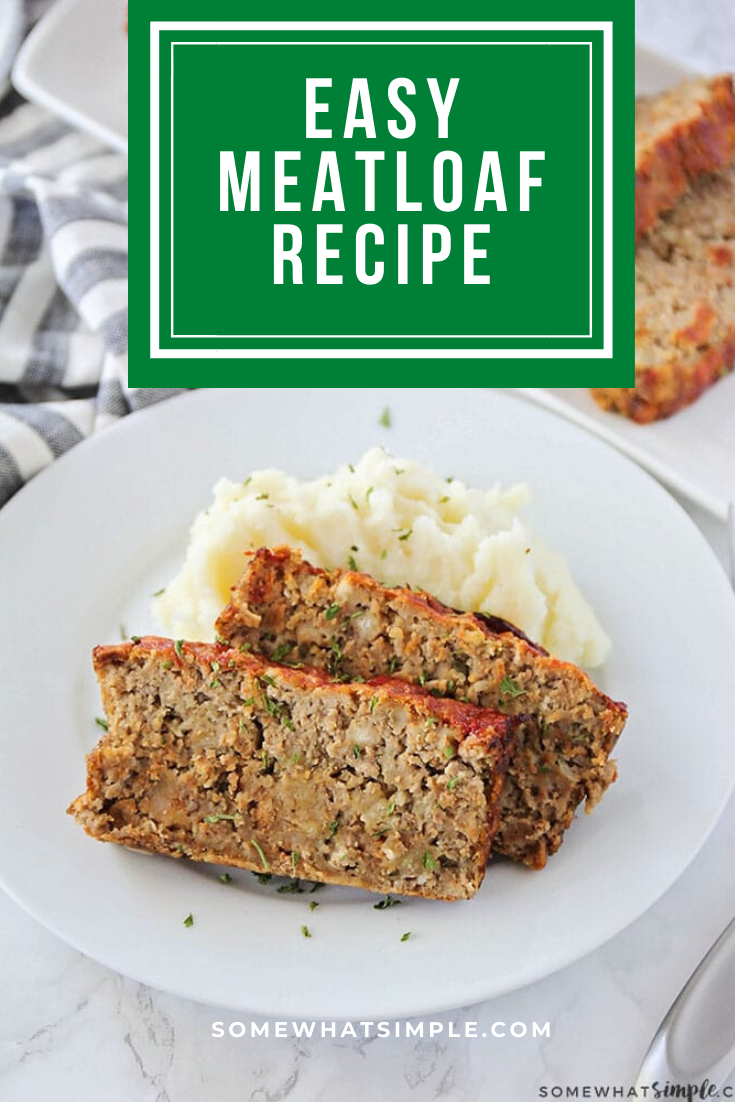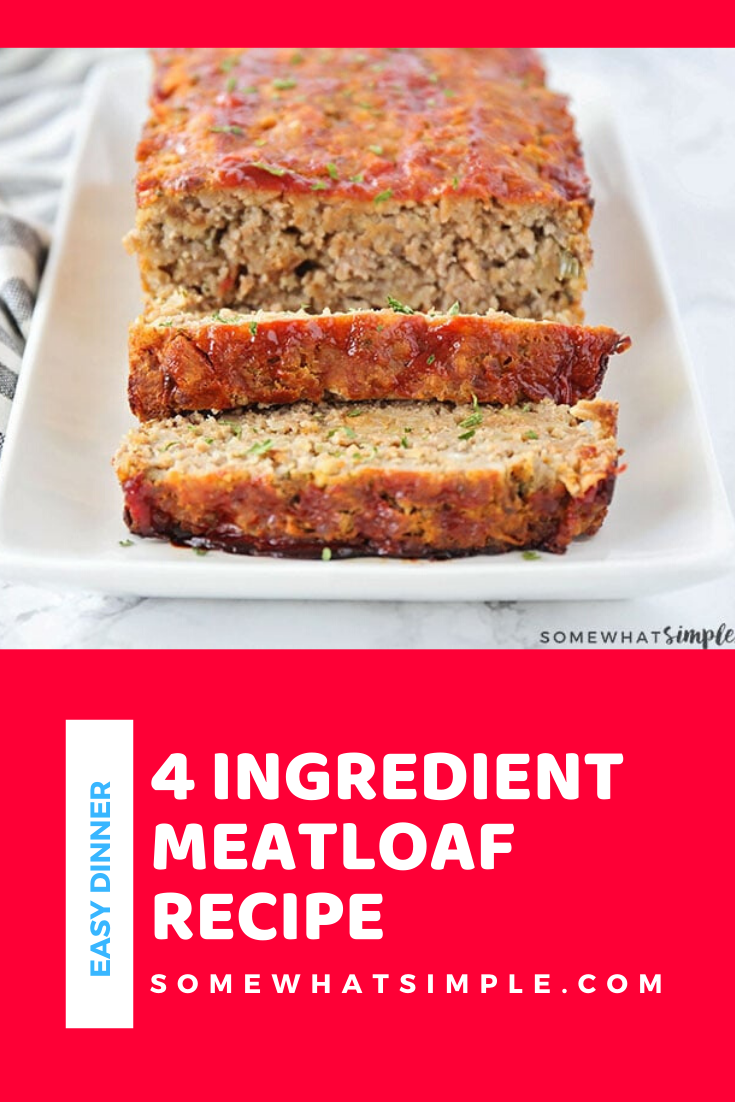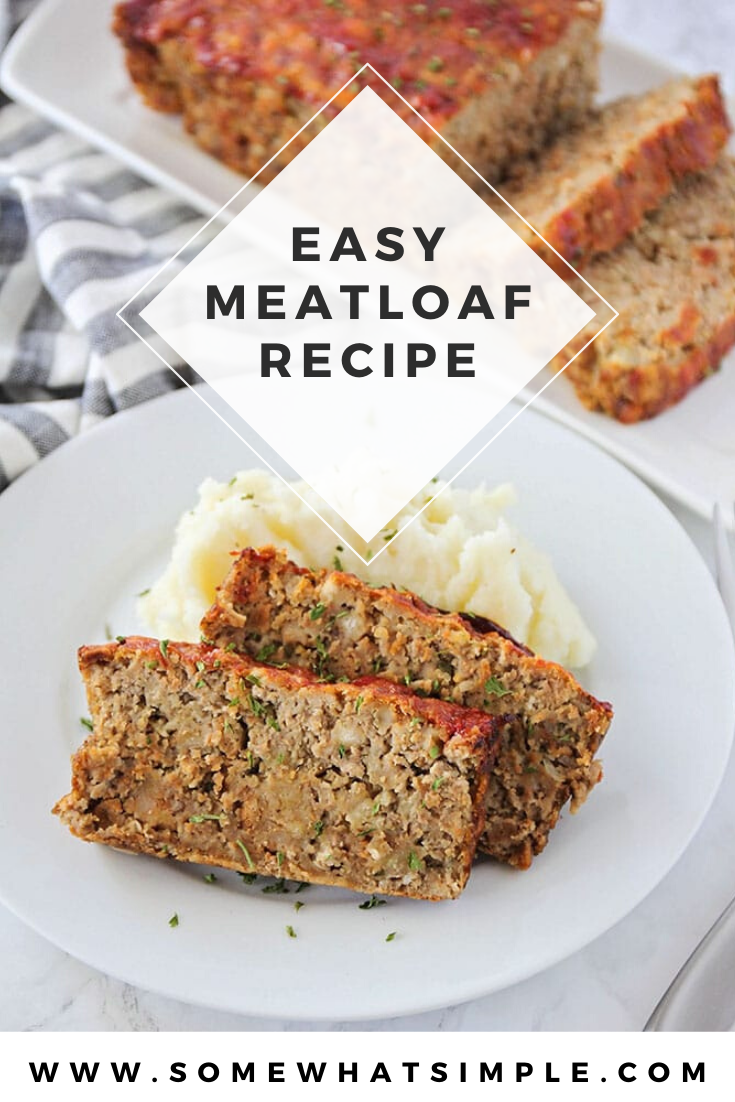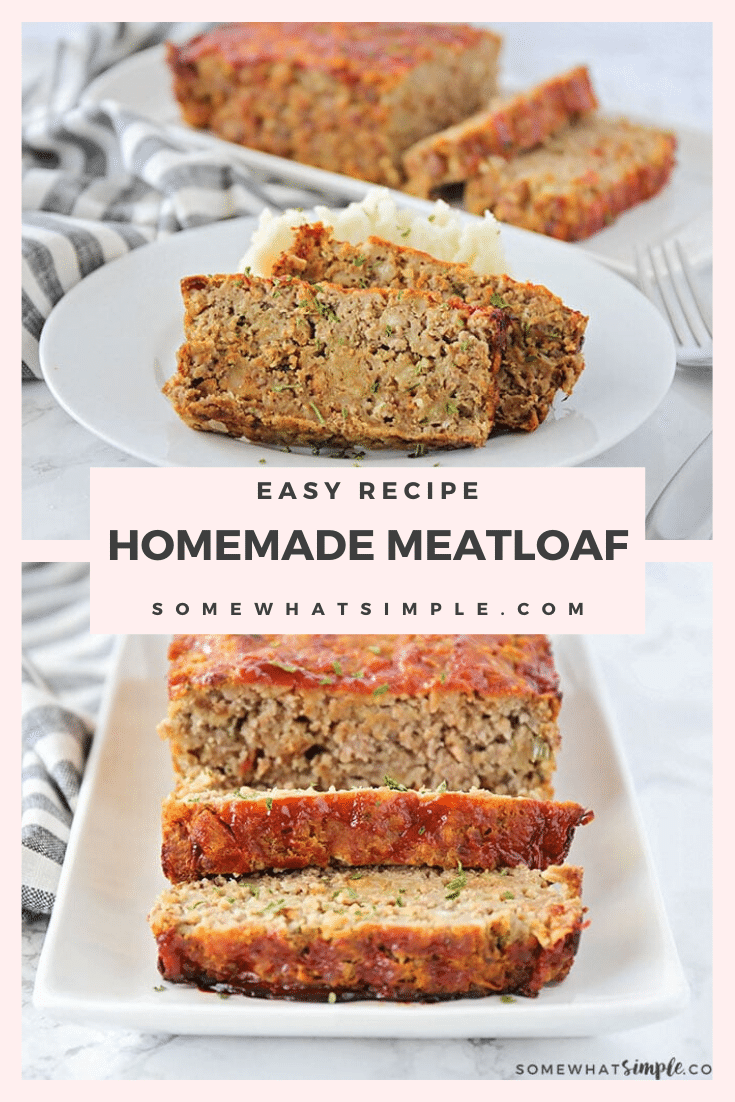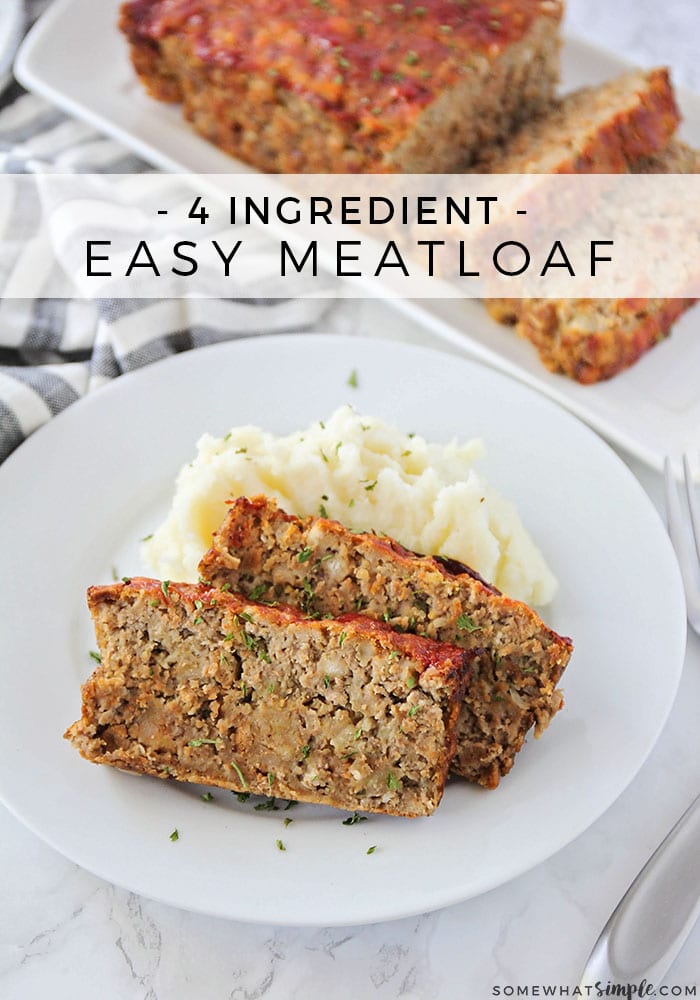 If you're looking for a simple meatloaf recipe that is moist and dripping with flavor, this meatloaf recipe will quickly become a family favorite. Using only four ingredients, this easy meatloaf recipe is simple to make and the taste is amazing!
Serve this simple recipe with a side of creamy Garlic Mashed Potatoes, a Spinach Salad or bowl full Roasted Vegetables for a delicious dinner that everyone will be clamoring about!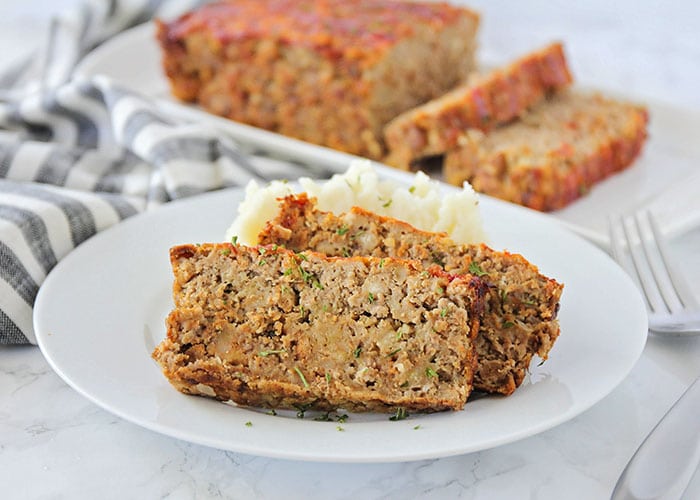 Best Meatloaf Recipe
My dad is not a meatloaf fan, so growing up my mom rarely made it for our family. And I feel like I was maybe deprived or something… because what's not to love about meatloaf?!? I've made my fair share of various meatloaf recipes, but this simple homemade meatloaf recipe happens to be my oldest son's favorite thing to eat for dinner.
Like many of you, we have a very busy family and I don't have time to make gourmet meals. My favorite part of this meatloaf recipe is that you only need four ingredients so it's quick and easy to make and it takes just a few minutes to prepare.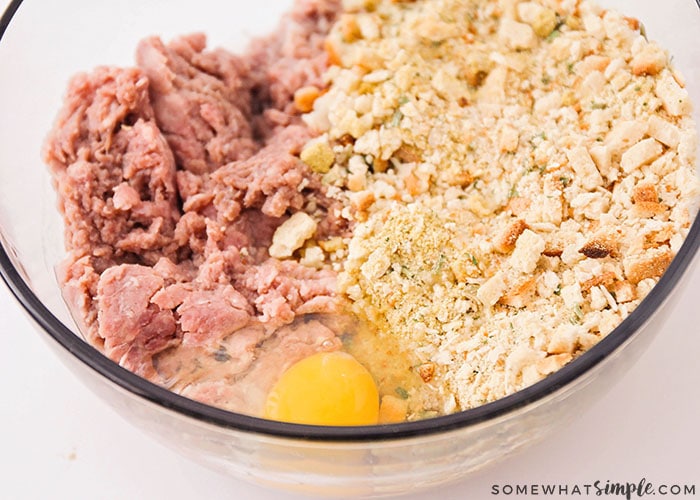 How to Make Meatloaf
Prep – Start by preheating your oven to 350 degrees F. You'll also want to give your loaf pan a shot of cooking spray to keep the meatloaf from sticking.
Mix – This simple meatloaf recipe is made by placing the ground beef, stuffing, water an egg into a large bowl. Mix all everything together until all four ingredients have fully blended together.
Transfer – Next, press the meat mixture into a loaf pan.
Cook – Bake the meatloaf for about 45 minutes or until is has cooked throughout.
Sauce – I love to brush the top of the meatloaf with ketchup, BBQ or meatloaf sauce for added moisture and flavor. Everyone has their favorite but I love Sweet Baby Ray's BBQ sauce! If I have extra time, I'll whip up a Homemade BBQ Sauce as well.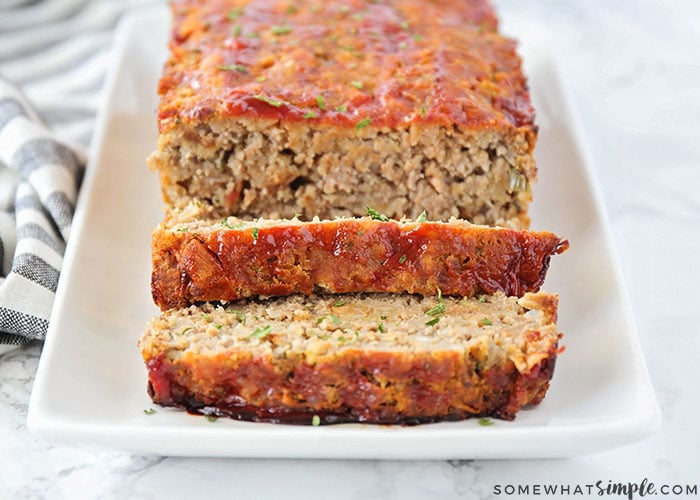 Recipe Tips
How Long To Cook It – For this meatloaf recipe I used 1 pound of ground beef and cooked it at 350 degrees F (177 degrees C) for 45 minutes. This will of course vary if you use more of less ground beef to make your loaf. To make sure your meatloaf is fully cooked, use a meat thermometer to make sure the internal temperature has reached 160 degrees F (72 degrees C).
Best Type Of Beef – I prefer my ground beef to have a little higher fat content. The higher extra fat makes the meatloaf more flavorful and moist. I would recommend using no leaner than an 80/20 blend in this meatloaf recipe.
Extra Ingredients – My kids don't like onions so I left those out. I think they're delicious, so if you'd like to add them, I would use about 1/3 cup of diced onions.
Extra Seasoning – If I have it on hand, sometimes I'll sprinkle in a little McCormick's Montreal steak seasoning for a little extra flavor.
Can You Freeze Meatloaf?
Freezing – Yes, you can definitely freeze this homemade meatloaf recipe. In fact, you can freeze it both before and after cooking the meatloaf. If you freeze it before cooking, I like to wrap it in plastic wrap before placing it into a freezer bag.
Using – When you're ready to bake it, leave it in the refrigerator overnight to thaw and then cook it according to the directions above. You can keep meatloaf in the freezer for up to 3 months before I would recommend throwing it out.
Best Meatloaf Side Dishes
The only thing that will make this simple meatloaf recipe better is one of these delicious side dishes. Just like main dish, these sides are super easy to make as well.
More Easy Meat Recipes
If you are looking for other quick and easy meat recipes to make, try one of our other popular recipes:
I have yet to be disappointed by any of the recipes I've tried, but this easy meatloaf recipe that I am sharing today takes first place in my book! Not only is it moist and delicious, it is also SO SIMPLE to make.
Easy 4 Ingredient Meatloaf Recipe
With only four ingredients, this easy meatloaf recipe is simple to make and the taste is amazing! This meatloaf recipe is moist and dripping with flavor. This meatloaf recipe will quickly become a family favorite.
Ingredients
1

lb

ground beef

1

egg

1

box

stuffing

1

cup

water

1/2

cup

BBQ sauce or ketchup

,

optional
Instructions
Preheat oven to 350 degrees.

In a medium bowl, mix all the ingredients together until combined. Don't be afraid to use your hands for this.

Press in a bread loaf pan and bake for 45 minutes.

Optional: Add BBQ sauce or ketchup to the top.

Serve with mashed potatoes and enjoy!
Nutrition
Serving:
1
serving
·
Calories:
122
kcal
·
Carbohydrates:
5
g
·
Protein:
7
g
·
Fat:
8
g
·
Saturated Fat:
3
g
·
Cholesterol:
40
mg
·
Sodium:
154
mg
·
Potassium:
135
mg
·
Fiber:
1
g
·
Sugar:
4
g
·
Vitamin A:
46
IU
·
Vitamin C:
1
mg
·
Calcium:
13
mg
·
Iron:
1
mg
Other Notes