This spinach salad pairs great with a hot day and is the perfect side dish for an outdoor party or BBQ!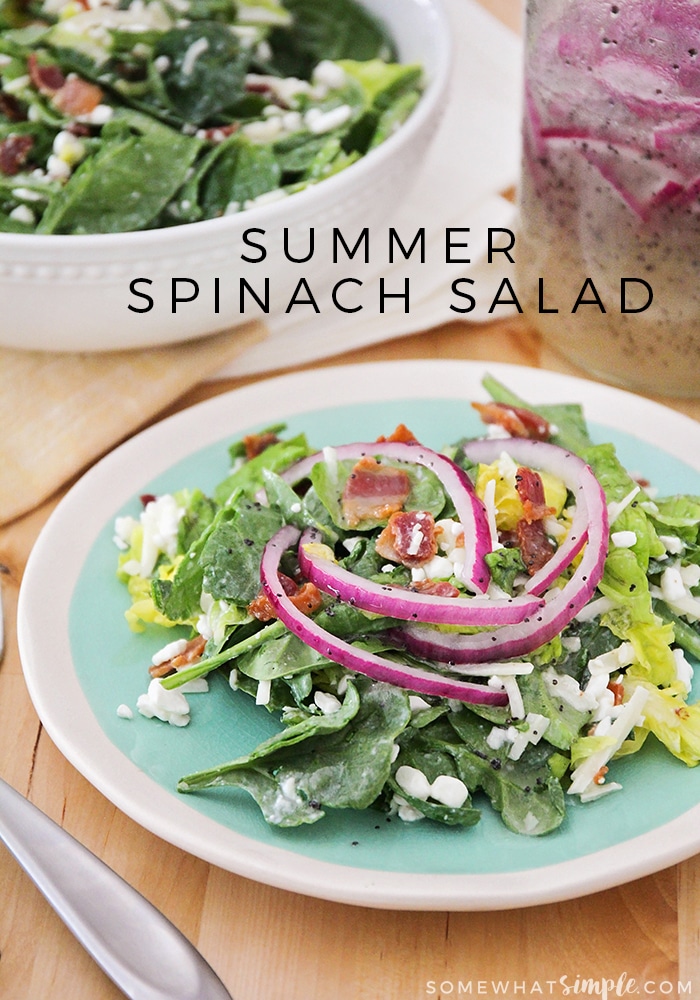 Nothing says SUMMER like a fresh, delicious salad. This spinach salad recipe is loaded with spinach (yum!) plus it has an added surprise – bacon – (double yum!) Not only does this one taste amazing, it is also SUPER easy to put together!
Spinach Salad and Onion Poppyseed Dressing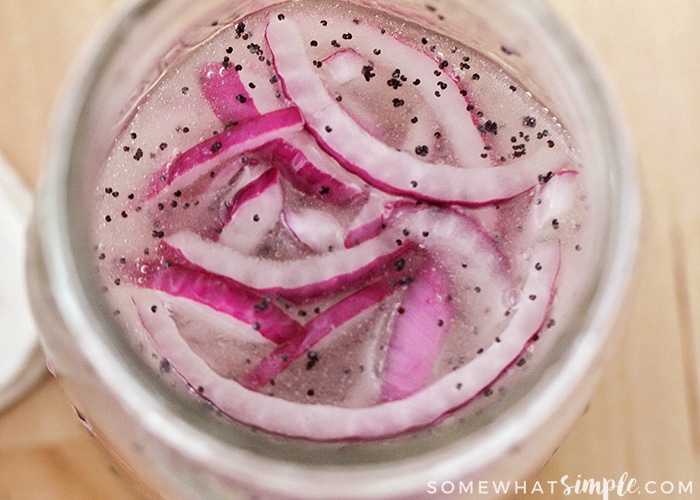 First, let's make the Spinach Salad Dressing : 
Onion Poppyseed Dressing Ingredients –
1 cup oil
3/8 cup rice vinegar + 3/8 cup white vinegar = 3/4 cups total

3/4 cups sugar

1 Tablespoon poppy seeds

3/4 teaspoon ground mustard

1 medium purple onion, thinly sliced
Onion Poppyseed Dressing Directions –
In a large jar (I used a Mason jar), combine all the ingredients, except the onions. Mix well.
Put the thinly sliced onions into the dressing, then place the dressing in the fridge. Let the onions marinate in the dressing for 1-6 hours, depending on how much patience you have. 🙂

After your dressing has marinaded the desired time, start your salad : 
Spinach Salad Ingredients –
baby spinach, 1 bag
iceberg lettuce, 1 head chopped into bite sized pieces
1 1/2 cups of shredded mozzarella cheese
1 cup small curd cottage cheese
6 slices of bacon, cooked and chopped into pieces
Spinach Salad Directions –
In a large bowl, combine all of the salad ingredients. DO NOT PUT THE DRESSING ON YET.

Salad Serving Suggestion –
Here is a secret I have for serving salad. Do you hate how when you mix up your salad all the yummy toppings sink to the bottom? When you are ready to serve it, no one can get to OR see the delightful toppings? I hate it too, so here is the solution. Mix your salad ingredients in one big bowl. Then, gently dump out the bowl onto a different serving platter. The toppings will almost perfectly disperse evenly.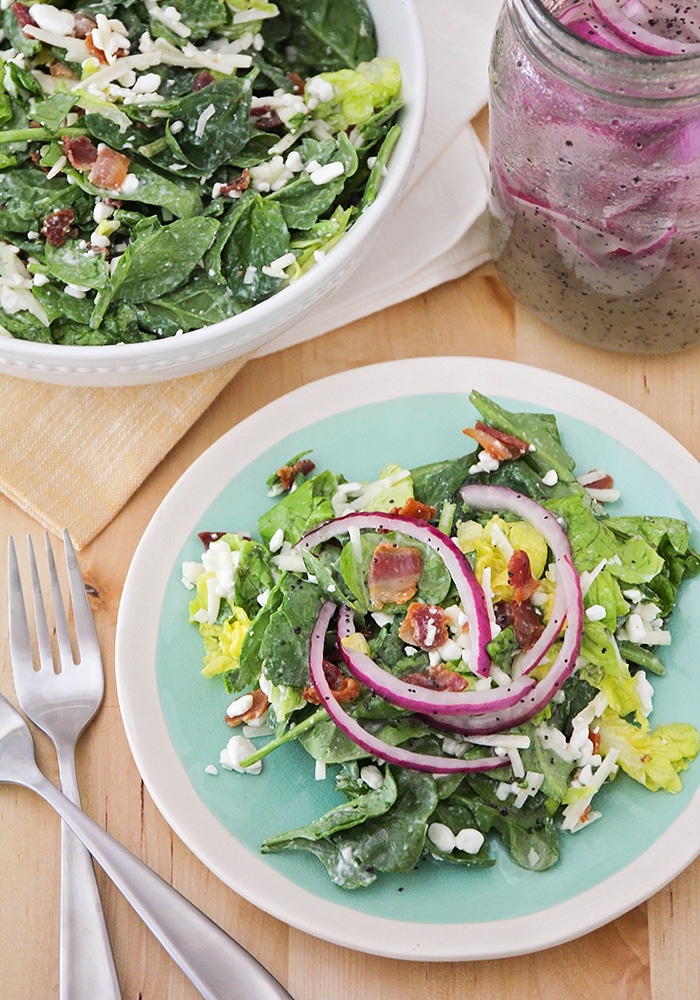 Last, but not least –
With your salad all assembled, you can either evenly coat the whole salad with the onion poppyseed dressing OR you can serve the dressing on the side allowing each person to put on their perfect amount of dressing.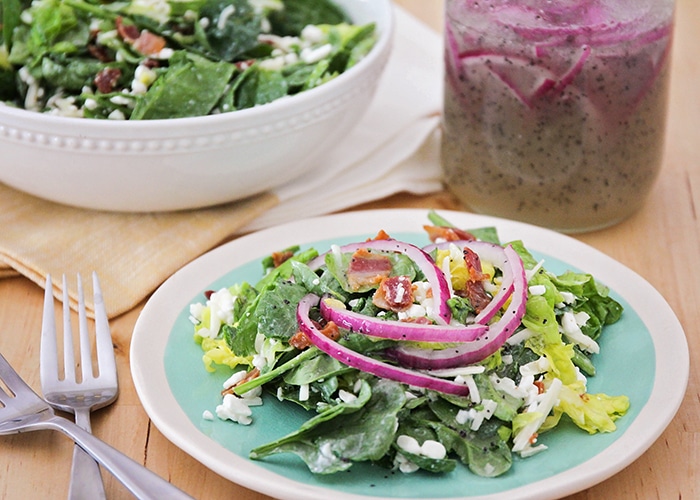 This salad is sure to be a crowd pleaser at your next Summer get together!
About the Author: Larissa is a mom of 4 boys who likes to cook and create. The former Food Contributor on Somewhat Simple (2011), she now shares her creative adventures full-time on her own blog Just Another Day in Paradise.
This post originally published on Somewhat Simple in June 2011. It was updated in July 2017. 
DON'T MISS A THING!
Sign up for our newsletter to receive our FREE Home Organization Binder Printables + weekly updates filled with creative inspiration and exclusive freebies!
---