This post brought to you by KRAFT Natural Shredded Cheese and Safeway. All opinions are 100% mine.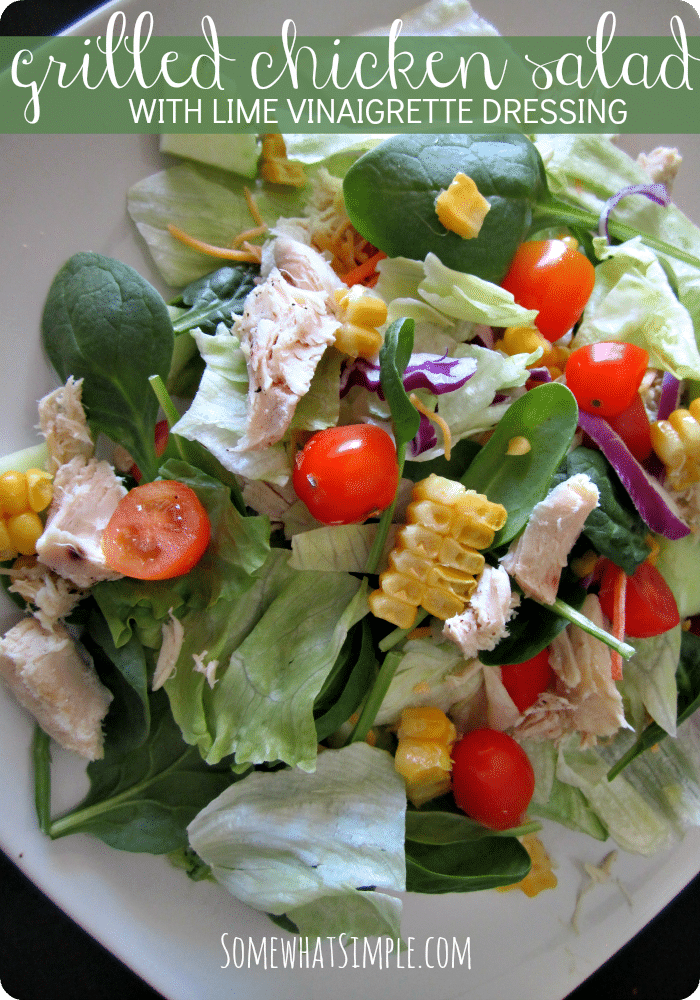 This recipe for grilled chicken salad is perfect for summer! Serve it for dinner when it's too hot to turn on your oven, or as a side-salad to your favorite summer dish. The best part of this chopped salad is the chicken, which is marinated in lime vinaigrette dressing and then grilled to perfection. Your taste buds are going to love you!
Recipe for Grilled Chicken Salad
(adapted from KraftFood.com) 6 servings, about 1-1/2 cups each
INGREDIENTS
2/3 cup

KRAFT Zesty Lime Vinaigrette Dressing

, divided
6 small boneless skinless chicken breasts (1-1/2 lb.)
1 pkg. (10 oz.) torn

romaine lettuce

1 cup corn cut from the cob, cooked. (Or, use 1/2 cup frozen corn, thawed)
1/2 cup red onions, thinly sliced
1 cup cherry tomatoes, halved (Or use 1 large

tomato

, chopped

1/2 cup

KRAFT Mexican Style Finely Shredded Four Cheese
OPTIONAL INGREDIENTS
1 can (15 oz.)

black beans

, rinsed
1 avocado, chopped
Pour 1/3 cup dressing over chicken in shallow dish; turn to evenly coat both sides of each breast. Refrigerate 30 min. to marinate. (Chicken can be marinated up to 24 hours before grilling as directed.)
Heat grill to medium heat. Remove chicken from marinade; discard marinade. Grill chicken 6 to 8 min. on each side or until done (165°F).
Meanwhile, combine remaining dressing with all remaining ingredients except cheese in large bowl.
Chop the chicken; place over salad. Sprinkle with cheese.
This recipe is in support of the new KRAFT Natural Cheese Stand-Up Pouch at Safeway Just For You. Now you can get the same amount of all you favorite cheeses in a stand-up pouch that uses less packaging and makes it easier to scoop and pour cheese directly from the package while cooking your family's favorite recipes! Try this product by visiting your local Safeway and grab a pouch (or two or three!) on the new in-store displays.
BBQ Chicken Chopped Salad
Ingredients
1 c. corn kernels (from 2 ears corn)
1 tsp. vegetable oil
3 skinless, boneless chicken-breast halves
salt
pepper
1 tbsp. barbecue sauce
2 limes
¼ c. light ranch dressing
2 hearts romaine lettuce
¾ c. loosely packed fresh cilantro leaves
½ small jicama
1 can pink or pinto beans
1 medium ripe tomato
1 c. Shredded Monterey Jack cheese
1 c. crushed tortilla chips
Directions
In microwave-safe small bowl, place corn and 2 tablespoons water; cover with vented plastic wrap. Microwave on High 1 minute; drain and refrigerate.
Brush large ridged grill pan with oil; heat on medium until hot. With flat side of meat mallet, pound chicken (placed between 2 sheets plastic wrap) to an even 1/2-inch thickness. Sprinkle with 1/4 teaspoon salt and 1/4 teaspoon freshly ground black pepper to season both sides. Working in batches if necessary, cook chicken 12 to 14 minutes or until juices run clear when pierced with tip of knife, turning over once. Transfer to cutting board; brush with barbecue sauce. Cool slightly; cut into 1-inch chunks.
Into small bowl, from 1 lime, squeeze 1 tablespoon juice. Cut remaining lime into 4 wedges and reserve. With fork, whisk dressing into lime juice. In large bowl, toss lettuce and cilantro with half of lime dressing until evenly coated; place on serving platter. Top lettuce with jicama, beans, tomato, cheese, chips, and chicken. Drizzle remaining dressing all over, and serve with reserved lime wedges.