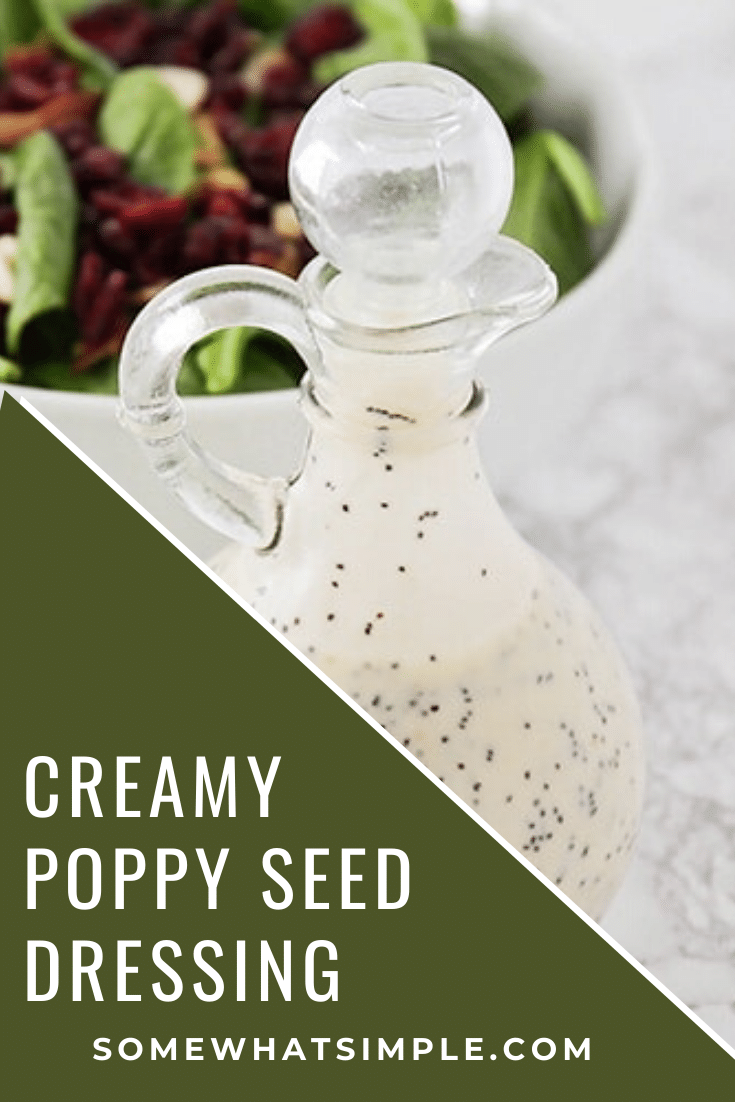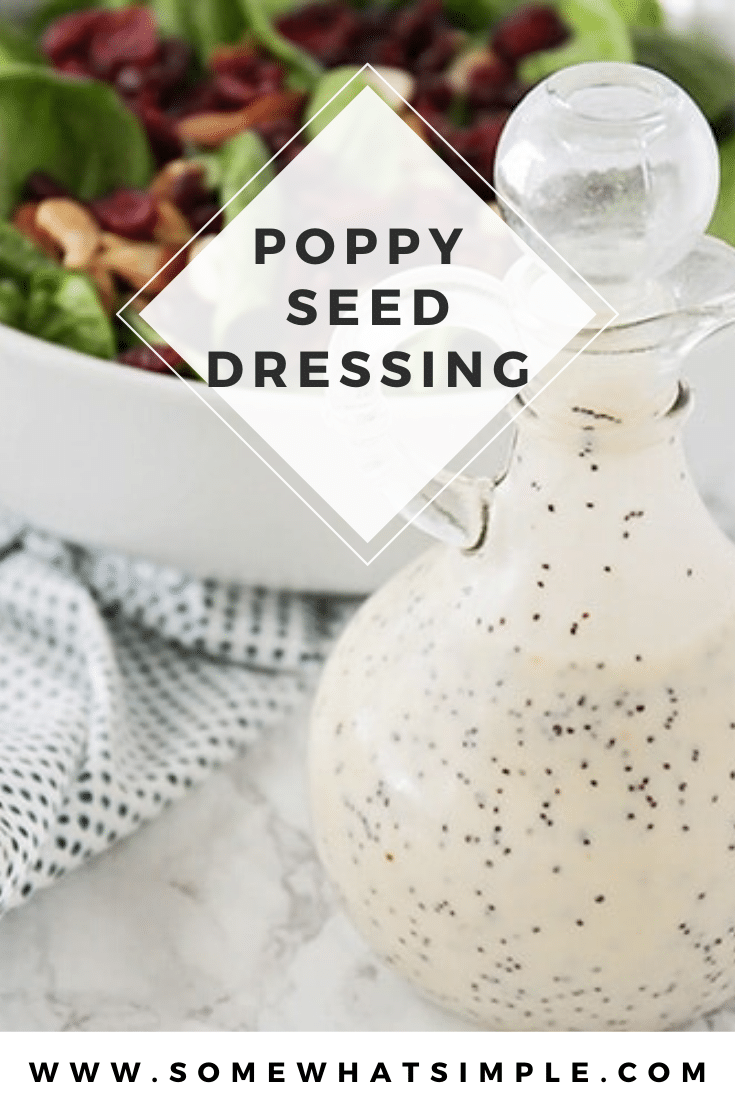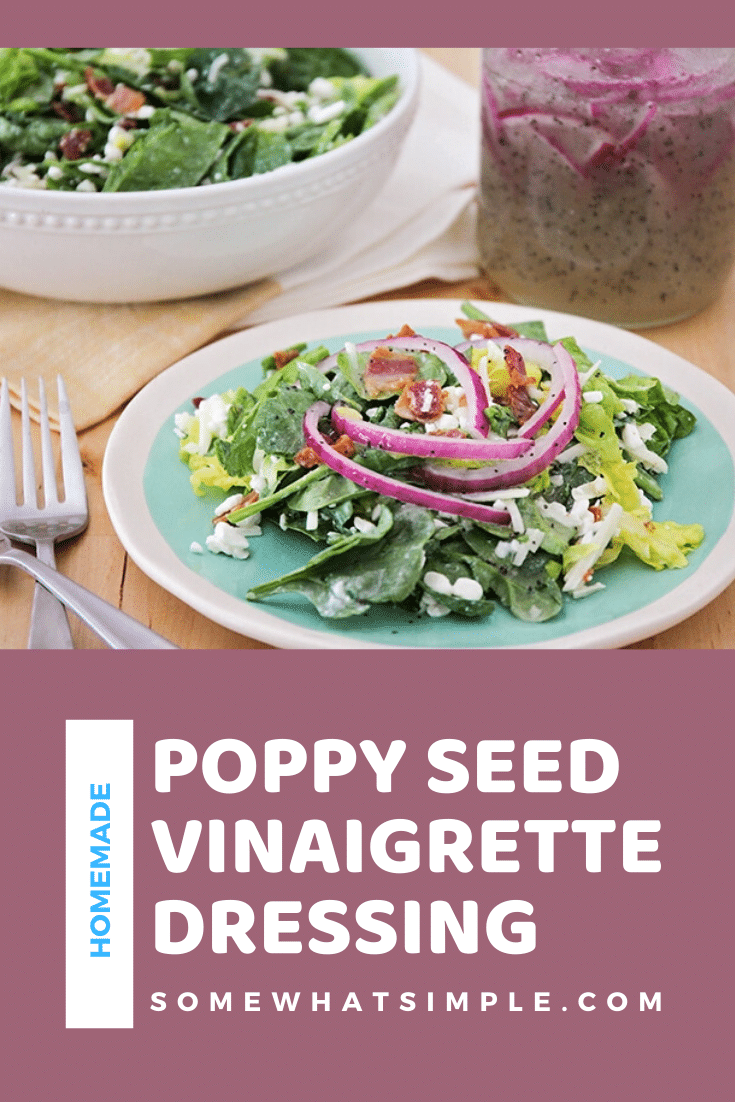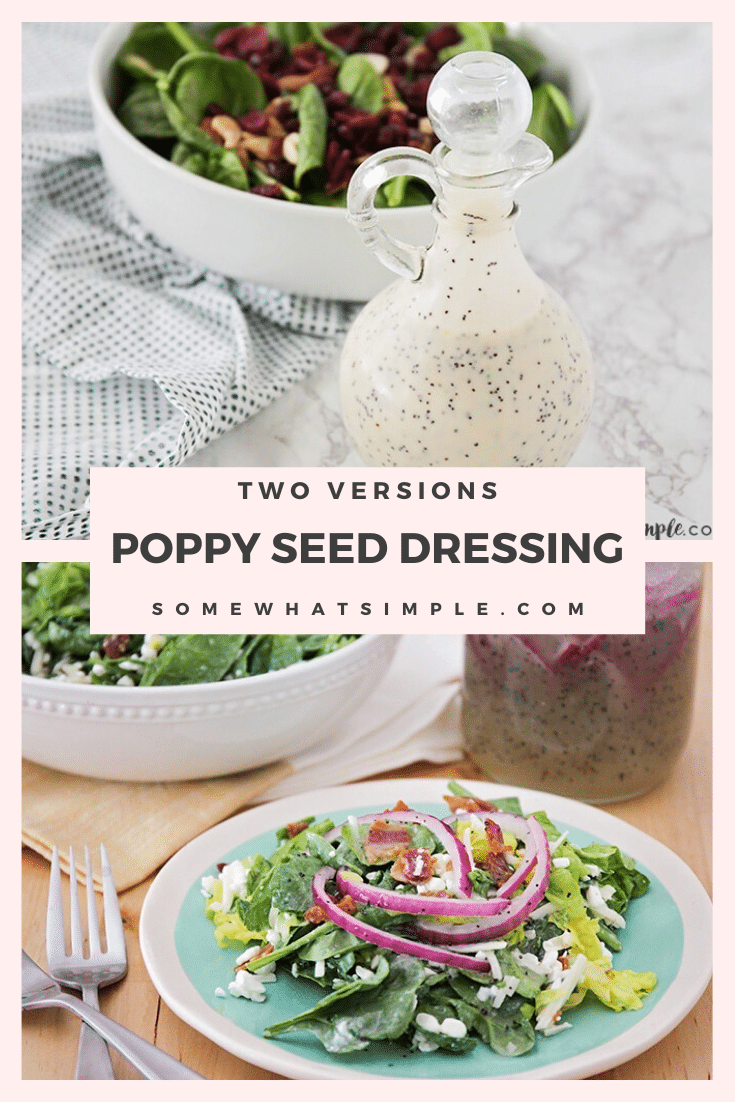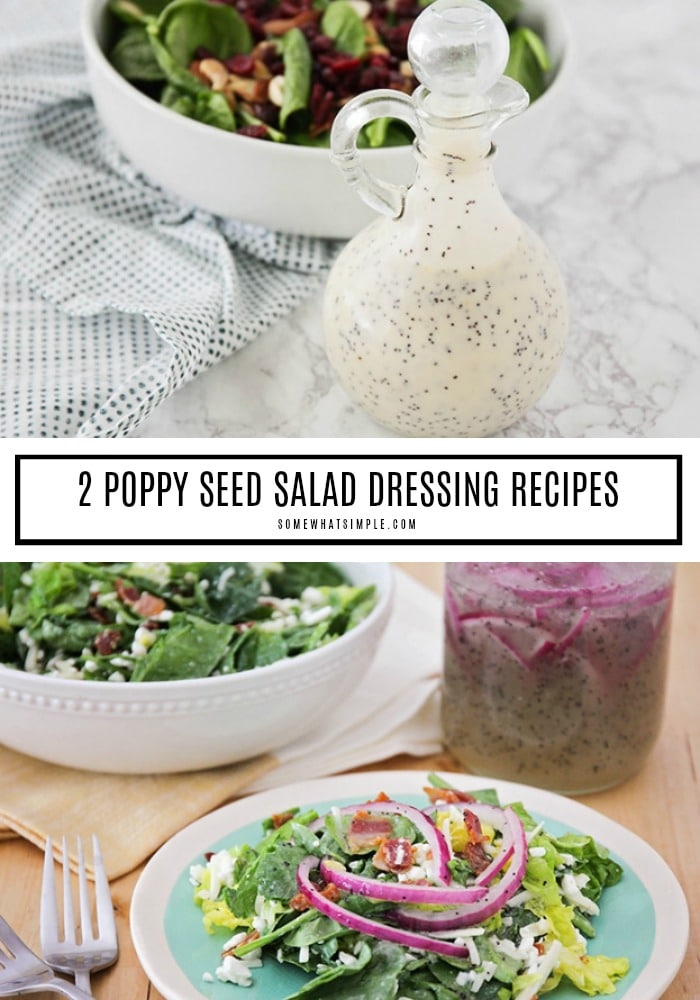 Making your own poppy seed dressing is the perfect way to kick your salad game up a notch! Here is a recipe for a creamy poppy seed dressing AND a poppy seed vinaigrette that will please the masses!
If you love homemade salad dressings like I do, then you need to try these Homemade Ranch, Coleslaw Dressing and Cilantro Lime Dressing recipes.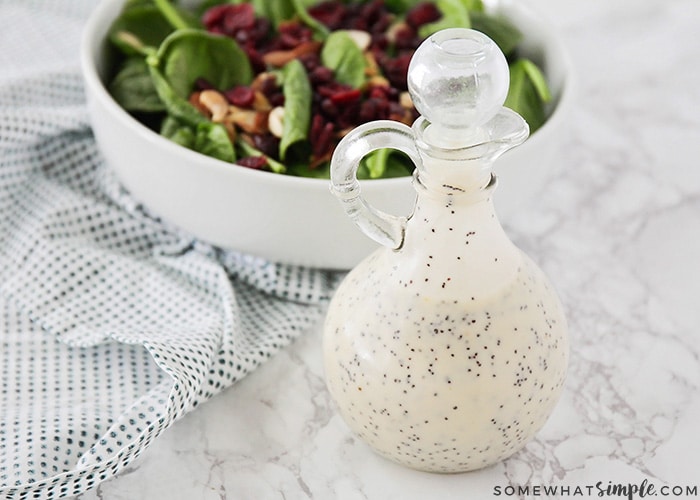 The Best Homemade Salad Dressing
I'm a huge fan of making my own salads at home but ONLY if I have homemade dressing to go with it! I haven't found a store-bought dressing that compares to the flavors of a homemade version because they all taste so chemically. There is just something so deliciously refreshing about a homemade salad dressing, and BOTH of these dressings rank right up there with my favorites!
The great thing about poppy seeds is that they are versatile enough to be used in different types of dressings. Depending on my mood, I could go for either creamy dressing or more of a vinaigrette. That's why I came of with two different recipes that taste amazing!
How To Make Poppy Seed Dressing
While similar tastes, these dressings are also very different. One is creamy and sweet, the other is a zesty vinaigrette. Here's how to make both of them and you can decide which one you like best!
A Creamy Dressing
Combine – Pour all of the ingredients into medium-sized bowl
Mix – Whisk together all of the ingredients until they're fully mixed. You can also use a food processor to mix everything. If you go this route, wait until everything is mixed before you add the poppy seeds.
Chill – Cover the bowl with plastic wrap and then let it chill in the fridge for at least 30 minutes before serving it.
Serve – I'm all about presentation, so I like serving this dressing in a cute glass dressing jar. I think this creamy poppy seed dressing recipe pairs best with a Spinach Salad with Cranberries and Almonds.
A Poppy Seed Vinaigrette
Mix – To make the vinaigrette version of this poppy seed dressing, you'll pour all of the ingredients, except the onions, into a large Mason jar. Give everything a good stir until is fully mixed together.
Onions – Cut the onions into slices that are really thin.
Combine & Chill – Add the onions to the jar and then place the dressing in the fridge. You'll want to give the onions plenty of time to marinate in the dressing. I let it sit for several hours but I'd recommend letting in marinate for at least one hour.
Serve – This vinaigrette poppy seed dressing goes best with a Summer Spinach Salad with Red Onions.
Storing – Both dressing will stay fresh for about 4 days in the fridge. After that, I'd recommend just whipping up a new batch of dressing.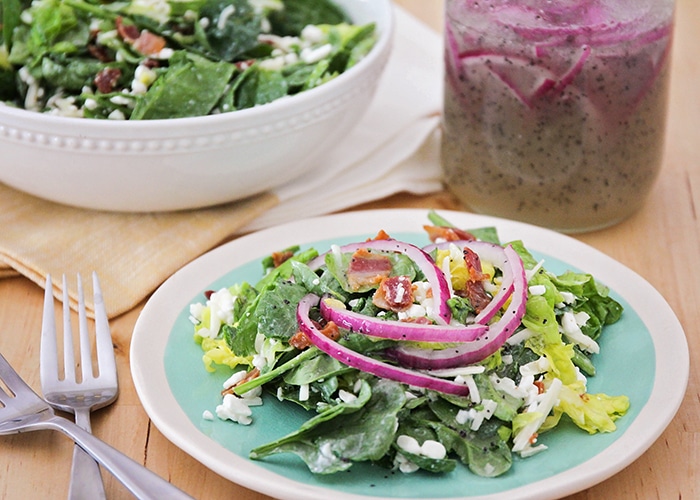 Fresh & Easy Salad Recipes
Poppy Seed Dressings
A delicious poppy seed salad dressing is the perfect addition to your summer salad! Choose your favorite - our creamy, cool Poppy Seed Dressing, or the zesty Vinaigrette!
Ingredients
For the Creamy Dressing -
3/4

cup

mayonaise

3

TBS

apple cider vinegar

1/4

cup

sugar

1/2

tsp

dry mustard

1/2

tsp

diced onion

2

tsp

salt

2

tsp

poppy seeds
For the Vinaigrette –
1

cup

oil

3/8

cup

rice vinegar

3/8

cup

white vinegar

3/4

cups

sugar

1

Tablespoon

poppy seeds

3/4

teaspoon

ground mustard

1

medium purple onion

,

thinly sliced
Instructions
For the Creamy Dressing -
Combine all ingredients in a small bowl.

Whisk until completely combined. (You can also combine everything except the poppy seeds in a food processor or blender and then stir in the poppy seeds.)

Cover with plastic wrap and place in refrigerator for at least 30 minutes before serving.
For the Vinaigrette –
In a large jar (I used a Mason jar), combine all the ingredients, except the onions. Mix well.

Put the thinly sliced onions into the dressing, then place the dressing in the fridge. Let the onions marinate in the dressing for 1-6 hours, depending on how much patience you have.
Nutrition
Other Notes