There are so many different variations to broccoli salad, and I don't think I've ever tried one I didn't like! I have a friend who makes my favorite version with grapes, sunflower seeds and bacon… everything is better with bacon, right? With her permission, I am sharing this tasty Broccoli Salad recipe. If you've never tried this dish before, you are in for a delicious treat!
Easy Broccoli Salad
INGREDIENTS:
For the salad-
1 head fresh broccoli, cut into bite size pieces
1/4 cup red onion, chopped
1 cup red grapes, halved*
10 slices of cooked bacon* *
1 cup sunflower seeds***
For the dressing-
3 tablespoons white wine vinegar
2 tablespoons white sugar
1 cup mayonnaise
* You can substitute 1/2 cup of raisins or dried cranberries for grapes if that is more your thing!
** I buy the bacon that is already cooked, but you can make your own- just let it cool before you add it to this salad.
*** Use your favorite nut instead of sunflower seeds. The salad pictured in this post was made using cashews- which was super good!
DIRECTIONS:
In a medium bowl, combine the broccoli, onion and grapes.
In a small bowl, whisk together the vinegar, sugar and mayonnaise. Pour over broccoli mixture, and toss until well mixed.
Refrigerate until ready to serve.
Before serving, toss salad with crumbled bacon and sunflower seeds.
Eat and ENJOY!!!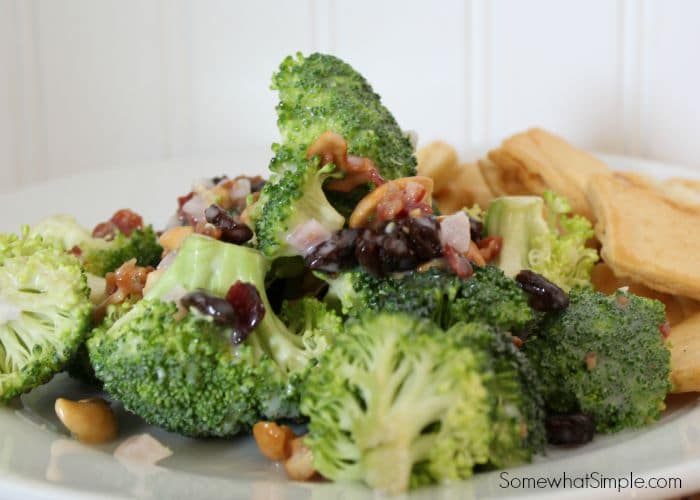 (This recipe was originally shared on Somewhat Simple in July of 2009)