Hello Somewhat Simple readers, it's Jillian again from Food, Folks and Fun. I'm so excited, Thanksgiving is officially 1 week away! Are you ready? Today I have a recipe for a fabulous side dish, Broccoli and Cauliflower Cheddar Casserole Recipe.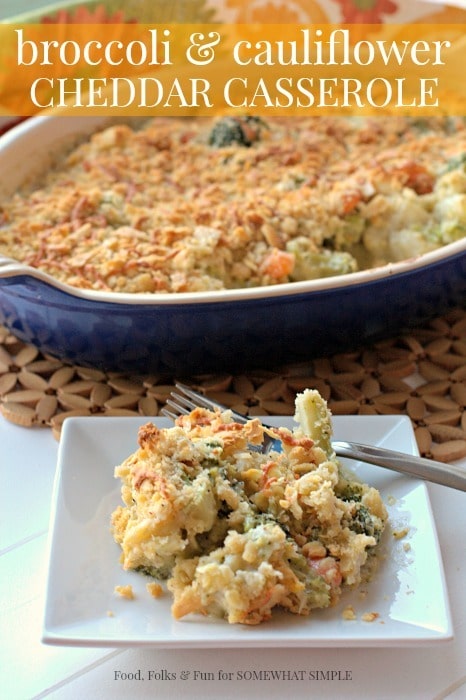 This casserole is super quick & easy to make, plus it's delicious! Whether you're hosting Thanksgiving or you need a side dish to bring, this recipe would be perfect. Enjoy!
To Make this Broccoli and Cauliflower Cheddar Casserole Recipe Ahead of Time:
Time is at a premium when you're prepping for your Thanksgiving feast. Save time by prepping this recipe the night before. Make the recipe up to baking except DO NOT add the cracker crumbs, store those separately, and keep the casserole in the refrigerator. Bring the casserole to room temperature before topping with cracker crumbs and baking.
Cook's Note for Broccoli and Cauliflower Cheddar Casserole Recipe:
You can use either yellow or white extra-sharp cheddar cheese in this recipe, I used white.
Please shred your own cheese, the per-shredded variety has starches and other agents added to it to prevent clumping. These additives aren't the best when you're making a cheese sauce!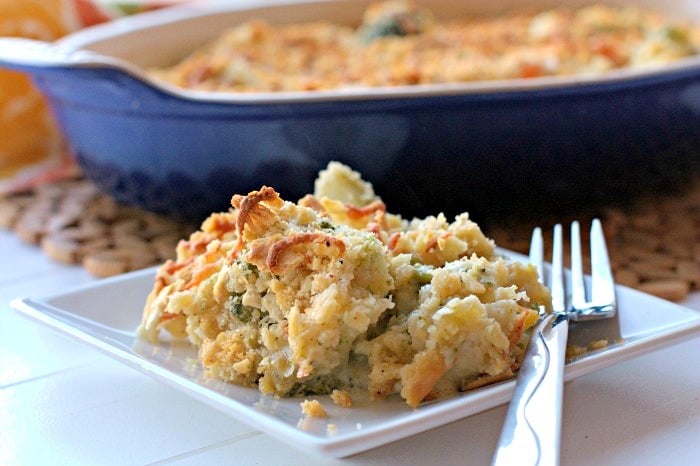 Broccoli and Cauliflower Cheddar Casserole
Ingredients
1 sleeve of Saltine Crackers, crushed
8 ounces (2 cups) of freshly grated extra-sharp cheddar cheese
6 Tablespoons unsalted butter, melted
2 large garlic cloves, minced
Salt & pepper
2 Tablespoons all-purpose flour
1 1/4 cups heavy cream
3/4 cup low-sodium chicken broth
1 package (16 ounces) frozen broccoli florets, thawed
1 package (16 ounces) frozen cauliflower florets, thawed
2 teaspoons dried mustard
Directions
Adjust the oven rack to the middle position and preheat to 450 degrees F.
In a medium bowl add the crushed Saltine crackers, 4 tablespoons of melted butter, 1/4 cup of shredded cheddar cheese, 1/4 teaspoon salt, and 1/4 teaspoon pepper. Stir to combine and set aside.
In a large dutch oven or heavy-bottomed pot, over medium heat add the remaining 2 tablespoons of butter, garlic, and flour. Stir constantly until golden and fragrant, about 1-2 minutes. Slowly whisk in the cream and broth. Stir in broccoli, cauliflower, dry mustard, 1/2 teaspoon salt, and 1/2 teaspoon pepper. Bring to a boil and then reduce heat to medium-low and simmer covered, stirring occasionally, until broccoli and cauliflower are nearly tender, 5-8 minutes. Remove pot from heat and stir in remaining cheese until incorporated.
Pour mixture into a 9×13-inch, or any other 3-quart baking dish and top with cracker crumbs. Bake for 10-15 minutes, or until crumbs are golden brown and crisp. Cool for 10 minutes before serving.
---
I hope you all have a wonderful Thanksgiving. Please stop by Food Folks and Fun to check out my #EverythingButTheTurkey Blog Series where I'm sharing everything you need to throw a fabulous Thanksgiving, except for the Turkey that is! I'm sharing things like Cheese Platter Basics: Tips for the Perfect Spread and my Succotash Recipe with Bacon & Scallions.