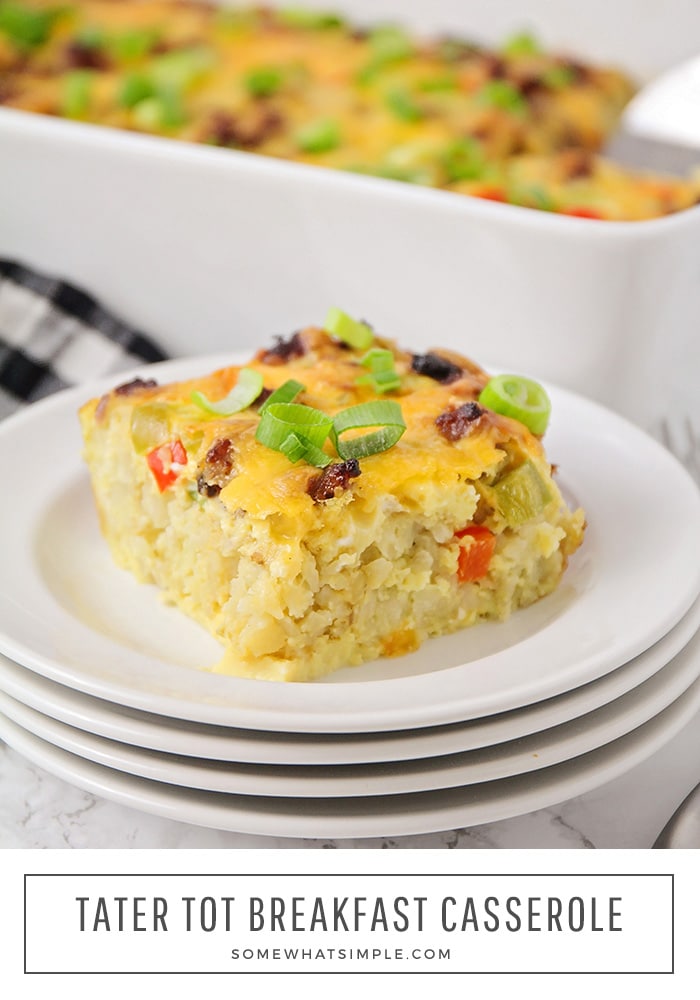 This flavorful tater tot breakfast casserole is the perfect way to start the day. Loaded with sausage, vegetables and eggs, it's easy to make and so delicious!
Here are a few more easy breakfast casserole recipes we love – Croissant Omelet Casserole, Easy Spinach and Egg Casserole, and Sausage and Biscuit Breakfast Casserole.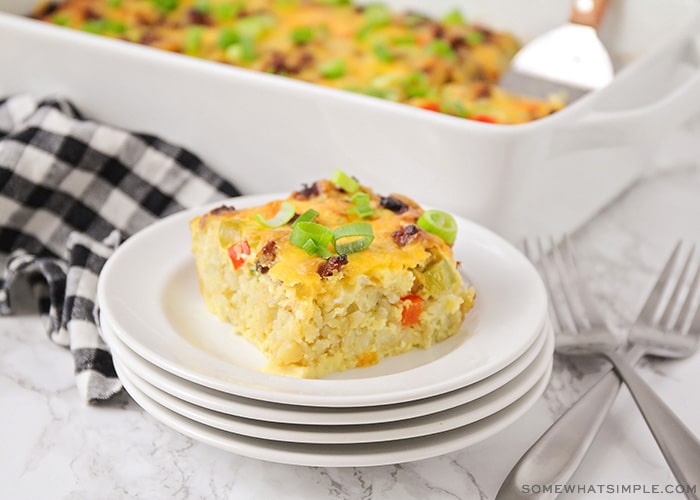 A Hearty Breakfast
I have to confess, I'm not usually a big breakfast person. I'm so tired and busy in the morning that usually all I can manage is a couple of pieces of toast or a quick smoothie for breakfast. I do love breakfast food, though, so we eat breakfast for dinner at least once a week at my house. My husband and kids absolutely love it and look forward to it all week, and I love that I can enjoy some of my favorite foods when I'm not in such a rush.
This tater tot breakfast casserole is one of my favorites for several reasons: it's easy to make, it's kid-friendly, and it's totally delicious!
It's similar to the classic Tatertot Casserole my mom use to make, but the breakfast version is absolutely delicious!
How to Make Tater Tot Breakfast Casserole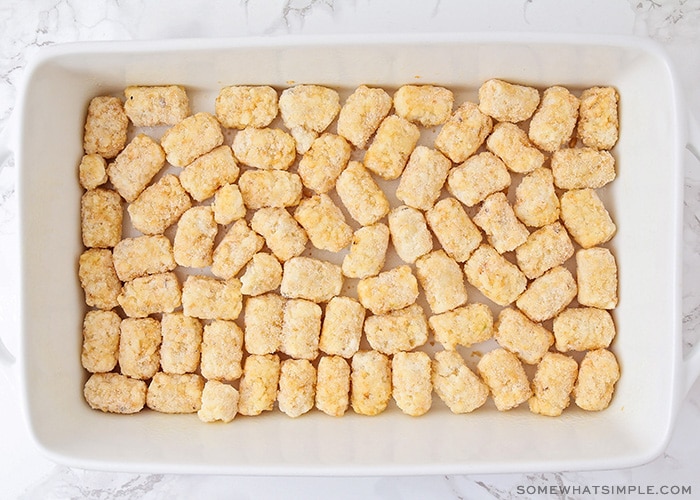 It's All About The Base – To make this tasty casserole, you'll start by layering frozen tater tots in a single layer in a lightly greased baking dish. I generally prefer to use Ore-Ida brand, but feel free use whatever brand is your favorite.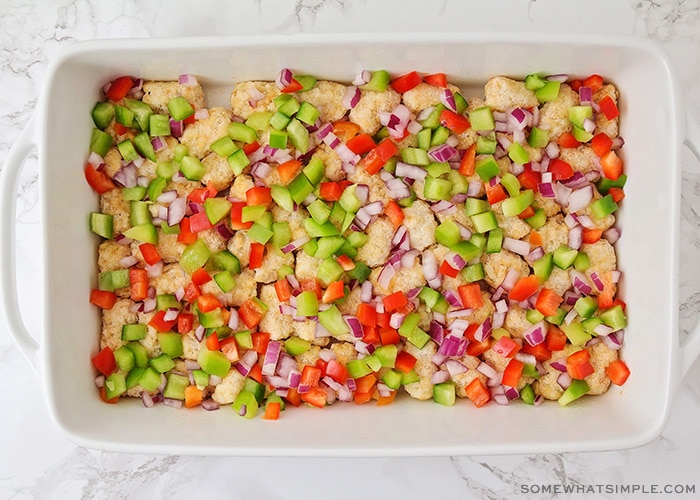 Vegetable Layer – Next, layer on chopped red and green peppers, and red onions. The vegetables add so much flavor to the tater tot breakfast casserole, so don't leave them out! If there are other vegetables you enjoy, go ahead and throw some of those in there too.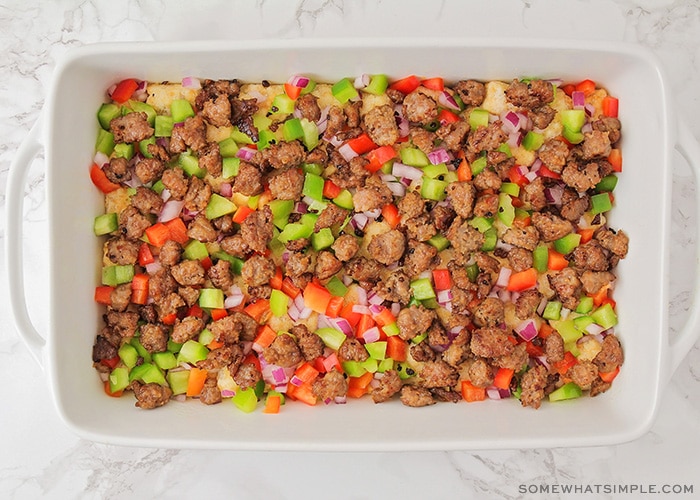 So Meaty – Then, add a layer of cooked sausage over the top. I used a pound of country pork sausage, but you could also use breakfast sausage or even mild Italian sausage. My husband loves bacon and other meats, so depending on what I have in the fridge, I may throw some of that in too.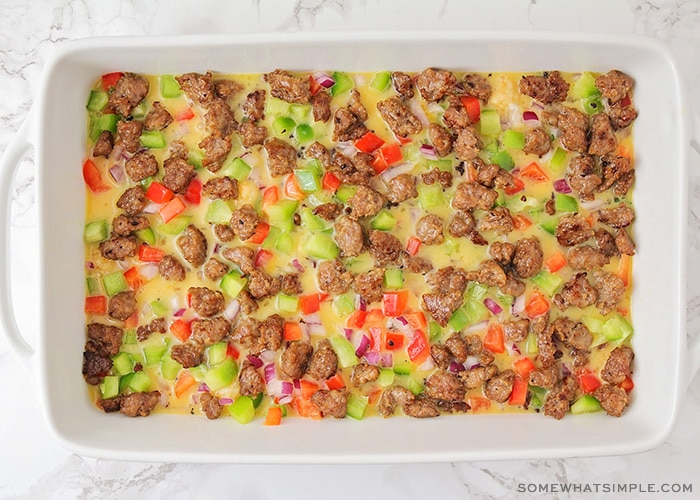 Egg Mixture – In a small bowl, mix together eggs and milk, add seasonings, and then pour the egg mixture evenly over the top of the casserole.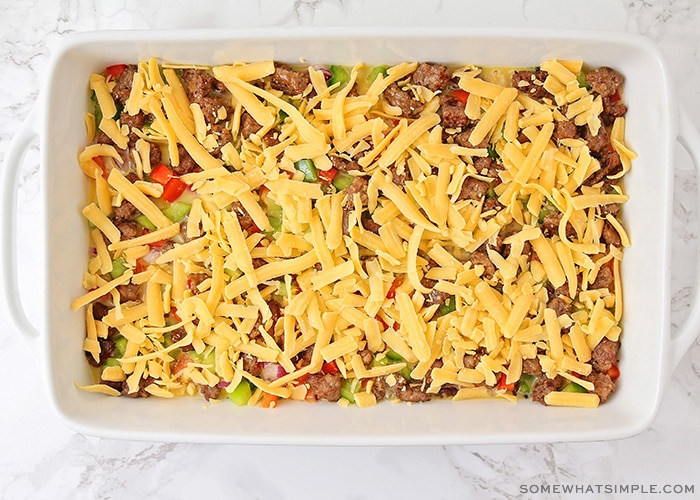 Get Cheezy – Finally, top with a layer of cheddar cheese, then put the tater tot casserole into the oven to bake. If you like things a little spicier, you could easily substitute pepper jack for the cheddar cheese.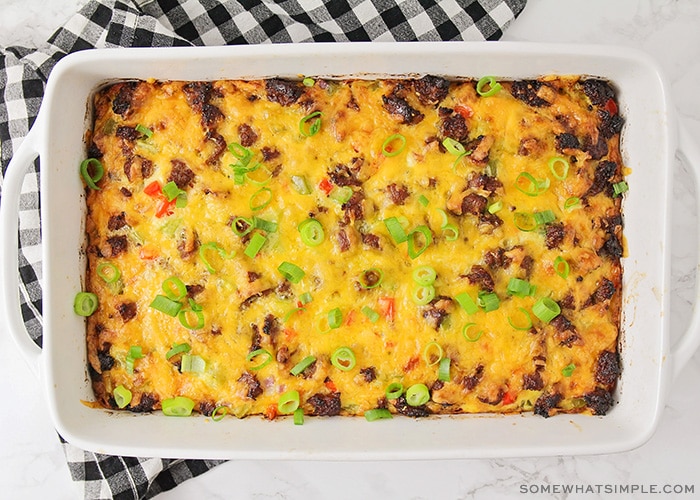 Bring The Heat – Bake the casserole at 350 degrees F for about 45-50 minutes or until the eggs are set and the casserole doesn't jiggle when shaken lightly. I like to let it cool in the pan for a few minutes so it can continue to set up as it cools.
More Delicious Breakfast Recipes
This tater tot casserole has the most delicious combination of flavors, and I love that it's so hearty and savory. It also keeps well in the fridge, so it's easy to reheat for an easy breakfast later in the week. I love the combination of eggs, potatoes, sausages, and peppers. This casserole has so much flavor in every bite!
Tater Tot Breakfast Casserole Recipe
This flavorful tater tot breakfast casserole is the perfect way to start the day. It's easy to make and so delicious!
Instructions
Preheat the oven to 350 degrees. Spray a 9 x 13 pan with cooking spray.

Spread the tater tots in an even layer in the pan.

Sprinkle the chopped peppers and onion over the top of the tater tots, followed by the crumbled sausage.

In a medium bowl, whisk together the eggs, milk, salt, and pepper. Pour the egg mixture over the sausage. Sprinkle the cheddar cheese on top in an even layer.

Bake 45-50 minutes, or until the eggs are set and don't jiggle when lightly shaken. Serve warm.
Nutrition
Serving:
1
serving
·
Calories:
264
kcal
·
Carbohydrates:
2
g
·
Protein:
16
g
·
Fat:
21
g
·
Saturated Fat:
9
g
·
Cholesterol:
212
mg
·
Sodium:
522
mg
·
Potassium:
210
mg
·
Fiber:
1
g
·
Sugar:
1
g
·
Vitamin A:
645
IU
·
Vitamin C:
11
mg
·
Calcium:
175
mg
·
Iron:
1
mg
Other Notes