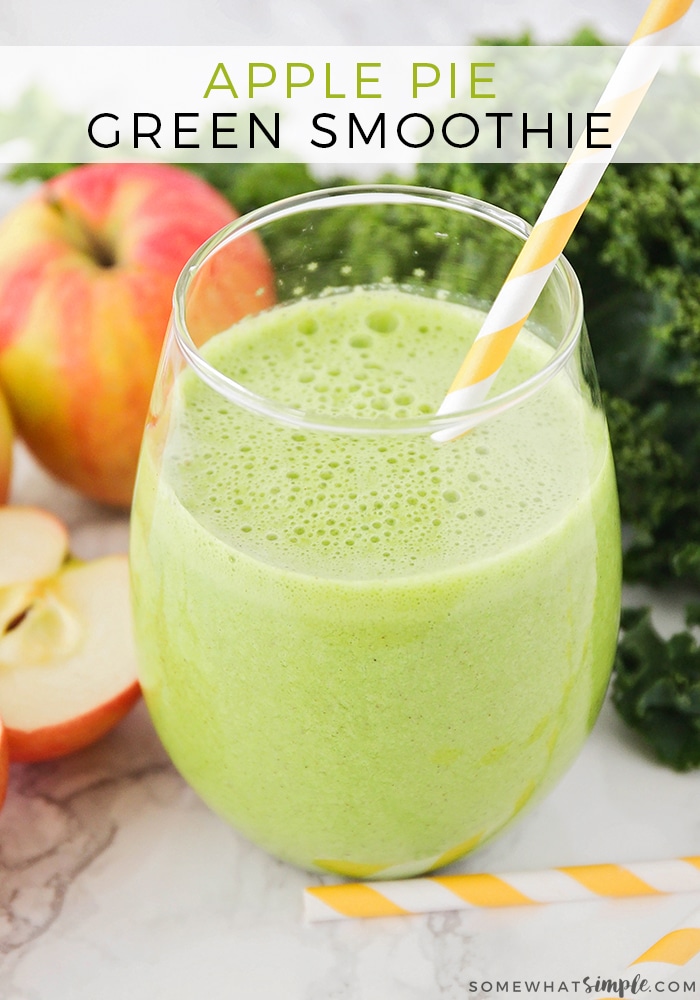 This simple green smoothie recipe is made with apples, kale or spinach, nutmeg and cinnamon. It can be made both vegan and gluten free and it is nutritious and delicious!
This green smoothie is one of my favorite drinks to make. Some of my other favorite homemade drinks to make are these Dirty Monkey, Homemade Lemonade and Watermelon Punch recipes.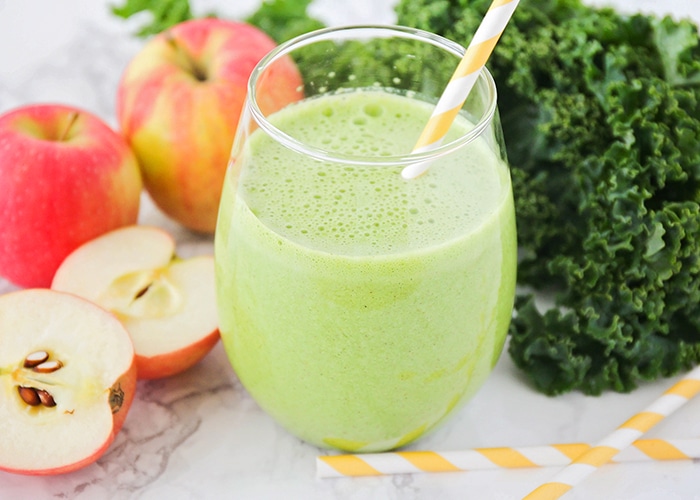 Simple Green Smoothie
Fall is my favorite recipe season of the year! The dishes are hearty, and the ingredients are so fresh! Especially living in Pennsylvania, apples and pumpkins are absolutely everywhere, so I thought why not get a bite of apple pie AND an extra helping of green vegetables in at the same time!? This delicious green smoothie recipe was the result! If you're new to the world of healthy green smoothies, we're here to help!
How To Make A Green Smoothie
The thing I love about this recipe is that it's super simple to make and takes just a few ingredients that you probably already have in your kitchen.
Add the water, milk, apple, honey, protein powder, kale/spinach, cinnamon and nutmeg to the blender
Mix for 1 full minute even if it seems like it's fully blended before then
Add in the ice cubes and then blend for an additional 30 seconds
Top with nuts, coconut, whipped cream or any of your other favorite toppings
Tips For Making A Green Smoothie
Before the kale or spinach in this green smoothie scares you away, I have some tricks for disguising it so well the only reason you (or your kids!) will even know it's there is the green color!
Use baby kale instead of the full stalks. It is slightly more expensive, but it's a lot less crunchy.
Freeze it in advance. This will tone down the bitter flavor a bit.
Blend thoroughly. Whenever you think your smoothie is mixed up, let the machine run an extra 20-30 seconds. That extra time can make a big difference in really breaking down the fibers and making your smoothie smooth!
Treat the Kale right. Store it in an airtight container and rip the stems out so only the leaves make it into your blender.
Save the ice for last. You'll see in the directions below that you blend all the ingredients first then add ice and blend again. This keeps your smoothie from getting too watery from the melted ice, but also gives the blades plenty of time to work on your produce.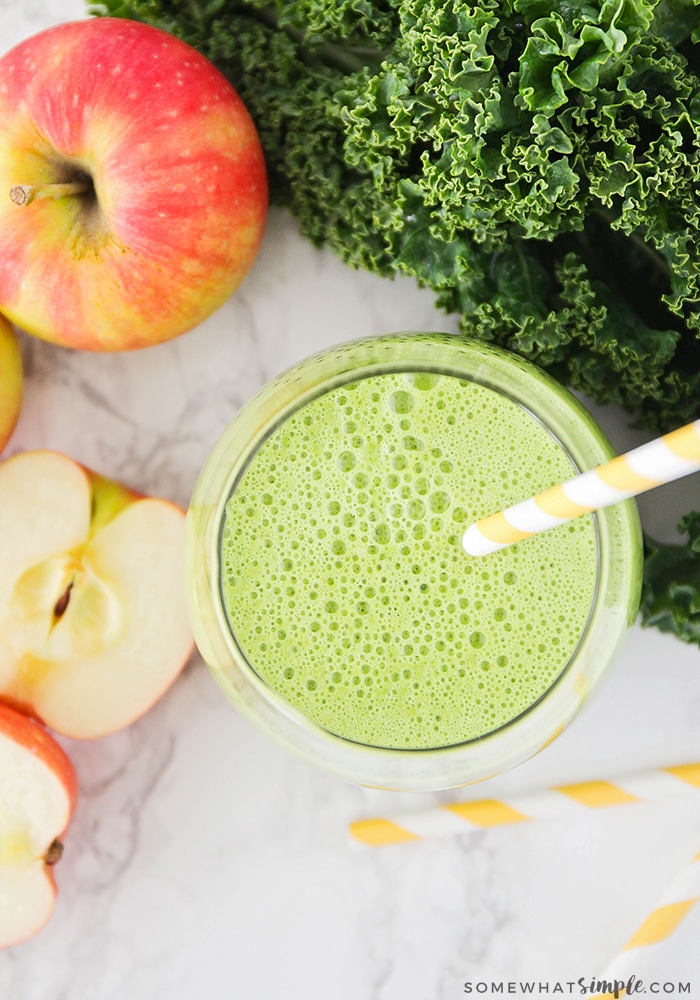 Are Green Smoothies Healthy
Because this recipe is loaded with natural ingredients and fruits and vegetables, this green smoothie is a good sources of minerals and vitamins!
Green Smoothie Benefits
Boosts Your Fruit & Vegetable Intake
Provides Increased Energy
Strengthens Immune System
Strengthens and Helps Healthy Bones
Can Help Lower High Cholesterol and High Blood Pressure
Natural Weight Loss
May Help with Seasonal Allergies
Lessens Symptoms of PMS
Supports Eye + Vision Health
Do Green Smoothies Help You Lose Weight
While drinking this green smoothie is filled with healthy ingredients, To increase your odds of losing weight by drinking green smoothies, track your calorie intake and use a green smoothie as a meal replacement instead of a snack. As with anything related to your health, be sure to contact your healthcare provider (because in case you were wondering, I am not one:)) regarding your specific situation.
More Easy Smoothie Recipes
Best Green Smoothie Recipe
Go ahead, give this delicious recipe a try. Leave us a comment below and let us know how much you enjoyed this tasty smoothie or tag us on social media after you make them because we love to see what you've been up to in the kitchen!
Easy Green Smoothie Recipe
This simple Green Smoothie is made with apples, kale or spinach, nutmeg and cinnamon. It can be made vegan and gluten free and it is nutritious and delicious!
Ingredients
1/4

cup

water

1/4

cup

soy milk

,

or cow milk/ nut milk

1

red delicious apple

1

tsp

agave

,

or honey

1

scoop pea-based protein powder

,

or any unflavored or vanilla protein powder

1

cup

kale or spinach

1/2

tsp

cinnamon

,

if your protein powder has a strong flavor then add more cinnamon

1/8

tsp

nutmeg

8

ice cubes

chopped pecans/ walnuts/ coconut for garnish
Instructions
Add all the ingredients EXCEPT the ice cubes and the nuts to the blender and blend together for 1 minute. It is important to layer the ingredients in the order they appear on the list above so your smoothie processes faster. Even when it seems done, let it go for the full minute to really get everything smooth and creamy!

Then, add the 8 ice cubes and blend another 30 seconds.

Top with chopped pecans/ walnuts/ coconut and enjoy!
Notes
As shown, this green smoothie is vegan & gluten free, but I've included ingredient suggestions that might work more with what you have in your fridge. Want even more pie-y-ness? Top with a dollop of whipped cream, shredded coconut, or extra sprinkle of spices! I chose a red delicious apple for this recipe because it's both sweet and a softer apple so it blends up beautifully. However, I'm also an enormous fan of tart green apples if you don't mind a little sweet and sour in your morning! If you're having this smoothie as a full meal I would recommend adding more calories to it by (1) using 2 scoops of protein powder, (2) adding a spoonful of maple almond butter before blending, (3) using all milk instead of mixed milk and water, or any combination of those! NUTRITION: 176 calories, 2g fat, 30 carbs, 10g protein (this will change based on your protein powder)
Nutrition
Other Notes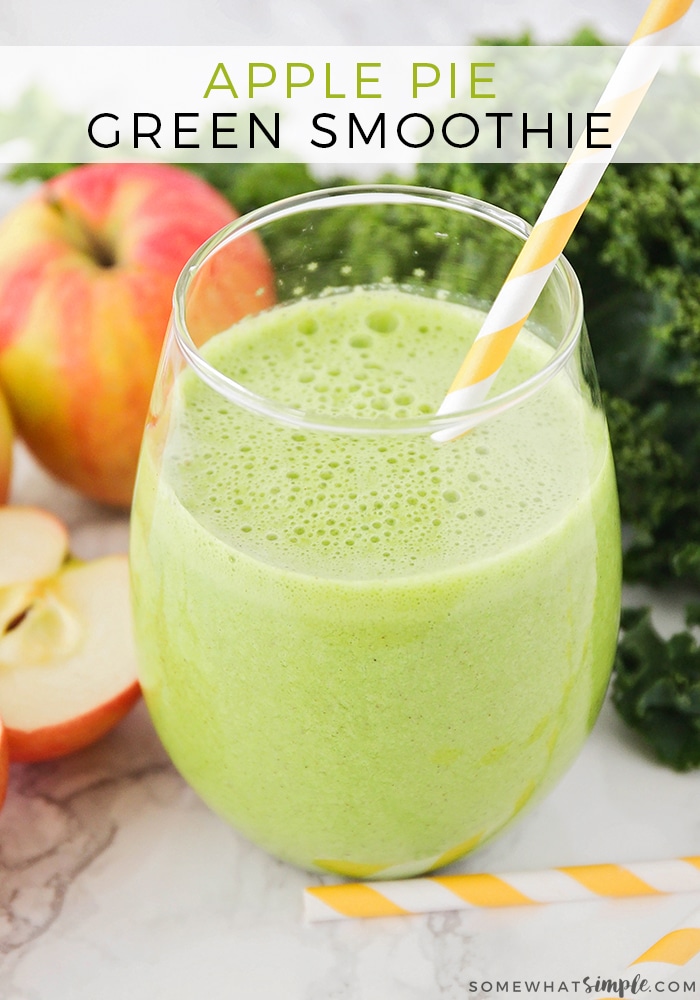 ENJOY!