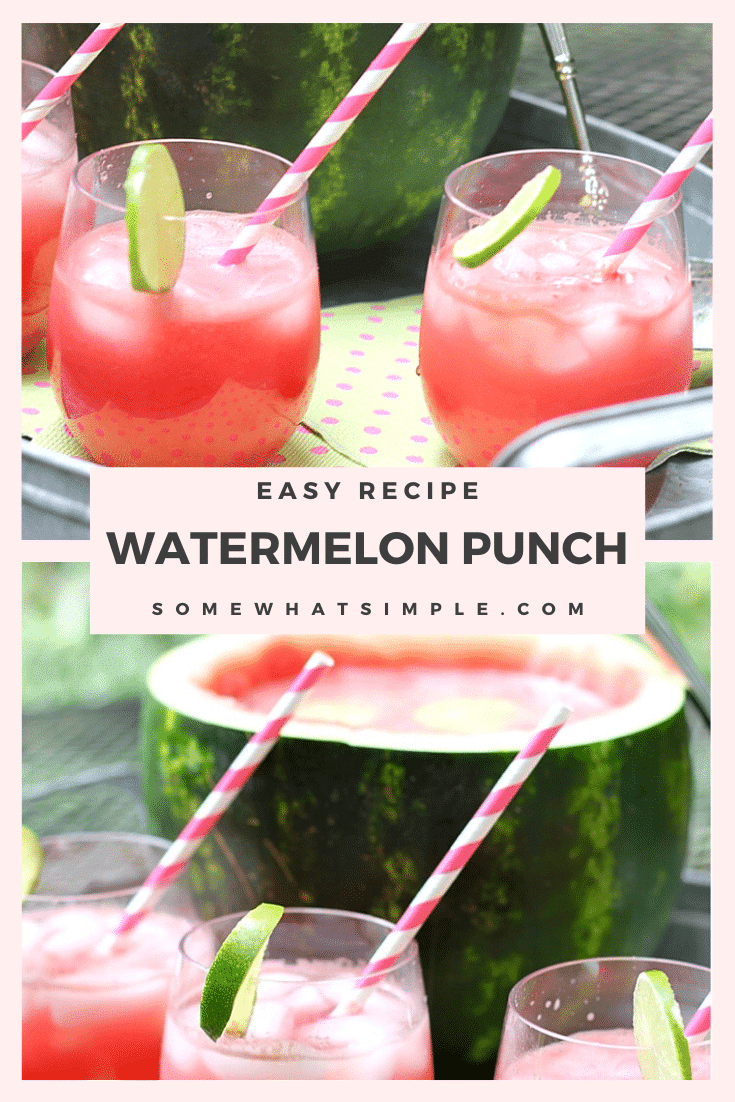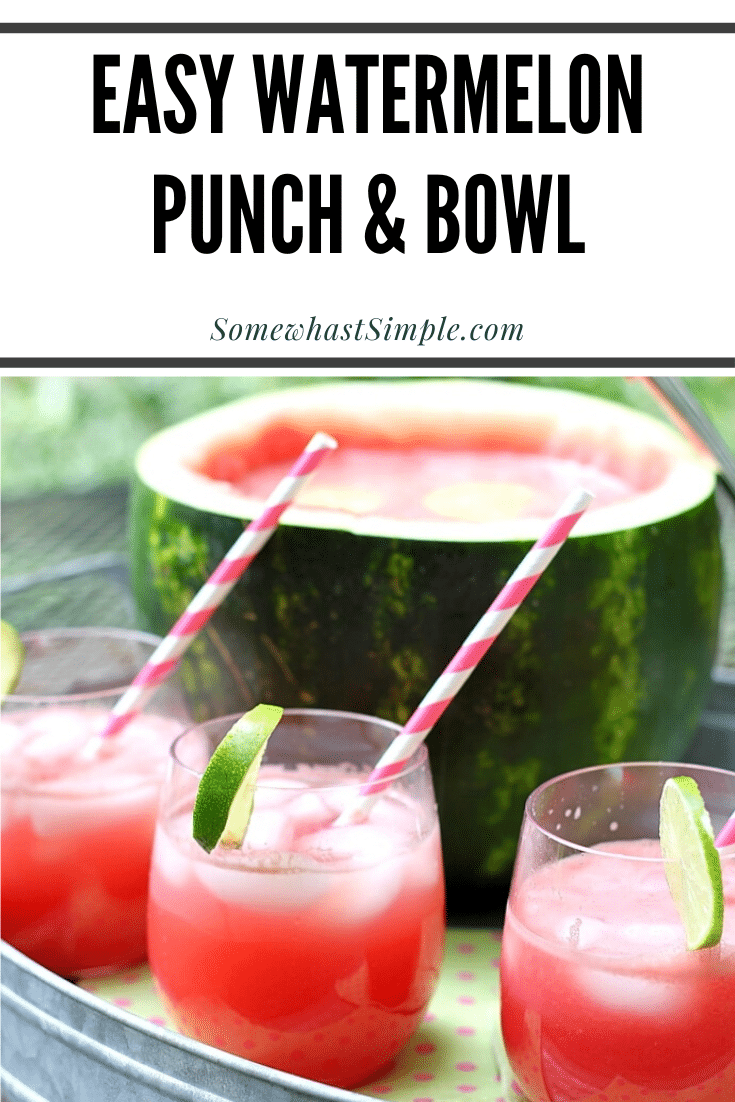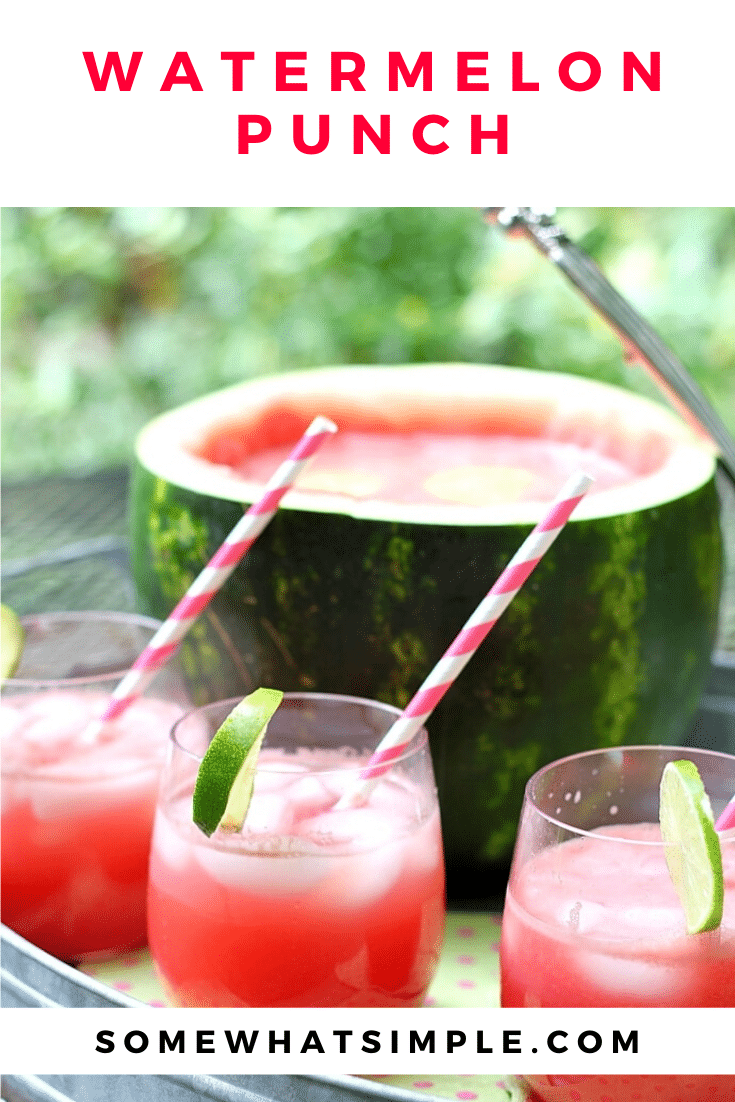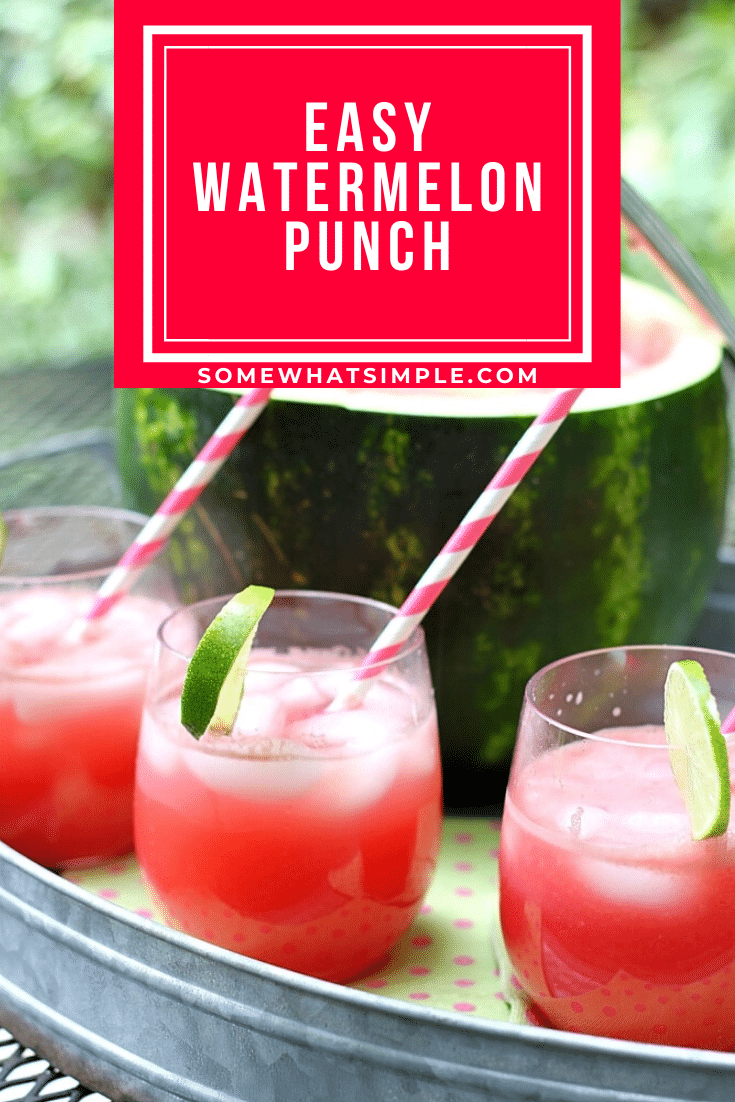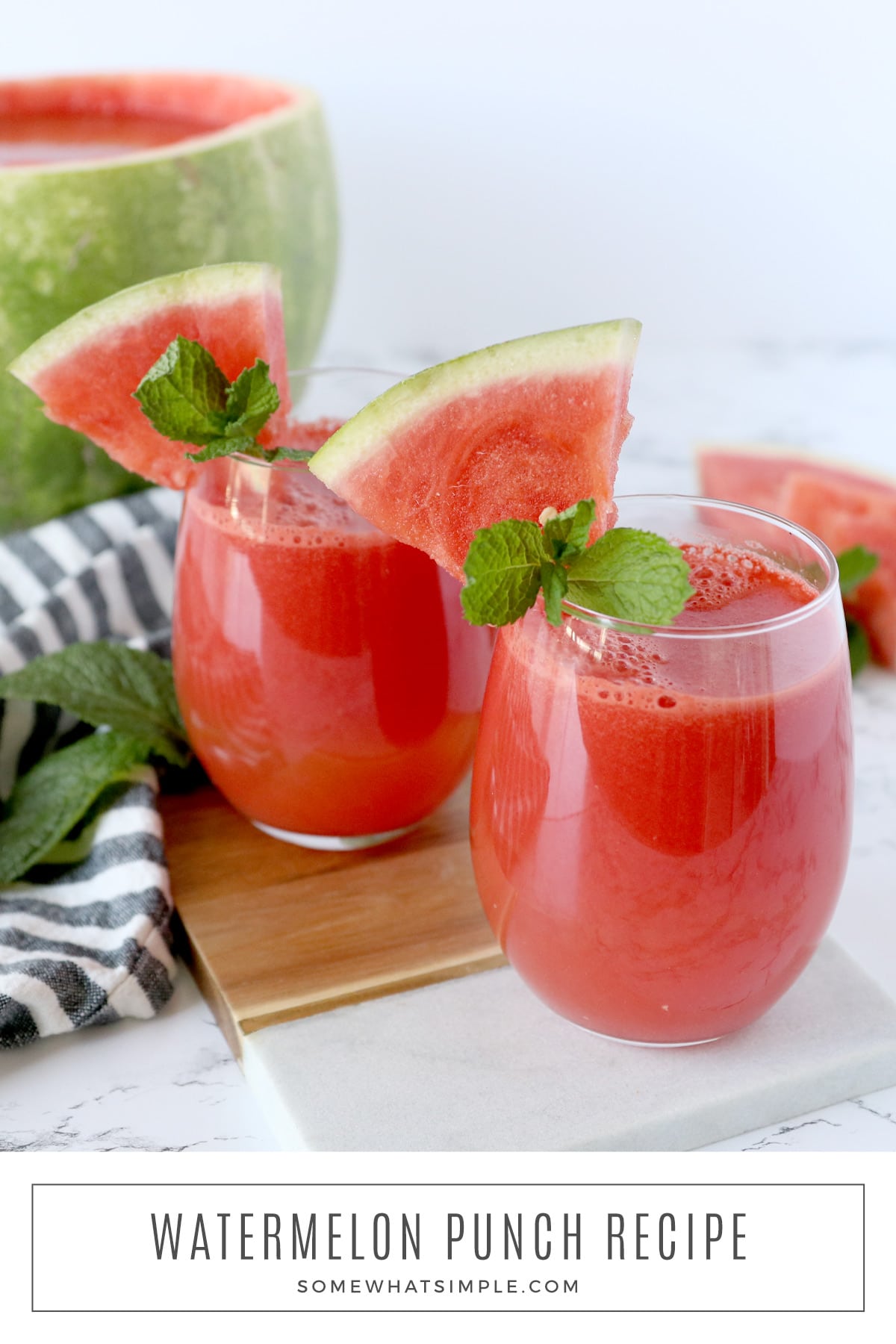 This EASY watermelon punch is perfect for hot summer days. Make this refreshing drink even more delicious by serving it inside the watermelon you used to make it!
If you love watermelon in the summertime as much as we do, be sure to try our Watermelon On A Stick and our Watermelon Cooler recipes. (They are both delicious!)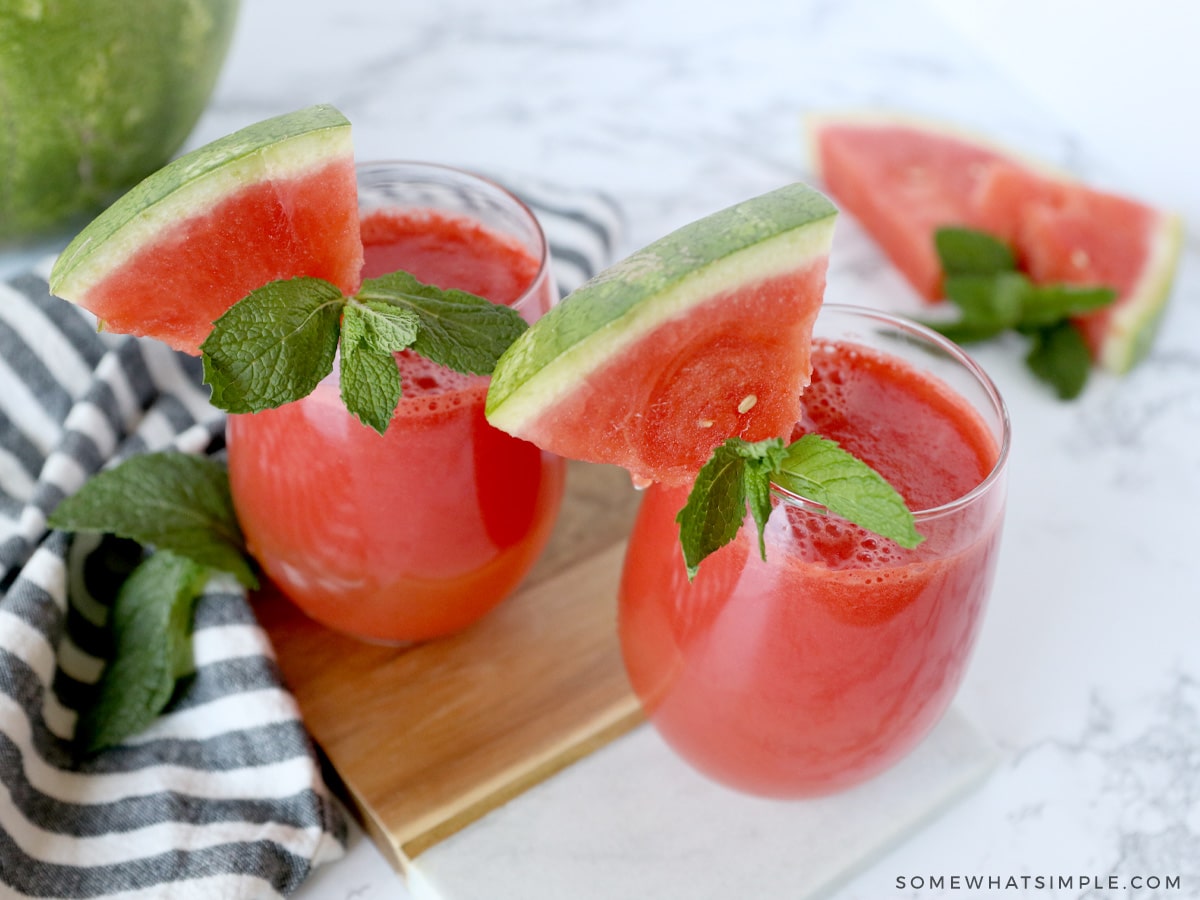 Easy Watermelon Punch
This watermelon punch recipe brings me back to my childhood – snacking on juicy slices of watermelon while my brothers and I ran around the backyard, sticky sweetness dripping from our faces… it doesn't get much better than that!
This watermelon punch recipe is not only refreshing, it's a healthy alternative to artificially sweetened drinks. It's full of vitamin B, antioxidants, potassium, and calcium, and it's super hydrating, too!
This drink is made without alcohol, though I suppose you could add tequila, rum, or vodka if you'd like!
Here's how to make it:
How To Make A Watermelon Punch Bowl
Clean & Cut – Wash the exterior of the watermelon completely before cutting into it. Cut the top of the watermelon off about 1/6 of the way down from the top.
Form The Bowl – On the bottom of the watermelon, cut off only enough of that end so the watermelon can stand up on its own. Start off with small cuts because you can always go back and cut more.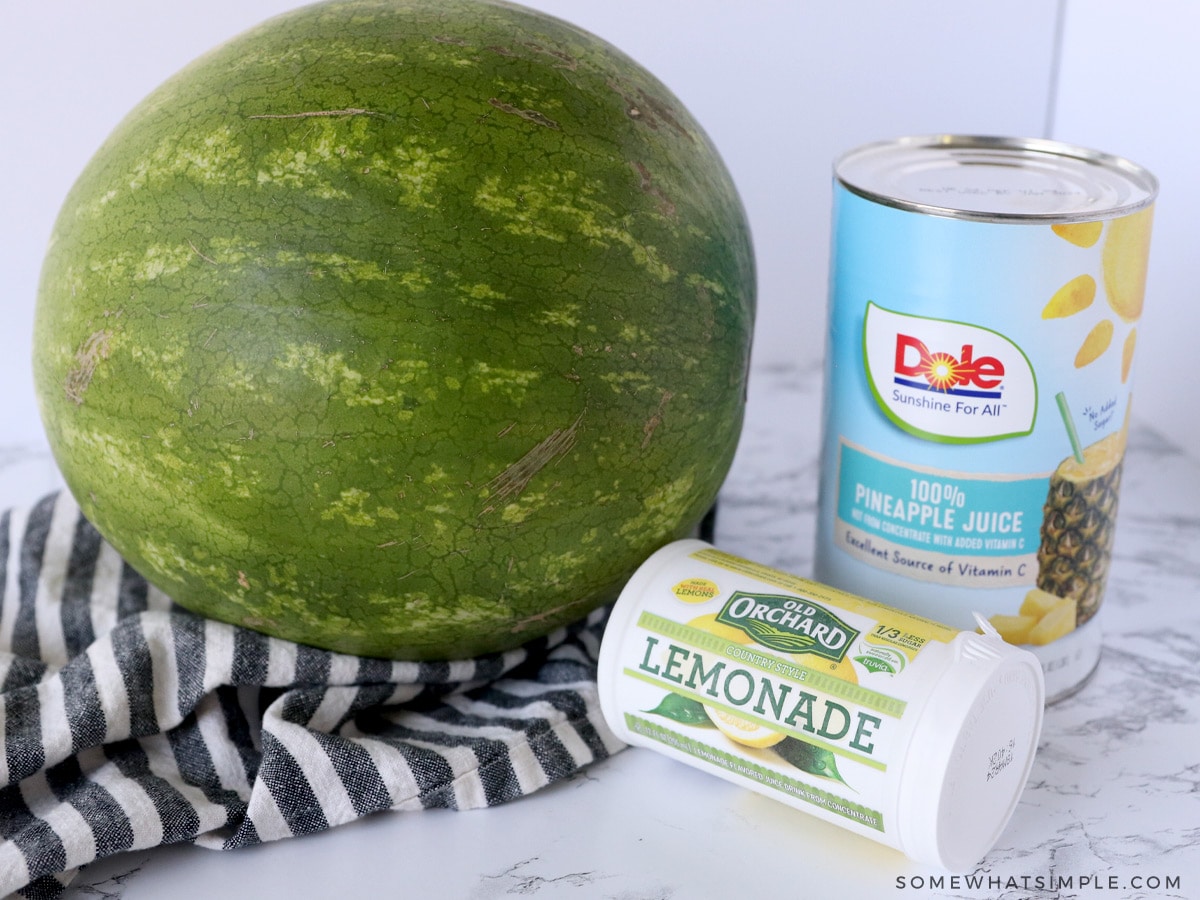 How To Make Watermelon Punch
INGREDIENTS –
WATERMELON. You'll need about 10 pounds. If you want to boost its nutritional content, let your watermelon fully ripen before using.
LEMONADE. You'll need one 12 oz can of frozen lemonade, thawed
PINEAPPLE JUICE. 2 cups unsweetened pineapple juice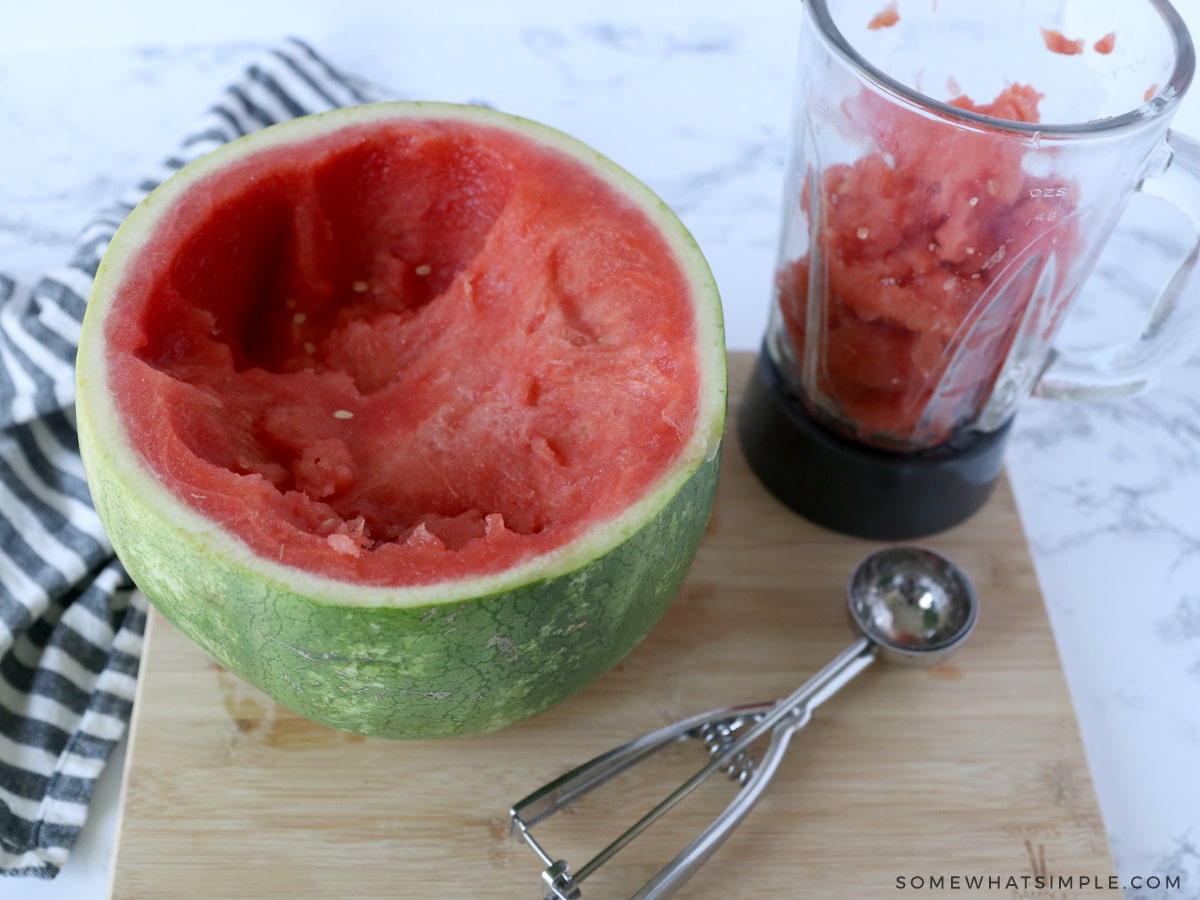 DIRECTIONS –
Remove Insides – Scoop out all of the flesh of the watermelon with a spoon or ice cream scoop and toss it in a blender or food processor.
Blend – Puree the watermelon flesh in batches to get rid of all the big chunks.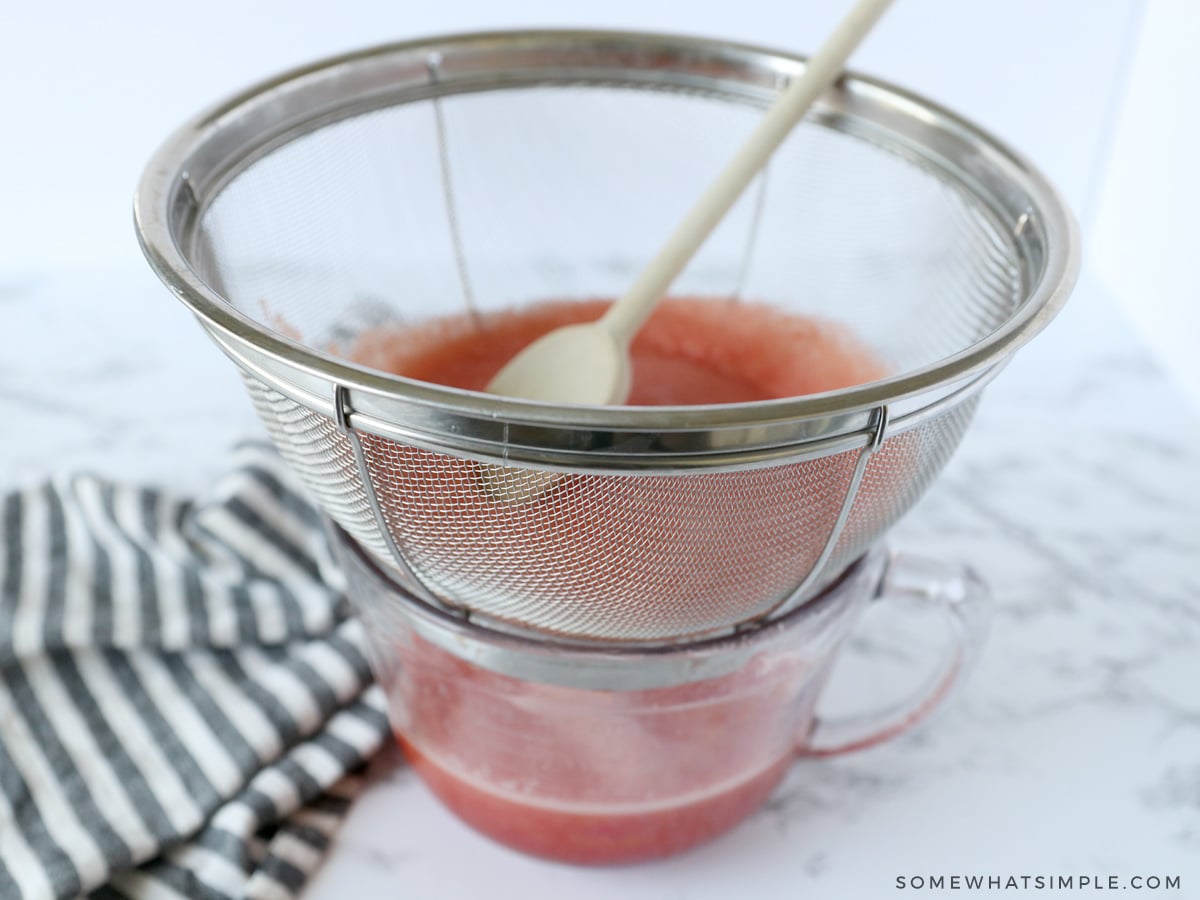 Filter – Pour the blended watermelon through a strainer and toss any solid pieces and chunks of flesh. After you blend the watermelon flesh, it tends to get a little foamy. Don't worry, most of the foam gets trapped when you strain it.
Mix – Put the watermelon juice back in the empty rind and add the remaining ingredients and stir everything together.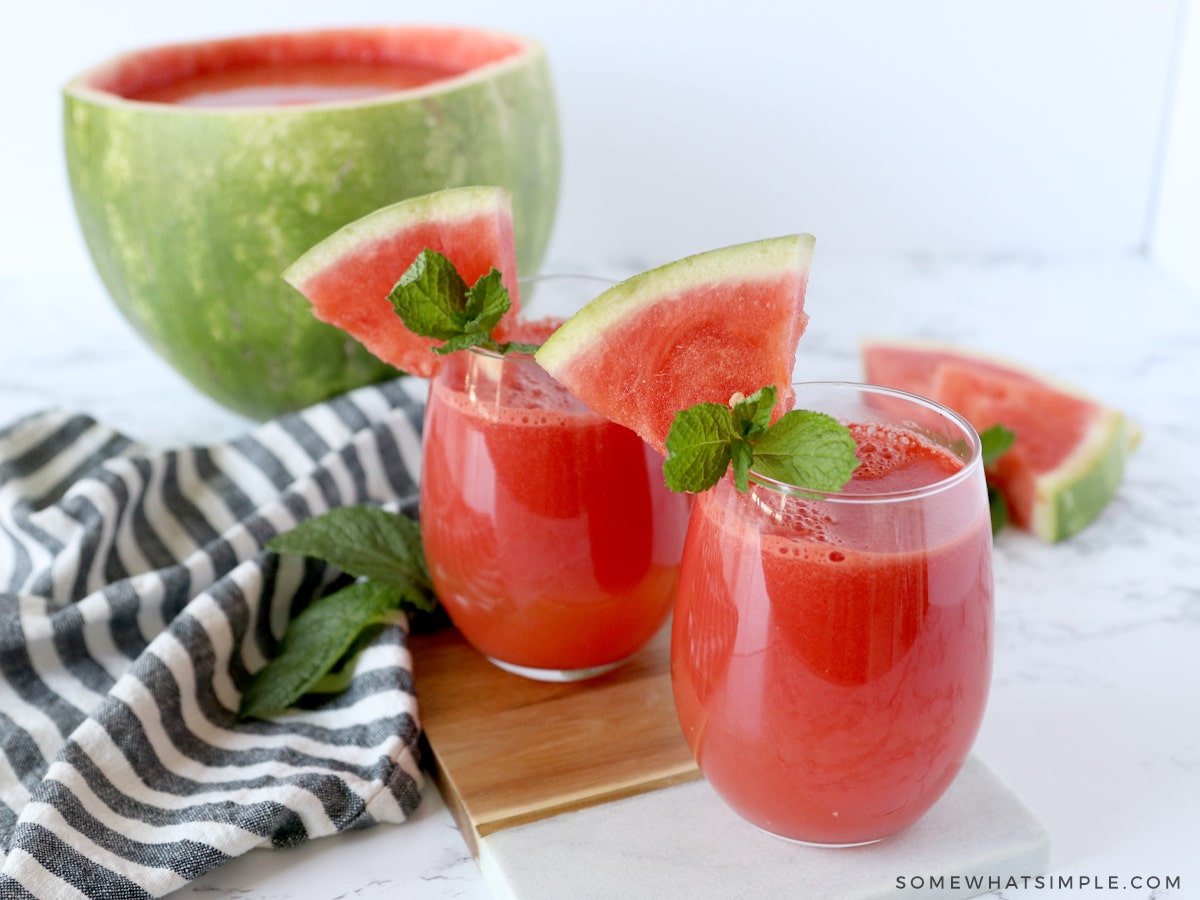 Serve – Pour into glasses, add a straw and garnish with fresh watermelon slices and fresh mint leaves.
Recipe Tip – If the watermelon punch has been sitting for a little while, give it a good stir before serving to make sure all of the ingredients are combined before pouring.
Other Easy Summer Drink Recipes
HERE IS A PRINTABLE RECIPE CARD FOR YOUR CONVENIENCE –
Watermelon Punch Recipe
This easy watermelon punch recipe is a refreshing way to enjoy the summer. Make this drink even more fun to serve by turning the watermelon you used to make the drink into a fun serving bowl!
Ingredients
1

oblong seedless watermelon

,

about 10 pounds

12

oz.

frozen lemonade

,

thawed can

2

cups

unsweetened pineapple juice
Instructions
Thoroughly wash the watermelon, then cut the top of the watermelon off about 1/6 of the way down and cut the bottom end enough to make sure the watermelon will stand on it's own.

Scoop out flesh and place in a blender. Process until smooth.

Strain through a fine-mesh strainer; discard solids.

Place juice inside the watermelon rind, add lemonade concentrate and pineapple juice and mix well. Served chilled over ice. To make sure all ingredients are combined, give the punch a little stir before you enjoy it.
Nutrition
Serving:
8
oz
·
Calories:
227
kcal
·
Carbohydrates:
57
g
·
Protein:
3
g
·
Fat:
1
g
·
Saturated Fat:
0.1
g
·
Polyunsaturated Fat:
0.3
g
·
Monounsaturated Fat:
0.2
g
·
Sodium:
8
mg
·
Potassium:
590
mg
·
Fiber:
2
g
·
Sugar:
48
g
·
Vitamin A:
2563
IU
·
Vitamin C:
46
mg
·
Calcium:
40
mg
·
Iron:
1
mg
Other Notes
ABOUT THE AUTHOR: Erin is a wife, mom of 4, and the creator of the lifestyle blog, Suburban Simplicity. She was a part of the Somewhat Simple Creative team in 2017.