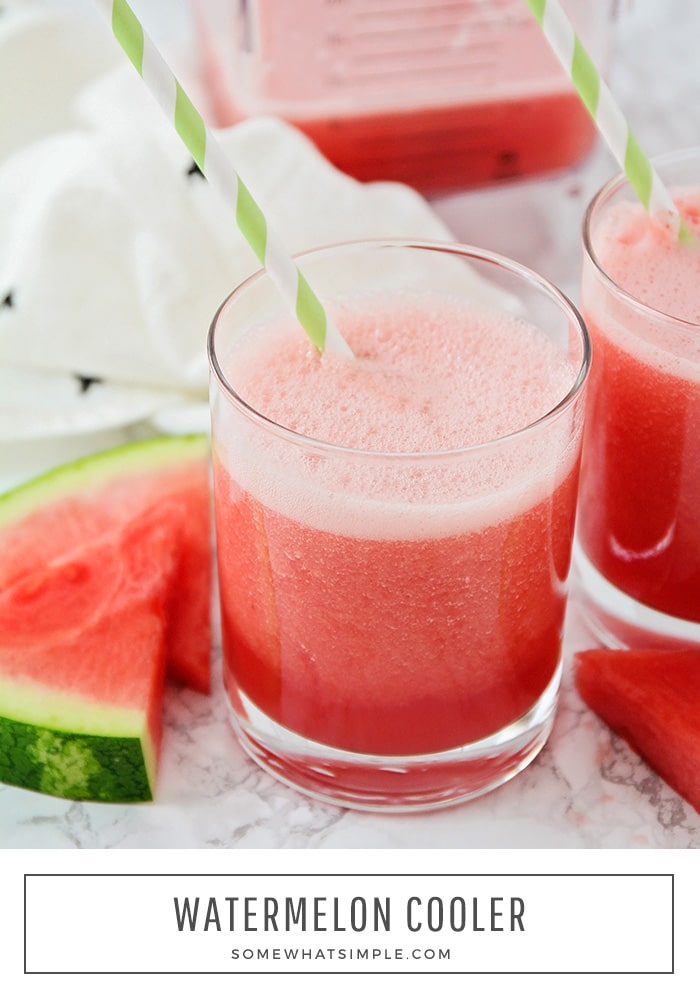 This watermelon cooler recipe is made with frozen watermelon chunks and is naturally sweetened. Ready in just minutes, this slushy drink is absolutely perfect for a hot summer day!
Watermelon is my all-time favorite summer fruit and I can enjoy them any way you can serve it. Some of my favorite watermelon recipes is this Watermelon on a Stick or this Watermelon Punch. Nothing says "summer" like a big juicy watermelon and this watermelon cooler is as refreshing as it gets!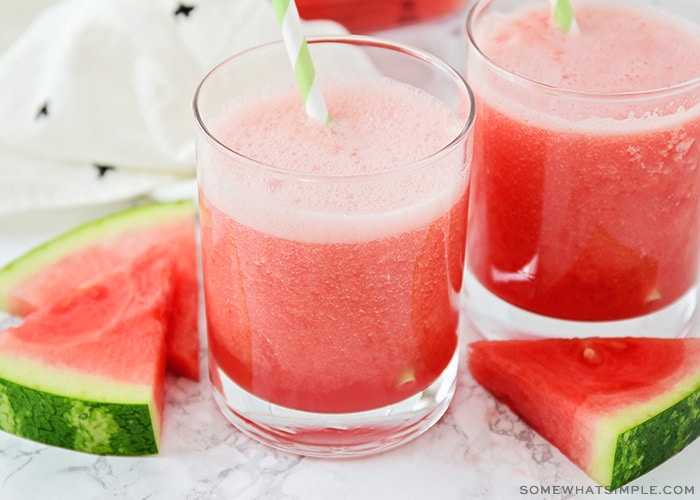 Watermelon Cooler Slush
QUESTION – Is there anything better than a big hunk of juicy watermelon on a hot summer's day?
ANSWER – Yes! Have that hunk of juicy watermelon in slushy form and your taste buds will thank you!
What are you doing to enjoy your first days of summer? One of our favorite things to do on a weekend afternoon is stop by our local QuickTrip for a cool, icy drink (we're wild and crazy like that!). My son's drink of choice is usually a watermelon or sour apple slushy…but I can't even imagine how much sugar/calories/bad for you stuff is in one of those things. So this summer, we've been making our own.
These are super easy, super fun, and so much healthier than anything you can get out of a drink machine. I love that this drink is sweetened naturally with honey, and that the end result isn't overly sweet.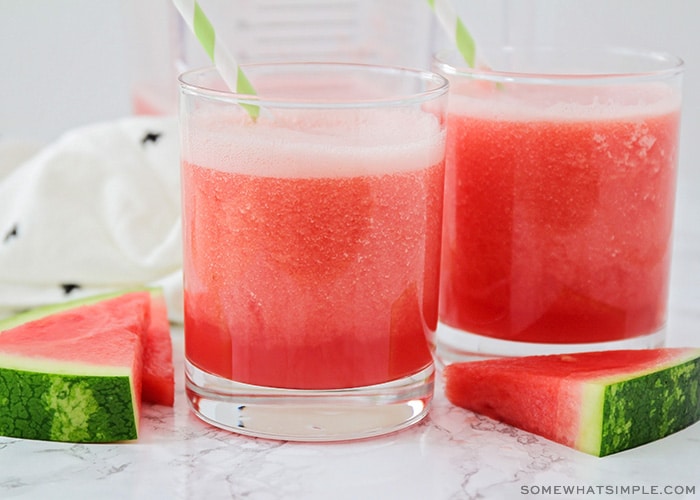 How To Make A Watermelon Cooler
Prepare – Start by cutting your watermelon into cubes and then placing all of the chunks in a large Ziplock bag
Freeze – Toss the bag into the freezer for about an hour, or until the watermelon chunks are frozen
Blend – Add the frozen watermelon to a blender with some lemonade and honey, then process until blended
Serve – Pour into frosted glasses and serve immediately! Presentation is everything, so I like to serve them with an adorable striped straw.
…So easy, right??
Here is the simple recipe
Recipe Tips
Freezing – If you want to freeze the watermelon chunks ahead of time so you can make this drink all summer, go for it! Watermelon can stay fresh in the freezer for about 8 months, so you can chop one a few at the beginning of the summer and enjoy it all season long.
Texture – If you prefer a smoother drink without any pulp, go ahead and run the watermelon cooler through a strainer before serving.
More Summer Drink Recipes
Watermelon Cooler Recipe
Now it's time for your to enjoy this delicious slushy drink this summer. Let us know if you try this drink by leaving us a comment below, or by tagging us on social media as you enjoy one sitting by the pool!
Watermelon Cooler Slushy
This watermelon cooler is naturally sweetened and absolutely perfect for a hot summer day!
Ingredients
4

cups

of seedless watermelon

,

cubed into 2-inch chunks

ziplock freezer bags

1

cup

chilled lemonade

2

tablespoons

honey
Instructions
Freeze the watermelon in a ziploc bag until just frozen, about one hour.

Add the frozen watermelon to a blender, along with your lemonade and honey.  Process until blended.

Pour into frosted jars or glasses and serve immediately.
Nutrition
Other Notes
ENJOY!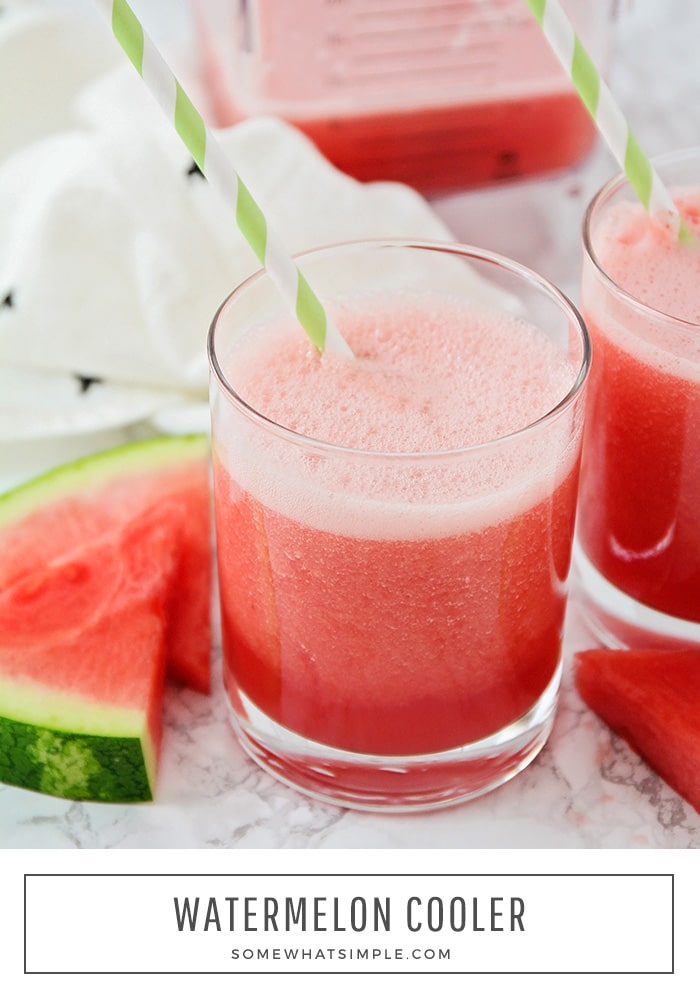 ABOUT THE AUTHOR: Ashley is the delicious food blogger from Kitchen Meets Girl. She enjoys making meals that are not only tasty, but easy too! Ashley was a monthly contributor on Somewhat Simple in 2014.