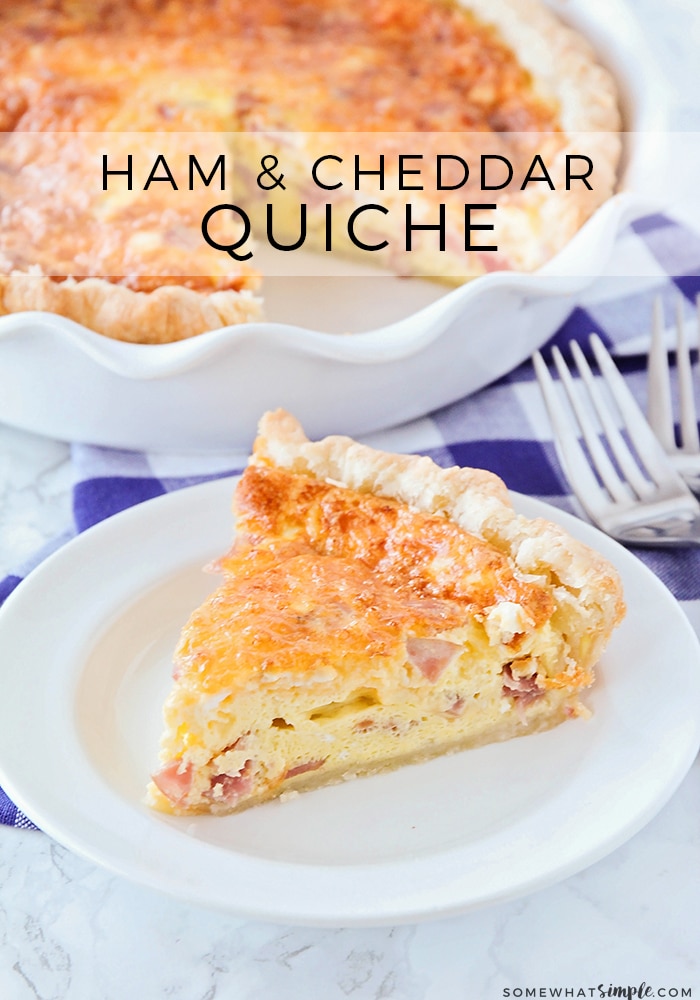 This simple to make ham and cheese quiche is so savory and loaded with flavor! It's an easy breakfast quiche recipe that is delicious, filling, and a perfect way to start off the morning!
I love this recipe because it's such a hearty breakfast option to serve the family. Some of my family's other favorite breakfasts options are these Chocolate Chip Waffles and French Toast. Add a side of delicious Bacon to any of these tasty breakfast meals and you're all set.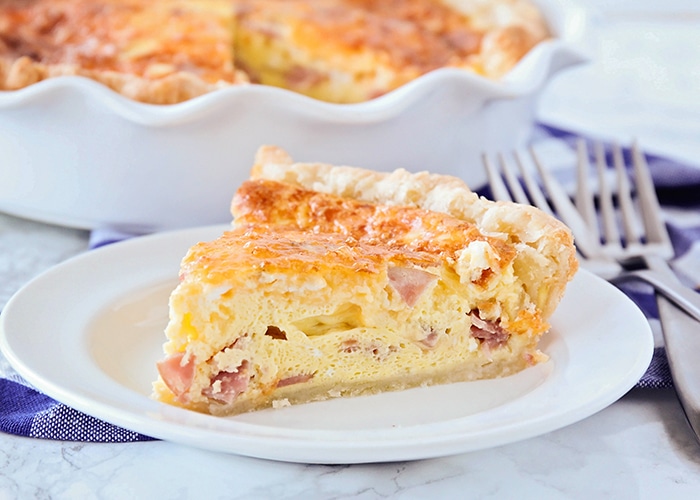 Breakfast Quiche
Who else LOVES quiche? It is one of my favorite meals, for breakfast, brunch, or dinner. I love that it's easy to make ahead of time, it can be served hot or cold, and it's totally delicious! I love to make an extra quiche and keep it in the fridge for the kids to grab in the morning for breakfast before they head off to school. It's also incredibly versatile, and the perfect way to use up leftovers from the fridge.
Easy Quiche Recipe
This easy breakfast quiche recipe can be customized in a million ways! I've made all sorts of combinations, from leftover chicken and spinach, to asparagus and mozzarella. This ham and cheese quiche is one of my favorites! Ham and cheddar cheese is such a classic combination, and the flavors combine perfectly with the quiche base and the pie crust. It's an easy breakfast that everyone will love!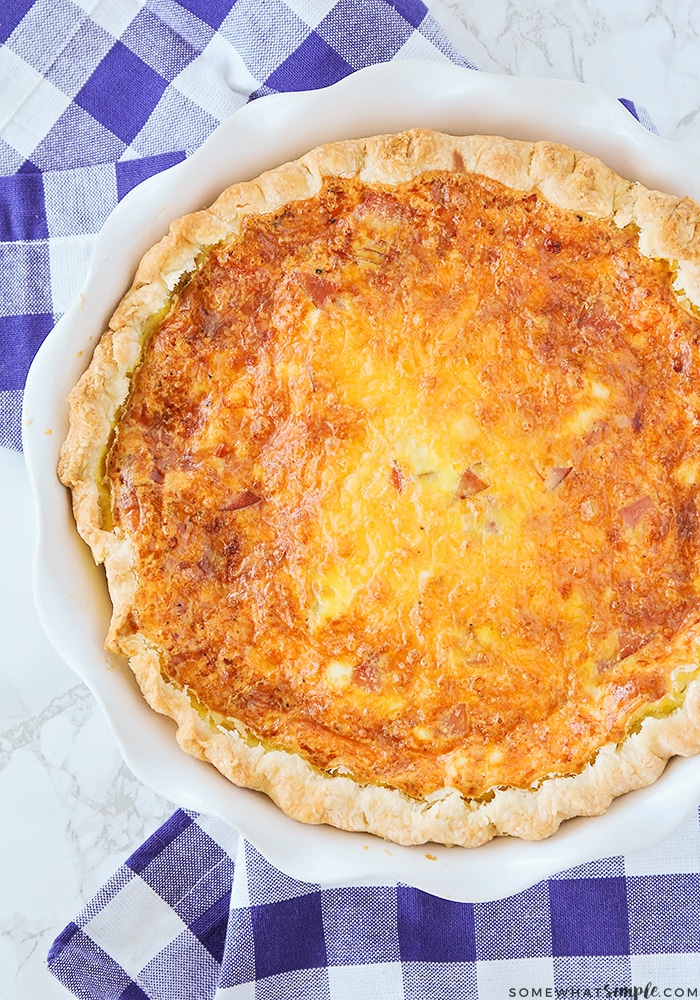 Tip For Making Ham And Cheese Quiche
I like to make my own crust for the quiche using my favorite no-fail pie crust recipe, but you can easily use a store-bought crust instead.
The quiche filling is really the most important part! I like how creamy this breakfast quiche is with the half and half, but if you want to save a few calories, you can easily substitute milk instead. It's delicious either way!
To know if your breakfast quiche is done cooking, stick a toothpick in the center of the quiche and pull it out. If it comes out clean, it's ready to eat.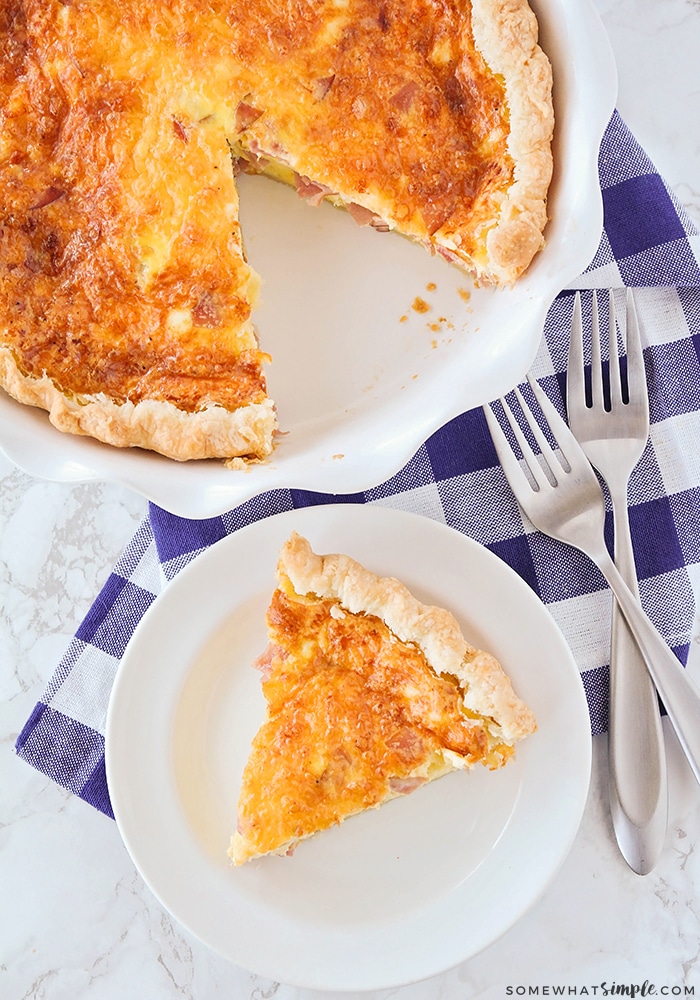 More Easy Breakfast Recipes
Can You Freeze Quiche?
Yes, you can definitely freeze this breakfast quiche recipe. I always like to make at least one extra quiche when I'm making this recipe and put it in the freezer for later. Wait until the quiche has completely cooled and then put the quiche in a large freezer bag. When you're ready to use it, DO NOT thaw it first. Simply preheat the oven to 350 degrees and bake it for between 20 – 25 minutes or until it is heated all the way through. You can store this in the freezer for up to 3 months.
How To Make Ham and Cheese Quiche
Ham and Cheese Quiche
This simple to make ham and cheese quiche is so savory and loaded with flavor! It's an easy quiche recipe that is delicious, and filling, and perfect for breakfast or dinner!

Ingredients
1

pie crust

8

eggs

1/2

cup

half and half

2

tablespoons

flour

1/4

cup

water

1

teaspoon

salt

1/4

teaspoon

pepper

3/4

cup

ham

,

chopped small

2

cups

shredded cheddar cheese
Instructions
Preheat the oven to 375. Press the pie crust into a pie dish, shaping it as you like.

In a medium bowl, whisk together the eggs and half and half. Add the flour and water to a small bowl and mix until combined, dissolving any lumps. Add the flour mixture, salt, and pepper to the eggs, and mix until combined.

Sprinkle half of the cheddar cheese ham on the pie crust, then pour the egg mixture over the top. Sprinkle the remaining ham and cheese on top. Bake 35-40 minutes, or until the top of the quiche is lightly golden and only jiggles slightly when shaken gently.
Nutrition
Other Notes
Add this breakfast quiche to your recipe box – you will not be disappointed!