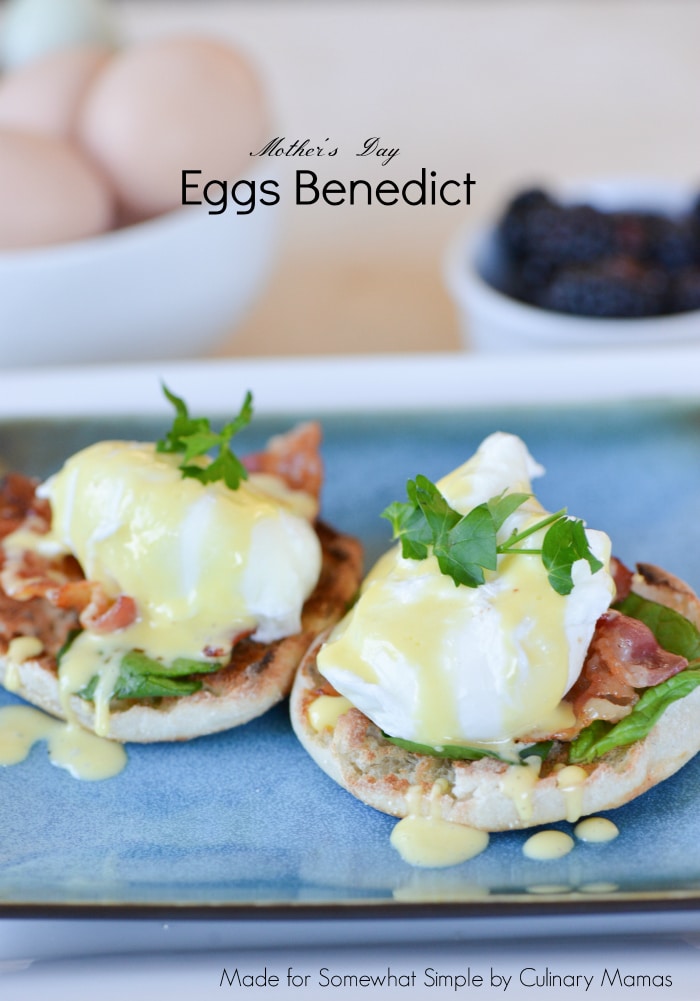 I've been a huge fan of Mother's Day ever since I learned a valuable lesson in church: have no expectations. It would probably be wrong to expect this Easy Eggs Benedict for breakfast, but maybe if you show your one and only this blog post, you could be pleasantly surprised Mother's Day morning.
Best of all, this recipe for easy blender hollandaise sauce makes Eggs Benedict a dish we can all conquer in the kitchen!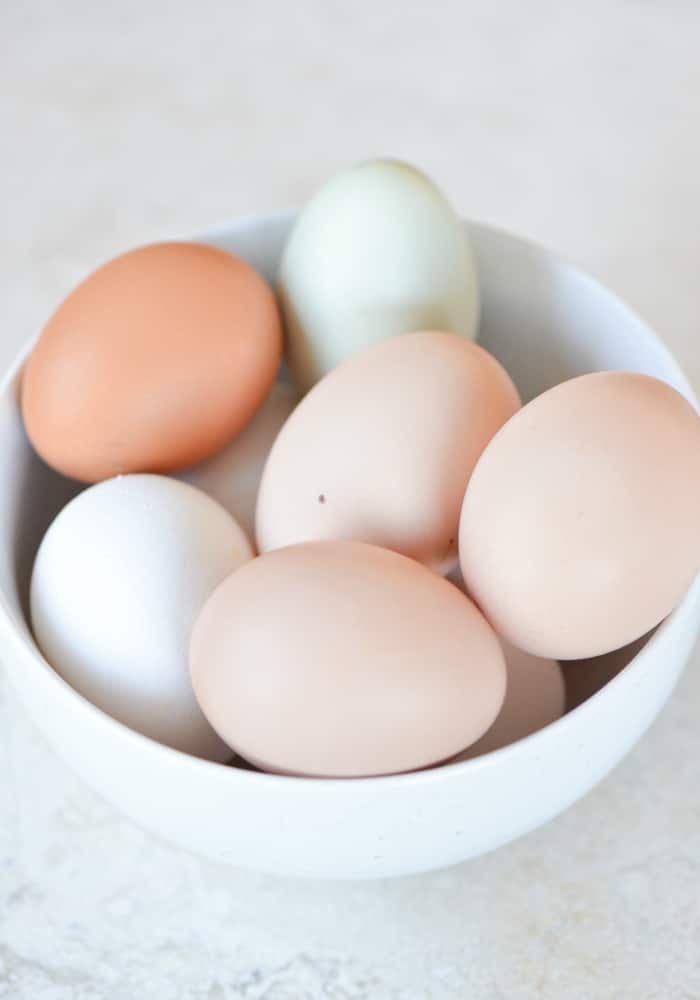 To make Eggs Benedict you will need:
2 eggs per person
one English muffin per person
2 slices of bacon per person
a handful of spinach leaves per person
hollandaise Sauce
1/4 cup chopped parsley
hot sauce (Frank's or Tabasco sauce work well)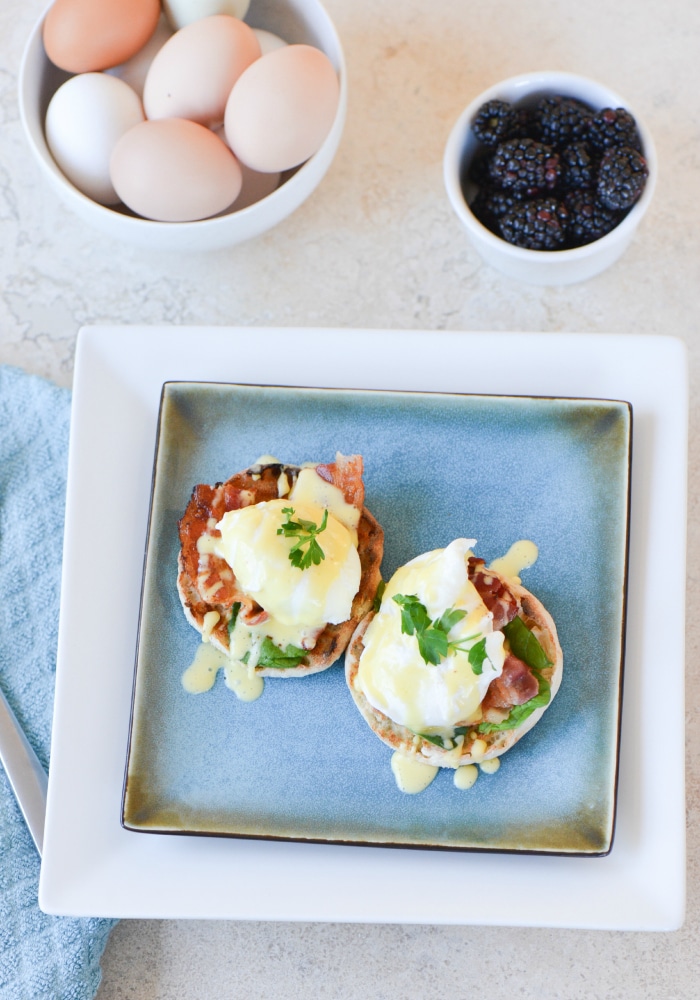 To make hollandaise sauce for four people you will need:
1/2 cup butter
2 teaspoons of lemon juice
dash of salt
dash of fresh ground pepper
3 egg yolks
To ensure hot and ready Eggs Benedict, follow these steps:
1. Cook your bacon. Once bacon is cooked, set the bacon on paper towels.
2. Make the hollandaise sauce:
Combine the lemon juice and egg yolks together in a blender. Add the salt and pepper. Heat 1/2 cup butter in a medium saucepan over medium heat. Once the butter is melted and sputtering, turn on the blender on a low speed and add the melted butter slowly in a thin stream. The sauce should look dark yellow in color and be thick. If it is not, blend for a few more seconds. Fill a large pot with very warm water from your faucet. Place the blender in the pot to keep the sauce warm. (It won't work to let cool and reheat. This recipe is from Joy of Cooking and was listed as a family favorite. )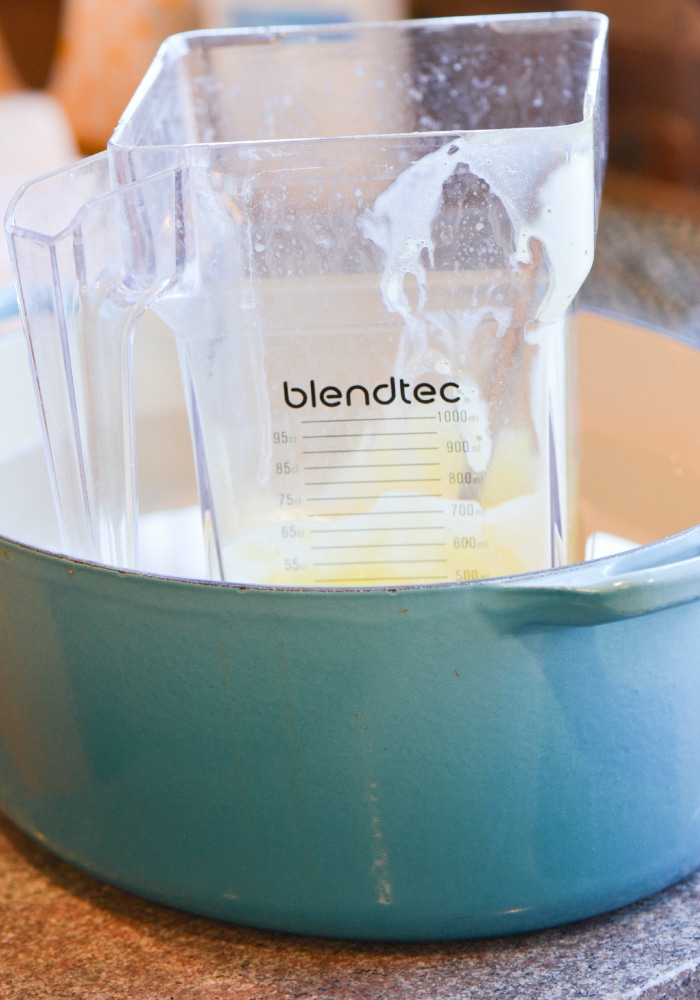 3. Toast the English muffins and spread about a teaspoon of butter on each muffin half.  Place a few spinach leaves on each half and top with a slice of bacon per muffin half. I like making one serving at a time. So, I just cook one muffin at a time and two eggs at a time.
4. Poach your eggs. If you don't want to worry about poaching eggs, eggs over easy would work fine too.
Add enough water to a small pot so that it is about half-way full of water. Add two teaspoons of vinegar and a dash of salt. Place the pot over medium heat and wait for the water to simmer. As soon as the water is simmering, crack two eggs into a very small bowl or ramekin. Gently pour the egg into the water and wait for the magic to happen. After about 30 seconds, the egg white will enclose the egg yolk. After about 2-3 minutes total of cooking time, remove the egg from the water with a slotted spoon. (Wash out the pan and repeat for each set of two eggs.)
5. Assemble. Place the egg on top of the English muffin. Pour a small amount of sauce on each egg. Top with chopped parsley and a dash of hot sauce if you like spice.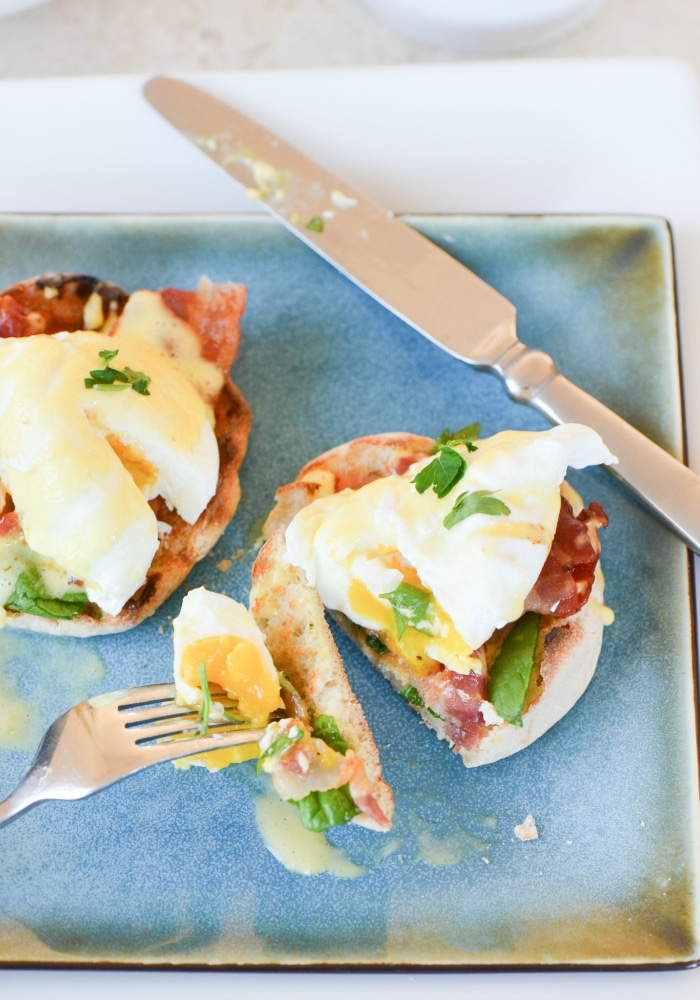 ENJOY!!!
DON'T MISS A THING!
Sign up for our newsletter to receive our FREE Home Organization Binder Printables + weekly updates filled with creative inspiration and exclusive freebies!
---