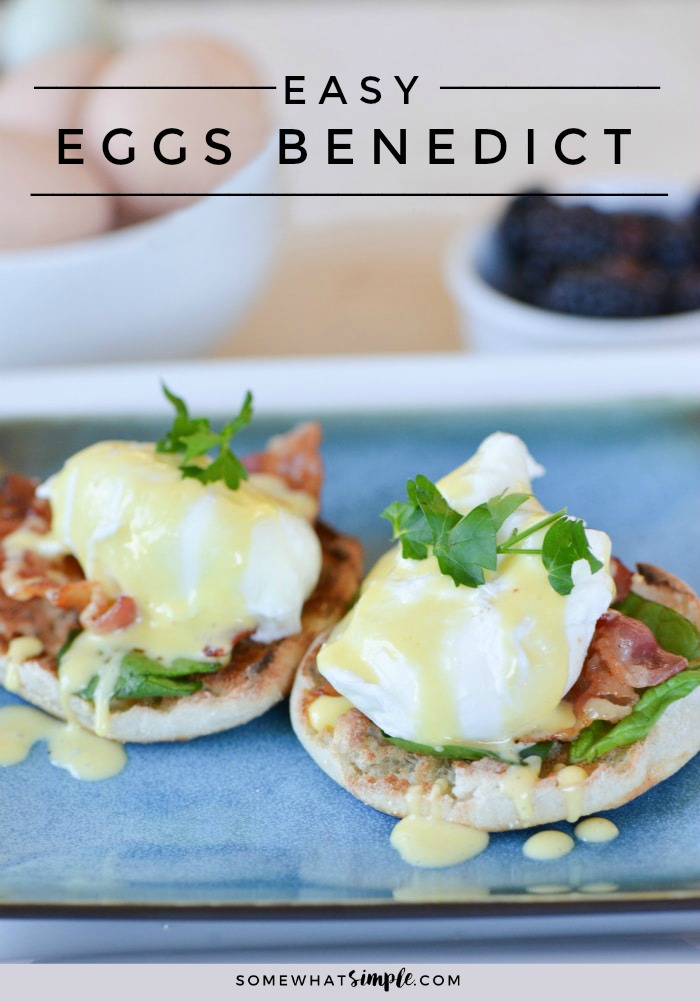 Treat yourself to the best brunch in the world with this easy Eggs Benedict Recipe!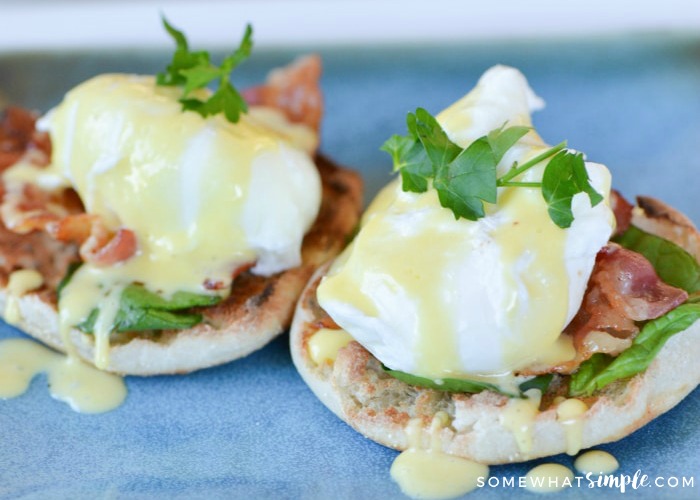 The Perfect Mothers Day Breakfast in Bed
I've been a huge fan of Mother's Day ever since I learned a valuable lesson: have no expectations.
But this Easy Eggs Benedict is as fuss-free as it is fancy! AND, maybe if you show your husband this recipe, you could be pleasantly surprised Mother's Day morning!
What is Eggs Benedict?
Eggs Benedict is a delicious breakfast dish that consists of poached eggs over bacon on top of a toasted buttery English muffin. It is topped off with a delicious drizzle of Hollandaise sauce that tastes amazing!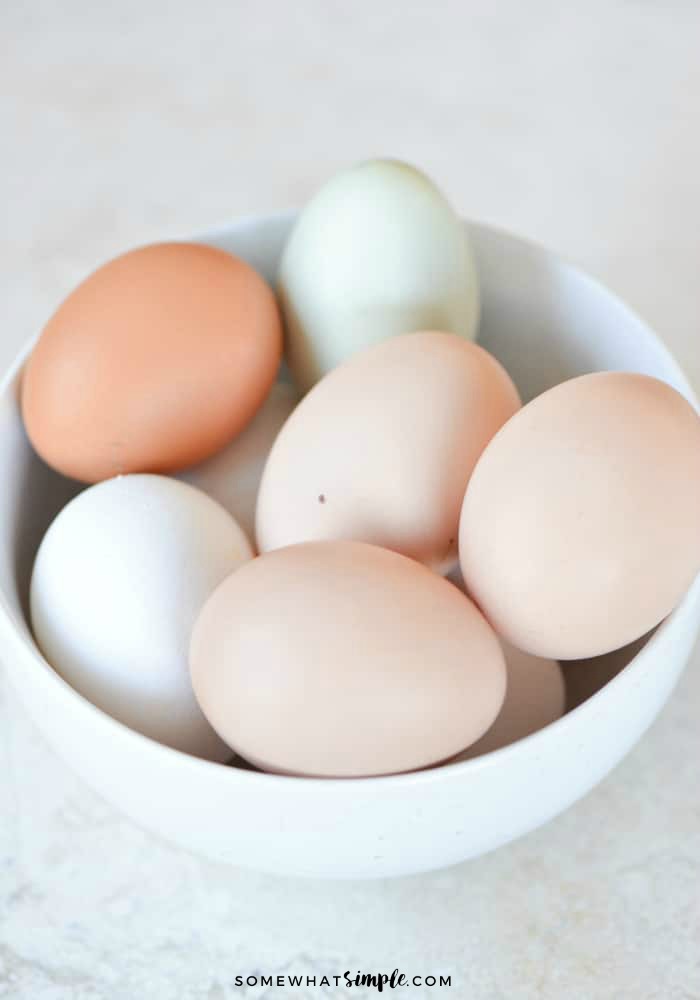 How to Make Eggs Benedict
I know what you're thinking: There is nothing EASY about making eggs Benedict.
And usually I would agree with you.
Eggs Benedict is all about timing, and it can be tricky to get everything cooked and prepared at the exact same time. There are so many variables and cook times to consider, and creating the perfect Hollandaise sauce is no simple feat!
But you guys.
This recipe isn't like that.
We use our EASY blender Hollandaise sauce, and it could not be easier to prepare! Blender hollandaise sauce makes Eggs Benedict a dish that we can all conquer in the kitchen – I promise!
So, as long as you know how to poach eggs (<<easy directions on that link there!), how to toast an English muffin and cook bacon, the blender Hollandaise sauce is a piece of cake! Learning how to make Eggs Benedict is going to take no time at all!
Serve this savory Eggs Benedict recipe with a sweet breakfast smoothies –
Or, try one of our other EASY breakfast recipes –

Easy Eggs Benedict Recipe with Blender Hollandaise Sauce
Easy Eggs Benedict Recipe with Blender Hollandaise Sauce
Treat yourself to the best brunch in the world with this easy Eggs Benedict Recipe!
Ingredients
for the Eggs Benedict:
8

eggs

4

English muffins

8

slices

of bacon

a handful of spinach leaves

1/4

cup

chopped parsley

hot sauce

,

Frank's or Tabasco sauce work well
for the hollandaise sauce:
1/2

cup

butter

2 

teaspoons

of lemon juice

dash of salt

dash of fresh ground pepper

3

egg yolks
Instructions
Cook your bacon and then set it on some paper towels.
Make the hollandaise sauce by doing the following:
Combine the lemon juice and egg yolks together in a blender.

Add the salt and pepper.

Heat 1/2 cup butter in a medium saucepan over medium heat.

Once the butter is melted and sputtering, turn on the blender on a low speed and add the melted butter slowly in a thin stream. The sauce should look dark yellow in color and be thick. If it is not, blend for a few more seconds.

Fill a large pot with very warm water. Place the blender in the pot to keep the sauce warm. (It won't work if you let it cool and reheat.)

Toast the English muffins and spread about a teaspoon of butter on each muffin half.

Place a few spinach leaves on each half and top with a slice of bacon.

Poach your eggs. (Easy directions for this on www.SomewhatSimple.com/poached-eggs) Place one egg on top of each English muffin.

Pour a small amount of Hollandaise sauce on each egg.

Top with chopped parsley and a dash of hot sauce if you like spice.
Nutrition
Other Notes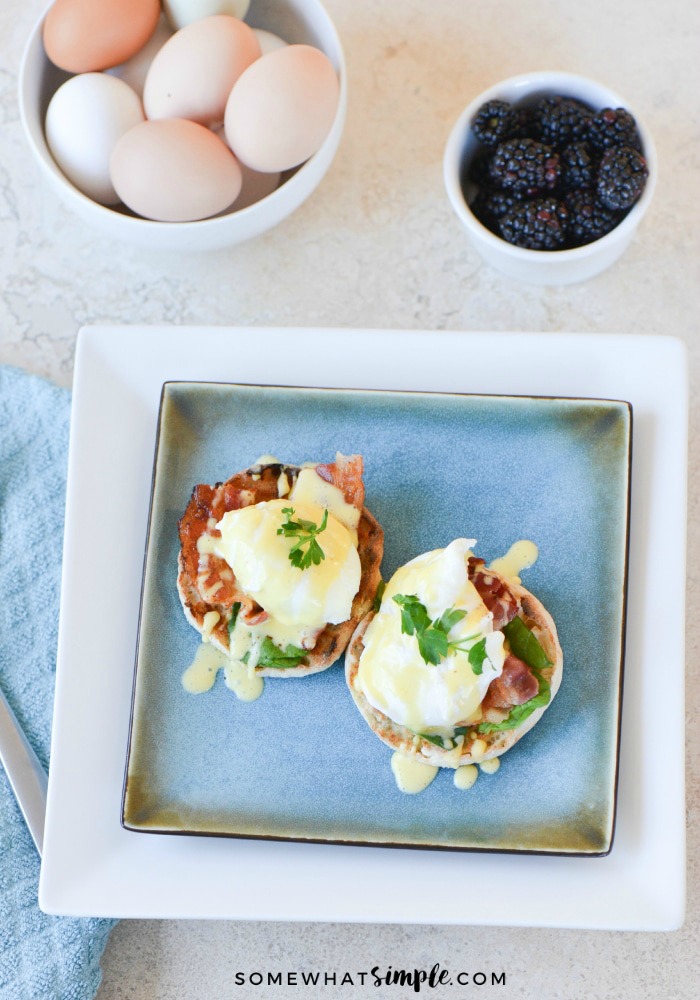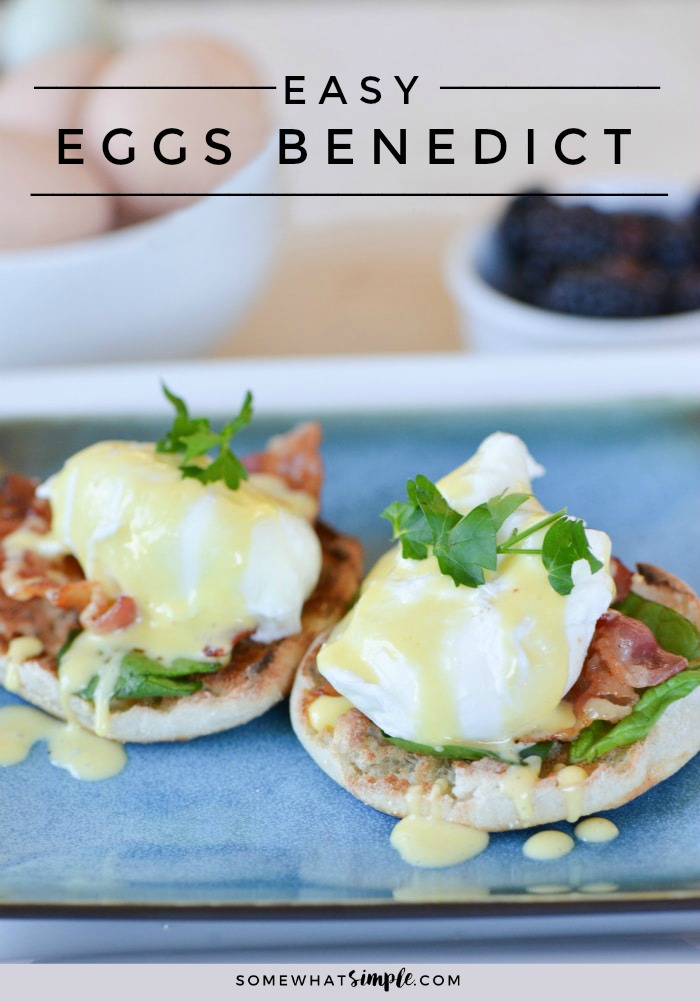 ENJOY!!!
ABOUT THE AUTHORS – Kristen and Camille are the delicious duo from Culinary Mamas. One of their goals is to help families cook up wholesome, healthy dinners that kids actually eat. The Culinary Mamas were contributors to Somewhat Simple in 2014.