Your breakfast cravings are about to be satisfied like never before! This easy pumpkin crepes recipe is super delicious and so easy to make!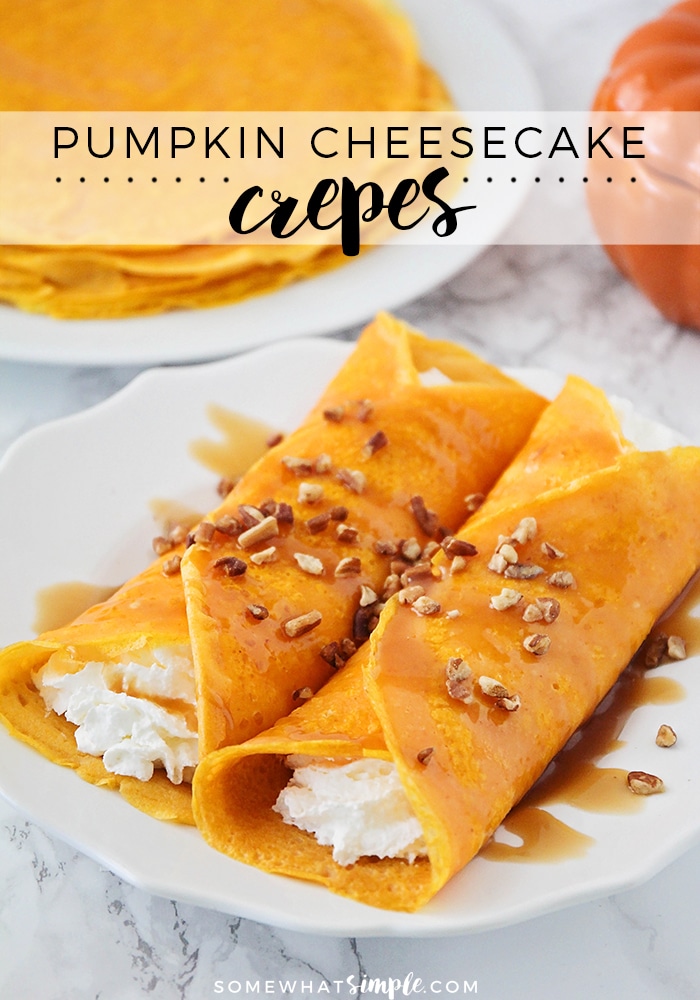 I have been totally and completely obsessed with pumpkin this fall! I mean, really obsessed. Every day for the past month, I've told myself, "Ok, today's the day! You must make something with candy corn or fake blood! Anything! Just make something for Halloween!"
But I just can't bring myself to let go of the pumpkin.
So I hope you won't hold it against me as I share one more pumpkin recipe. Even though it's so close to Halloween, and I know I should be making Ghost Pancakes and Candy Corn Rice Crispies. (I've still got time.)
Easy Crepe Recipe
What Is A Crepe?
A crepe is a very thin pastry that is very similar to pancake.  You can fill them with both sweet or savory fillings and have them for breakfast or a tasty snack.  Either way, you're going to love them!
How To Make Crepes
Although, I'm fairly confident that if you actually make this crepes recipe, you definitely won't mind that I didn't bring a Halloween treat for you today. One bite of this pumpkin-cheesecakey-ooey-gooey-caramely goodness will send you straight to dessert-for-breakfast Heaven!
I even enjoyed eating them plain, with just a little butter an cinnamon sugar! (But, seriously, you need to eat at least one of these with the cheesecake filling… not that you'll be able to stop at one).
I remember the first time I saw someone make a crepe and I thought it was the coolest thing.  Who knew they could be that thin!  If you have ever wanted to learn how to make crepes, this is the recipe for you.  Just follow the easy instructions below and you will soon have a new favorite breakfast recipe.
Ingredients For the Crepes:
3 eggs
1 cup milk
1 teaspoon vanilla extract
3/4 cup cornstarch
3 tablespoons sugar
3 tablespoons pumpkin puree
Ingredients for the Cheesecake Filling:
8 oz. Cool Whip
1 lb. cream cheese, softened
2/3 c. sugar
1/2 tsp. salt
1 tbsp. lemon juice
2 tsp. vanilla extract
Optional: caramel sundae sauce and pecans for topping
Directions:
Whisk together the eggs, milk, vanilla, cornstarch, sugar, and pumpkin puree. Set aside.
Using a hand or stand mixer, whip the cream cheese until it's smooth, without lumps. Cream in the sugar, salt, lemon juice and vanilla.
Mix in the cool whip until fully incorporated. Set aside.
Heat a large frying pan over medium-high heat. Spray with non-stick spray, and pour 1/4 c. batter into the center of the pan. Lift the pan by the handle and rotate so the batter spreads in a large thin circle.
Let cook for 1-2 minutes until the edges and top look dry (not like cracking kind of dry, just so you can tell it's obviously not loose batter anymore). Give it a quick flip with a spatula, let it cook for a few seconds on that side and then remove from pan.
Repeat with the remaining batter. Remove pan from heat in between each crepe for a few seconds. This will keep the pan from getting too hot and burning the crepes.
Fill each crepe with the cheesecake filling, top with caramel sauce and pecans.
What Are Some Delicious Crepe Filling Ideas?
For these crepe filling suggestions I would leave the pumpkin puree out of the recipe and just make a basic crepe.  The cheesecake  filling used in this crepe recipe is one of my favorites but if you are looking for other crepe filling ideas, here are a few other filling ideas:
Strawberries and whipped cream
Chocolate syrup and powdered sugar
Nutella
Bavarian cream
What Are Other Pumpkin Recipes?
If you loved this pumpkin crepe recipe, then you will love these other pumpkin recipes:
What Are More Easy Breakfast Recipes?
If you are looking for other easy breakfast recipes, then you should try one of these: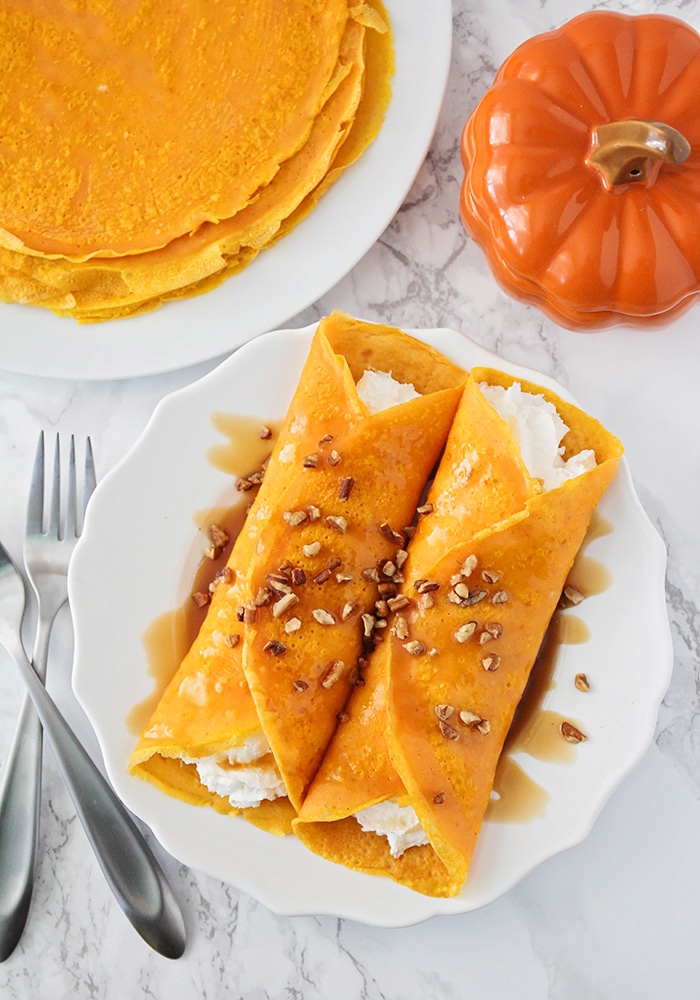 Seriously, who's coming over for breakfast this weekend???
You will all want to be my new best friend!
. . . . .
About the Author – Ashton is the delicious dessert blogger and creator of the site Something Swanky. She contributed fabulous recipes like this one to Somewhat Simple while she blogged as a member of the Somewhat Simple Creative Team in 2012.
This post originally published on Somewhat Simple in October 2012