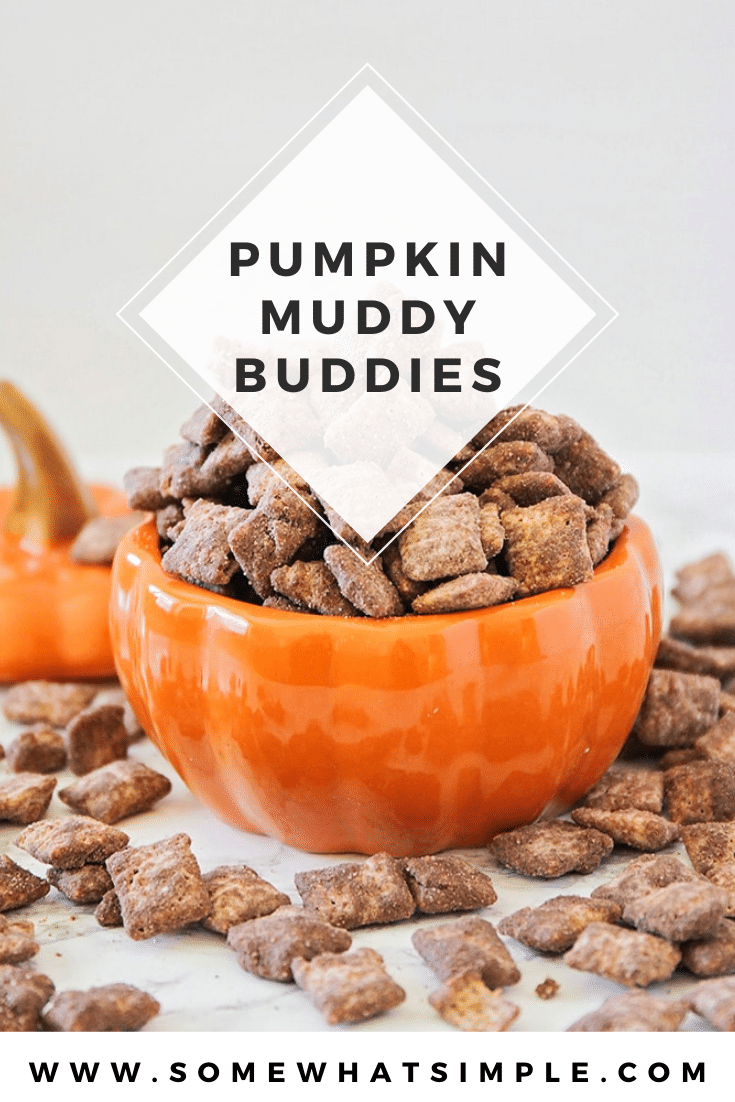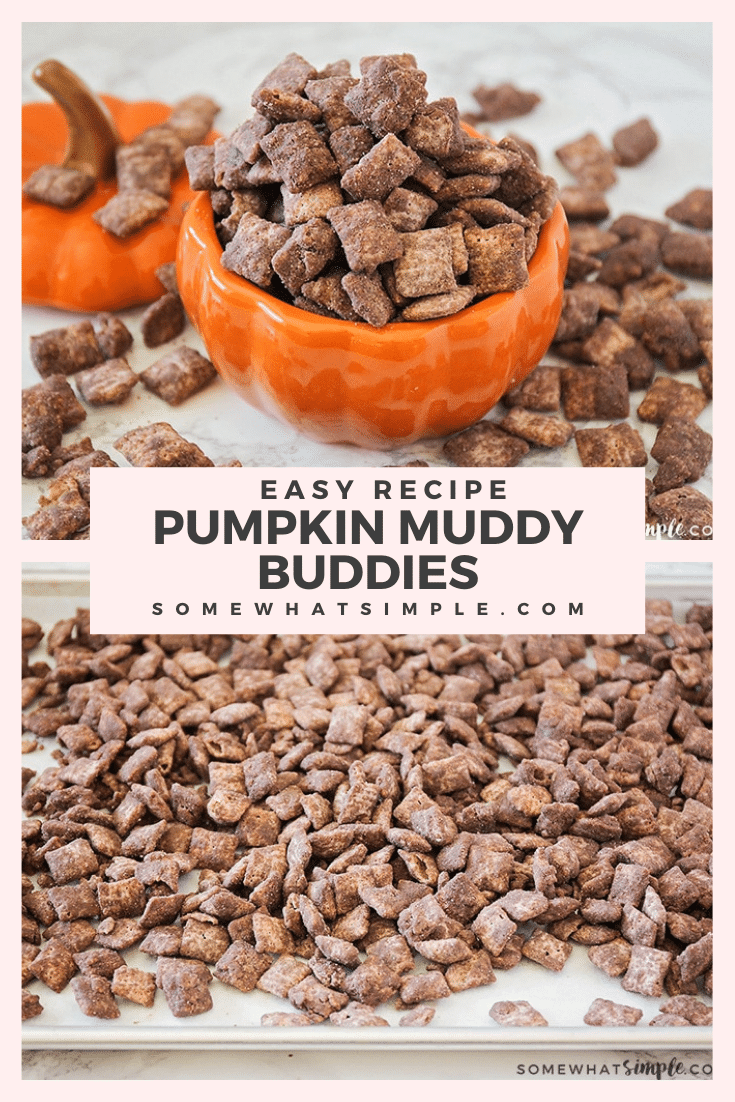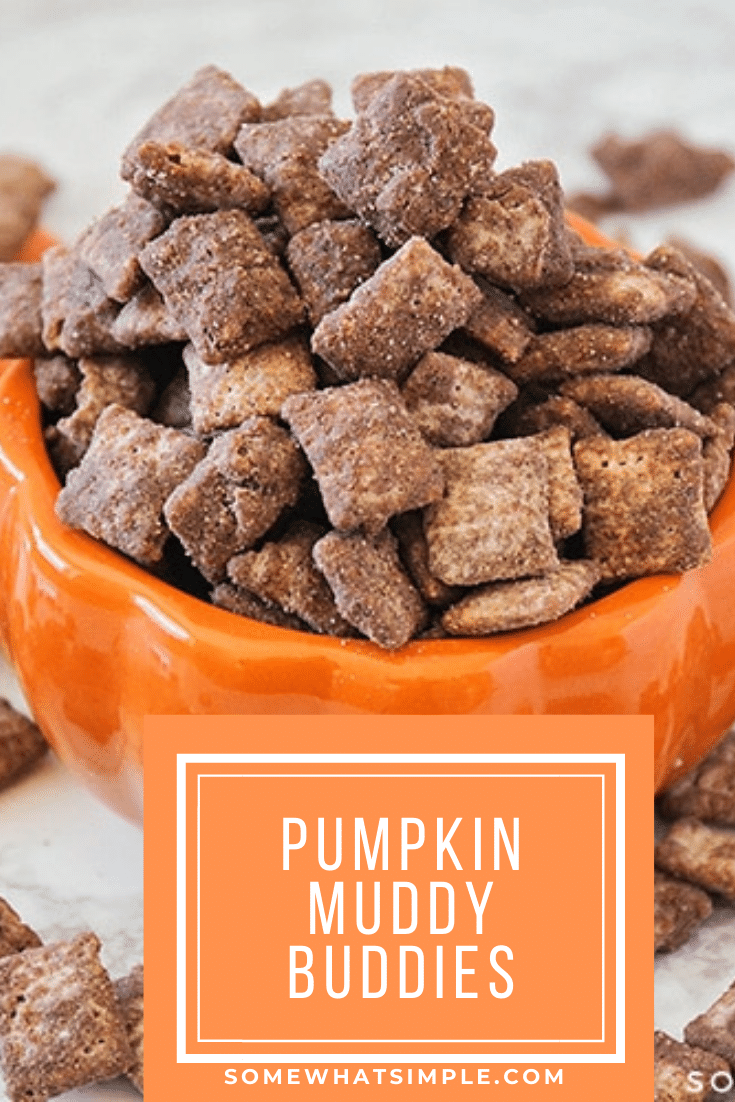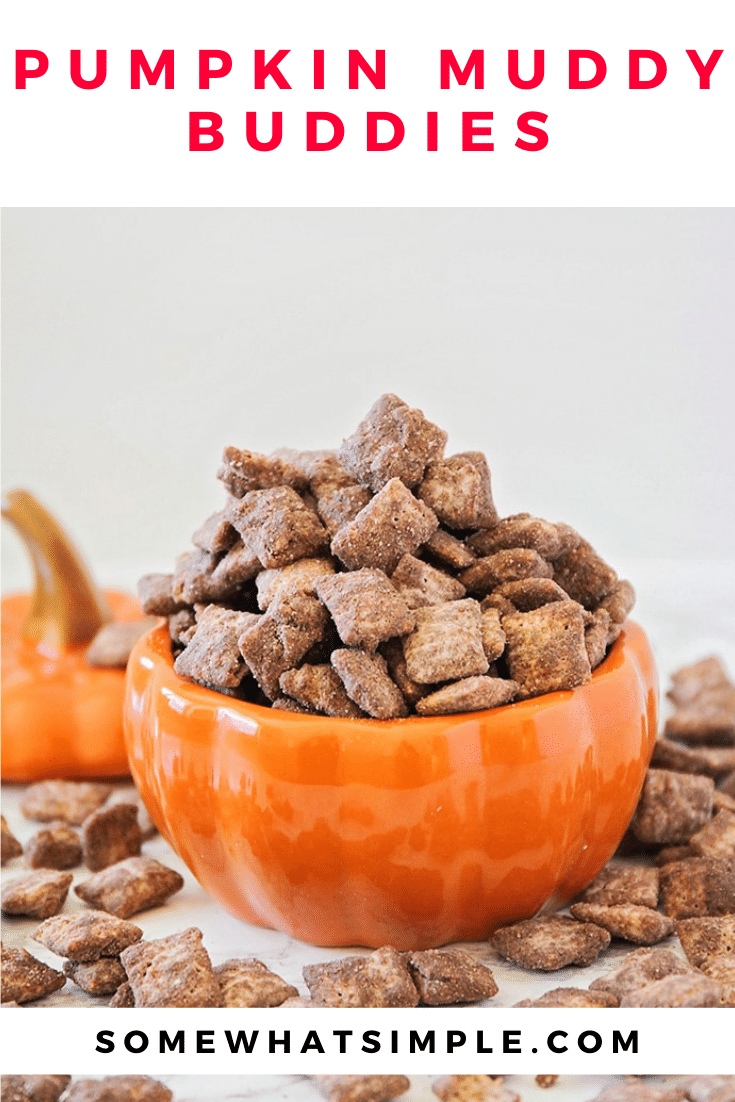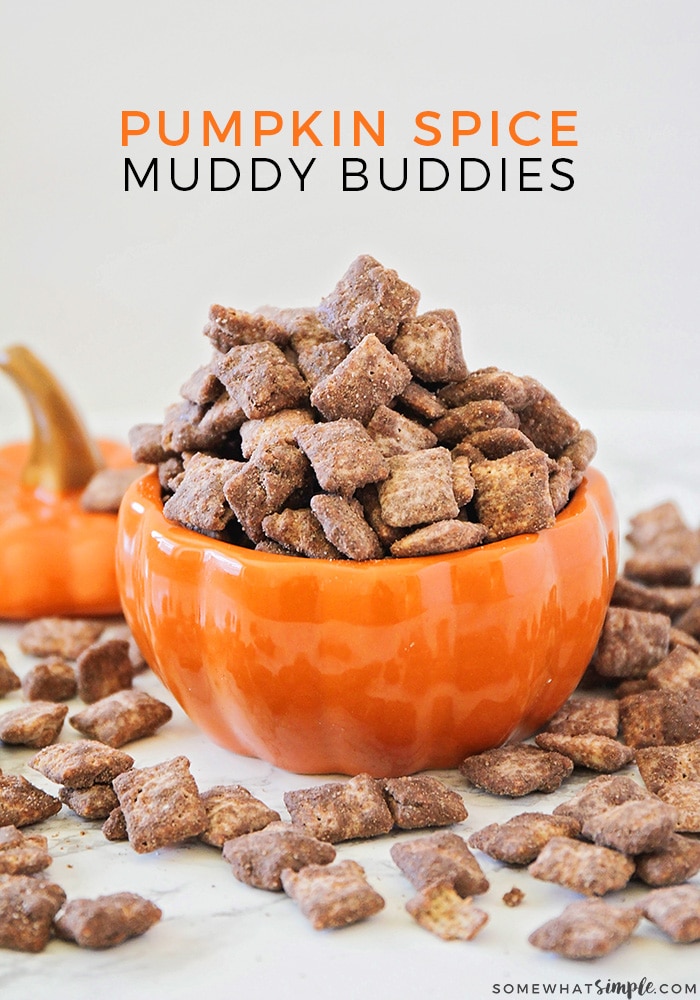 These delicious pumpkin muddy buddies are made with cookie butter, chocolate, and a little pumpkin spice. This is a perfect fall treat for those who want to enjoy a delicious muddy buddy treat without peanut butter. Watch out, your life is about to get a whole lot sweeter!
I love the fall because there are so many great recipes that use the delicious flavor of pumpkins. Some of my favorites are these 3 Ingredient Pumpkin Cookies, Pumpkin Pancakes, and Pumpkin Spice Hot Chocolate recipes.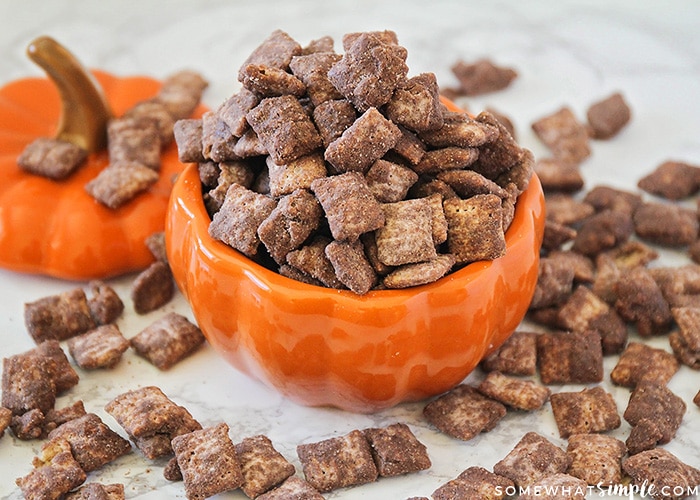 Muddy Buddies Without Peanut Butter
I'm so excited to share my new favorite treat with you! Pumpkin Spice Muddy Buddies that are both Peanut and Tree Nut FREE! Nut-free treats didn't used to matter to me, but after two of my kids were recently diagnosed with tree nut allergies (and peanuts for one of them too), I have had to be an attentive label reader. (Big adjustment after years and years of eating nuts with no problems…for both of them!)
When I wanted to make Muddy Buddies the other day, I realized they were on the bad list because they are traditionally made with peanut butter. I started thinking of all the things I usually sub for peanut butter…cashew butter, almond butter, occasionally Nutella…all of which are a no-go.
A day or two later, COOKIE butter popped into my head… PERFECT! So I tried Cookie Butter Muddy Buddies and added a little pumpkin spice and extra chocolate thrown in, and life was suddenly a little sweeter. I haven't made peanut butter muddy buddies with the pumpkin spice, but in my brain it's amazing, so try that if you don't have cookie butter!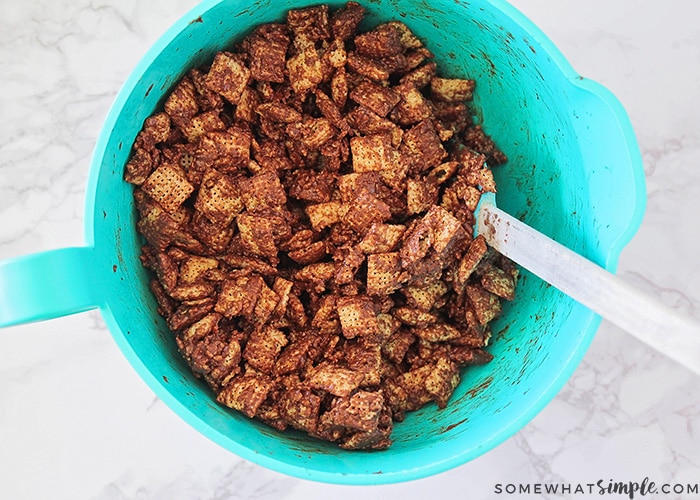 How to Make Muddy Buddies Without Peanut Butter
Make The Coating – First, you'll make your chocolate mixture by putting some chocolate chips, butter and cookie butter in a bowl. Microwave it for 1 minute, stir, and continue heating (if necessary) until smooth. Add the little bit of vanilla and stir it in.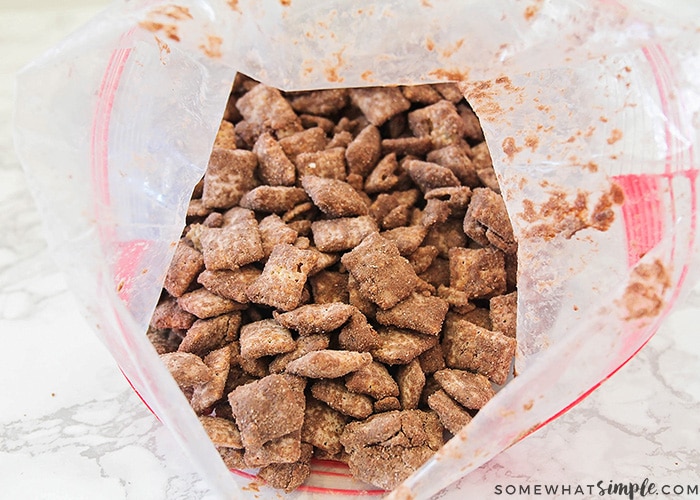 Mix – Next, you'll place the Chex cereal in a large bowl and then pour the chocolate mixture over the top. Stir everything until it is evenly coated.
Shake It Up – Put your chocolate-covered Chex cereal into a big ziplock bag, then add some brownie mix and pumpkin spice. Give it a good shake until it's evenly mixed together. Depending on how much you're making, you made need to split everything in half and mix two batches.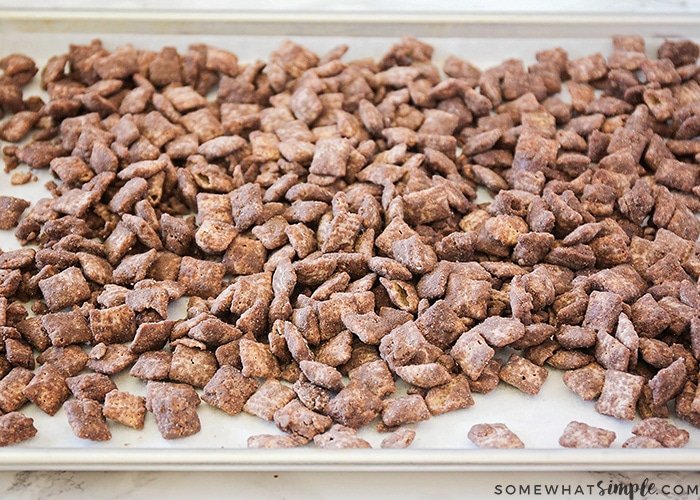 Let It Cool – Spread the pumpkin muddy buddies onto a baking sheet with a silicone mat or parchment paper to cool before serving. Once it has cooled, serve it and enjoy!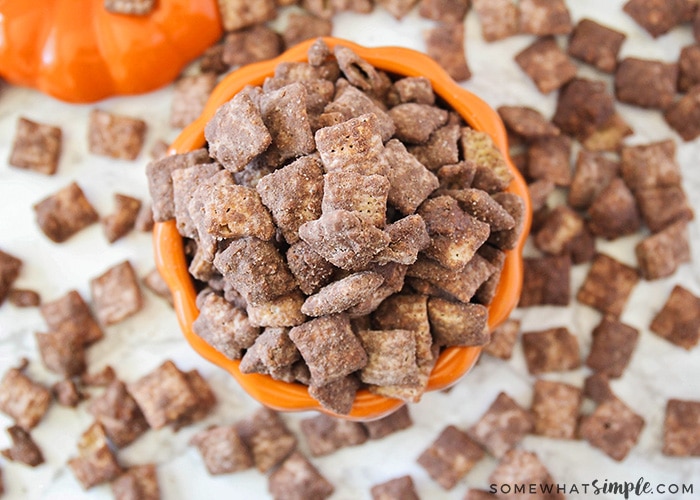 Recipe Note
The Best Cookie Butter – My favorite cookie butter is the Trader Joe's brand. The Lotus brand is good but I just prefer the taste of the other. If you live by a Trader Joe's, pick up a jar the next time you're in the area.
More Easy Chex Mix Recipes
This Pumpkin Spice recipe is the one variation everyone in my house can eat… even those with nut allergies! So easy and so DELICIOUS!!!! Warning: These are EXTREMELY addicting! So have fun with that! 😉 Leave us a comment below and let us know how you liked these pumpkin muddy buddies. Don't forget to subscribe to our newsletter so you can try all of our latest recipes.
Pumpkin Muddy Buddies Recipe
These delicious Muddy Buddies are made with cookie butter instead of peanut butter, chocolate, and a little pumpkin spice.
Ingredients
1

cup

semi-sweet chocolate chips

1/2

cup

cookie butter

1/4

cup

butter

1

tsp

vanilla

9

cups

Chex cereal

,

I used corn, but rice is great too

1 1/2

cups

box brownie mix

1 1/2

tsp

pumpkin pie spice
Instructions
Add chocolate chips, cookie butter and butter to a microwave-safe bowl.  Heat for 1 minute and stir.  Heat for another 30 seconds, if necessary, until mixture is smooth.  Stir in vanilla.

Place cereal in a large bowl.  Pour the chocolate mixture evenly over the cereal, gently stirring until evenly coated.

Combine the brownie mix and pumpkin pie spice, set aside.  Divide in half.

Add half of the cereal mixture to a gallon-size zip top plastic bag.  Add the spiced brownie mix and shake until well coated.  Spread on a silicone mat to cool (parchment or wax paper work as well).

Repeat with remaining ingredients.

Store in an air-tight container in the fridge.
Notes
I prefer the Trader Joe's cookie butter to the Lotus cookie butter.  They are very similar and either will work great, but TJ's just tastes better to me.  And it's cheaper (at least where I live).  Winning! I happened to have some leftover brownie mix from another recipe I was working on, so I used that instead of powdered sugar.  It's good both ways...we've tried! If you have a 2-gallon size bag, you can coat the cereal all at once.  I never have that size on-hand, so I always just divide in half and repeat.
Nutrition
Serving:
1
serving
·
Calories:
709
kcal
·
Carbohydrates:
112
g
·
Protein:
11
g
·
Fat:
27
g
·
Saturated Fat:
12
g
·
Cholesterol:
17
mg
·
Sodium:
580
mg
·
Potassium:
385
mg
·
Fiber:
10
g
·
Sugar:
42
g
·
Vitamin A:
931
IU
·
Vitamin C:
9
mg
·
Calcium:
166
mg
·
Iron:
24
mg
Other Notes