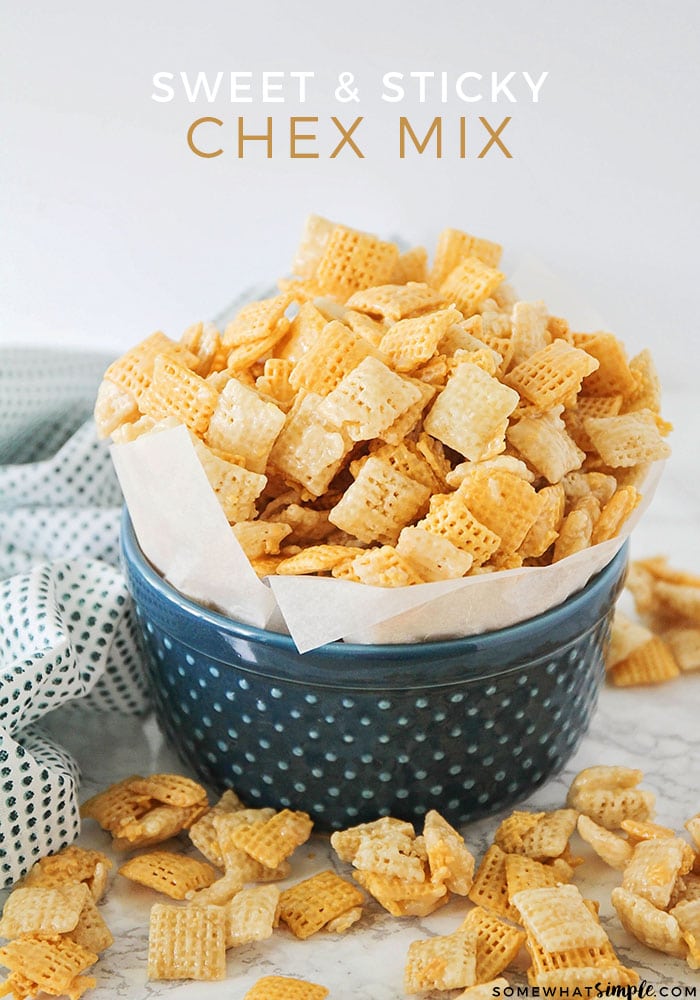 This is hands-down the BEST sweet Chex mix recipe, EVER! This easy recipe has all of the things you love in a Chex mix but covered in a sugary sweet mixture you won't be able to resist.
I love serving this Chex mix when we host people at our house. Whether it's for an Adult Game Night, a New Year's Eve Party or a Baby Shower, this sweet treat will be a hit with your guests!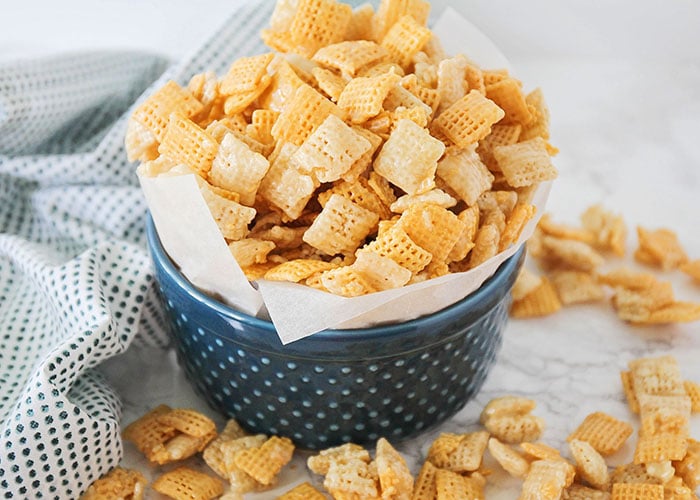 Best Sweet Chex Mix
This sweet Chex mix is one of our family's favorite treats! It is a heavenly little snack that were introduced to years ago by a friend, and it has been on our must make list ever since. Beware, this snack is AH-dictive. We make it for traveling. We make it for holidays. We make it for goody bags for neighbors and friends. We make it just because it is Friday… or Tuesday. Or Sunday.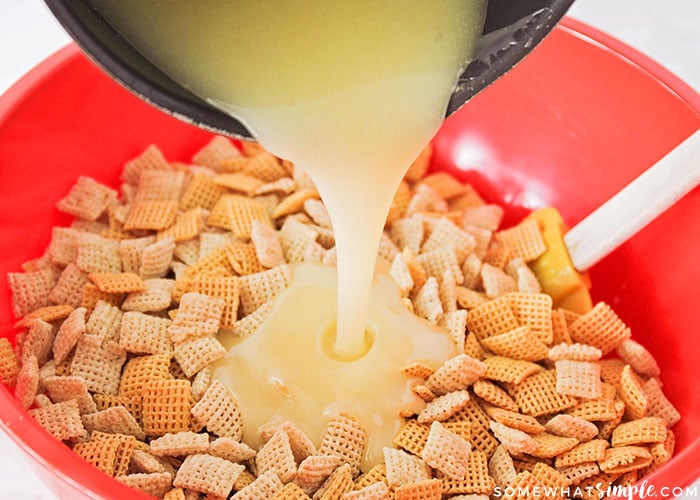 How To Make Sweet Chex Mix
The list of ingredients to make this sweet Chex mix is very simple – no strange or hard-to-find items. BUT it might seem a bit daunting in the how-much-butter-can-a-person-eat way, and a hide-the-scale-after-I-eat-the-whole-batch way. Don't fret about it too much… just don't make it everyday… or every week for that matter. And when you make it, do as I do…always set some aside for your closest friend.
Pour the Chex cereal into a large mixing bowl
In a large saucepan mix the butter, syrup and sugar over medium heat, stirring frequently
Bring the syrup to a boil and let it boil for 3 minutes
Stir continuously as the mixture is boiling
After 3 minutes, remove from heat
Next, pour the syrup over the Chex cereal.
With a rubber spatula begin to gently combine the cereal and the syrup until it is covered evenly
Pour the mixture evenly out over 2 or 3 cookie sheets
Spray your hands with cooking spray and then separate any pieces that are stuck together
Let the mixture cool for about an hour, flipping and separating it every 15 minutes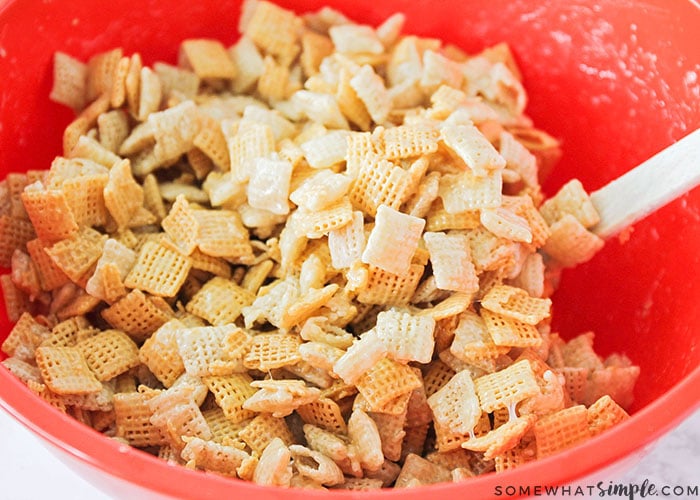 Tips For Making Sweet Chex Mix
Now here is the secret to keeping this sweet Chex mix snack chewy and ooey gooey. It needs to be monitored as it cools, and it is best to spread it out to cool. Bring out 2-3 cookie sheets and dump the mixture equally between the cookie sheets.
Get out your cooking spray and spray your hands. With freshly greased hands, separate the cereal pieces from each other and spread them out on the cookies sheets. Now go wash your hands. 😉
Over the next 30 minutes to an hour, keep turning the cereal over and separating every 15 minutes or so. You don't have to separate it anymore, but you'll want to keep it moving as it cools.
Tools Used To Make Sweet Chex Mix
Large mixing bowl
My favorite new spatula
Cookie sheets
Cooking spray
Add-Ins For Your Sweet Chex Mix
I love this recipe because it's so simple to make. If you'd like to add a little variety to this recipe, here are a few things you can add to it.
Pretzels that will add a salty compliment
Fresh coconut
Sliced almonds
Peanuts
M&Ms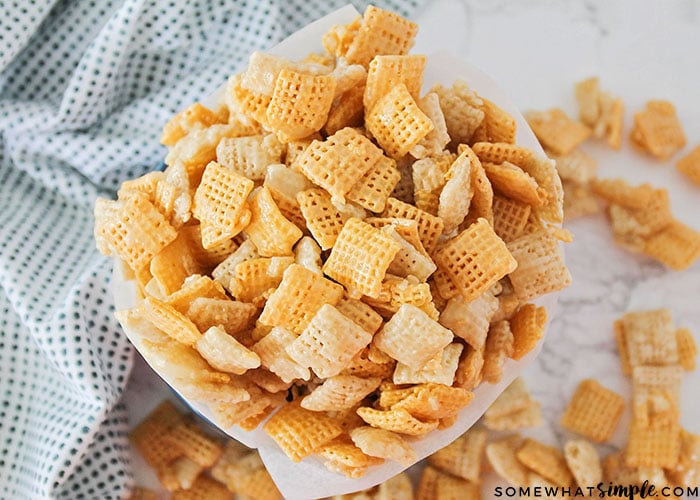 How To Store Sweet Chex Mix
If you haven't devoured the entire batch in one day, you'll want to store any leftover mix in an airtight container. While regular Chex mix can stay fresh for several weeks if stored properly, this sweet mix won't last nearly as long because it's covered in the delicious sugary syrup. Stored properly, this mix should stay fresh for about 5-7 days after making it but if my kids see any, it won't last nearly that long.
More Delicious Chex Mix Recipes
Easy Sweet Chex Mix Recipe
I am not kidding when I tell you this simple, buttery, sugary snack tastes like the delectable cousin of a rice crispy treat, and it is one of the best treats you will eat. Now that you know how to make this simple recipe, it's time to give it a try! Leave us a comment below and let us know how much you loved it or tag us on social media because we love to see what you've been up to in the kitchen!
Sweet Chex Mix Recipe
This is hands-down the BEST sugary sweet Chex Mix Recipe, EVER!
Ingredients
1 1/2

cup

light karo syrup

1 1/2

cup

sugar

3 1/2

sticks of unsalted butter

1/2

box of corn Chex

1/2 box of rice Chex

cooking spray,

for your hands
Instructions
Put the Chex into a large bowl. Set aside.

In a deep sauce pan add the syrup, sugar, and butter. Heat it over med high heat, stirring often.

When the mixture starts to boil, stir constantly and allow the mixture to boil for 3 minutes. Remove from heat.

Pour the syrup over the cereal and gently combine the cereal and the syrup with a rubber spatula. Stir until the cereal is covered evenly.

Dump the mixture into an even layer onto 2-3 cookie sheets. Spray your hands with cooking spray and separate the cereal pieces from each other.

Continue  turning the cereal over and separating it, every 15 minutes or so for up to 1 hour.

Once it has cooled you can eat it, store it or give it away!
Nutrition
Other Notes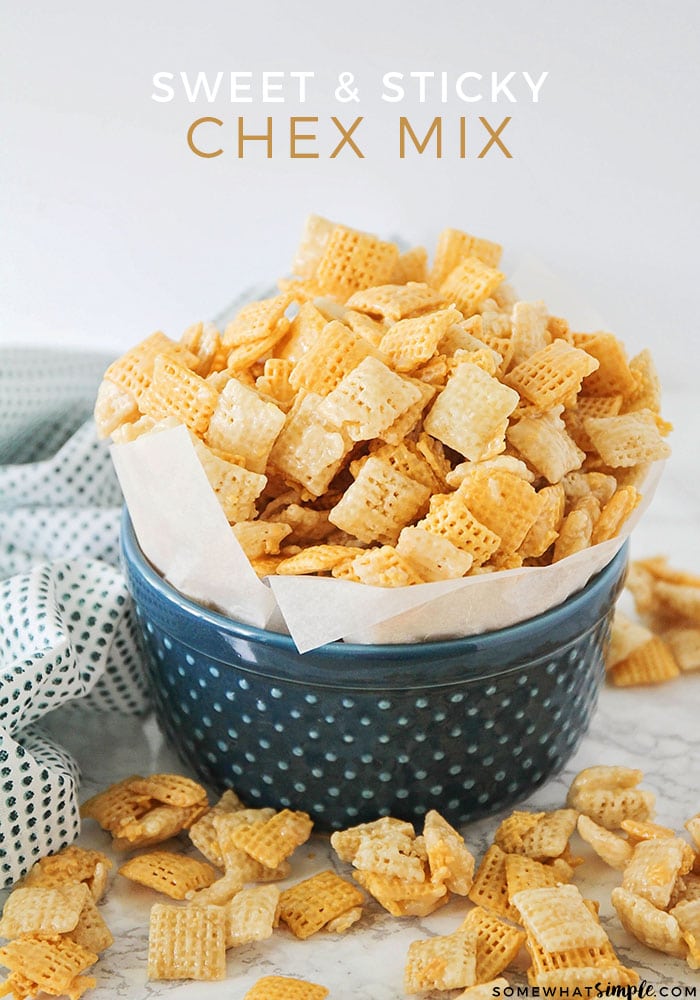 About the Author: Larissa was a former Food Contributor on Somewhat Simple (2011), she now shares her creative adventures full-time on her own blog Just Another Day in Paradise.