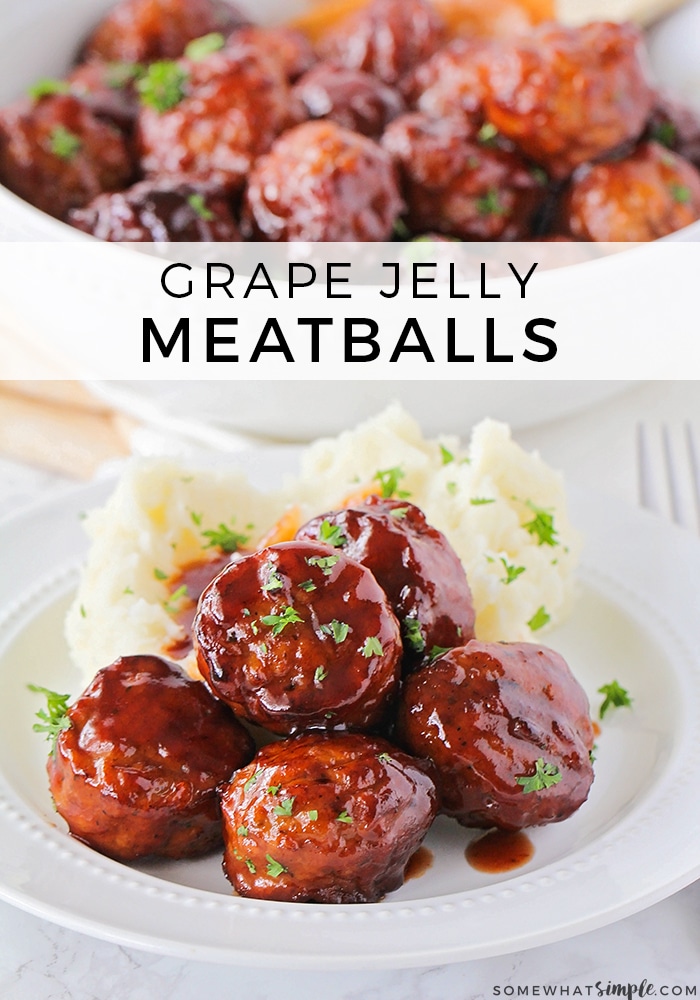 Ready for a simple dinner idea that your family will love? These grape jelly meatballs that you make in a crock pot are just for you! Using just 3 ingredients, dinner will be ready in not time.
I love these easy meatballs because they are so versatile. You can whip up a batch of Garlic Mashed Potatoes and serve them for dinner or serve them alongside some Ham and Cream Cheese Roll Ups as an appetizer at your next Adult Game Night.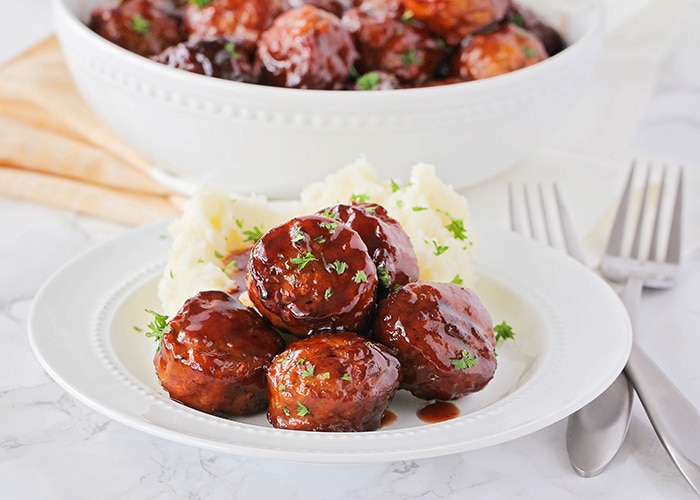 Grape Jelly BBQ Meatballs
My family LOVES meatballs so we make a variety of recipes using them quite often. I've shared our Sweet and Sour Meatballs recipe, which has an awesome flavor, but the grape jelly meatball recipe I am going to share with you today is not only very delicious, but it is even easier to make. ANNNND these grape jelly meatballs are made using only 3 ingredients that you literally place in the slow cooker and forget about until you are ready to eat. I love easy foods that tempt my taste buds!
To make these grape jelly meatballs, you'll need 3 things – a bag of meatballs, 1 jar of BBQ sauce, and one jar of grape jelly. Toss the meatballs in the crock pot, pour the sauce and jelly on top, then leave it alone. Dinner will be done in just a bit!
How To Make Grape Jelly Meatballs
This meatball recipe that uses grape jelly is so easy and is made is just a couple easy steps. Plus, I have created a short video showing the delicious and easy process at the very bottom.
Put the frozen meatballs into a slow cooker
Using a small bowl, mix your favorite barbecue sauce together with grape jelly
Pour the mixture over the frozen meatballs
Cook on low for 6 hours or on high for at least 2 hours
Stir periodically so the meatballs on the bottom don't burn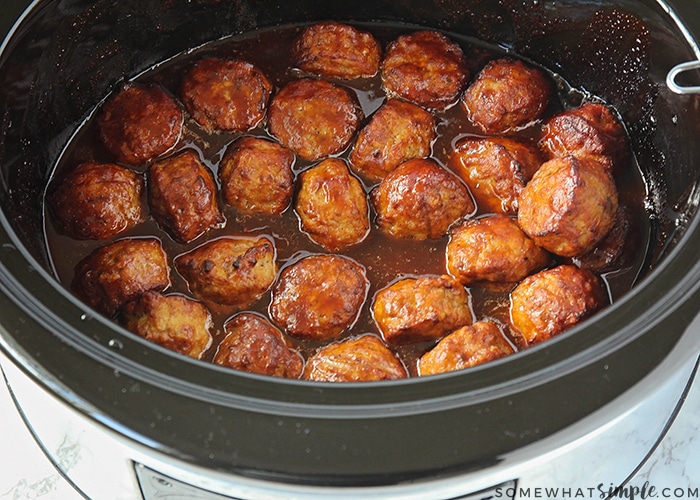 Can You Freeze Grape Jelly Meatballs
Yes, you can definitely freeze these meatballs to eat later. Wait until the meatballs have completely cooled and then place them in an airtight container with the extra sauce before freezing them. I typically wouldn't leave them in the freezer longer than two months. When you're ready to use them, just put them in the crock pot and warm them up.
Can You Put Raw Meatballs In The Crock Pot
Yes, you can cook raw meatballs in the slow cooker using this grape jelly meatball recipe. I like to keep it simple and use frozen meatballs but if you can definitely make your own meatballs. If you do, you have to try our easy Homemade Meatballs recipe. If you decide to make your own, use a kitchen thermometer to be sure the internal temperature of the meatball reaches 165 degrees F.
And here is the simple recipe- let's get cooking!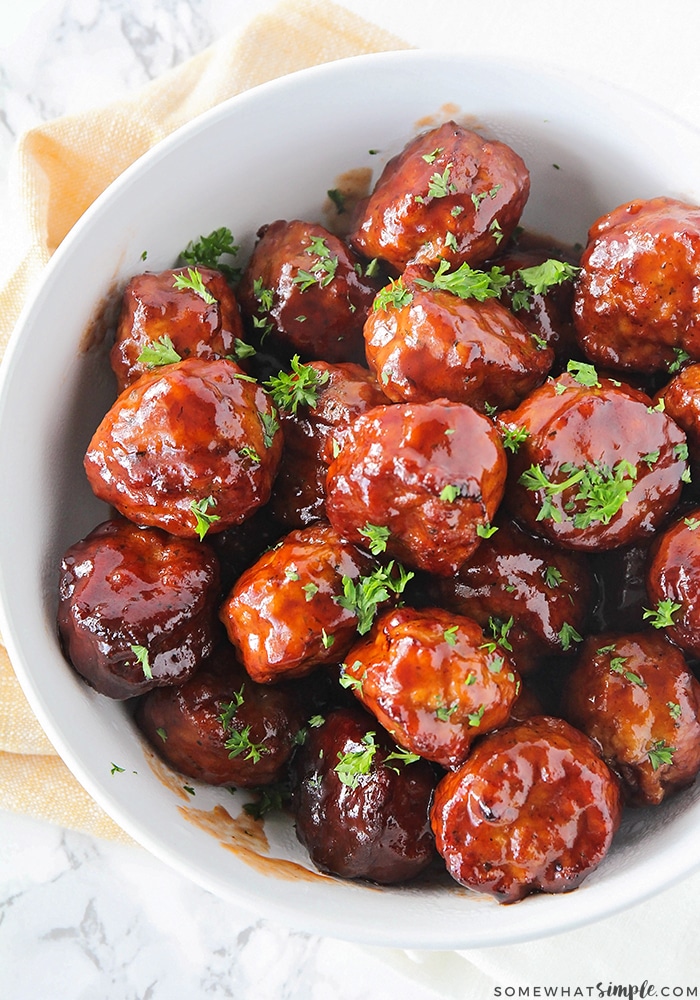 More Easy Crock Pot Recipes
Crock Pot Grape Jelly Meatballs Recipe
These meatballs are easily one of our family's favorite things to eat. Leave us a comment below and let us know how you liked them or tag us on social media the next time you serve these at a party you're hosting so we can see all of the fun you're having!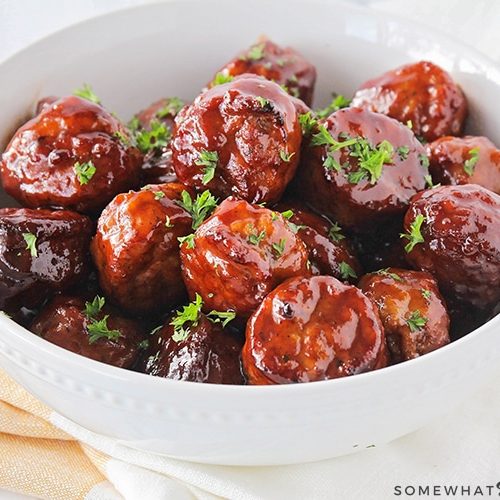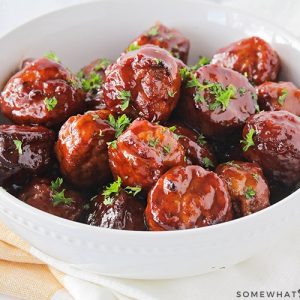 Grape Jelly Meatballs Recipe
Ready for a simple dinner idea that your family will love? These grape jelly meatballs that you make in a crock pot are just for you!
Total Time
4
hours
5
minutes
Ingredients
2

lb

bag of frozen meatballs

12

oz

jar of grape jelly

12

oz

bottle of BBQ sauce
Instructions
Place the frozen meatballs into your crock pot.

In a small bowl, mix together the grape jelly and BBQ sauce until well blended. Pour over meatballs.

Cook on low all day or on high for 2-4 hours.

Serve as a party appetizer or partner with mashed potatoes and dinner rolls for a delicious dinner!
Recipe Video
Nutrition Facts
Grape Jelly Meatballs Recipe
Amount Per Serving
Calories 600
* Percent Daily Values are based on a 2000 calorie diet.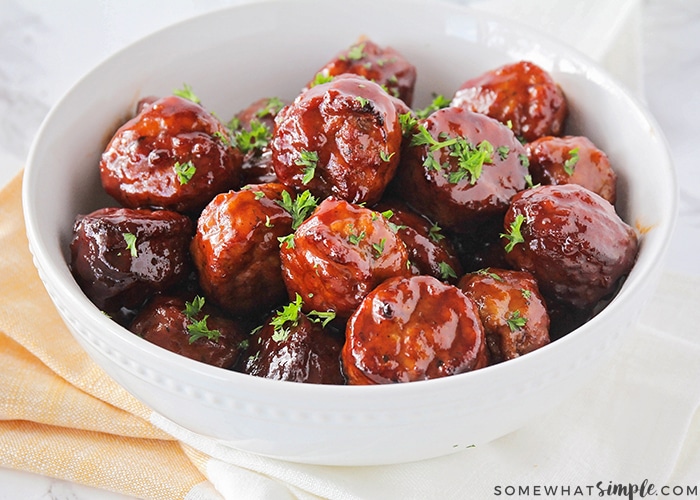 Seriously, how good does that look? That sauce is pretty darn amazing!!
Give it a try – your family will not be disappointed – I pinky promise!
Happy cooking everyone!
. . . . .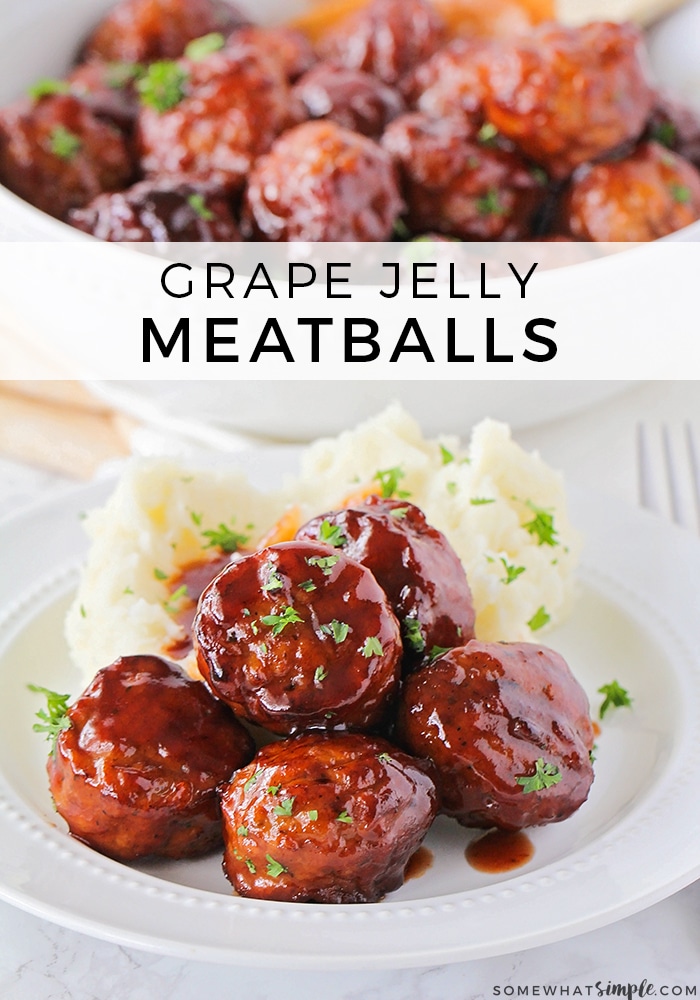 This recipe originally published on Somewhat Simple in February 2014. It was updated in June 2016 and still reigns as one of our family's favorite dinners!