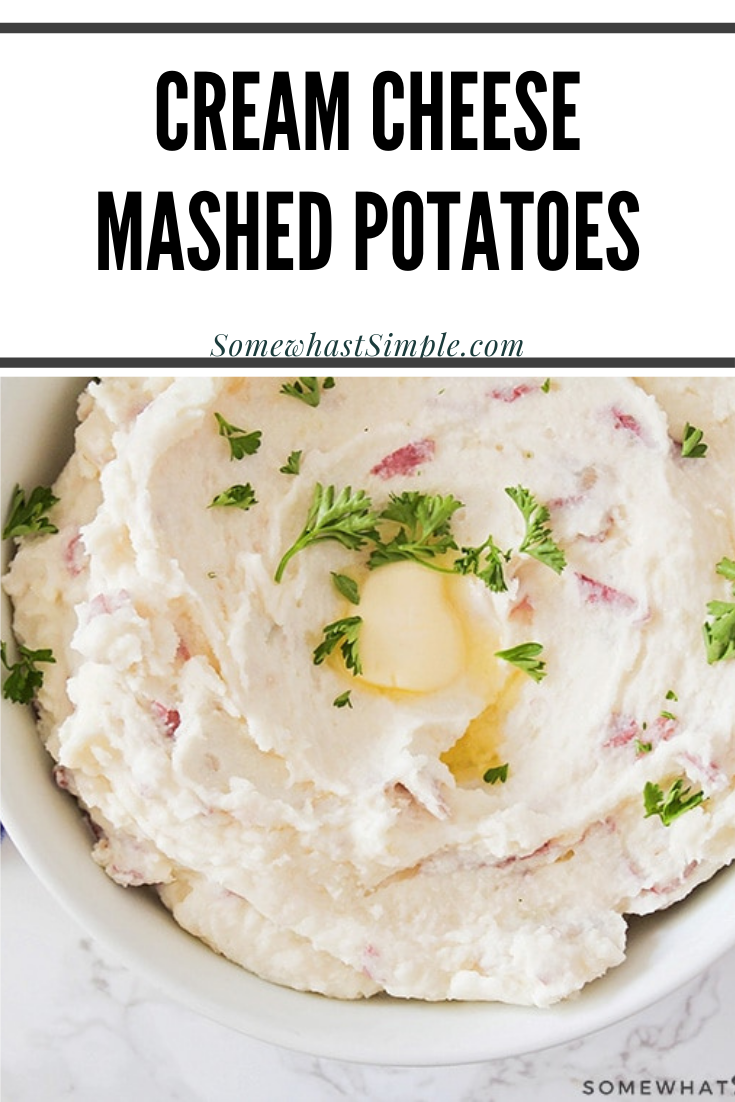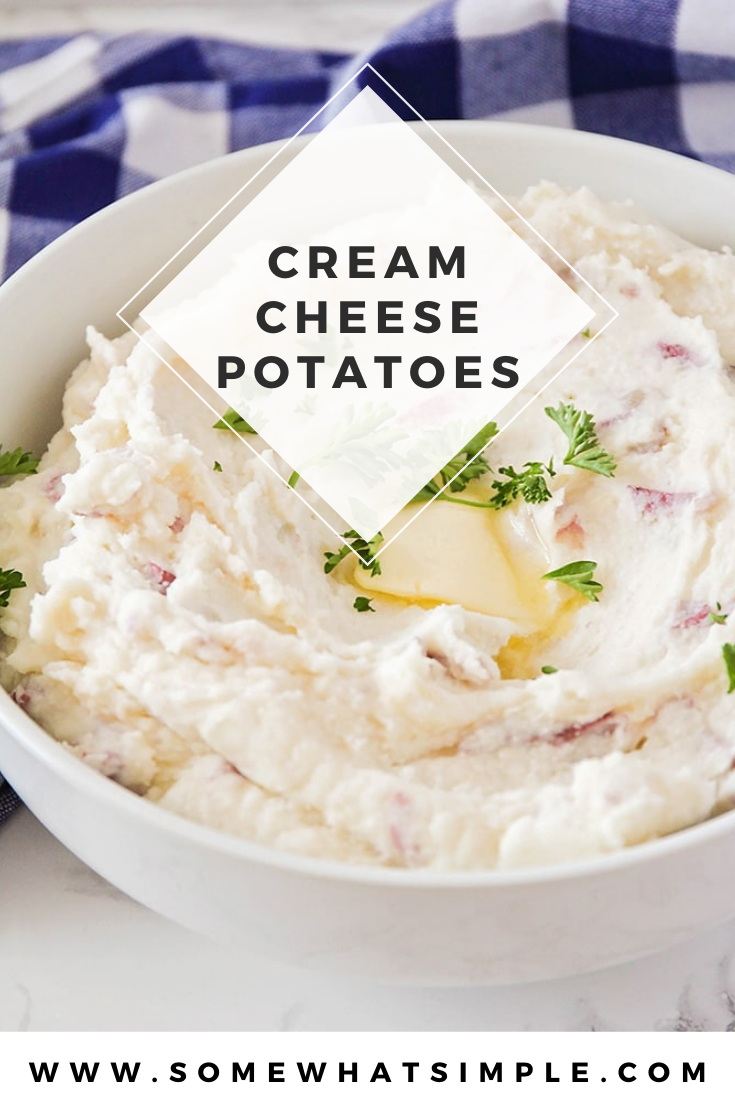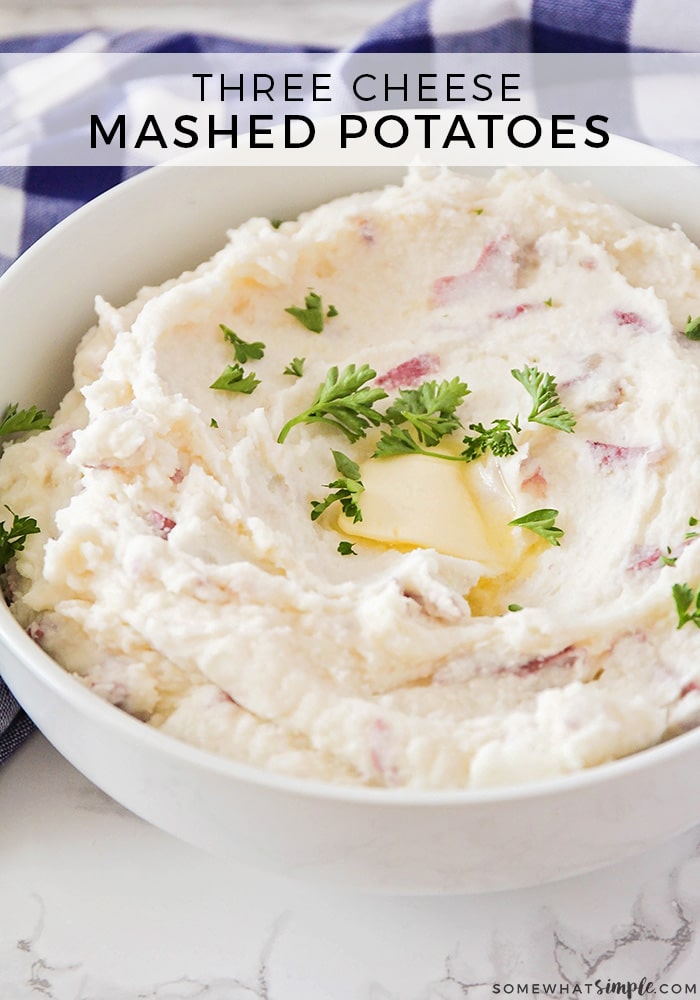 Cream cheese mashed potatoes are so delicious you'll never make them any other way again. Loaded with a three cheese blend and a tasty blend of herbs and seasoning, these mashed potatoes are the perfect compliment to any dinner recipe.
I love serving these mashed potatoes made with cream cheese with several of my favorite dishes. These potatoes pair well with my famous Fall Off The Bone Ribs, a Pepperoncini Pot Roast or this easy Meatloaf Recipe.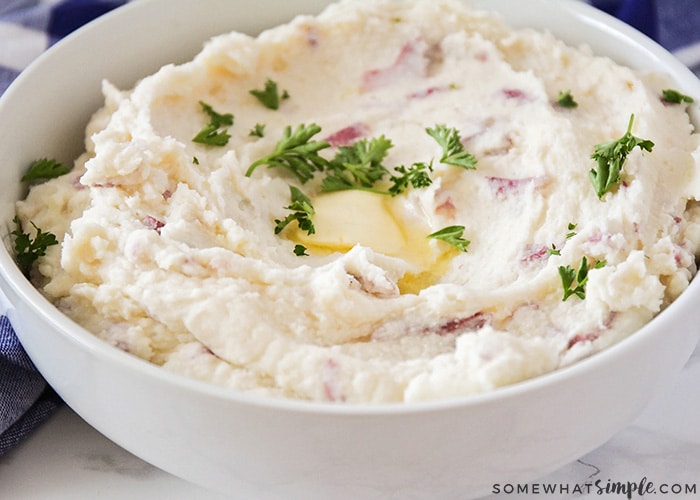 Mashed Potatoes With Cream Cheese
My husband is a meat and potatoes kind of guy and we probably have mashed potatoes with our dinner at least once a week. My sister-in-law shared this recipe with my family years ago and it is fabulous! I had never made mashed potatoes with cream cheese before but I don't think I'll make them any other way again. If you're looking for a creamy, flavorful mashed potato recipe that is super simple to throw together, you should definitely give this one a try!
How To Make Cream Cheese Mashed Potatoes
Wash and then cut the red potatoes into quarters
Bring the the potatoes to a boil in a large pot of water on the stove
Turn the heat down to a simmer and then simmer until they are tender, which will take about 10-20 minutes
Drain the water and return the potatoes to the pot
Place the pot on medium heat for about a minute to dry out the potatoes
Remove the pot of potatoes from the stove
Add the garlic, ricotta cheese, cream cheese, and Parmesan cheese to the cooking pot
Mash the potatoes to your desired texture and stir until the ingredients are fully mixed
Add salt & pepper to your liking and then give the potatoes another good mix
Garnish with green onions or fresh rosemary, optional
Tips For Making Cream Cheese Mashed Potatoes
If you don't like ricotta or Parmesan cheese for any recipe, simply substitute them with more cream cheese. For each cheese you remove from the recipe, add an additional 2 ounces of cream cheese to the mix.
After you bring the pot to a boil, lower the heat to a simmer. By simmering the potatoes it will help keep them from being too mushy and falling apart.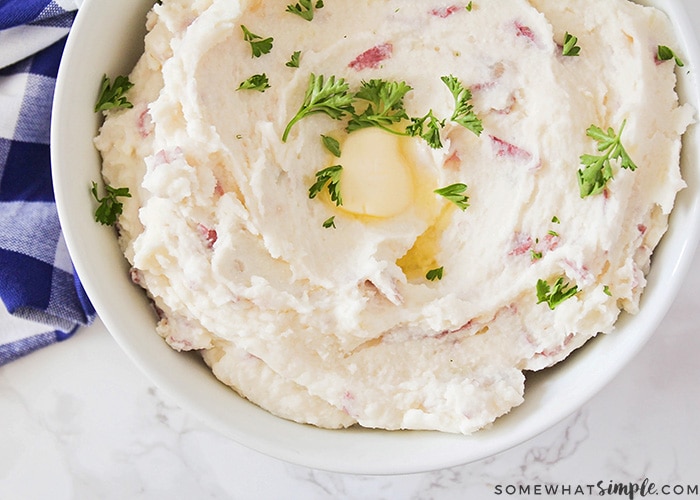 Cheese Mashed Potato Ingredients
Red Potatoes
Garlic cloves
Cream cheese
Ricotta cheese
Parmesan cheese
Salt & peeper
Rosemary or parsley (optional)
More Easy Potato Recipes
Best Cream Cheese Mashed Potato Recipe
Go ahead, give these delicious mashed potatoes a try. Leave us a comment below and let us know how much you enjoyed this easy recipe or tag us on social media after you make them because we love to see what you've been up to in the kitchen!
Cream Cheese Mashed Potatoes Recipe
Mashed potatoes made with cream cheese are a delicious side dish that can go with many of your favorite dinners.
Instructions
Wash and scrub your potatoes before cooking them

In a large pot of water bring the potatoes to a boil and then lower the heat to a simmer on the stove. Simmer until they are tender - about 10-20 minutes.

Drain and return them to the pot.

Place the pot on medium heat for about a minute to dry out the potatoes.

Remove from heat.

Add the garlic, ricotta cheese, cream cheese, and Parmesan cheese.

Mash well.

Add salt & pepper to your liking, mix again.

Garnish with green onions or fresh rosemary, optional
Nutrition
Other Notes