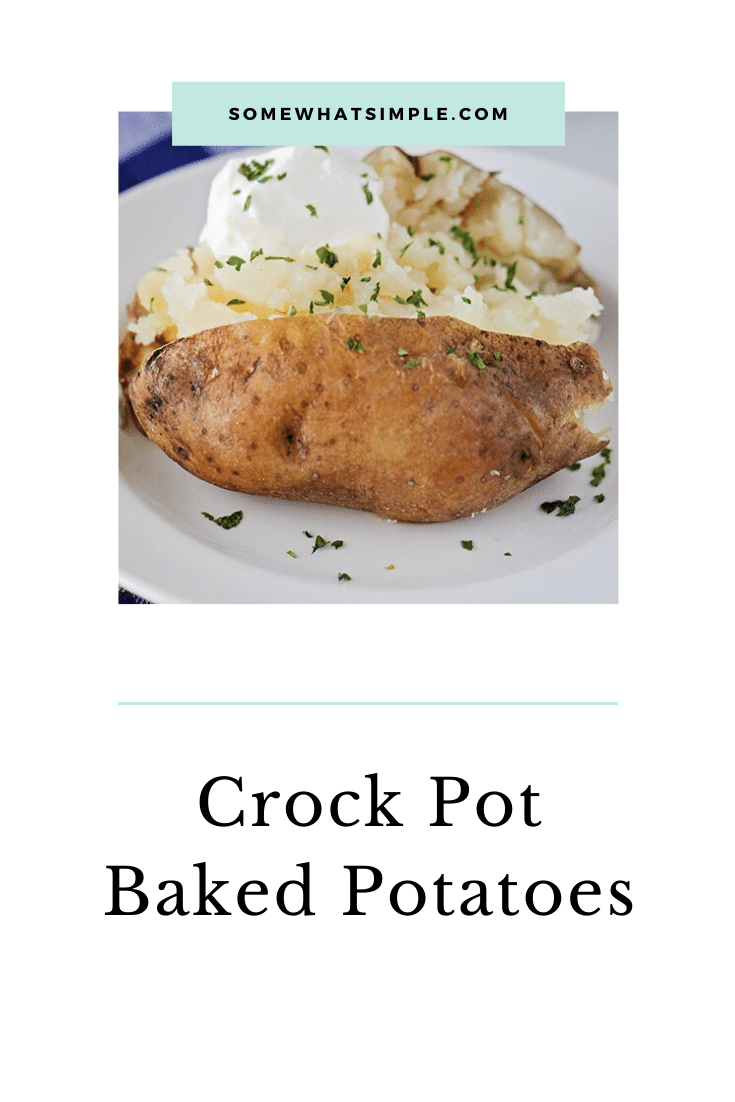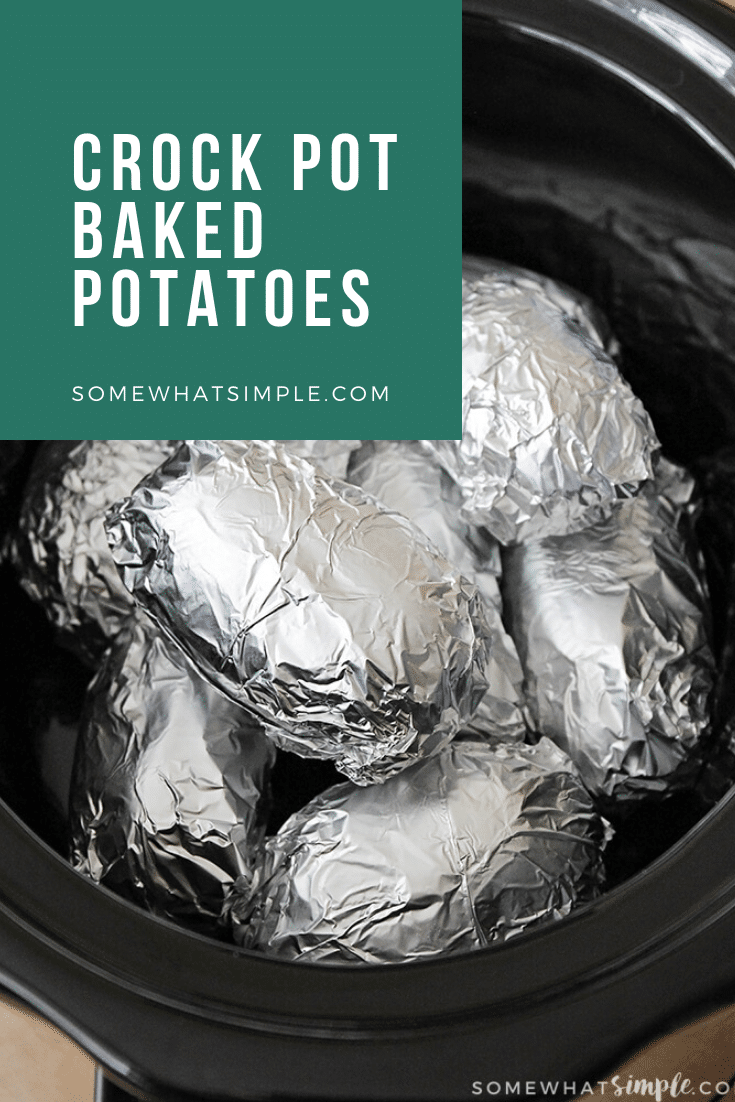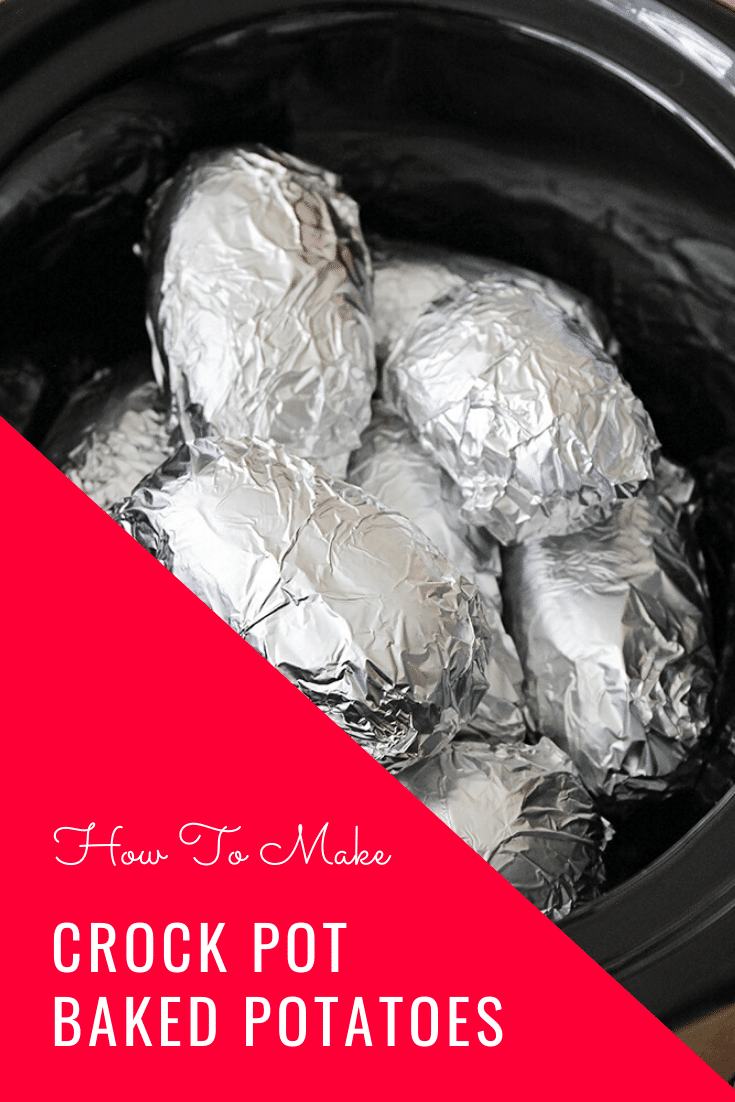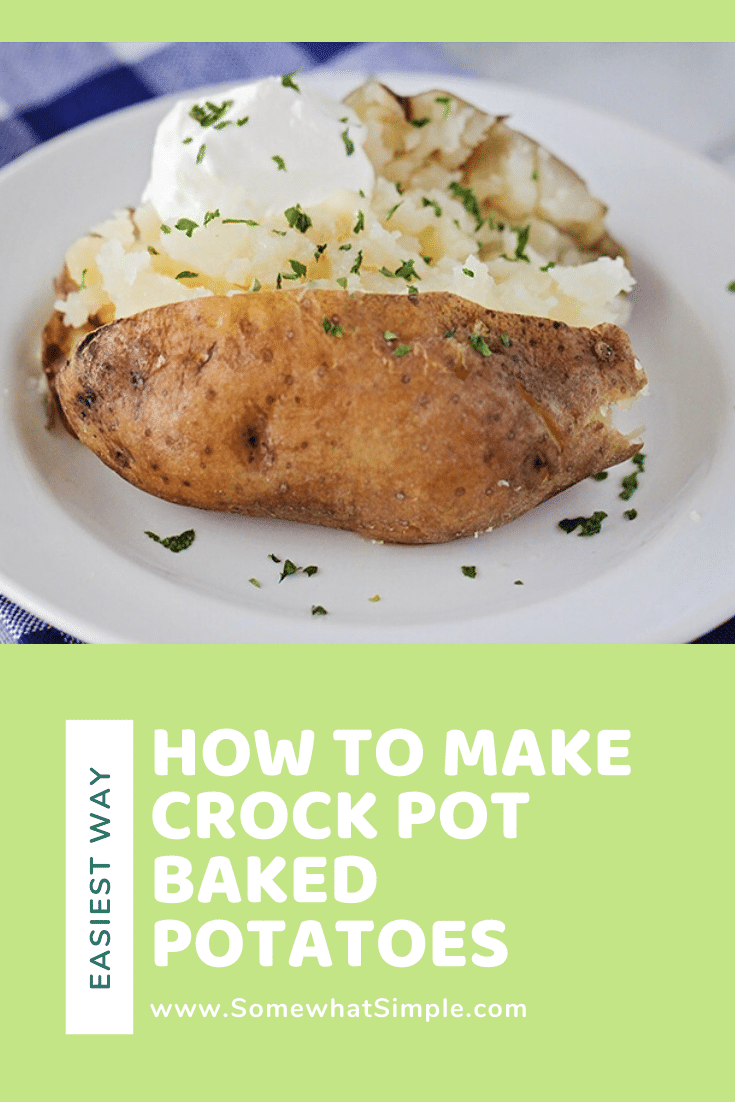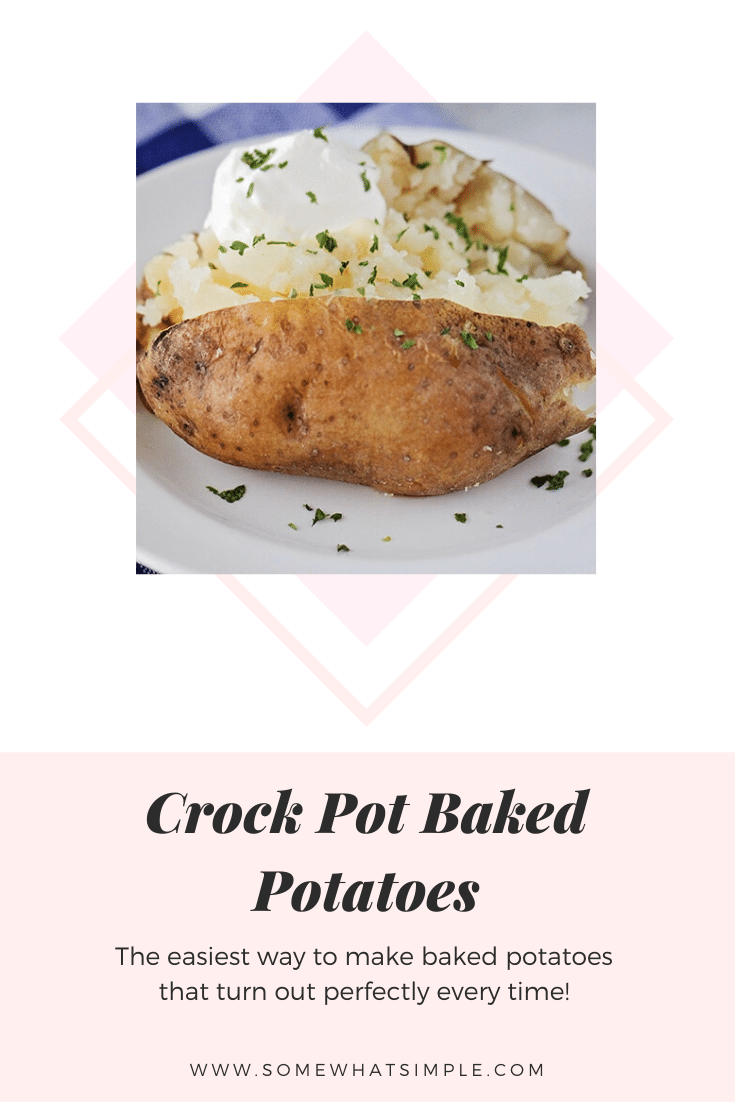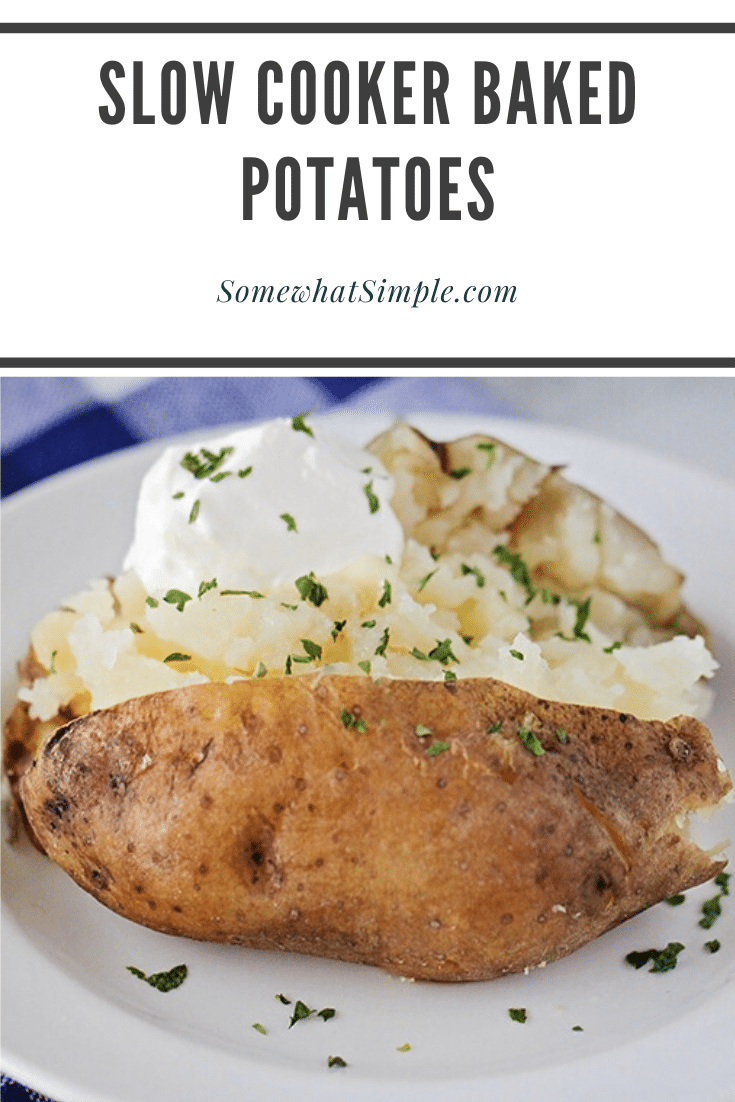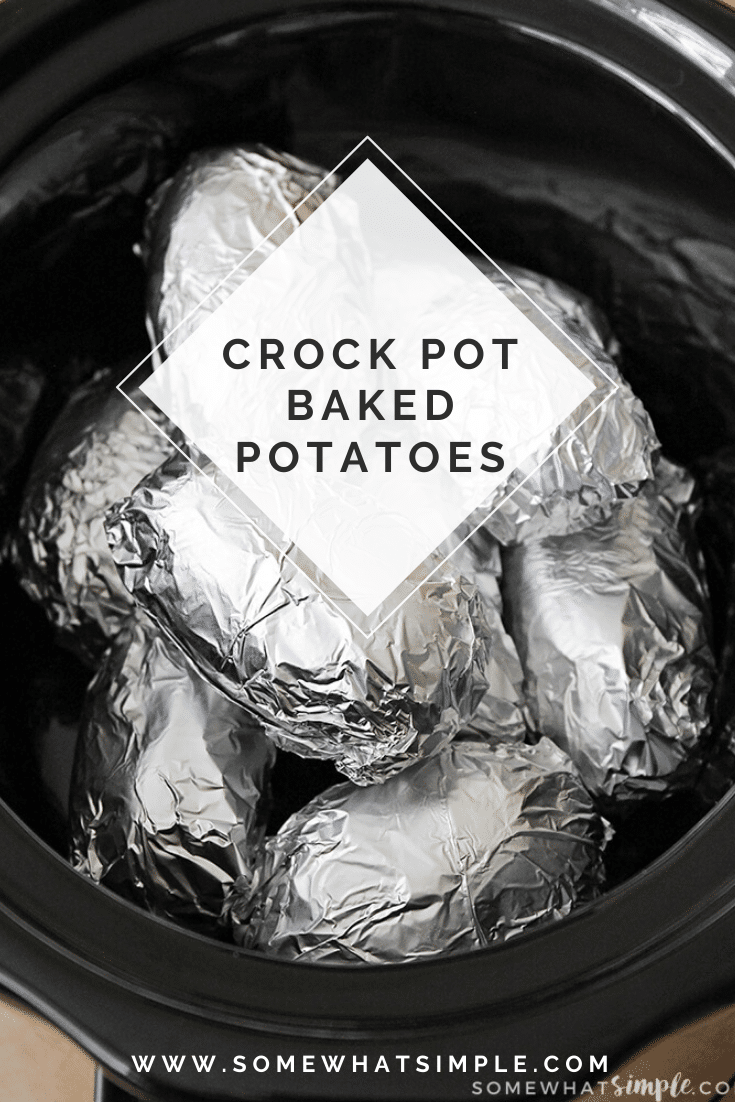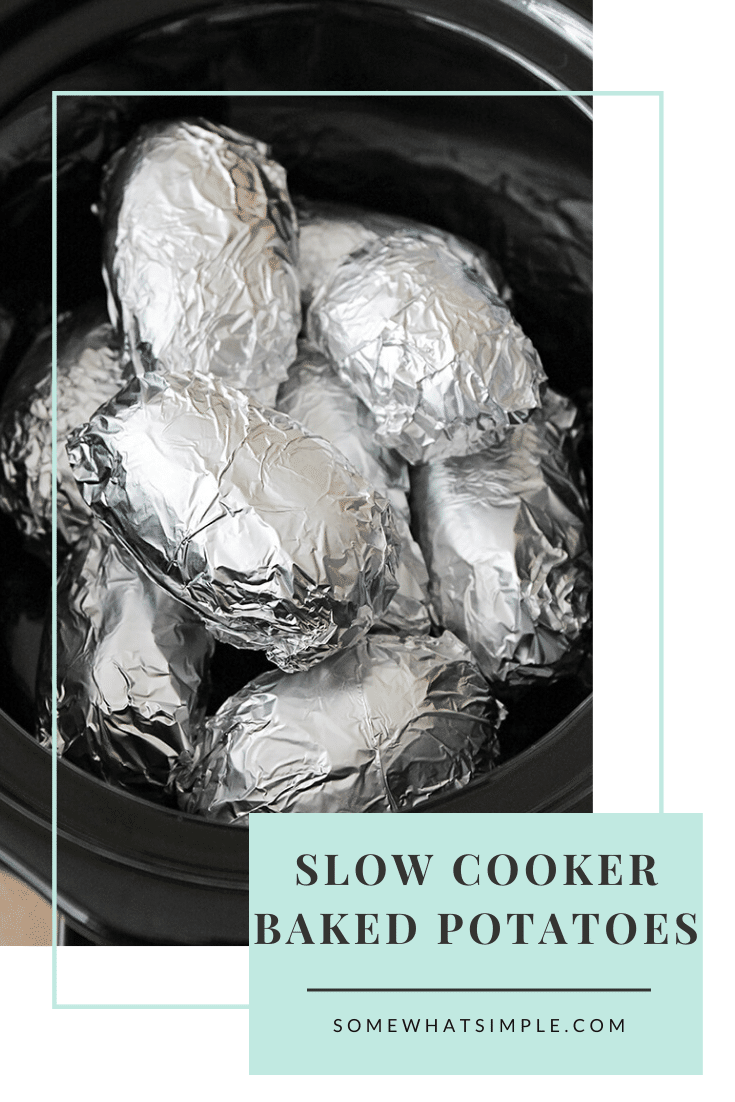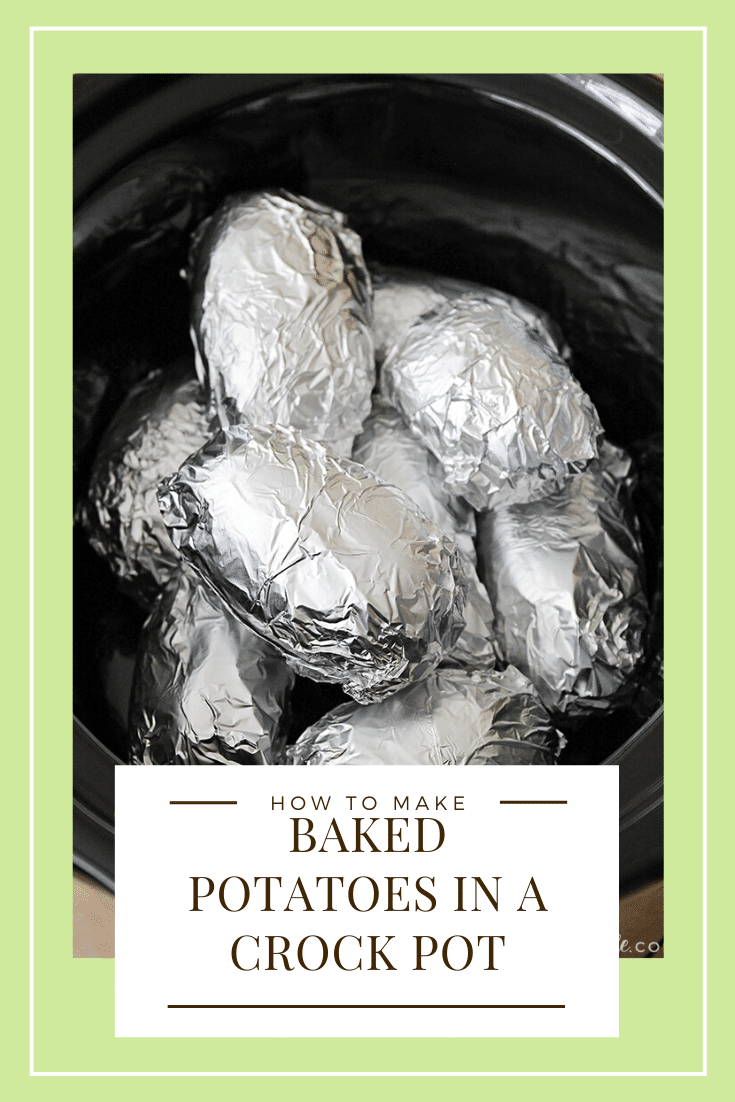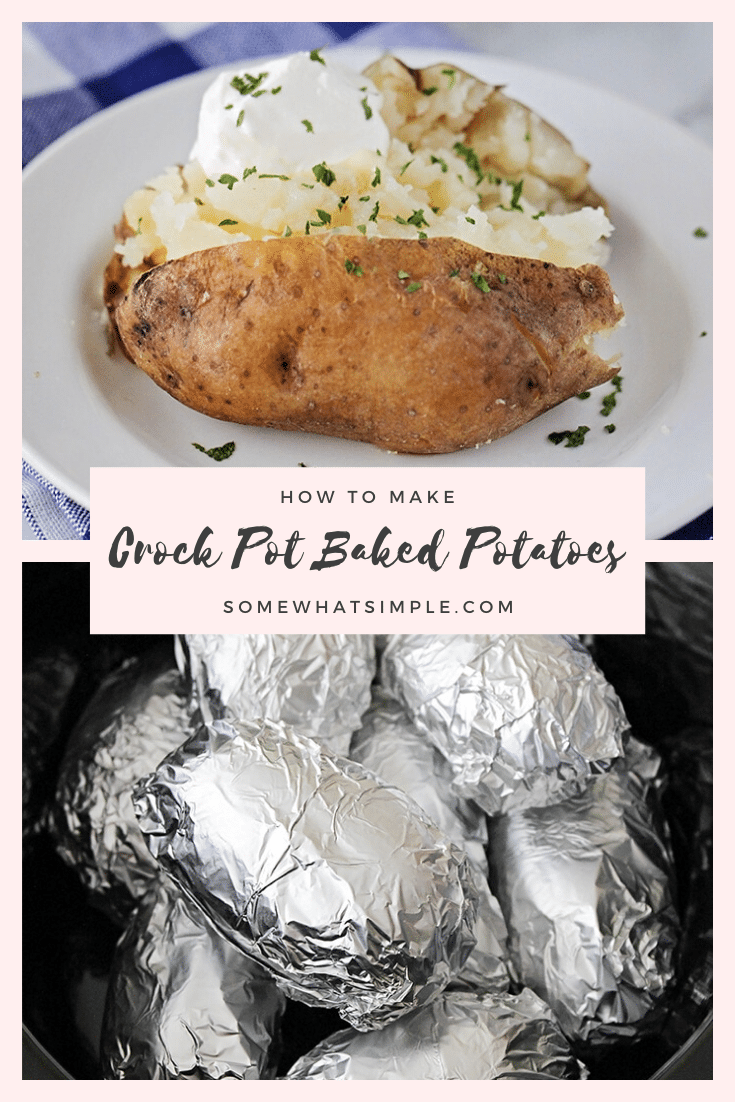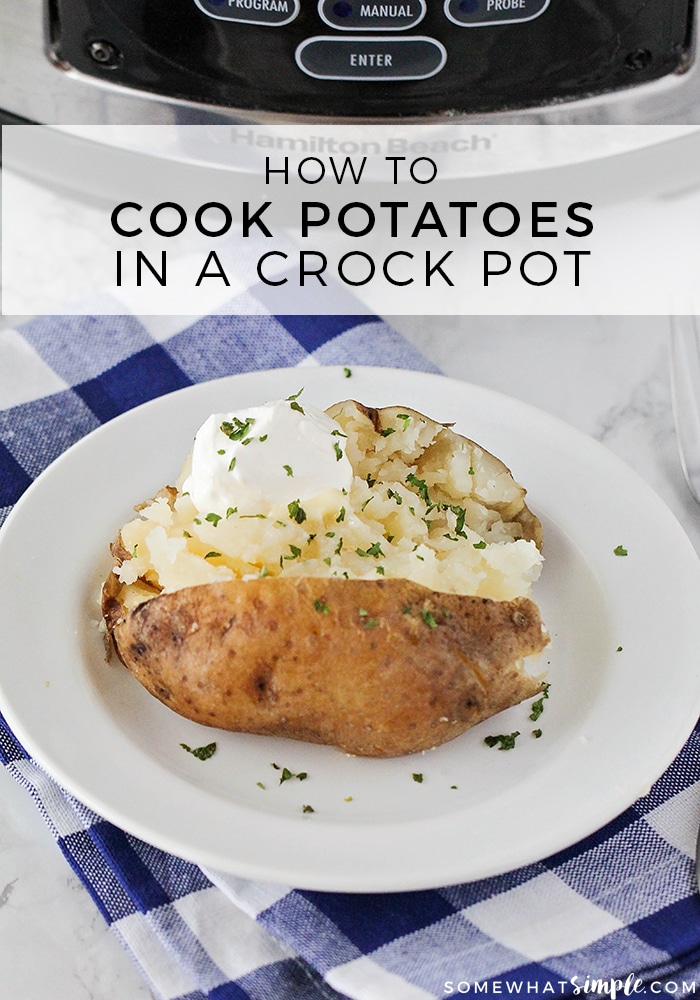 Crock pot baked potatoes are the easiest way ever to make them! This just might change the way you cook baked potatoes forever! Here is how to cook potatoes in a crock pot.
I love to serve these at a Summer BBQ, when I'm making my famous Fall Off The Bone Ribs, as a side with my famous easy Homemade Meatloaf recipe or smother them with Chili.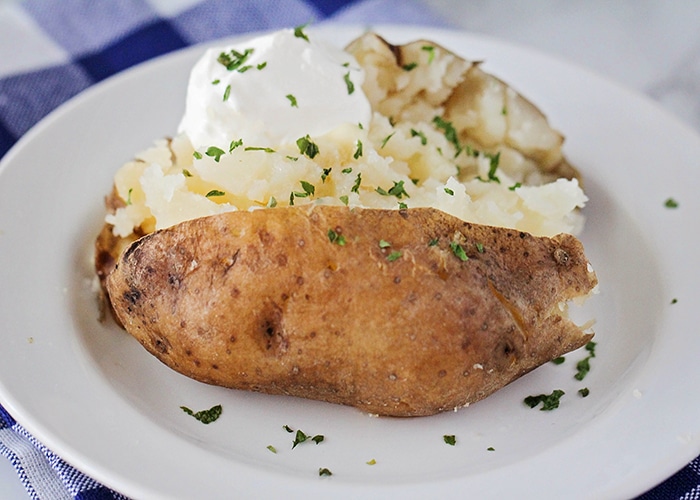 Slow Cooker Baked Potatoes
We use our crock pot at least once a week in our home. From Chicken Tacos to Grape Jelly BBQ Meatballs, it's an easy way to cook up a delicious meal. There is nothing better than having dinner ready right when you need it after a long, busy day!
But did you know you could use a crock pot to make baked potatoes? When your evening is going to be filled with craziness, or when the weather is too hot to use an oven, you can make baked potatoes in a crock pot and call it good! Here is a simple method for crock pot baked potatoes.
Tools Used To Bake Potatoes In A Crock Pot
Any slower cooker – but I love my 7 quart Crock Pot brand
My favorite kitchen knife to poke holes in the foil
Kitchen tongs to remove the potatoes so you don't burn your hands
Aluminum foil
How To Make Crock Pot Baked Potatoes
Clean Them – Start by scrubbing and washing your potatoes to get all of the dirt and grime off.
Prep Them – Next, dry the potatoes with a towel and with a fork, poke about 3-4 holes on all sides of each potato. Brush some vegetable oil over each potato and then sprinkle each with sea salt. Finally, you'll want to individually wrap each potato in aluminum foil.
Cook – You can cook as many potatoes into the crock pot as you need. Just make sure you can still close the lid completely once they're all in. The cook time will vary depending on how many you're cooking but I have all of the times below.

Recipe FAQs
Can You Cook Potatoes In A Slow Cooker – Of course you can! Following the few easy steps below, you can have delicious and hassle-free baked potatoes.
How Long Do You Cook Potatoes In The Crock Pot – If you're filling the crock pot with potatoes, you should cook them for 6 hours on high or 10 hours on low. If you are only cooking 6-8 potatoes, you should cook them for 4 hours on high or 6 hours on low.
What Are The Best Toppings – I love to load these baked potatoes with butter, sour cream, cheese, bacon and chives.
How To Best Serve Them – While these potatoes make a great side dish, I love turning this into an easy meal and creative a baked potato bar. Just lay everything out on the counter and let everyone build their own creation!
Easy Potato Recipes
Crock Pot Baked Potato Recipe
The EASIEST crock pot baked potatoes ever! This just might change the way you cook baked potatoes forever! Here is how to cook potatoes in a crock pot.
Ingredients
8

Russet Potatoes

,

all about the same size

2

tbsp

Vegetable oil

2

tsp

Sea salt
Instructions
Wash the potatoes really good. Russet potatoes are especially dirty!

Dry the potatoes with a paper towel.

Poke potatoes with a fork 3-4 times on all sides on the potato.

Brush vegetable oil over each potato then sprinkle with sea salt.

Tightly wrap each potato individually  in aluminum foil, then place directly into crock pot.

Place as many wrapped potatoes as you need in the crock pot, starting with a single layer on the bottom and then stacking more potatoes on top. Depending on the size of your potatoes and how big your crock pot is will determine how many you can cook at one time. You just need to make sure you have room for the lid to close securely.

Cook according to directions below-
6-8 potatoes
On low for 6 hours

On high for 4 hours
A full crock pot
On low for 10 hours

On high for 6 hours
Notes
Check the potatoes at the end of the cooking time to make sure they are soft enough and to your liking. If they need more time to cook, just check them every 15 minutes or so. Potatoes will stay warm in the crock pot for several hours after it has been turned off.
Nutrition
Serving:
1
potato
·
Calories:
197
kcal
·
Carbohydrates:
38
g
·
Protein:
5
g
·
Fat:
4
g
·
Saturated Fat:
3
g
·
Sodium:
592
mg
·
Potassium:
888
mg
·
Fiber:
3
g
·
Sugar:
1
g
·
Vitamin C:
12
mg
·
Calcium:
28
mg
·
Iron:
2
mg
Other Notes