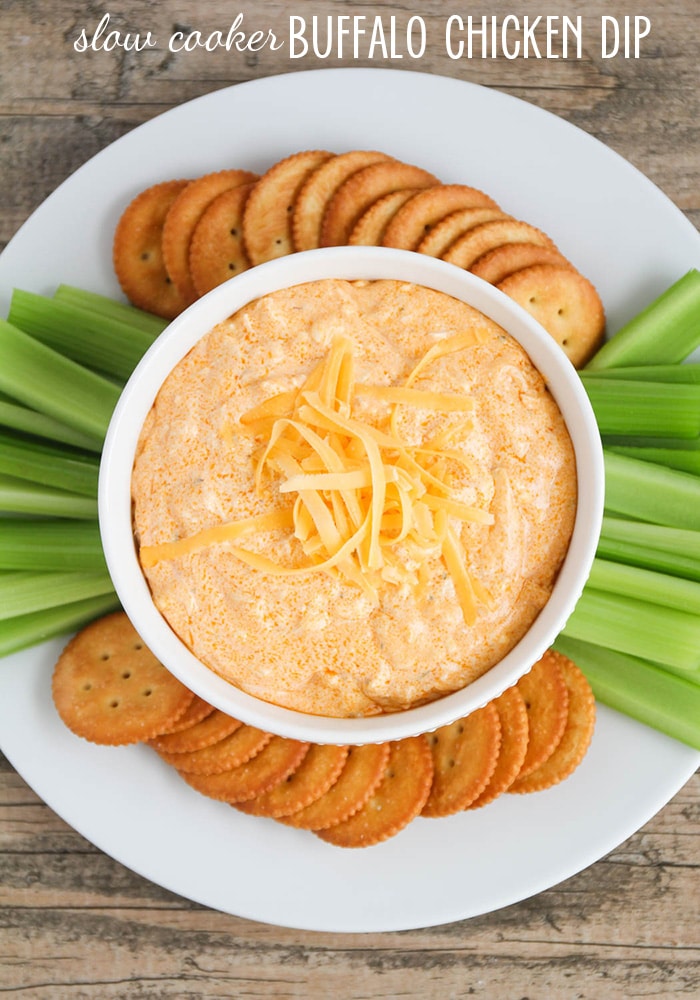 This delicious crock pot buffalo chicken dip recipe an easy appetizer that is sure to please! Just throw a few easy ingredients into your slow cooker and you will have a delicious appetizer in minutes!
I love to serve this easy buffalo chicken dip when I'm entertaining. These, along with my Ham and Cream Cheese Roll Ups, Homemade Salsa and Spinach Artichoke Dip are some of my favorite go-to appetizers.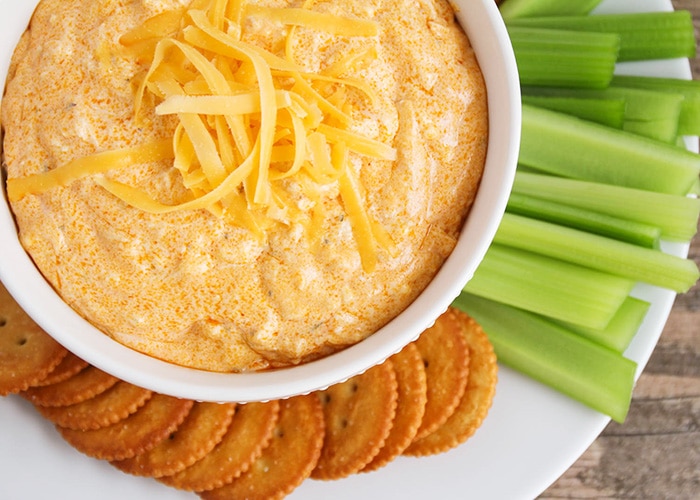 Slow Cooker Buffalo Chicken Dip
I was first introduced to this buffalo chicken dip recipe at a baby shower for my friend several years ago. I remember literally thinking about it for weeks after the shower and my mouth would just water! (It's actually watering as I type this!) My taste buds fell in love, and there was no going back!
I finally asked my friend for the recipe and all was right in the world again… especially since I saw how easy it was to throw together. (For reals – you toss everything in your crock pot and call it good!)
We've made this dip several times since then, and we've even tried a few variations of it because the flavors pair so well together. This dip is dang delicious, but it is also severely addicting – don't say I didn't warn you.
How To Make Buffalo Chicken Dip In A Crock Pot
Place the chicken in the crock pot along with the Frank's buffalo sauce and ranch dressing
Cook the chicken and sauces using the low setting for 6-8 hours. If you need it sooner, use the high setting for 2-4 hours.
About 30 minutes before you're ready to serve this, remove the chicken from the slow cooker and shred it
Put the chicken back in the crock pot and then add in the cream cheese and shredded cheese
Stir everything together so that it mixes really well
Let the dip cook for about another 30 minutes and then serve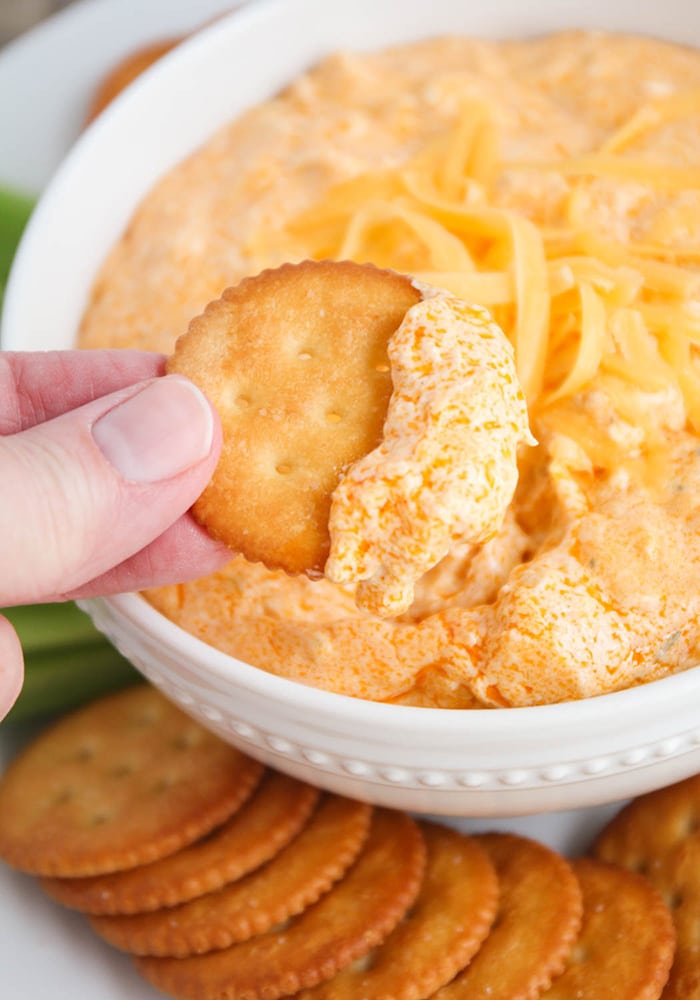 Items Used To Make Buffalo Chicken Dip
Your favorite slow cooker – I love my 8 quart Crock Pot
My favorite spatula spoon
Meat claws to shred the chicken
I only use Frank's Buffalo Sauce for this recipe
Can You Freeze Buffalo Chicken Dip
Yes, you can freeze the left over buffalo dip if you store it in an airtight container. However, I don't like the texture of the dip after it has been frozen and then reheated. I typically just refrigerate any leftover dip and then try to use it in the next three to four days. When I'm ready to use it, I just scoop out what I need into a microwave safe bowl and warm that up to use.
Other Buffalo Chicken Recipes
More Easy Slow Cooker Recipes
If you are like me, I don't have a lot of time to spend cooking. Here are a few of my favorite Crock Pot recipes that are quick and easy to make:
Crock Pot Buffalo Chicken Dip Recipe
This buffalo chicken dip recipe has become one of my favorite go-to appetizers for parties. It tastes delicious and cannot be any easier to create! My mouth is watering just thinking about it! Leave us a comment below and let us know how much you enjoyed this dip. You can also tag us on social media when you serve this at your next party because we love to see you enjoying one of our recipes!
Buffalo Chicken Dip In A Slow Cooker
This Delicious Buffalo Chicken Dip Recipe An Easy Appetizer That Is Sure To Please! Just Throw A Few Easy Ingredients Into Your Slow Cooker And You Will Have A Delicious Appetizer In Minutes!
Ingredients
2

boneless skinless chicken breasts - I put these in frozen

1

cup

Ranch dressing

3/4

cup

wing sauce

,

such as Frank's Red Hot®

2

8 ounce packages cream cheese, softened & cut into chunks

1 1/2

cups

shredded Cheddar cheese
Instructions
Place chicken in crock pot with ranch dress and wing sauce.

Cook on low for 6-8 hours or on high for 2-4 hours.

A half hour before serving, take chicken out of crock pot and shred it.

Return to the crock pot and add the packages of cream cheese and cheddar cheese. Stir well.

Serve with crackers, celery or chips! (My favorite is Tostitos Scoops!)
Nutrition
Other Notes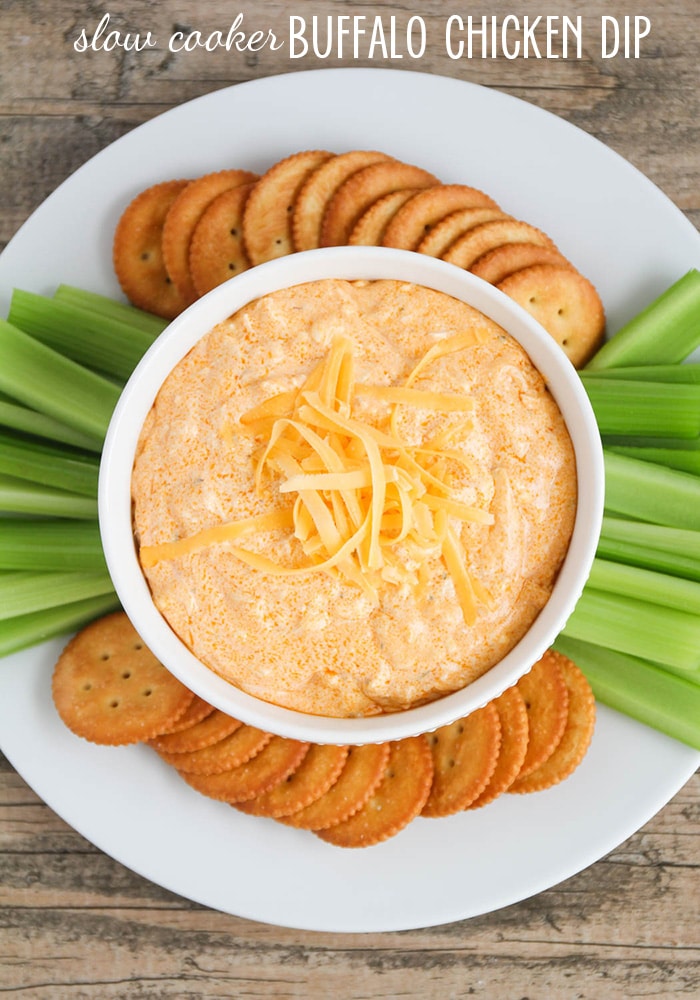 This post originally published on Somewhat Simple in July 2009.