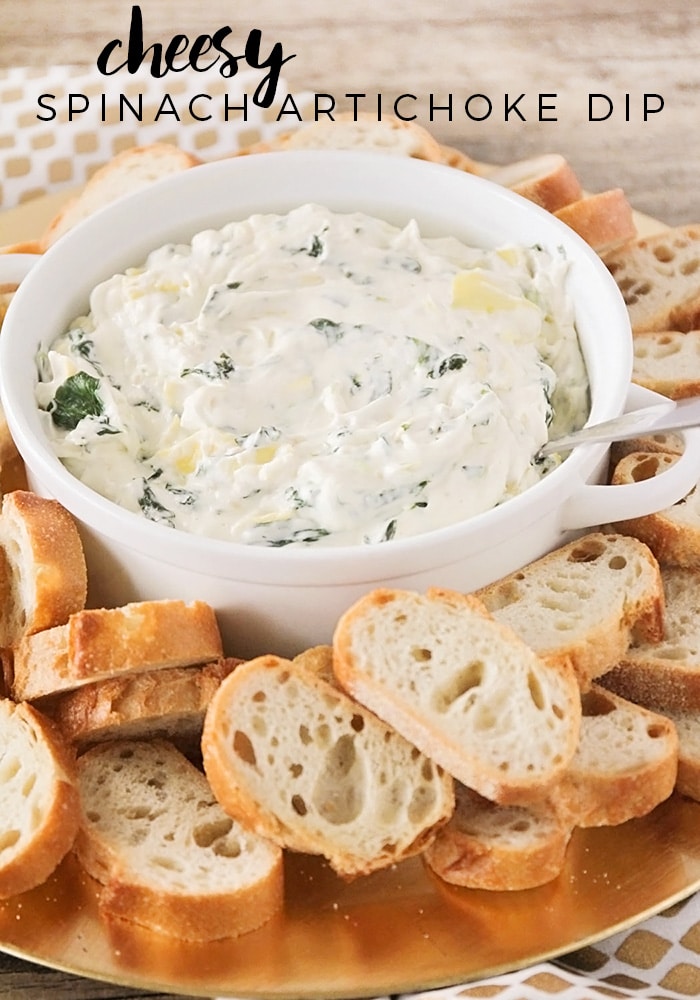 This easy spinach artichoke dip is so cheesy and delicious! Made with fresh artichoke, spinach and you favorite cheeses, this dip is a savory treat that's perfect for any gathering.
Along with Classic Deviled Eggs, Homemade Guacamole and Ham and Cheese Rolls this dip is one of my favorite appetizers to serve when I'm hosting a party.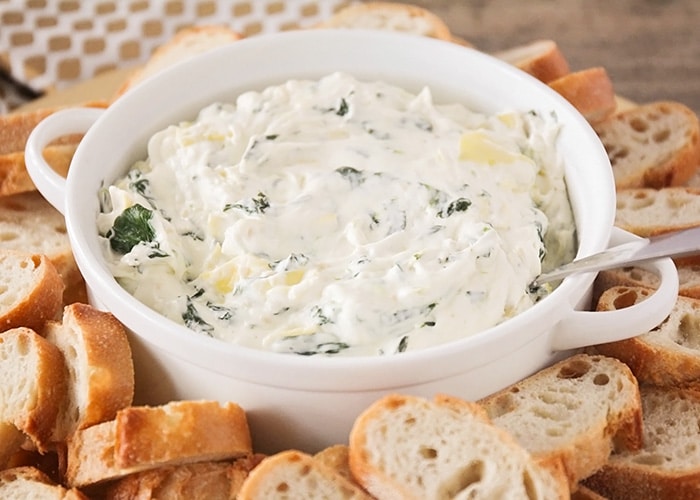 Best Spinach Artichoke Dip
Is there a recipe you are famous for? When your family gets together, is there a special dish that everyone begs you to make? For me, it's a toss up between my chocolate chip cookies (seriously, try them!) and this cheesy spinach artichoke dip recipe.
My husband and I invented this spinach artichoke dip recipe in what seems like a million years ago, when we were newly engaged and needed something to bring to a family Christmas party. It has since become a favorite with both of our families, and one that we are asked to make nearly every holiday season. It's one of my favorite recipes, because it's so simple and easy to make, but it's a total crowd pleaser!
This spinach artichoke dip recipe really could not be simpler or easier to make. I love that it uses just one pot, so it's easy to clean up, too! I love the crisp celery with the gooey melted cheese. Yum! Make this spinach artichoke dip for your next party, and see how fast it disappears.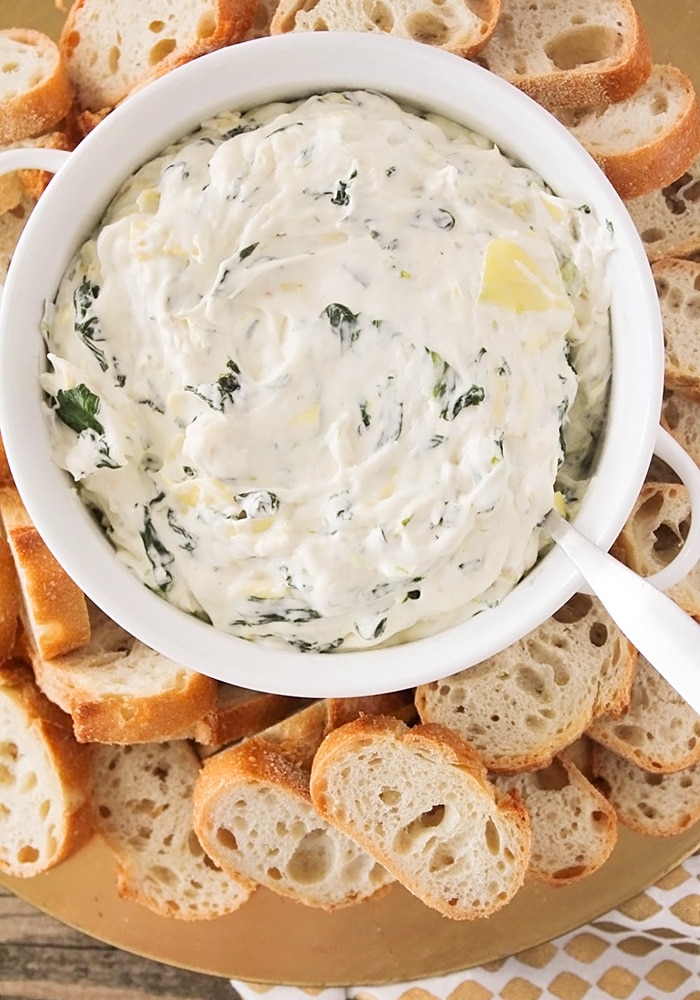 How To Make Spinach Artichoke Dip
Saute – Heat the olive oil over in a pot over medium heat. Add the garlic and saute it for three to four minutes until it becomes fragrant.
Cook – Add in the cream cheese and cook and stir frequently until it has melted. Add the spinach, artichokes, mozzarella and Parmesan cheeses to the pot. Stir regularly until the cheese has melted.
Serve – Once everything is heated throughout, serve hot with slices of a baguette, chips or your other favorite snacks to dip.
Spinach Artichoke Dip FAQs
Can I Use Fresh Spinach – Yes, when I have the time, I will use substitute the frozen kind with fresh spinach. Simply steam the spinach until it has wilted. You'll then want to drain it and then finally chop it before adding to the pot.
Can I Use Other Cheeses – While my favorite cheeses for this recipe are mozzarella and Parmesan, you can also substitute those with provolone, Asiago or another cheese you love. I would just recommend sticking with cheeses that have a more mild flavor.
What Should I Serve With This Spinach Dip – I love to eat this spinach dip with slices of a French baguette. If you prefer a low carb option, celery sticks are another excellent option.
Can I Make This Dip In The Crock Pot – Yes, you can easily make this recipe using a slow cooker. Simply put all of the ingredients into the crock pot and then cook on high for about 2 – 2 1/2 hours. You'll want to stir occasionally to keep it from burning on the bottom.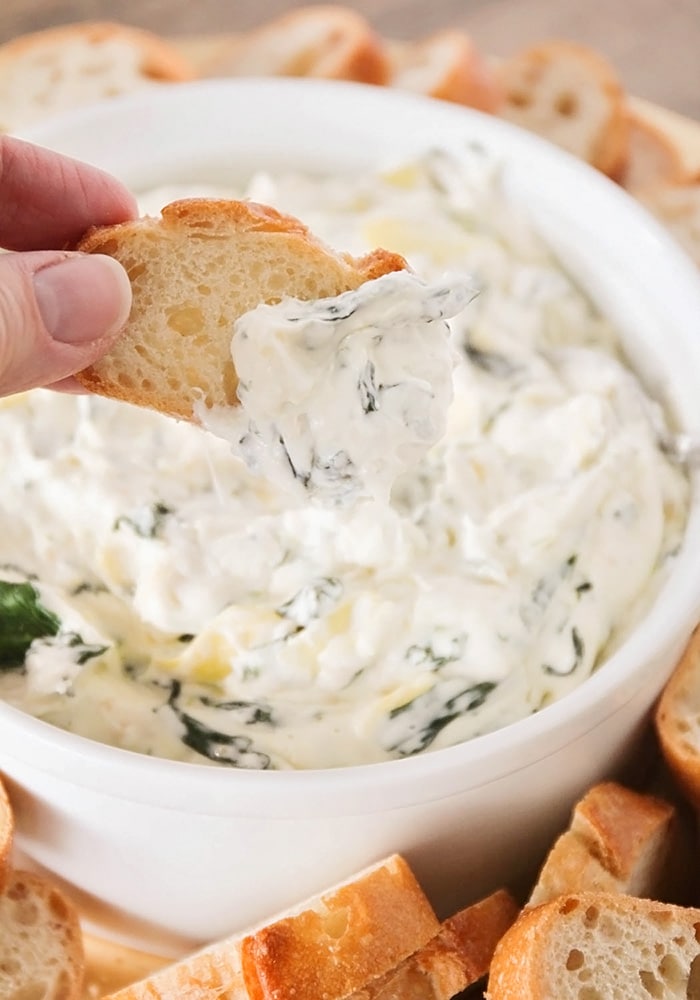 Make Ahead & Storing
Can I Make This Ahead Of Time – Yes, you can make this ahead of time and serve it when you're ready. Just be sure to store it in an airtight container and keep it in the fridge if you don't plan on serving it soon after making it. This will stay fresh in the refrigerator for at least 5 days.
Can I Freeze Spinach Dip – While you can freeze this dip, I wouldn't recommend it. I tried it once and didn't like the texture of it once it thawed and was reheated.
More Of Our Favorite Dips
East Spinach Artichoke Dip Recipe
This just might be your new favorite dip recipe, too! Leave us a comment below and let us know how much you liked it. We also love seeing you try one of our recipes, so tag us on social media when you make this for your next party so we can see all of the fun you're having!
Easy Spinach Artichoke Dip
This easy spinach artichoke dip is so cheesy and delicious! This dip is a savory treat that's perfect for any party.
Ingredients
INGREDIENTS:
1

tablespoon

olive oil

2

teaspoons

minced garlic

2

blocks

,

16 ounces cream cheese, softened

1

package

,

10 ounces frozen spinach, thawed and drained

1

can

,

14 ounces artichokes, drained and chopped

2

cups

shredded mozzarella cheese

1/4

cup

shredded parmesan cheese

for serving: sliced baguette

,

celery, crackers, or tortilla chips
Instructions
DIRECTIONS:
Heat the olive oil in a medium pot over medium heat.

Add the garlic and sauté 3-4 minutes, until fragrant. Stir in the cream cheese and cook, stirring regularly, until melted.

Add the spinach, artichokes, mozzarella, and parmesan. Heat, stirring regularly, until the cheese is melty.

Serve hot with baguette, celery, crackers, or chips.
Nutrition
Other Notes