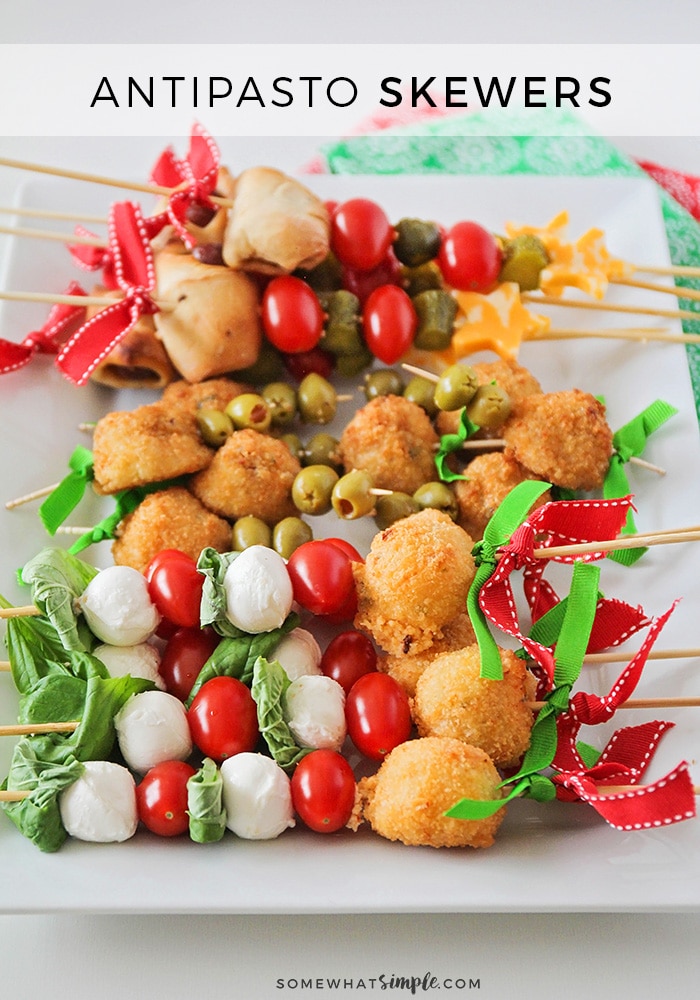 These festive and delicious antipasto skewers are so quick and easy to make, and sure to be the star of your next celebration!
If you love appetizers as much as we do, be sure to try our Christmas Tree Veggie Tray, Easy Potato Skins, and 12 of our Favorite Delicious Dips!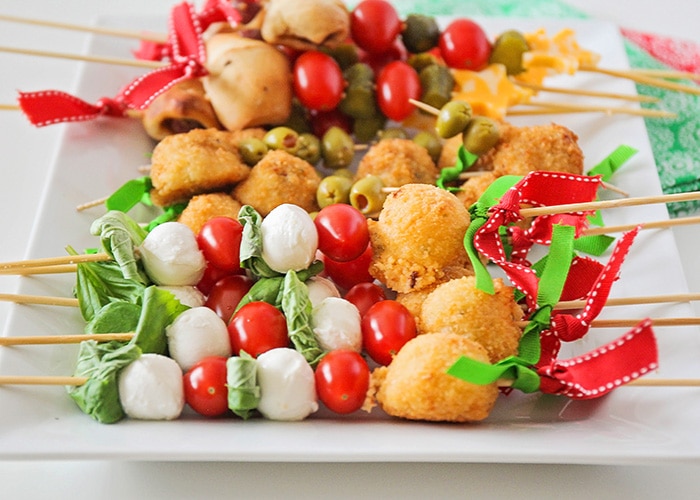 5 Minute Antipasto Skewers
Now that the holiday season is here, it seems like life is busier than ever! Between holiday parties, school events, neighborhood get-togethers, and family holiday traditions, this time of year has so much fun packed into it. And every celebration needs some delicious food, right? As much as I love to cook, sometimes I just really don't have the time or energy to come up with an elaborate appetizer.
That's where these antipasto skewers come in! I started with some delicious pre-made appetizers from the freezer section, combined them with a few fresh ingredients, assembled them on skewers, and added some festive ribbon to finish things off. They're fun to look at, even more fun to eat, and only take a few minutes to assemble!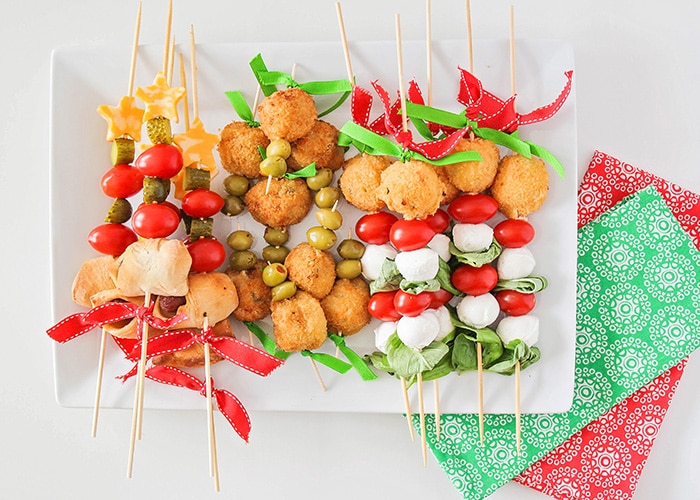 How to Make Antipasto Skewers
This antipasto skewer platter is so bright and fun, and perfect for any holiday celebration.
Bake the appetizers according to the package directions
Let the appetizers cool until they're easily to handle
While they are cooling, tie some ribbon to the end of each skewer.
Start assembling your skewers, then place them on the platter.
I made three different types of skewers for my platter. Here's how to make them –
(All ingredients were found at Walmart. This is not sponsored, I just love being able to find everything I need at one place!)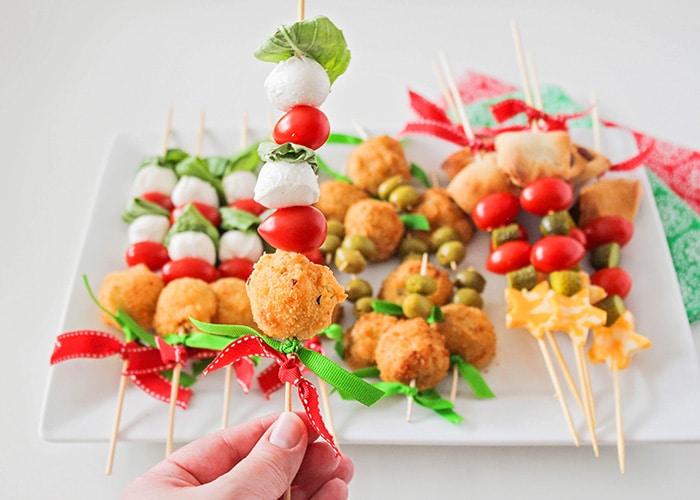 Caprese Skewers
These cute and zesty caprese skewers are so easy to make, using the following ingredients:
Goat Cheese Blend & Peppadew Pepper Bites
cherry tomatoes
mozzarella balls
fresh basil
skewers
ribbon
Just slide a pepper bite onto the skewer, then alternate cherry tomatoes, mozzarella, and fresh basil. They're bright and colorful, and taste delicious. Adding some festive ribbon to the skewer makes them extra colorful and fun!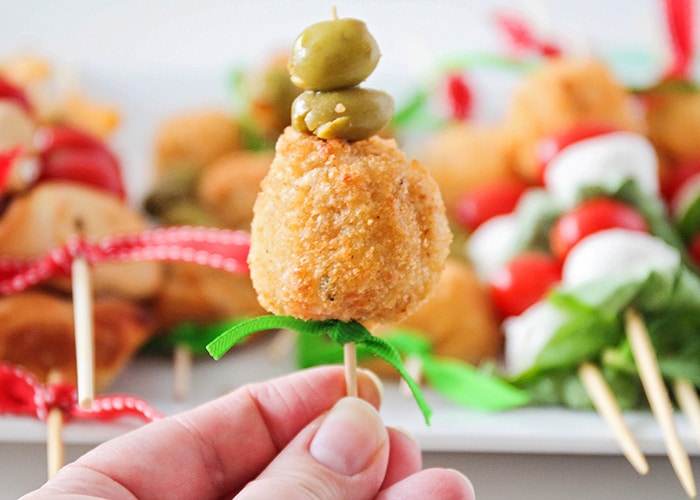 Savory Manchego Mini Skewers
These savory manchego mini skewers have such a delicious combination of flavors, with creamy manchego cheese and serrano ham in contrast with the salty green olives. I made them using the following ingredients:
Manchego Croquettes
green olives
extra long toothpicks
ribbon
Using extra long toothpicks for these mini skewers makes them the perfect size for a savory bite!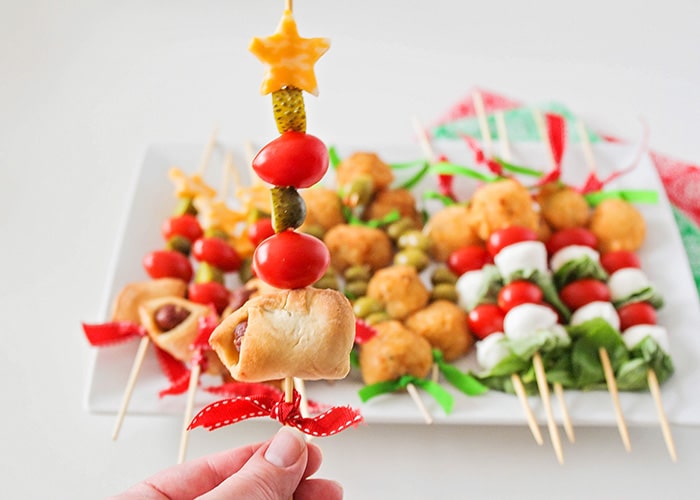 Loaded Franks in a Blanket
These loaded franks in a blanket are like a fun twist on a loaded hot dog in a bun! I made them with the following ingredients:
Cheese Franks in a Blanket
cherry tomatoes
pickles
colby jack cheese
skewers
ribbon
Just cut the cheese into festive shapes using a mini cookie cutter, then thread one frank in a blanket onto the skewer, followed by cherry tomatoes, pickles and the cheese shape. Finish it off with a festive ribbon, and you are all set!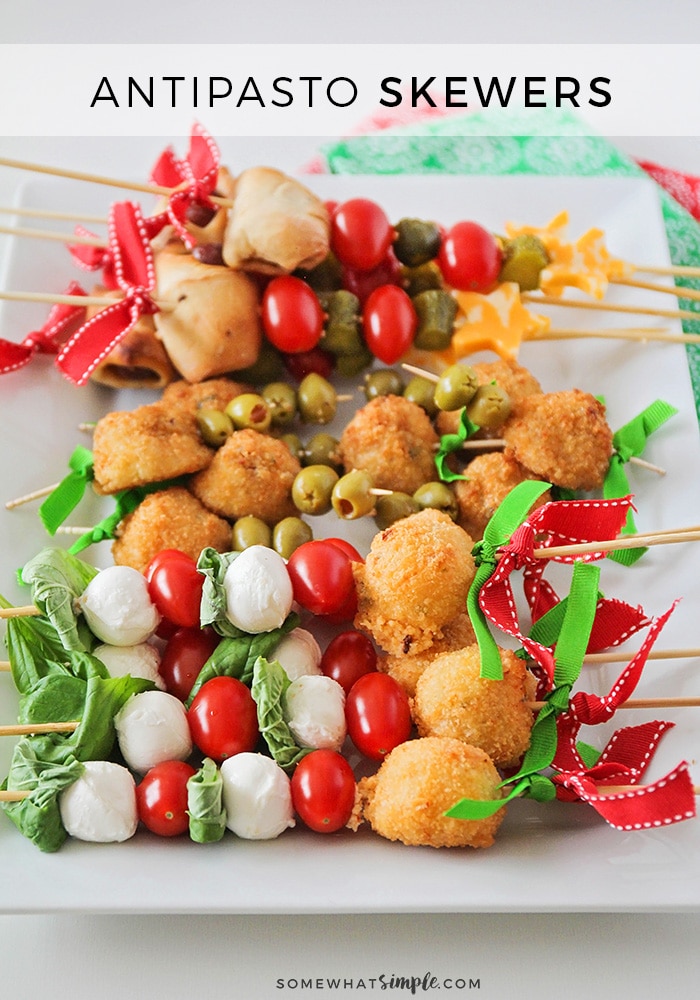 These savory and delicious antipasto skewers are the perfect appetizers for your next holiday party! They take only a few minutes to assemble, but feature a delicious combination of flavors. They are the perfect way to wow your party guests without spending all day in the kitchen!