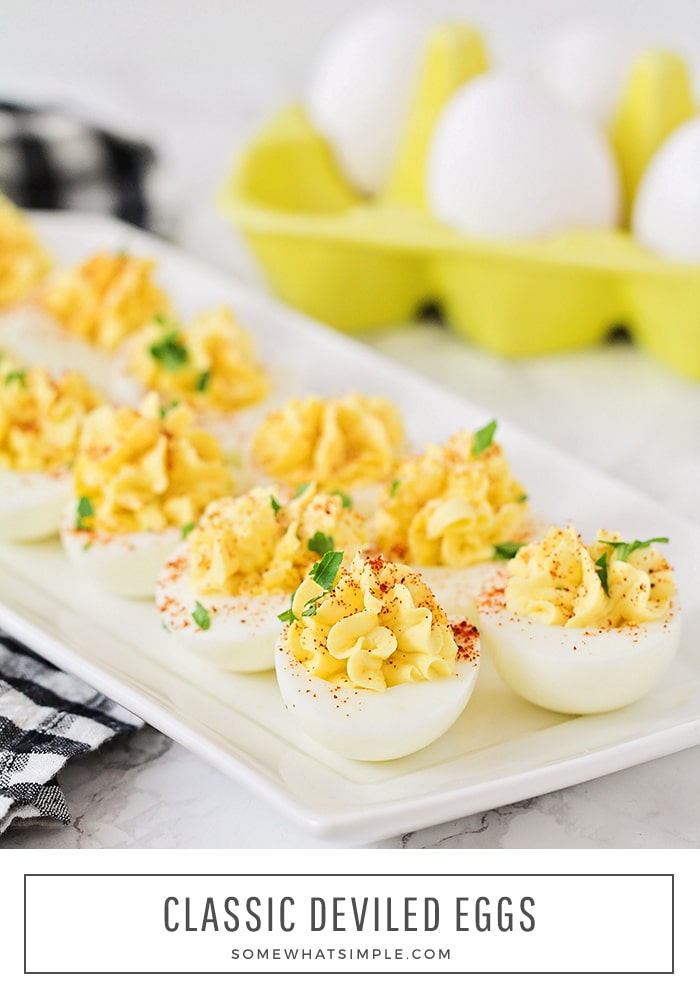 This recipe for classic deviled eggs is so flavorful and delicious, and it's the perfect appetizer or side dish for any gathering! These easy eggs are filled with filled with a delicious paste made with mayonnaise, mustard and topped with paprika. Not only are these incredibly tasty but they are packed with protein so they make a healthy snack too.
I've never met an appetizer I didn't like! Ham and Cream Cheese Roll Ups, Soft Garlic Parmesan Pretzel Bites, Crock Pot Buffalo Chicken Dip… they usually fill me up before the main course is served, and I am 100% ok with that! This deviled egg recipe is a classic favorite that has been served for generations. These delicious little eggs are basically bites of heaven!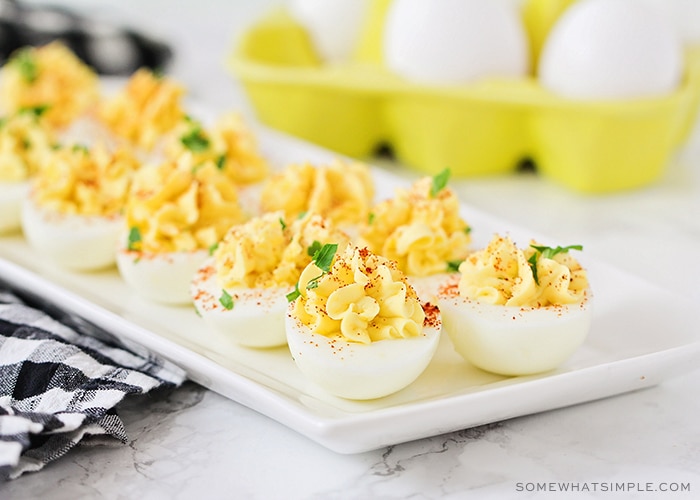 What Are Deviled Eggs
Simply put, deviled eggs are hard boiled eggs that have been removed from their shell, sliced in half and then filled with a delicious paste that's made from mayonnaise, mustard and other spices like salt, pepper and paprika.
Deviled eggs seem to be one of those foods that people either really love or really hate. I never liked them very much as a kid (probably because I hated mayonnaise), but now as an adult, I absolutely love them! I love that they are so simple, made with just a few ingredients, but so delicious too.
It's easy to make a big batch to serve at a party, or a small batch to enjoy as a snack. They're obviously packed with protein, and I love that they're a little more fun and festive than just eating a plain boiled egg. We make them frequently at our house, and everyone loves them!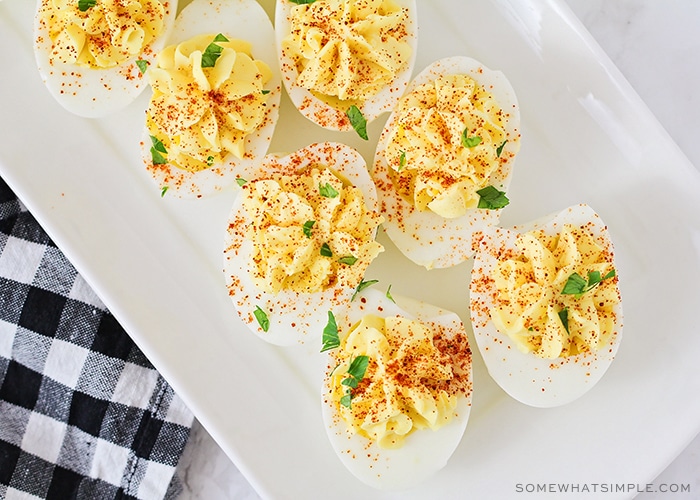 Preparation Tip
I think the key to making the best deviled egg is to use a good mayonnaise. Since the ingredient list is so short, the mayonnaise will really affect the end result. I'm still very picky about my mayonnaise, and the only one I really like is Kraft Mayo with Olive Oil, but feel free to use whatever kind of mayonnaise you love in these.
You can always jazz the eggs up with different flavors, like bacon and chives, but I chose to share this simple classic deviled egg recipe because it's a great starting point for other variations. And sometimes the simplest recipes are the best, anyway!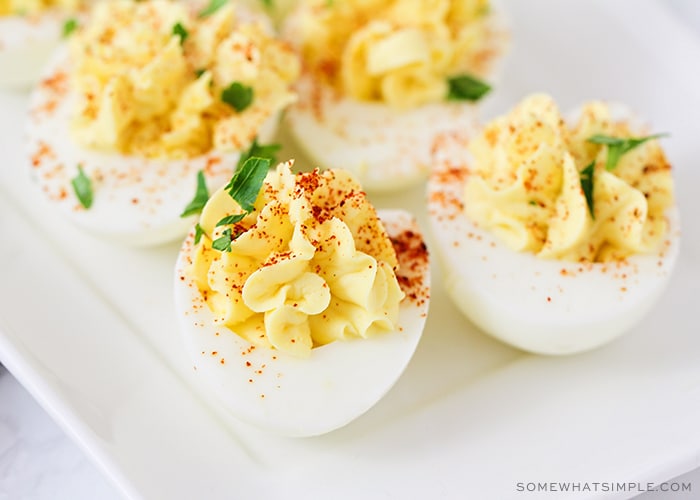 How to Make Deviled Eggs
To make these classic deviled eggs extra pretty, I piped the egg yolk filling into the white part of the egg using a jumbo open star tip, but that's totally not necessary. They will still taste just as delicious if you use a spoon to scoop the filling in.
Piping the filling instead of scooping definitely makes them a little more festive, but I usually don't bother unless it's for a holiday or party. You can use our easy tutorial for the best hard boiled eggs to make this recipe in a snap! Once your eggs are hard boiled, just follow these easy steps.
Peel the eggs and then cut them in half, lengthwise
Scoop out the yokes from each half of the eggs (be careful not to tear into the white part of the egg) and place them in a bowl
Using a fork, mash the yokes and then stir in the Dijon mustard, mayonnaise, salt and pepper
Scoop the yolk mixture back into the hollow of the eggs
Sprinkle a little paprika over the top and then serve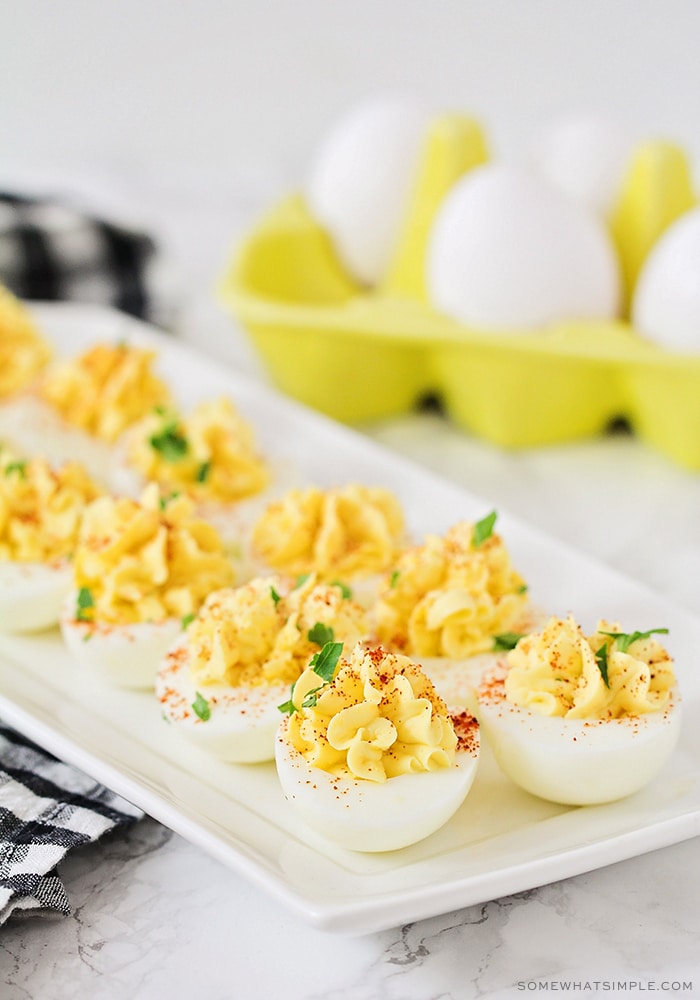 How To Store Deviled Eggs
After you have made the deviled eggs, you'll want to store them in the refrigerator if you aren't serving them immediately. You can keep them in the fridge for up to a week but I would recommend eating them within 3-4 days. While it's possible to freeze these, I wouldn't recommend it because I don't like the texture when they thaw. Besides, this recipe is so quick and easy to make, you should just enjoy a fresh batch when you're ready to eat them.
Best Recipes Using Eggs
Classic Deviled Eggs Recipe
Let us know when you make these deviled eggs by leaving us a comment below or tagging us on social media so we can see all of the fun you're having at your next party!
Classic Deviled Eggs
This recipe for classic deviled eggs is so flavorful and delicious, and it's the perfect appetizer or side dish for any gathering!
Ingredients
8

large eggs

,

hard boiled and cooled

1/3

cup

mayonnaise

1/2

teaspoon

dijon mustard

1/2

teaspoon

salt

1/4

teaspoon

pepper

1/4

teaspoon

paprika
Instructions
Peel the eggs and cut them in half lengthwise. Scoop out the yolk from both sides of the egg, being careful not to tear the white.

Mash the yolks with a fork, then stir in the mayonnaise, dijon mustard, salt, and pepper. Scoop or pipe the egg yolks back into the hollows of the egg whites.

Garnish with paprika and serve immediately, or refrigerate until ready to serve.
Nutrition
Other Notes