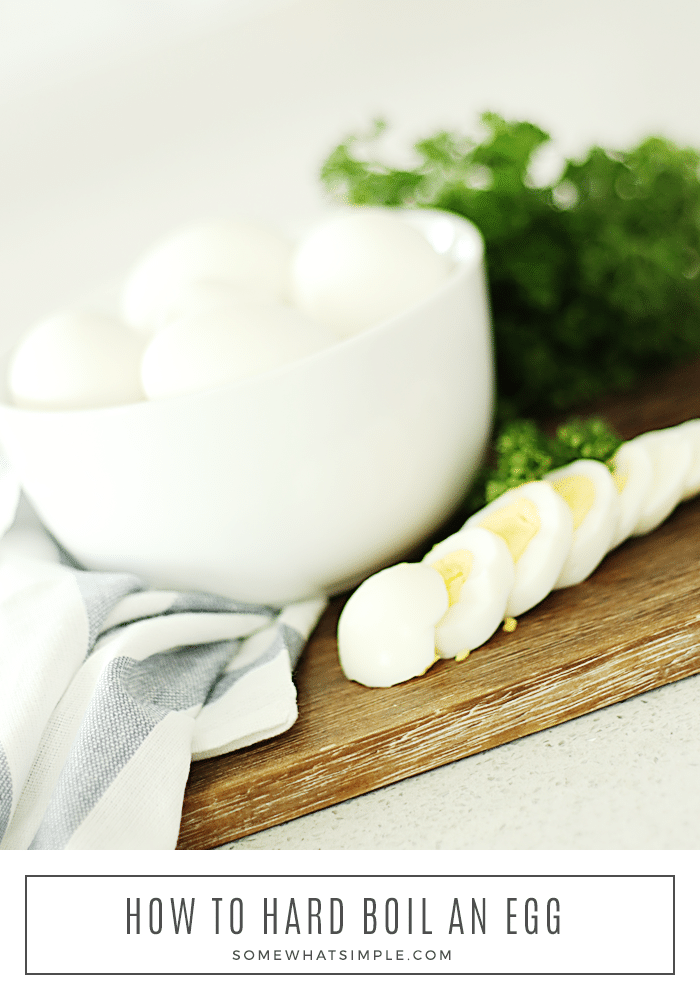 Learning how to make hard boiled eggs is really easy. This simple method will give you easy to peel eggs and works perfectly every time!
These delicious eggs are perfect as healthy snack or for breakfast. Some of our other favorite easy breakfast recipes are my famous Homemade Pancakes, Breakfast Sandwiches or this delicious Bacon baked in the oven!
Easy Peel Hard Boiled Eggs
I loved hard boiled eggs! They make a delicious and healthy snack but they also can be used in so many delicious recipes that I love. Making hard boiled eggs is not a difficult thing to do. However, it's one of those things that unless you do it often, it is easy to forget! Is there anything more frustrating than cracking what you think are solid eggs only to have the yolk run-through your fingers?
I've tried several methods but the eggs never turned out quite right. Sometimes the eggs would be fine but the shells were hard to remove. Other times, the shells came off easily but the look or text of the eggs just didn't seem right. Then I found this method and I have been using for years now and it works perfectly every time!
How To Make Hard Boiled Eggs
Place the eggs into a large pot
Cover the eggs with cold water so they are fully submerged
Cover the pot and bring it to a boil
Turn off the heat and let the pot sit for 10-13 minutes
Using tongs, carefully remove the eggs and place them in an ice bath for at least 10 minutes
Peel the eggs and serve
Cooking Tips
Don't use freshly gathered eggs for this recipe. The pH level in fresh eggs are different that the eggs you buy in the store because as eggs age, the pH level will change. This will affect how easy the hard boiled eggs are to peel, so just make sure your eggs are at least 10 days old before using them.
Don't put too many eggs into your pot so they will cook evenly. Just be sure the eggs are all fully submerged and there's at least an inch of water above each egg.
The ice bath is essential for getting eggs that will be easy to peel. You'll want to make sure they have completely cooled before peeling them.
If want another easy method, here's how to Hard Boil An Egg In An Instant Pot.
How Long Do Hard Boiled Eggs Last
Hard boiled eggs will typically last in the refrigerator for about seven days. You'll want to make sure they are stored in an airtight container like Tupperware or a Ziploc storage bag. It doesn't matter if the eggs have been peeled or not, they'll stay fresh for the same amount of time.
Best Ways To Use Hard Boiled Eggs
Best Hard Boiled Eggs Recipe
This method for boiling eggs really is super easy to do. Leave us a comment below and let us know how they turned out, or tag us on social media because we always love to see what you're up to in the kitchen!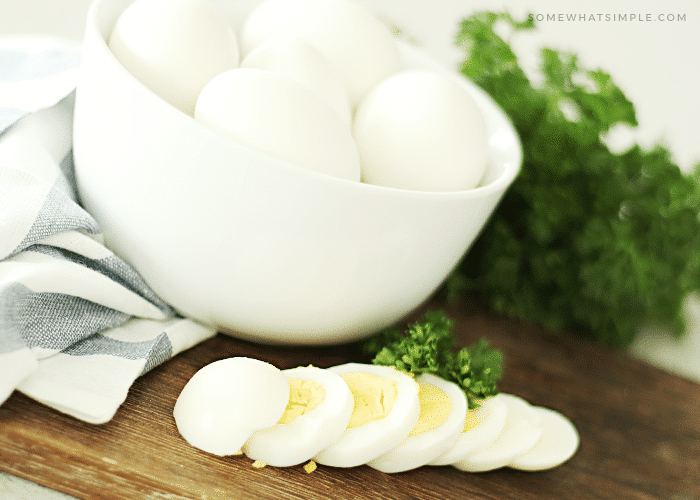 Hard Boiled Eggs Recipe
Learning how to make hard boiled eggs is really easy. This simple method will give you easy to peel eggs and works perfectly every time!
Instructions
Place the eggs into a large pot

Cover the eggs with cold water so they are fully submerged with at least an inch of water covering the eggs

Cover the pot and bring it to a boil

Turn off the heat and let the pot sit for 10-13 minutes

Carefully remove the eggs and place them in an ice bath for at least 10 minutes

Peel the eggs and serve
Nutrition
Serving:
1
egg
·
Calories:
63
kcal
·
Carbohydrates:
1
g
·
Protein:
6
g
·
Fat:
4
g
·
Saturated Fat:
1
g
·
Cholesterol:
164
mg
·
Sodium:
62
mg
·
Potassium:
61
mg
·
Sugar:
1
g
·
Vitamin A:
238
IU
·
Calcium:
25
mg
·
Iron:
1
mg
Other Notes