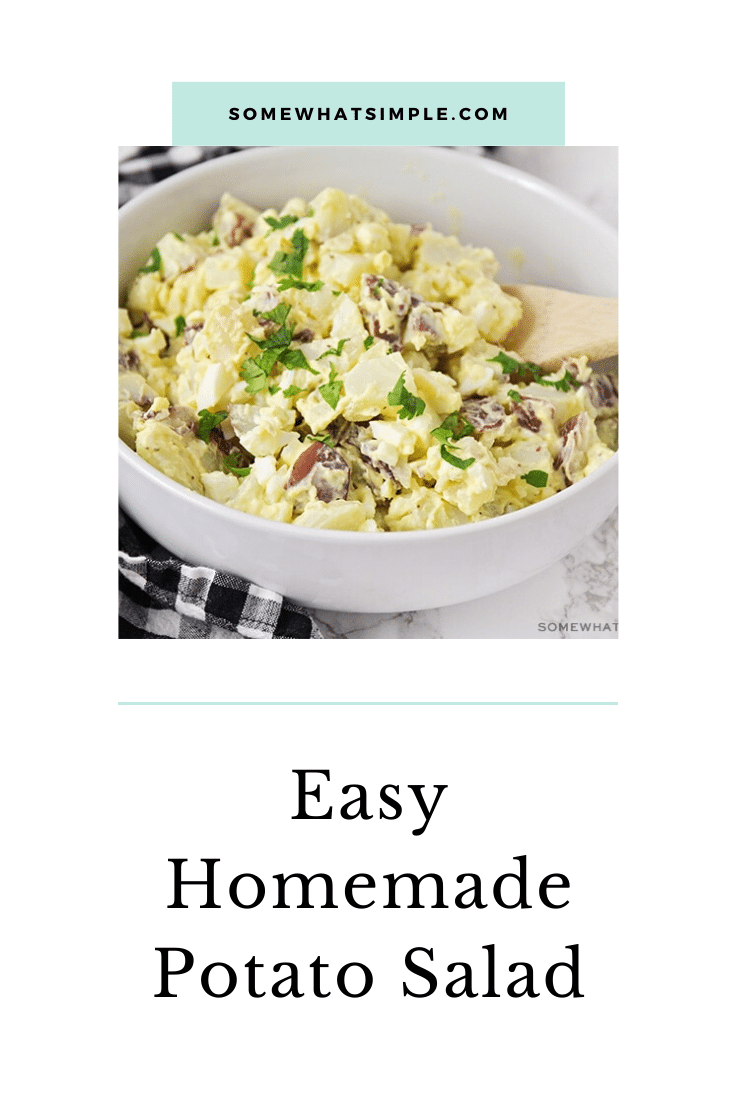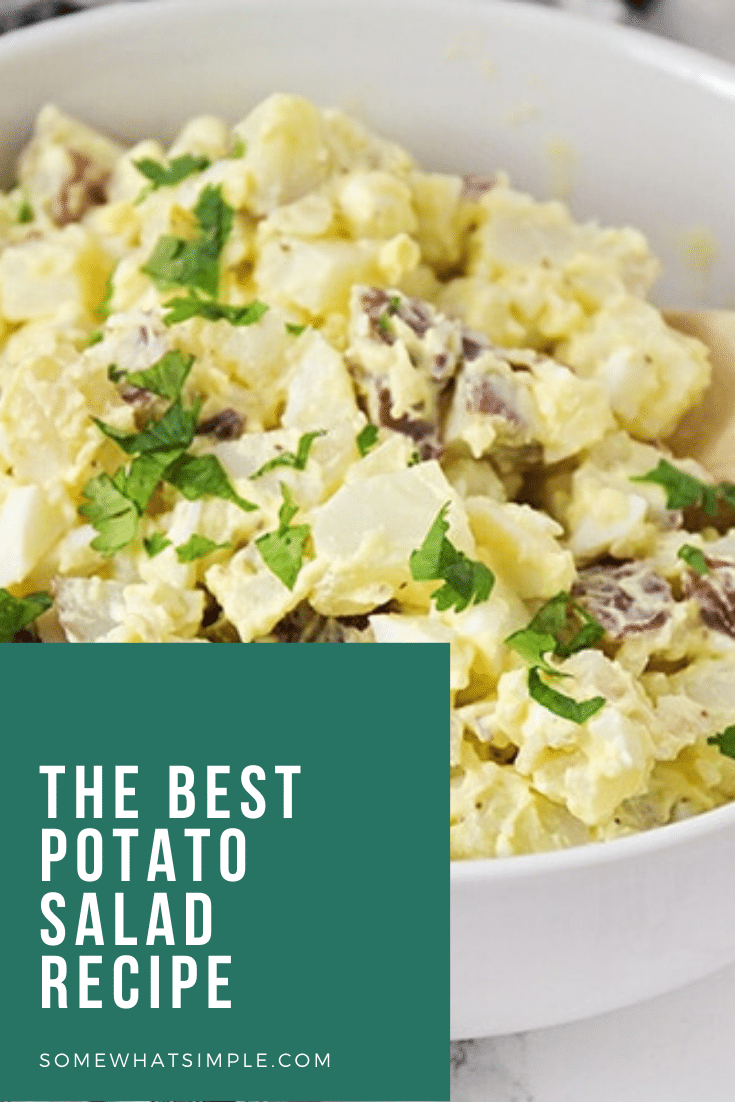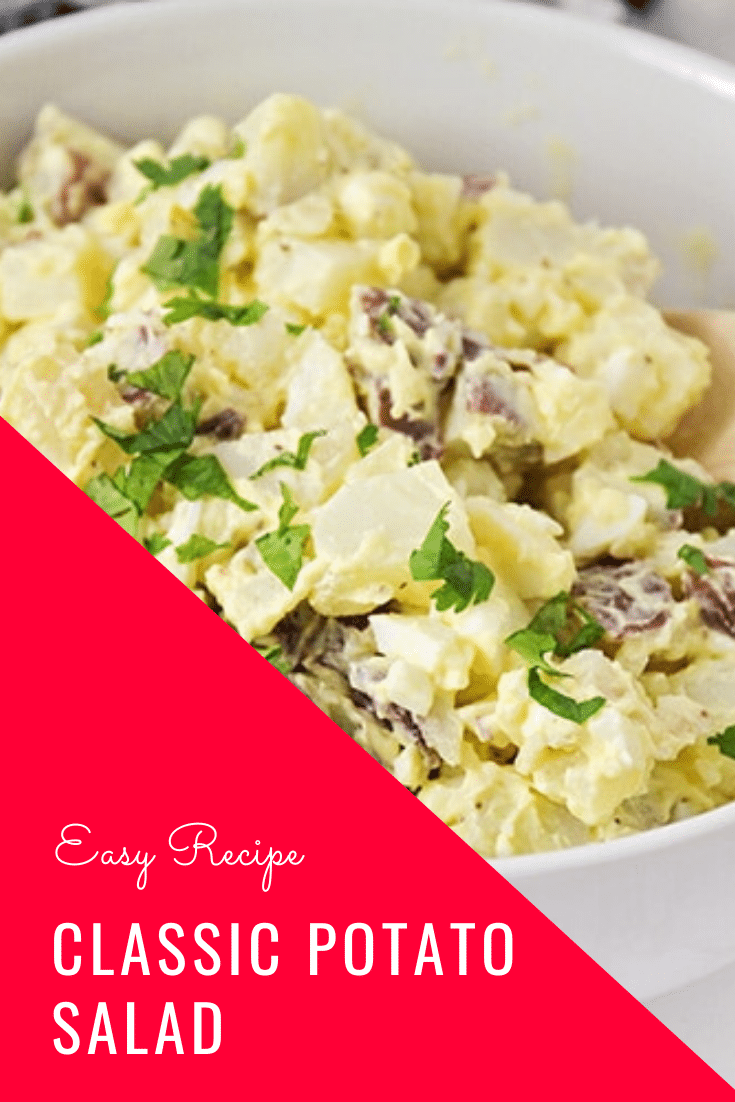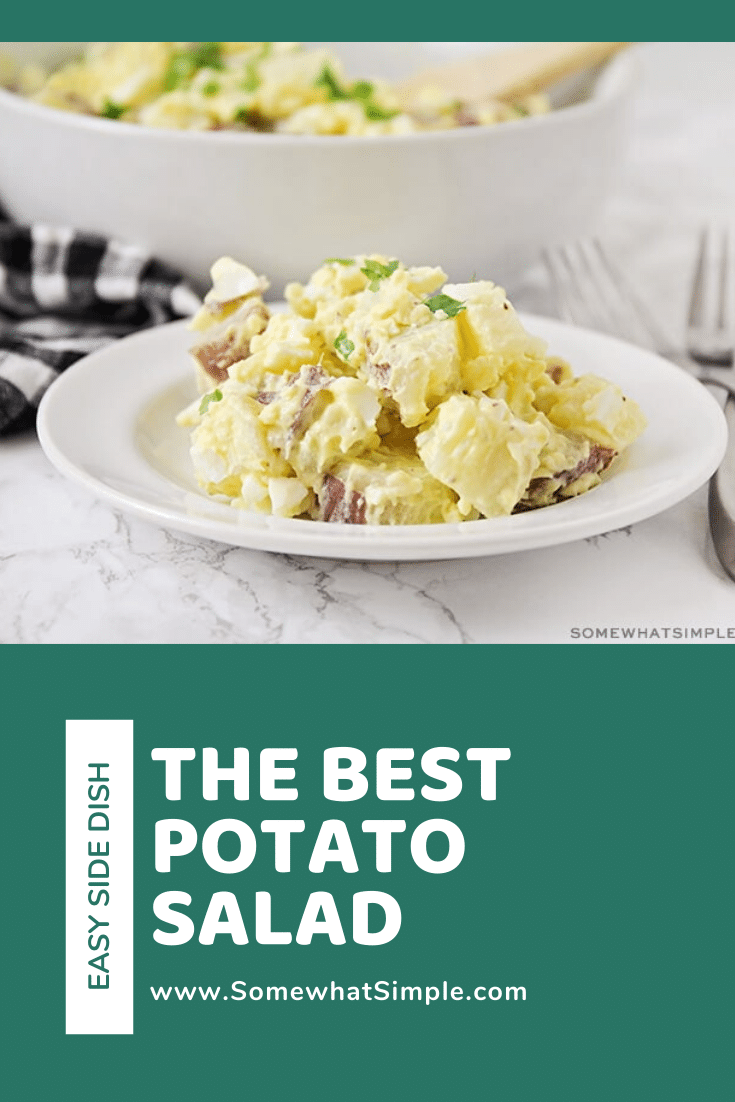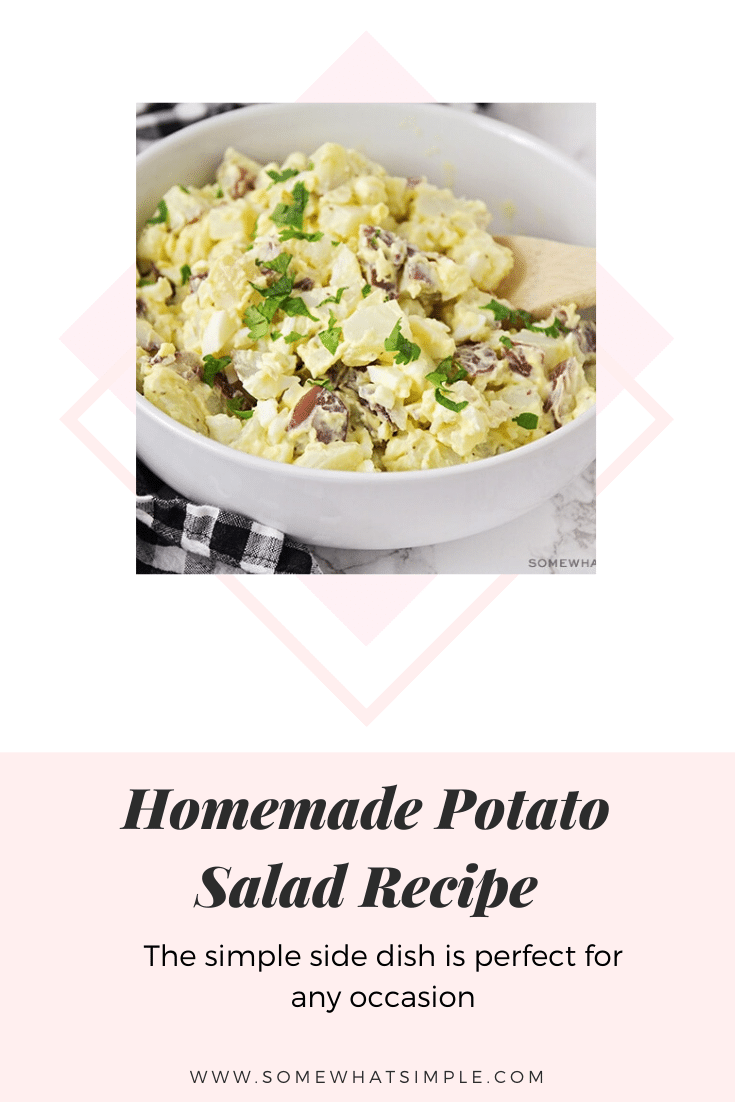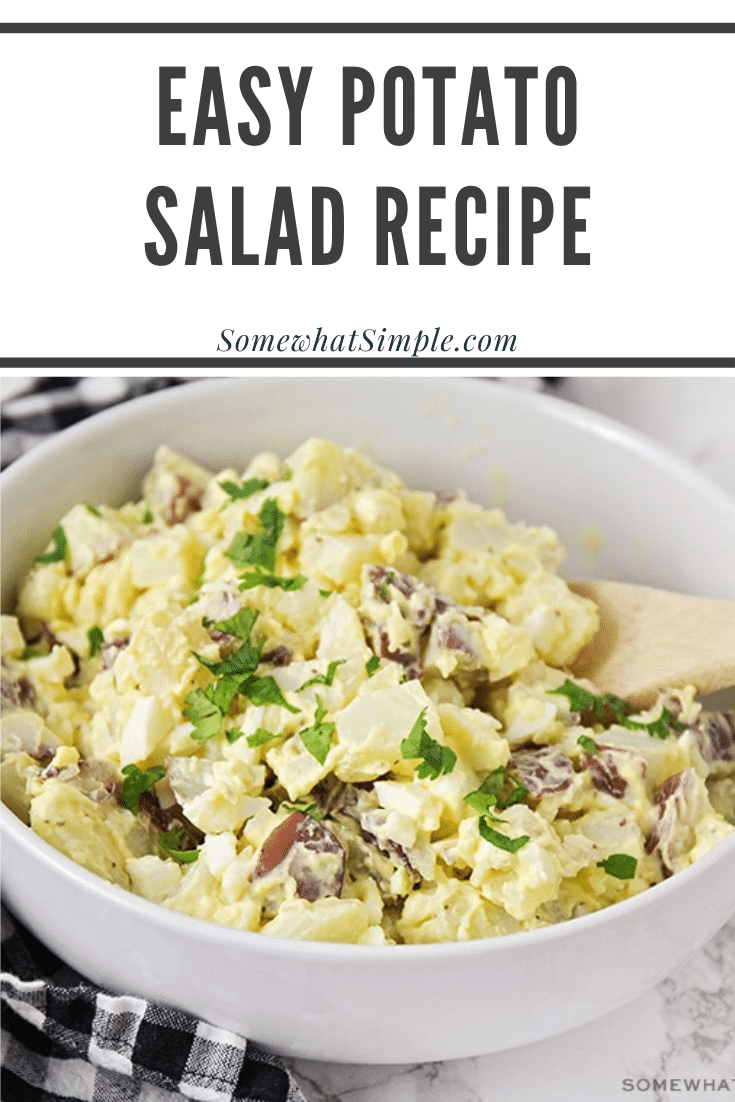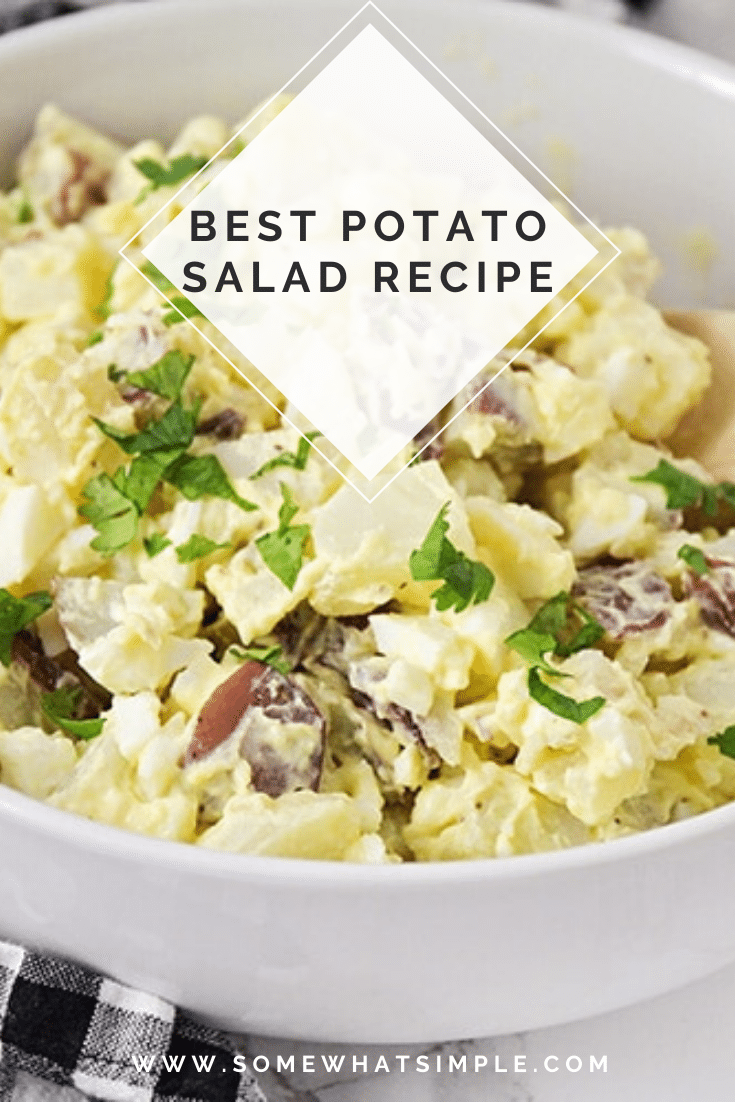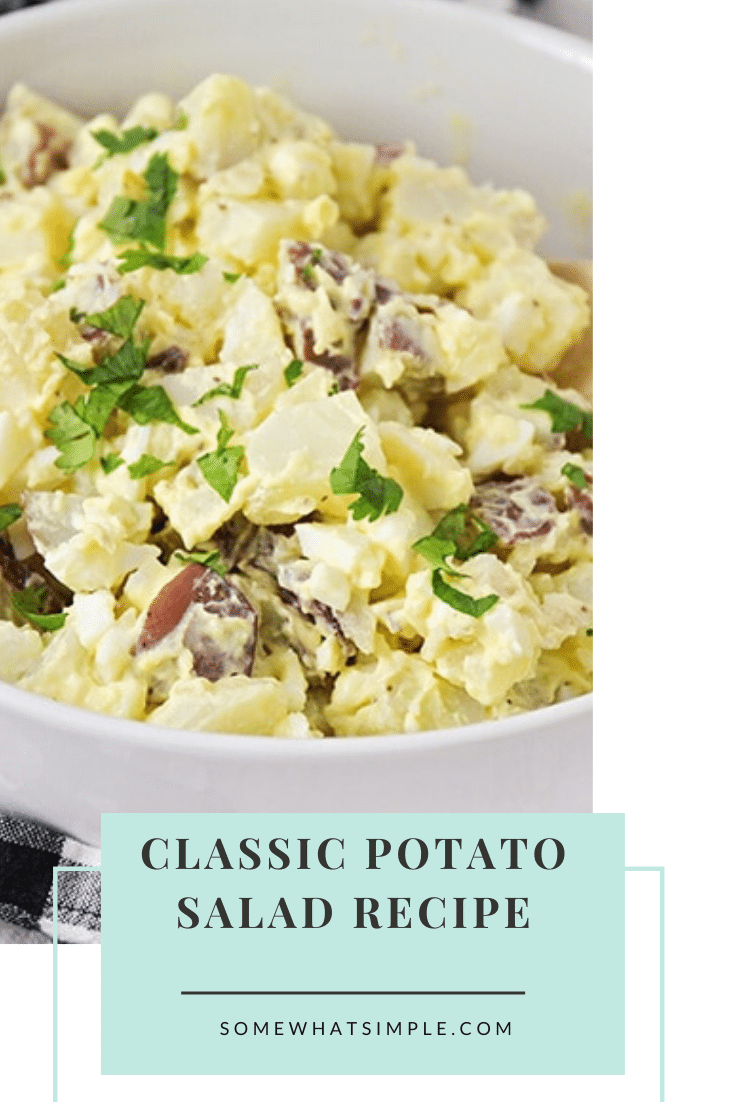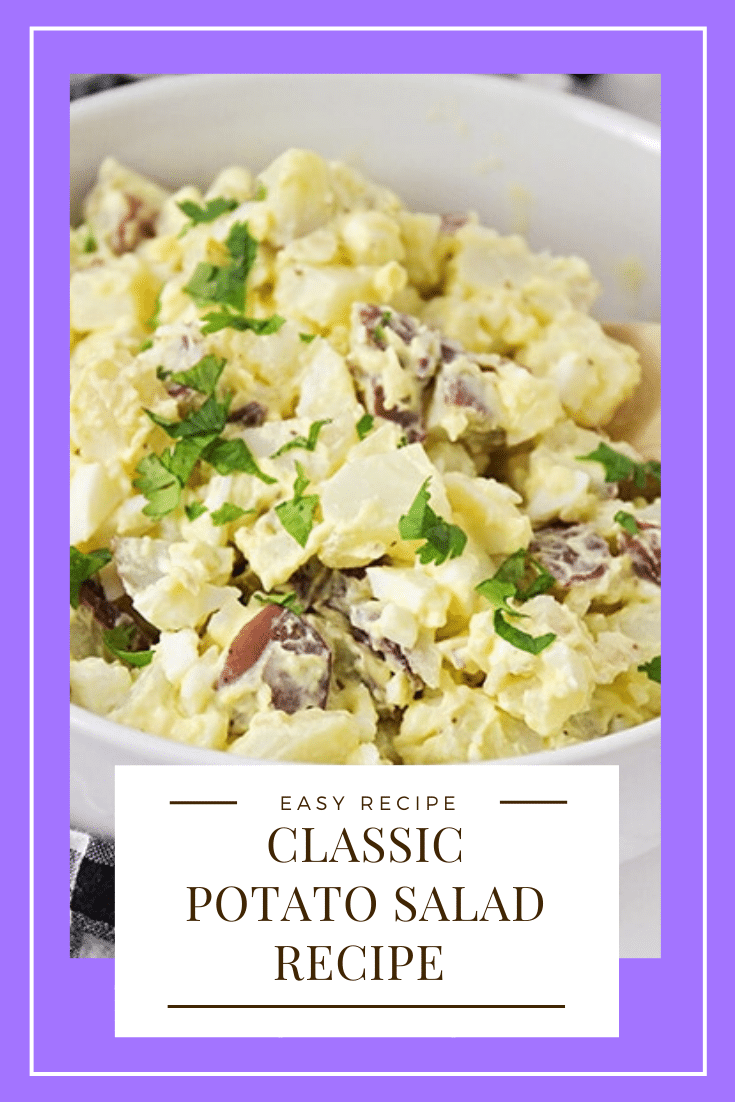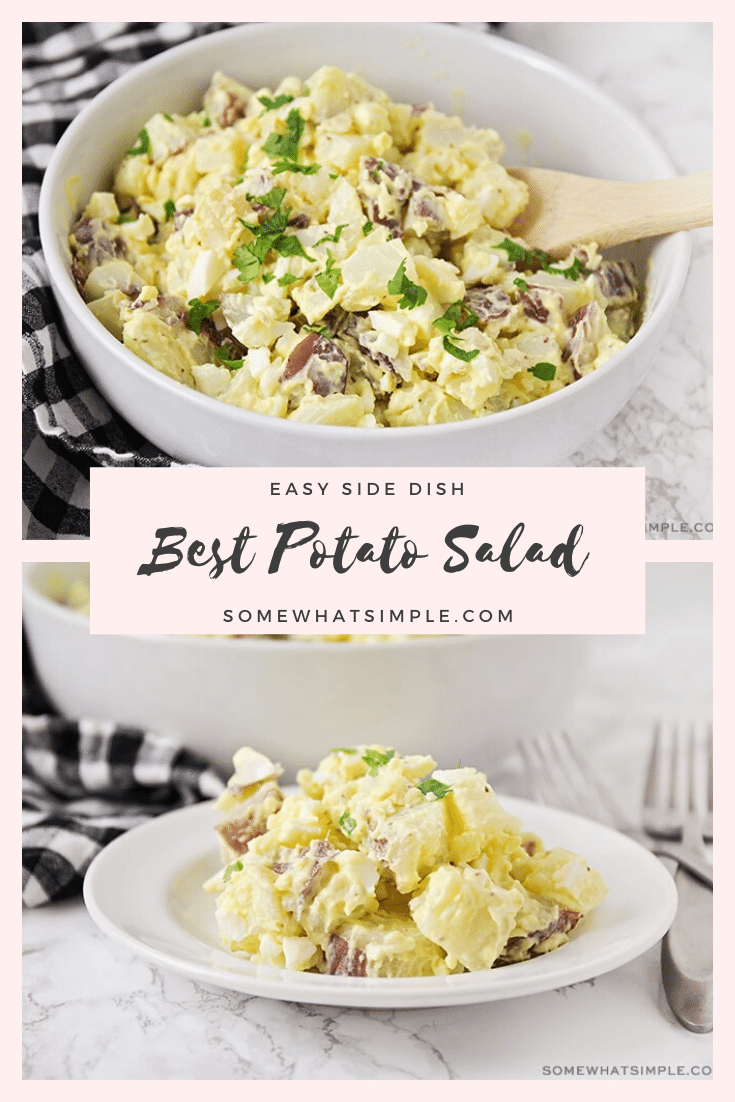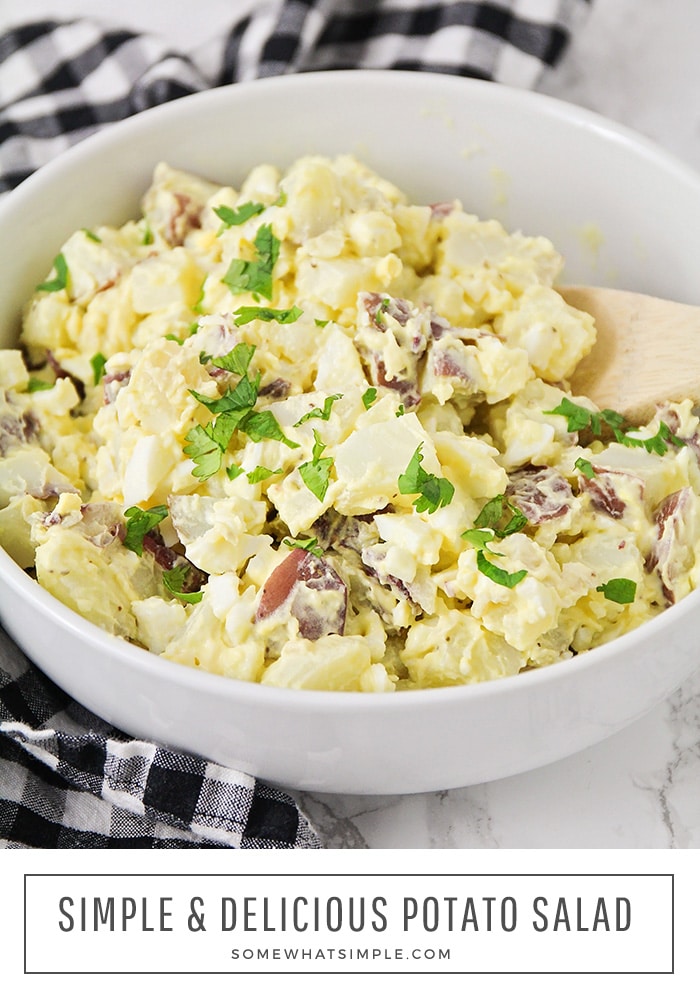 This easy potato salad recipe is a family-favorite side dish that's perfect for any occasion. Made with red potatoes and hard boiled eggs, it's the best potato salad you'll ever eat.
This potato salad is perfect side dish when I'm enjoy a rack of Barbecue Ribs, Bacon-Wrapped Hot Dogs or a Grilled Chicken Skewer during a Summer BBQ.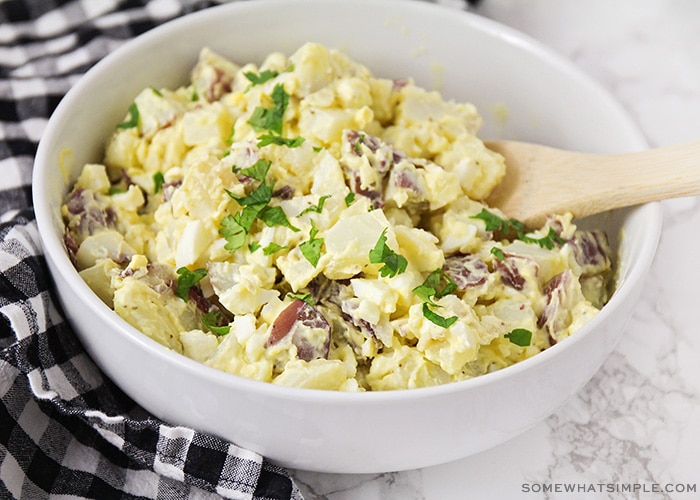 The Best Potato Salad Recipe
My husband lived in Santiago, Chile for two years and when he returned he had a handful of new favorite foods, including potato salad! (It only took him 20 years to fall in love with an American classic- HA!) But the problem he had once returning to the US is that he loved Chilean Potato Salad, and it was quite different from the stuff you find in the deli section at your local market.
The basic ingredients were the same – potatoes and mayonnaise – but Chilean mayonnaise comes in a bag and tastes totally different. In fact, most potato salad recipes are tangy or too sweet, maybe even a little bitter. My husband says THIS potato salad recipe is as close to the Chilean dish he has found… so I totally get bonus points when I make this!
Best of all, you don't have to be Chilean to like this potato salad! I've made it so many times over the past 10 years and it always gets eaten up so fast!
How To Make Potato Salad
I made this recipe to mimic as closely as I could to the version from Chile. The great thing about potato salad is that you can easily modify it however you like. You can certainly add your other favorite ingredients to this dish (relish, celery, bacon bits etc.) but the following recipe is delicious as is and it takes very little time to prepare! My husband said they would typically serve the potato salad warm but I prefer it chilled.
Wash and scrub the potatoes
Cut the potatoes into chunks
Boil the potatoes for 30 minutes
Mix the red potatoes, mayonnaise, Hard Boiled Eggs, yellow mustard, celery seed, pepper, and onions into a large mixing bowl
Refrigerate until chilled and then serve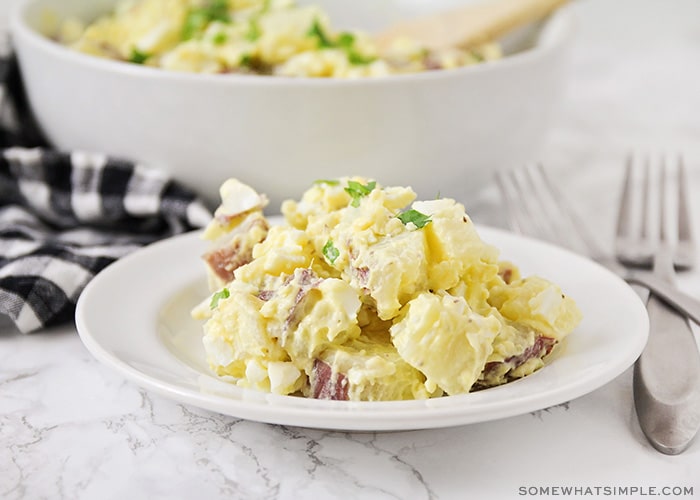 Recipe Tips
What Potatoes Should I Use – I like to use red potatoes in my potato salad recipe because I prefer their texture and taste, plus they will boil better. While russet potatoes are great for baking in the oven, they have a tendency to fall apart when boiled.
Best Hard Boiled Eggs – If you're not sure how to boil an egg here is my tried and true method for hard boiling eggs over the stove.
How Do I Know When My Potatoes Are Done – The cooking time will vary a little based on how many potatoes you're cooking but you'll know they're full cooked when you can easily mash a fork through them.
Ice Bath – When you're potatoes are done cooking, place them into an ice bath to cool them quickly. If you let them sit while they're still hot, they will continue to cook and can cause them to turn out a little mushy.
Keep Refrigerated – After you're done serving the potato salad, refrigerate any of the leftovers to keep the mayo from spoiling. It can sit out for about 2 hours but after that you should refrigerate it. If you're out at a barbecue and aren't able to refrigerate it, I would just toss it in the trash.
More Easy Side Dishes
Easy Potato Salad Recipe
I promise, this is the best potato salad recipe you'll ever eat. Make this the next time you go to a BBQ and then leave me a comment below a let me know if you agree with me or tag us on social media and let me know.
Easy Potato Salad
This easy potato salad recipe is a family-favorite side dish that's just perfect for your next summer BBQ!
Instructions
Wash and scrub the red potatoes

Cut the potatoes in fourths

Boil the potatoes for 30 minutes

Lightly mix all the ingredients in a large bowl.

Refrigerate to chill, then serve and enjoy!
Nutrition
Serving:
1
serving
·
Calories:
149
kcal
·
Carbohydrates:
6
g
·
Protein:
3
g
·
Fat:
13
g
·
Saturated Fat:
2
g
·
Cholesterol:
76
mg
·
Sodium:
139
mg
·
Potassium:
163
mg
·
Fiber:
1
g
·
Sugar:
1
g
·
Vitamin A:
107
IU
·
Vitamin C:
3
mg
·
Calcium:
19
mg
·
Iron:
1
mg
Other Notes