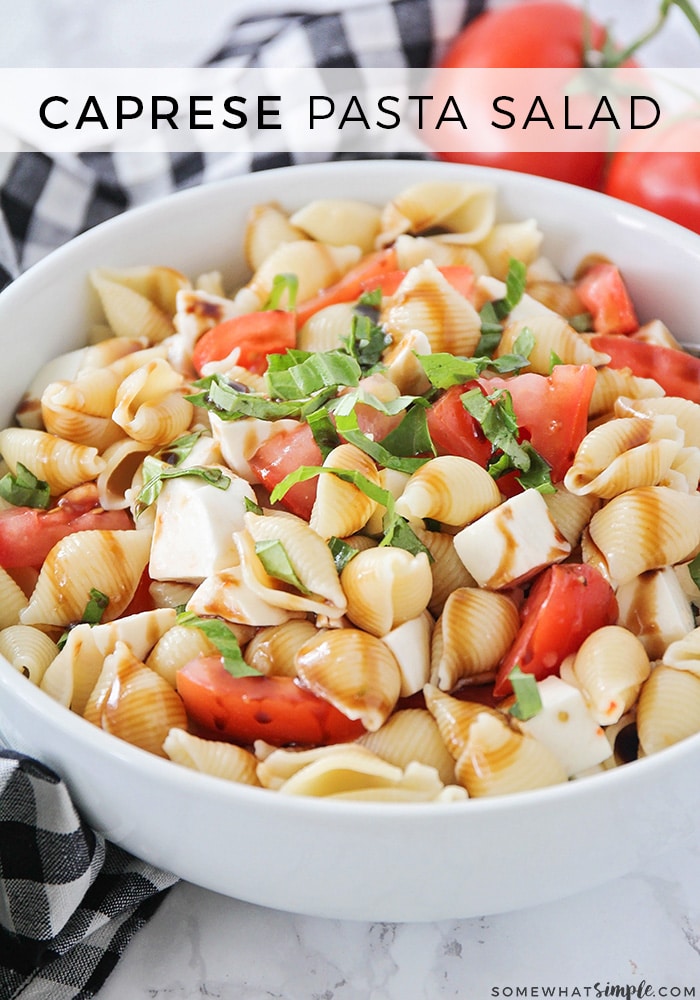 This simple and delicious caprese pasta salad recipe is so fresh and easy to make. Loaded with pasta, tomatoes, mozzarella cheese and topped with fresh basil and a balsamic dressing, it's the perfect side dish for any summer potluck or barbecue!
This easy recipe is one of my favorite summer salads to make. Some of my other favorite salads are these Cobb Salad, Loaded Baked Potato Salad and Asian Chicken Salad recipes.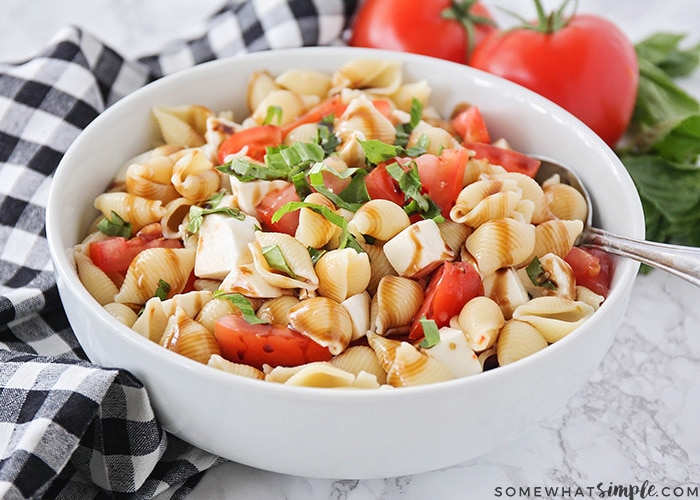 What is Caprese Pasta Salad
Caprese (Ka•pre•ze) is a simple Italian dish made up of fresh tomatoes, sliced mozzarella and fresh sweet basil. Many caprese foods are sprinkled with salt and pepper and/or drizzled with a balsamic glaze. Using these delicious ingredients with a bowl of your favorite pasta and you have a delicious caprese pasta salad.
Caprese Pasta Salad
Now that the weather is warming up, it's time to bring out all the delicious summer salads! On a hot day, it's such a relief to have something cool and refreshing to eat for dinner that doesn't require heating up the whole house. This caprese pasta is the perfect side dish for any summer meal.
It goes wonderfully with grilled chicken or steak, and is just the thing to bring to a barbecue or pot luck! It's also perfect as a light lunch on a day when you don't feel like cooking. It's so savory and flavorful, and the combination of flavors is fantastic!
How To Make Caprese Pasta Salad
Cook the pasta according to the directions on the box
Drain and rinse the pasta will cold water
In a large mixing bowl, add the pasta, mozzarella cheese, tomatoes and basil
Toss the mixture with the Italian dressing
Drizzle a balsamic glaze over the top
Refrigerate for at least 30 minutes before serving
Caprese Pasta Salad Ingredients
This caprese pasta salad recipe has only six ingredients, and takes just a few minutes to make. All you need are:
Your favorite type of pasta
Tomatoes
Mozzarella cheese
Basil
Italian dressing
Balsamic glaze*
*I found my balsamic glaze at the grocery store next to the olive oil and vinegar. If you can't find a pre-made balsamic glaze, it's easy to make your own at home.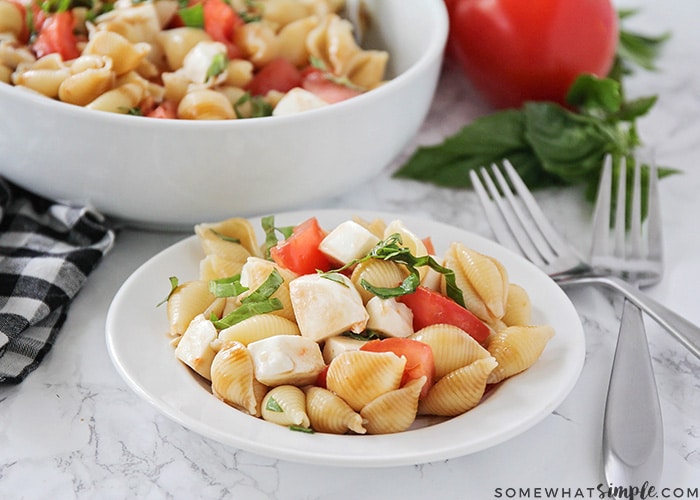 Tips For Making Caprese Pasta Salad
Once the pasta has finished boiling be sure rinse it with cold water. I'll even throw a few ice cubes on top of the pasta while rinsing it to cool it down even faster. If the pasta is too hot while you're mixing in the other ingredients, it can make the texture of the tomatoes and mozzarella cheese less than desirable.
Be sure to use fresh mozzarella cheese and basil for this pasta salad. The flavor of the fresh ingredients really make this pasta salad pop!
How To Store Caprese Pasta Salad
You can store this pasta salad in the refrigerator for about 3 days before it will be too soggy to enjoy. If you haven't put any of the dressing on top of the salad, you can freeze it and use it later. However, because this recipe is so easy to make, I wouldn't recommend freezing it. You really can't beat the taste of this salad when it's been made fresh.
More Easy Caprese Recipes
Caprese Pasta Salad Recipe
Go ahead, give this delicious salad recipe a try. Leave us a comment below and let us know how much you enjoyed this pasta salad or tag us on social media after you make it because we love to see what you've been up to in the kitchen!
Easy Caprese Pasta Salad
This simple and delicious caprese pasta salad is so fresh and easy to make. It's the perfect side dish for any summer potluck or barbecue!

Ingredients
8

ounces

shell pasta

2

small ripe tomatoes

,

chopped

1/4

cup

fresh basil

,

chopped

4

ounces

fresh mozzarella

,

chopped

1/2

cup

Italian dressing

2

teaspoons

balsamic glaze
Instructions
Cook the pasta according to the package directions, then drain and rinse with cold water.

Add the pasta, tomatoes, basil, and mozzarella to a large mixing bowl, then toss with the Italian dressing.

Drizzle with the balsamic glaze, then refrigerate 30 minutes, or until ready to serve.
Nutrition
Other Notes