This chicken caesar pasta salad is so fresh and delicious, and ready in less than thirty minutes. It's perfect for potlucks and barbecues!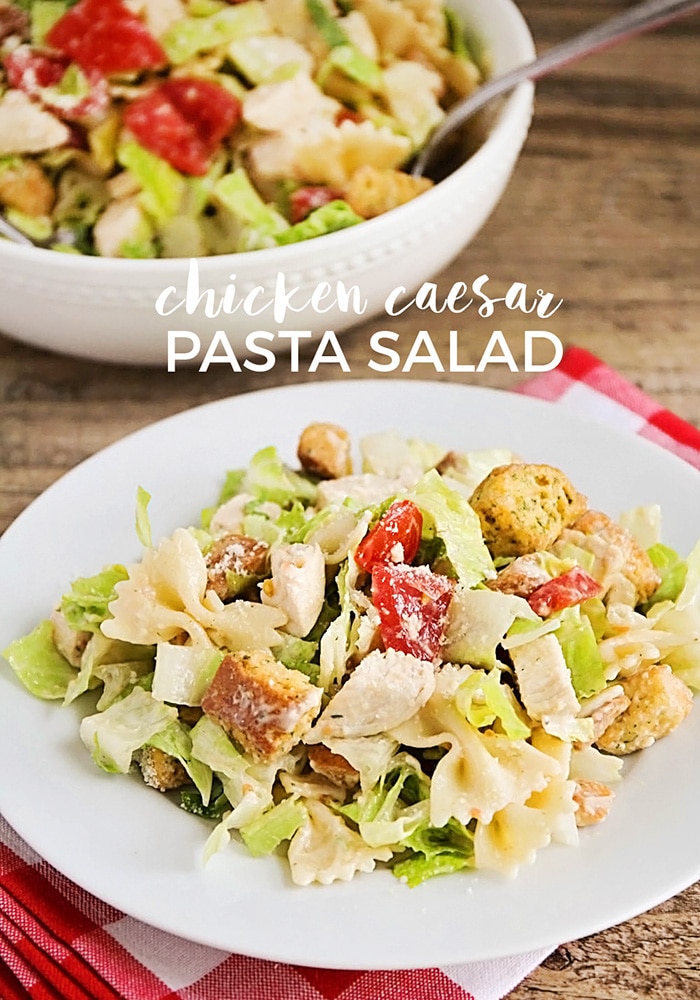 One of the best things about summer is all the delicious summer salads! Whenever I go to a potluck or a barbecue, I can never choose between all the side dishes, and end up loading up with my plate with a spoonful from every single bowl. What can I say? I am a girl who loves a good salad! This chicken caesar pasta salad is one of my new favorites, and I love that not only is it delicious, it's also really easy to make. It's a delicious mix between a green salad and a pasta salad, with all the delicious flavor of a caesar salad. What could be better than that?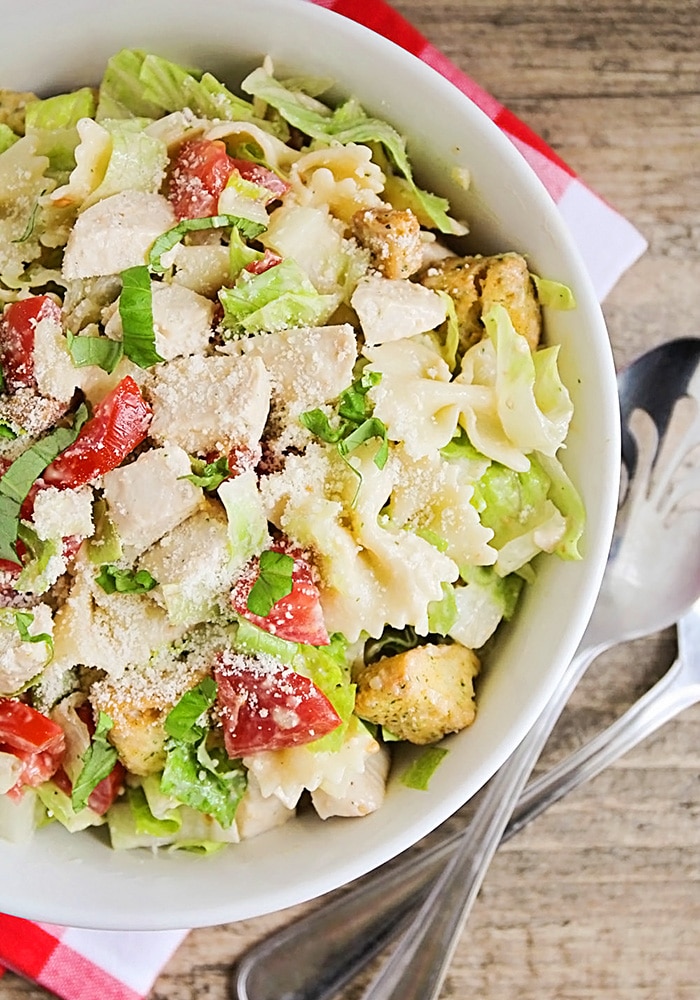 This salad would make a perfect light summer meal, or an easy side dish. Cooking the pasta takes the longest, and everything else can be prepped while it's cooking. I absolutely love the combination tastes and textures in this salad! For more delicious summer salad recipes,  go check out my basic potato salad, berry chicken salad, and easy Cafe Rio-style salad. Happy salad making!
Chicken Caesar Pasta Salad
INGREDIENTS:
1/2 pound bowtie pasta
2 cups chopped cooked chicken
1 romaine heart, chopped
1 medium tomato, chopped
2 cups garlic croutons
1/2 cup caesar dressing (I used Brianna's Asiago Caesar)
1/4 cup grated parmesan cheese
2 tablespoons chopped fresh basil (optional)
DIRECTIONS:
Cook the pasta according to package directions. Drain and rinse with cool water.
In a large bowl, combine the pasta, chicken, romaine, tomato, and croutons. Pour the dressing over the top and toss to combine. Sprinkle with parmesan cheese and fresh basil.
If you're making the salad in advance, add the dressing just before serving.