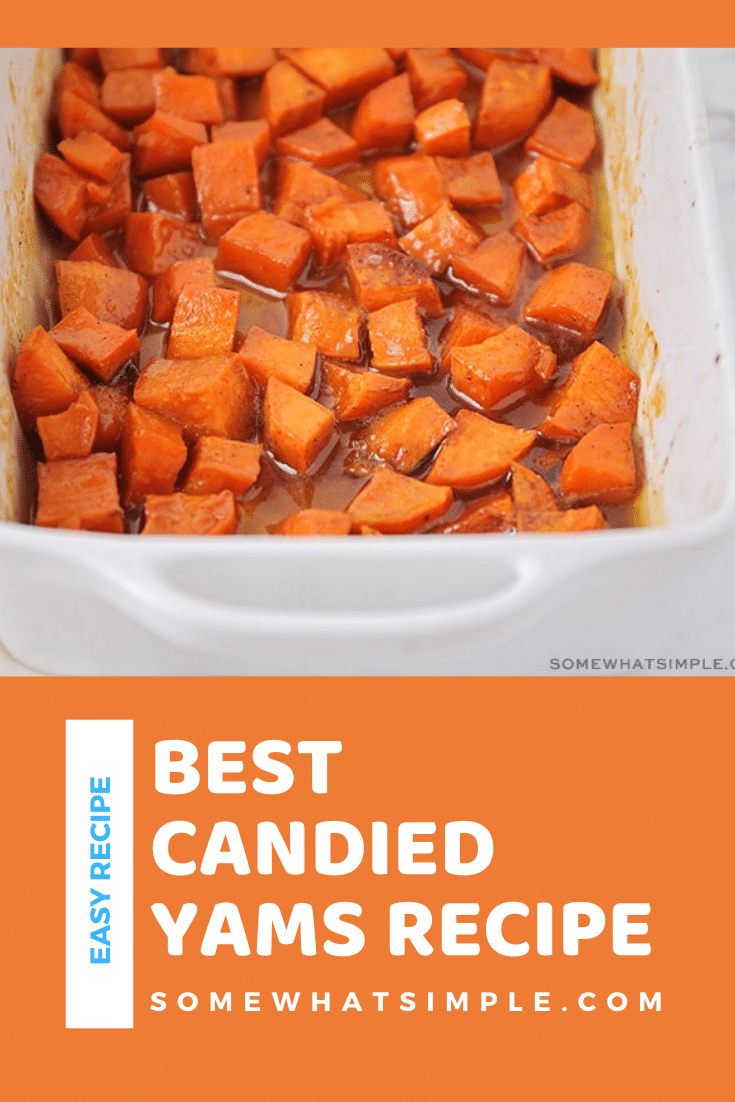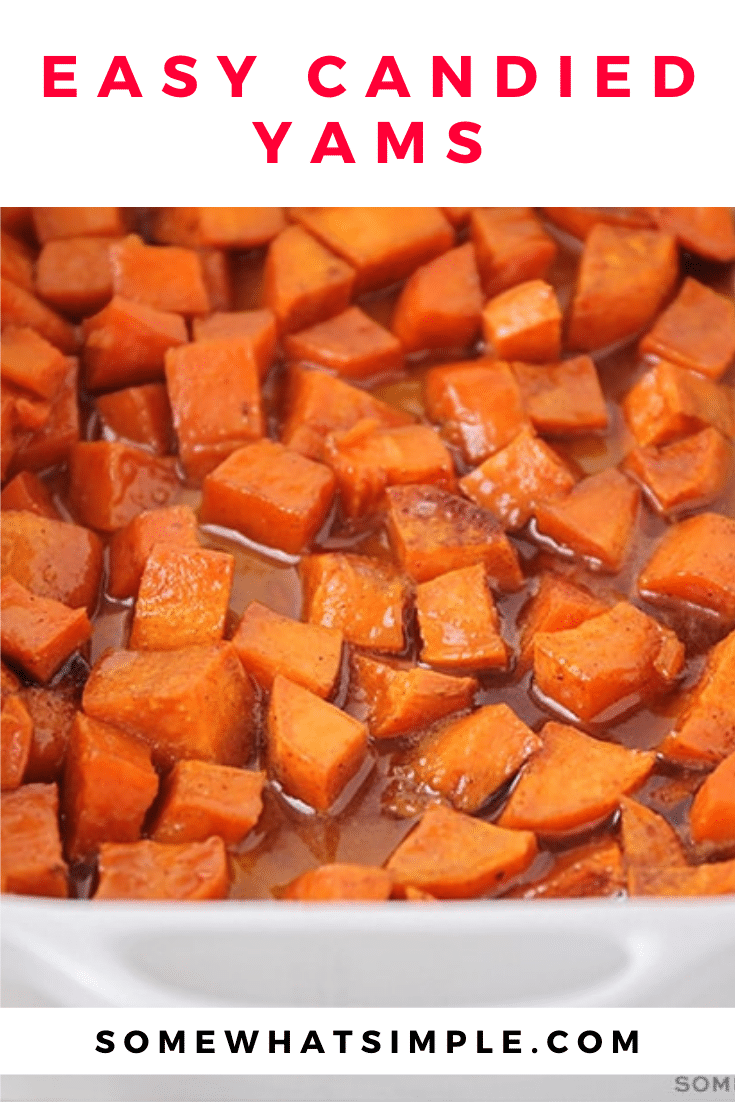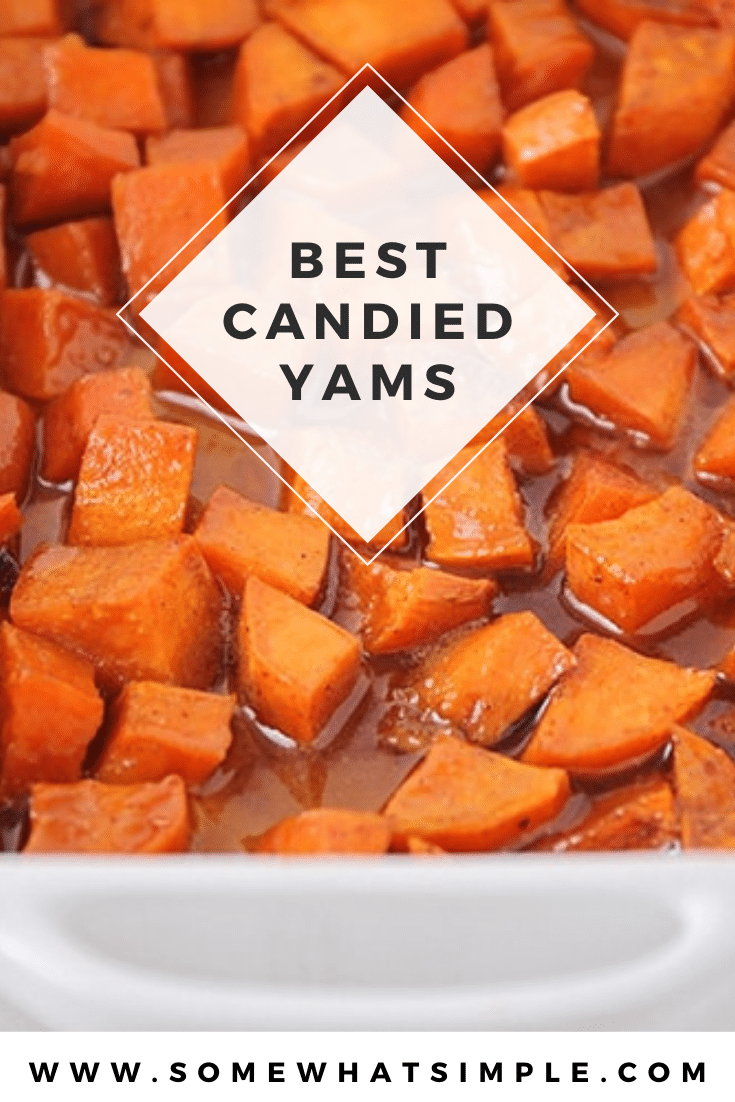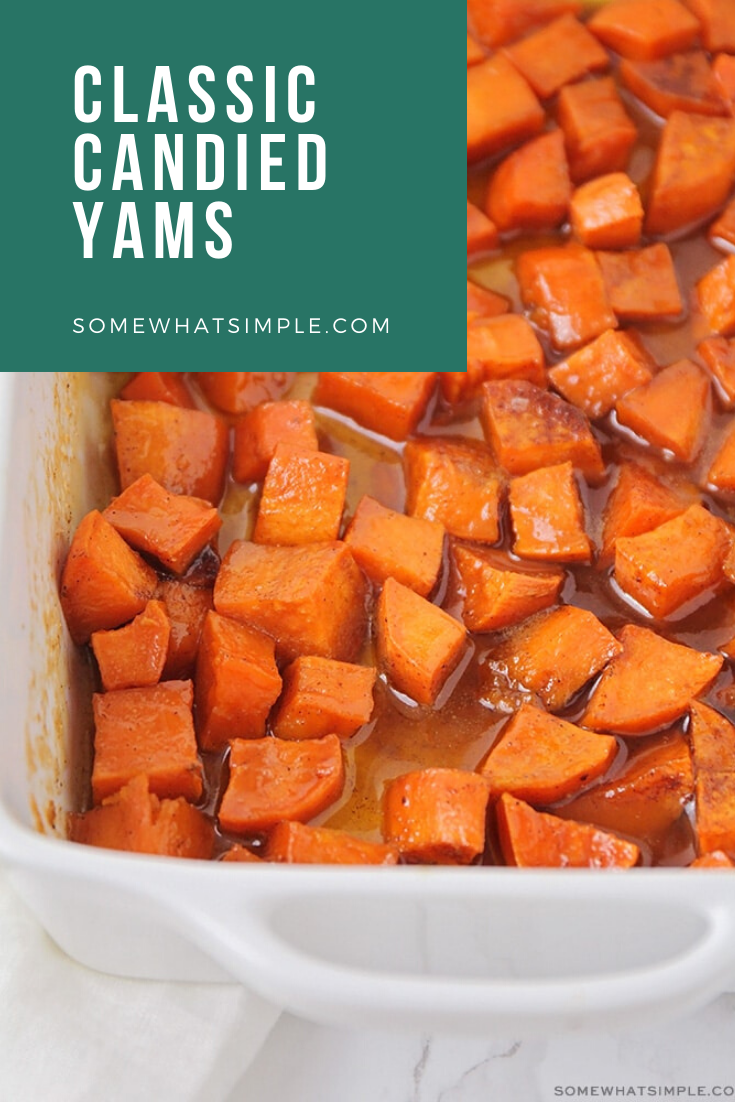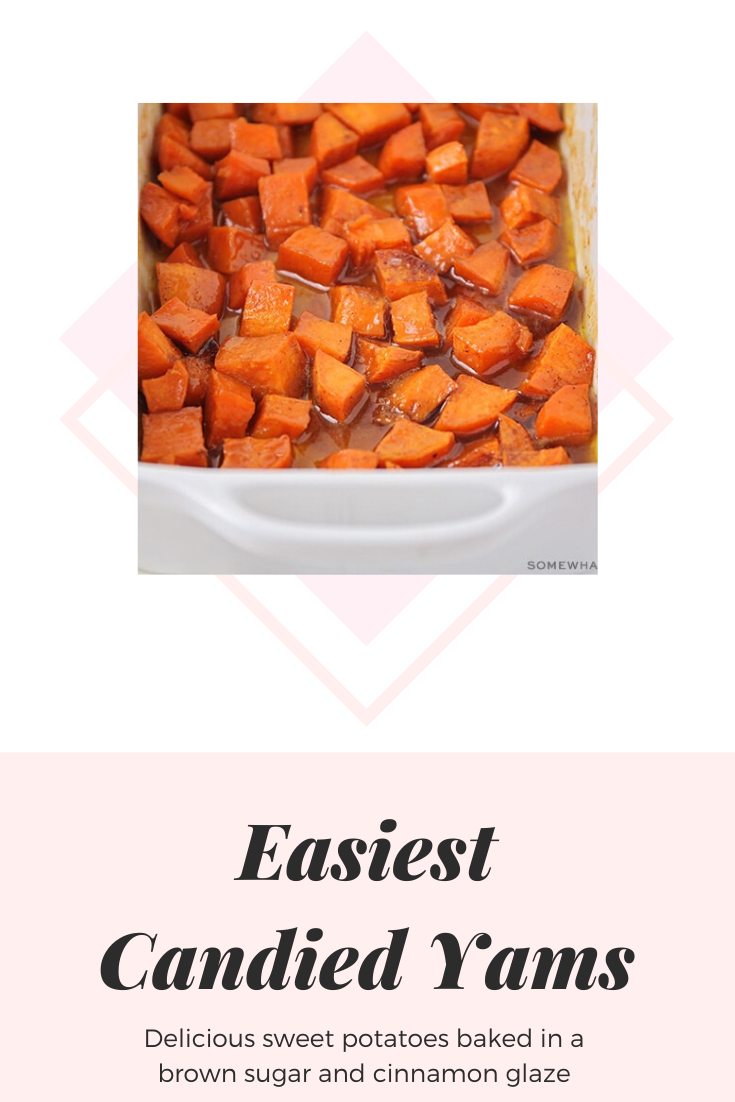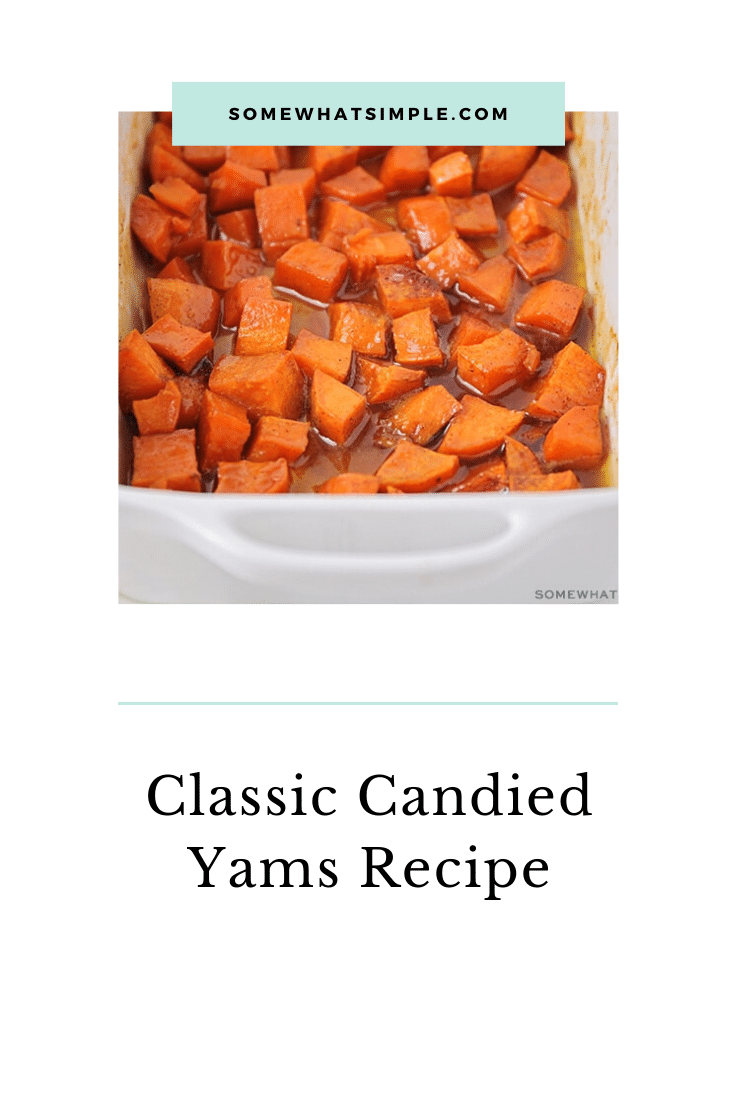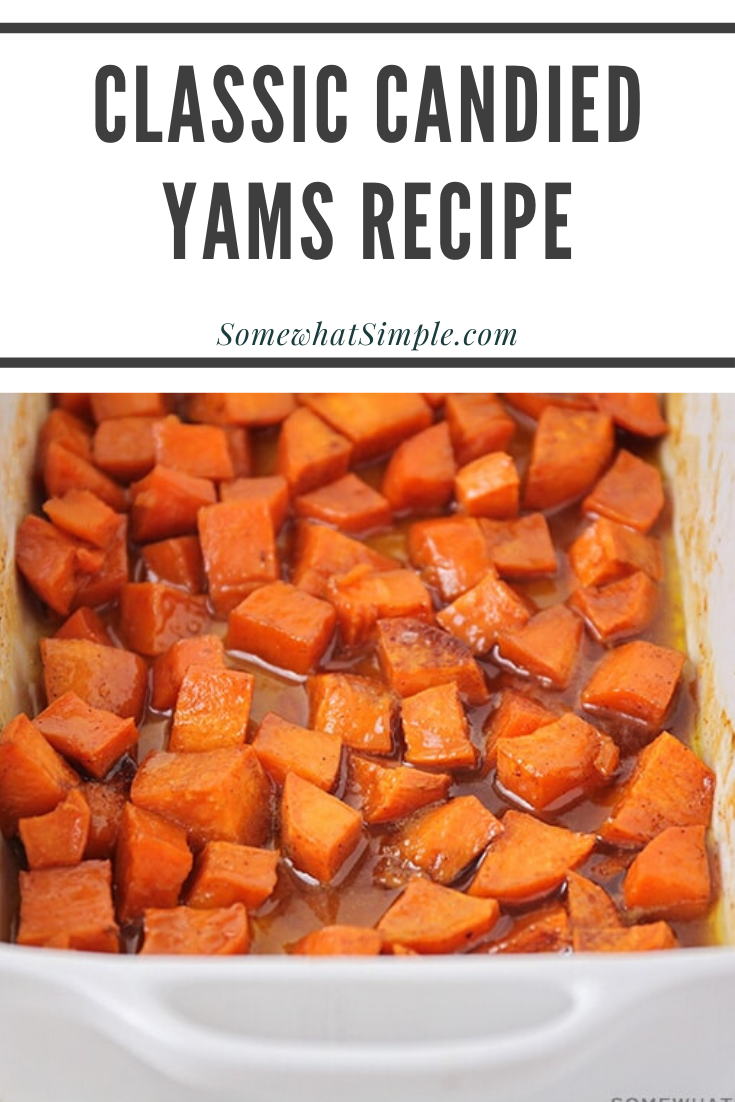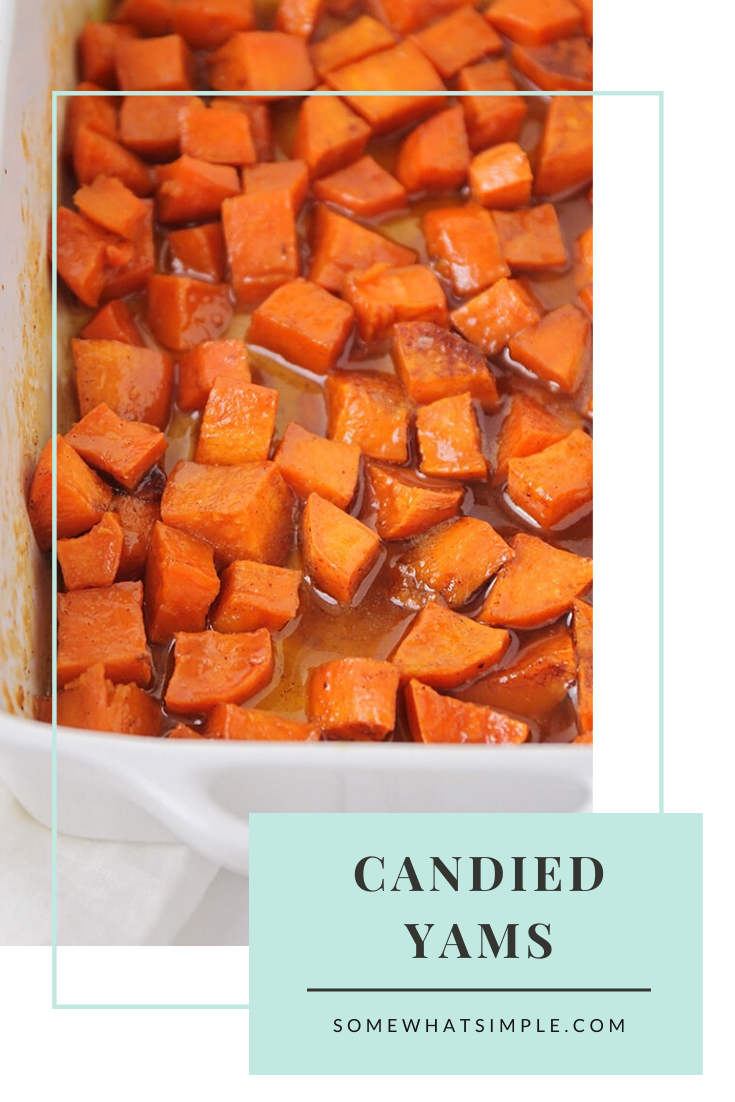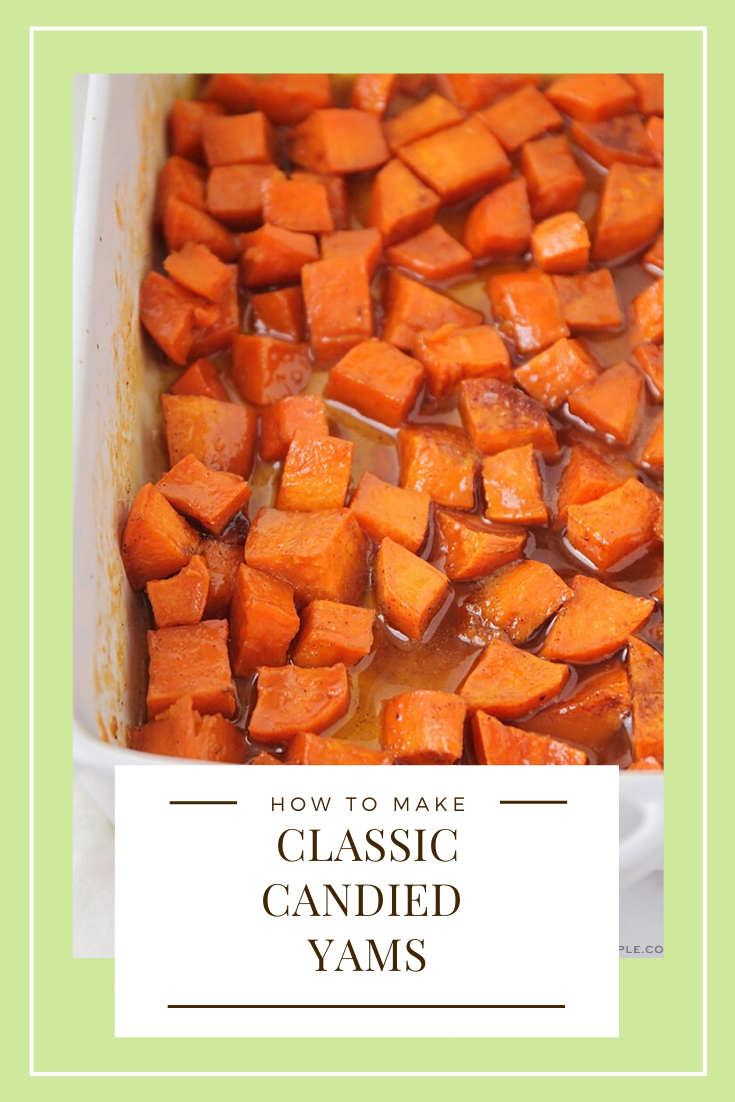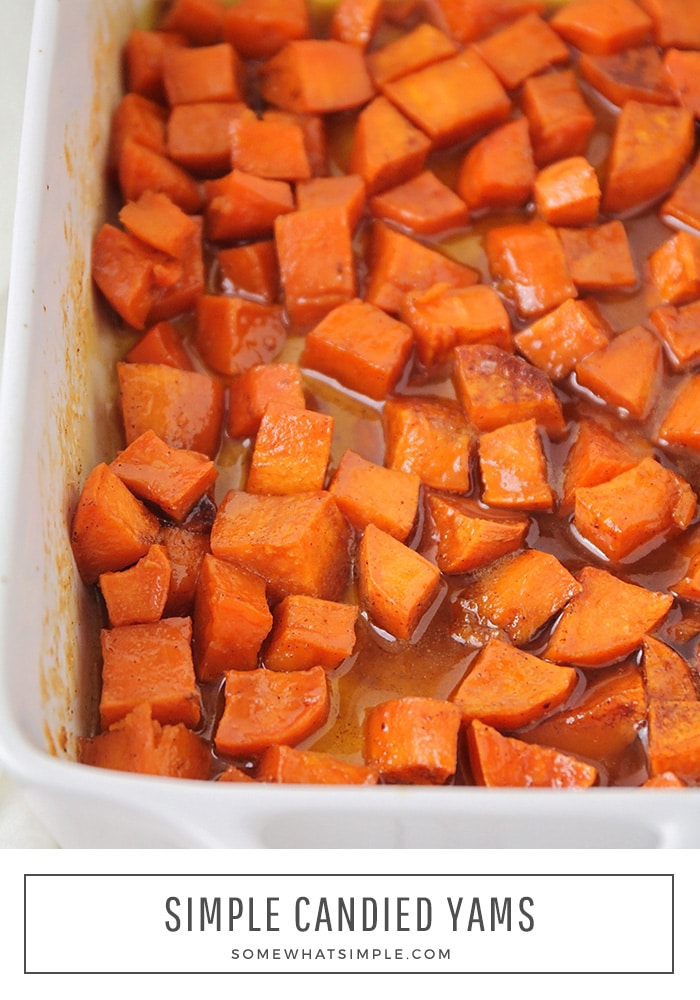 Candied yams are the perfect classic side dish for your holiday meal, or anytime throughout the year! Made with brown sugar and cinnamon, you won't be able to resist these delicious sweet potatoes!
These sweet potatoes pair perfectly with a Holiday Ham and a fresh batch of Homemade Dinner Rolls topped with this tasty Whipped Honey Butter.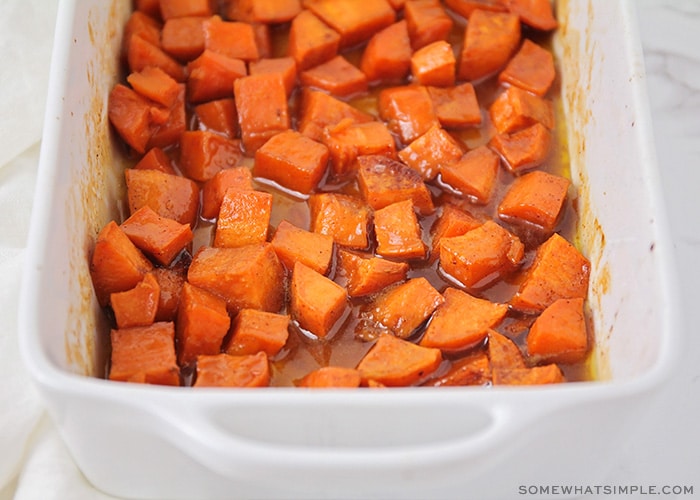 Easy Candied Yams
Now that Thanksgiving is just around the corner, it's time to start thinking about all of those delicious side dishes. Candied yams are a classic and beloved Thanksgiving side dish, and for good reason!
They're so tender and sweet, and melt-in-your-mouth delicious. This recipe for candied yams is one of my favorites to make. I love that it requires very little effort, but still turns out irresistibly delicious.
They take only a few minutes to prepare, then put them in the oven to bake. I make these every year for Thanksgiving and my family loves them! They really are the perfect side dish for your holiday dinner.
Yams vs. Sweet Potatoes
While yams and sweet potatoes many look very similar, and thus easily confused, they are not the same vegetable. One way to tell the difference is that the skin of a yam looks similar to tree bark and a sweet potato has more of a reddish color. Both have different textures and will cook differently. So which ones should you use in this recipe???
Although this dish is commonly called candied yams, it's actually made with sweet potatoes! (Most of the "yams" in American supermarkets are actually just mislabeled sweet potatoes.)
Whatever you call them, they're totally delicious! The sweet potatoes I bought for this recipe were labeled "garnet yams," if that helps when you're looking for them in the grocery store. Now that you know where to start, let me show you just how easy these candied yams are to make.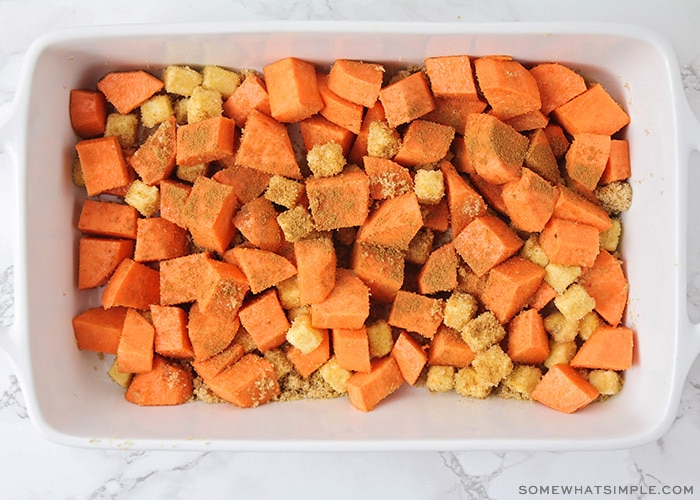 How To Make Candied Yams
Prep – Start by preheating your oven to 400 degrees F. For this simple recipe you'll want to peel two pounds of sweet potatoes. After they're peeled, cut them into chunks that are about an inch long.
Add The "Candy" – Toss the sweet potatoes with the butter, brown sugar, cinnamon, and a pinch of salt. Once the sweet potatoes have been evenly coated, pour them into a 9 x 13 baking dish.
Cook – Bake the candied yams for about 40 minutes or until they're tender.
Tip – I like to give them a good stir after they're cooked and then return them to the oven for a few more minutes. This will allow the sauce to thicken and caramelize just a little.
Are They Ready – The cooked yams should be easy to pierce with a fork, and tender throughout.
Recipe Tips & Variations
Add Marshmallows – One delicious variation of this recipe is adding marshmallows on top of the candied yams. To do this, cover the yams with about 4 cups of marshmallows during the last 5 minutes of baking. Return them back into the oven until the marshmallows have partially melted and are a golden brown color. If you're making these ahead of time, don't add the marshmallows until you reheat them before serving.
Extra Flavors – If you want to add a little variety to this classic candied yam recipe, try adding a little nutmeg to the sauce. Chopped walnuts or pecans are also a great addition to this recipe.
Can I Make These In Advance – If you're trying to free up some oven space on the big day, these candied yams can be cooked in advance. Be sure to warm them up thoroughly before serving so that the sauce is nice and smooth.
More Classic Side Dishes
These homemade candied yams are so sweet and buttery, with the perfect soft texture, and they taste totally amazing. They're the perfect addition to your Thanksgiving table! Leave us a comment below and let us know how much you loved this classic side dish.
Candied Yams Recipe
Candied yams are a classic side dish perfect for your holiday meal.
Ingredients
2

pounds

sweet potatoes

,

peeled and cut into one inch chunks

4

tablespoons

butter

,

cut into small pieces

1/4

cup

brown sugar

1/4

teaspoon

salt

1

teaspoon

cinnamon
Instructions
Preheat the oven to 400. Toss the sweet potatoes with the butter, brown sugar, salt, and cinnamon. Pour the sweet potatoes into a 9 x 13 baking dish.

Bake 40 minutes, or until the sweet potatoes are tender. Stir the potatoes and bake for an additional ten minutes to lightly caramelize the sauce. Serve warm.
Nutrition
Serving:
1
Cup
·
Calories:
195
kcal
Other Notes