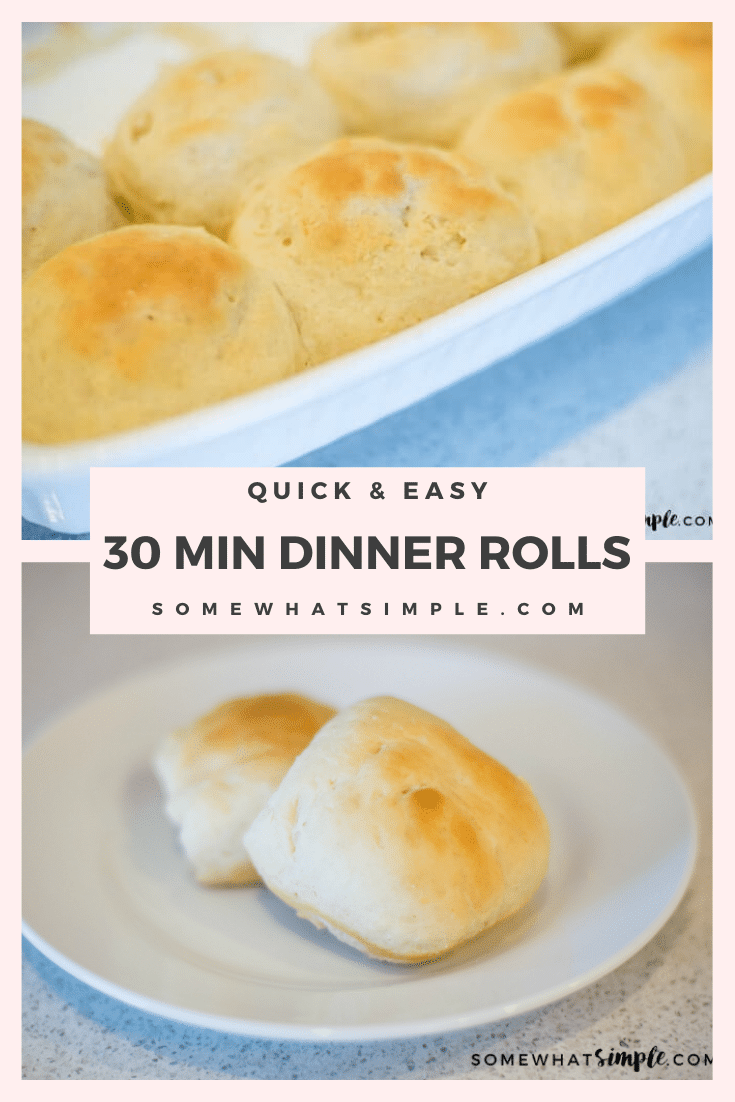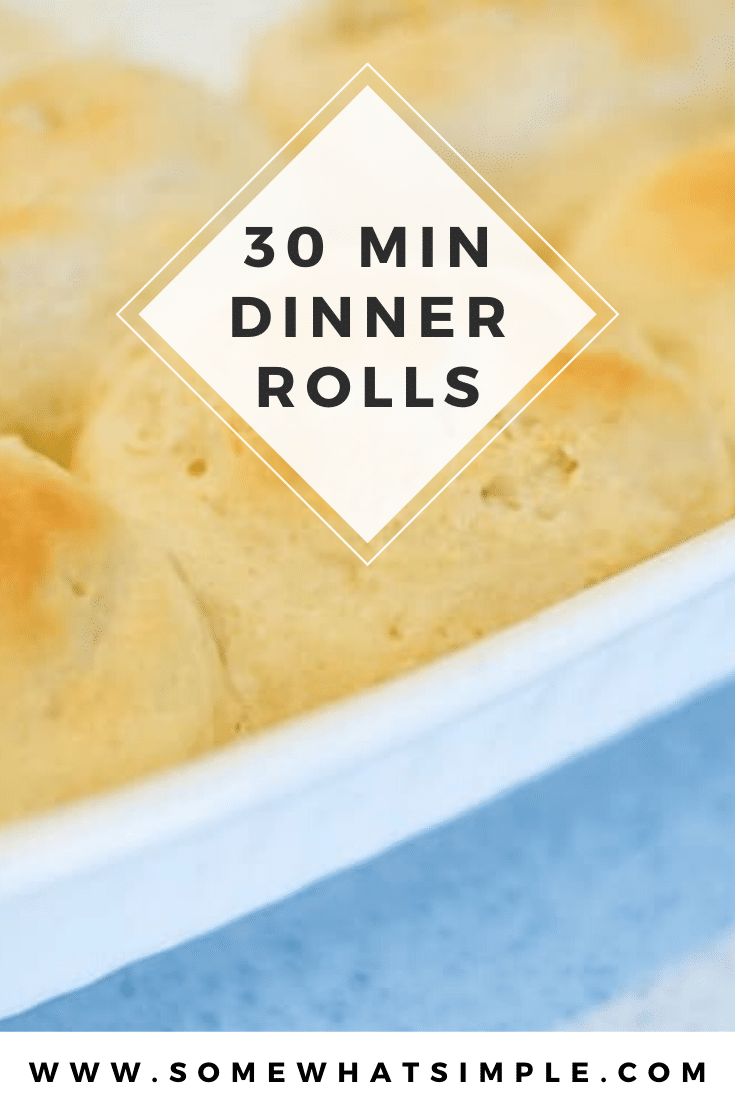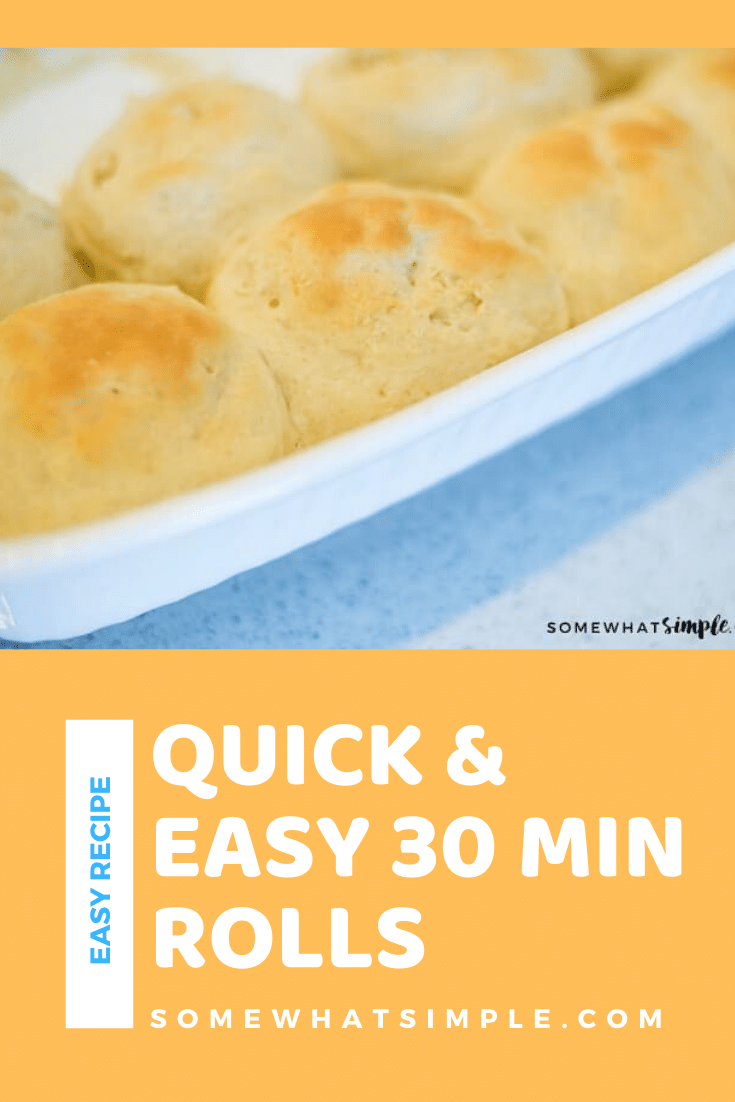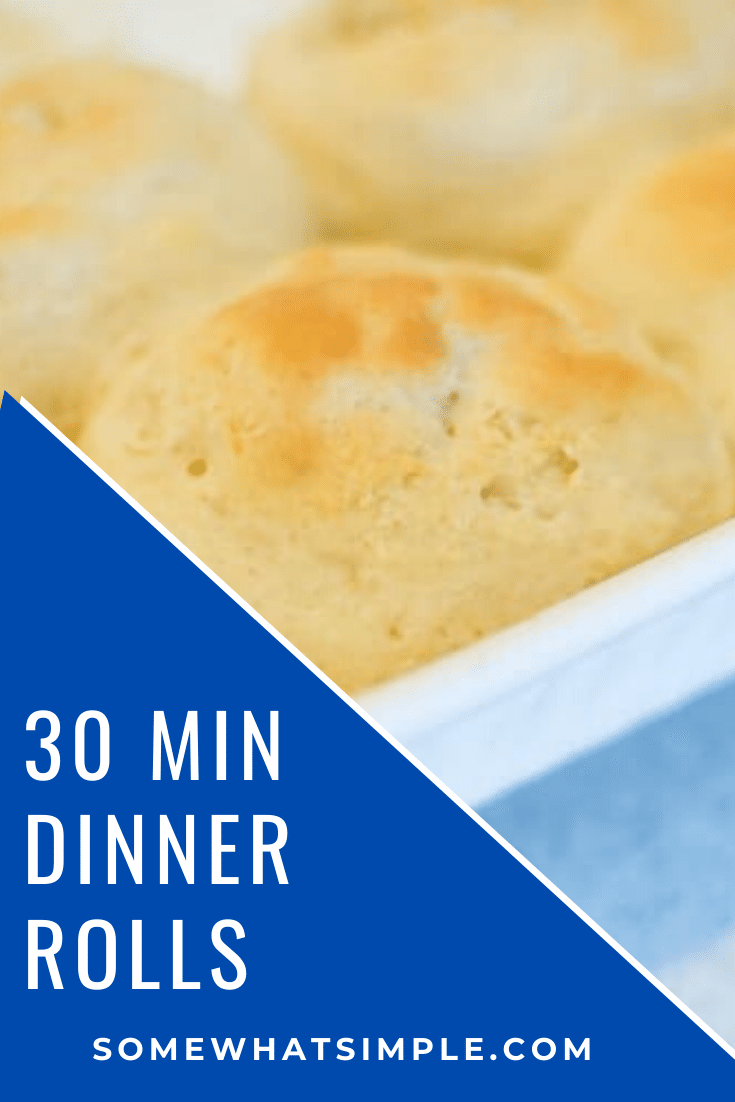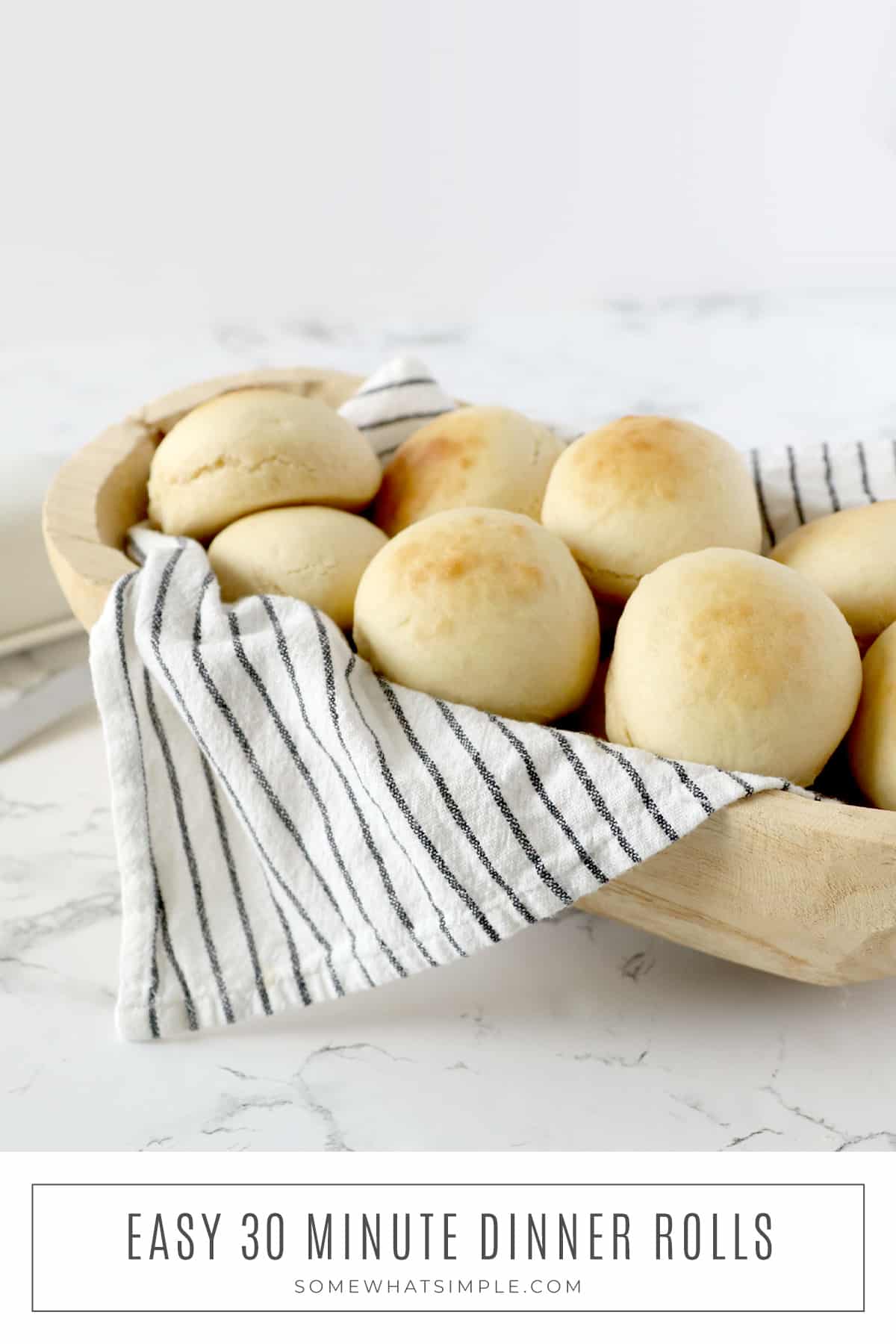 Made from scratch, these quick and easy 30-minute dinner rolls turn out light and fluffy every time, and they taste absolutely amazing!
These dinner rolls are a perfect compliment for almost any dinner. We love serving them with a hot bowl of chicken noodle soup, or as a delicious option in our sandwich bar.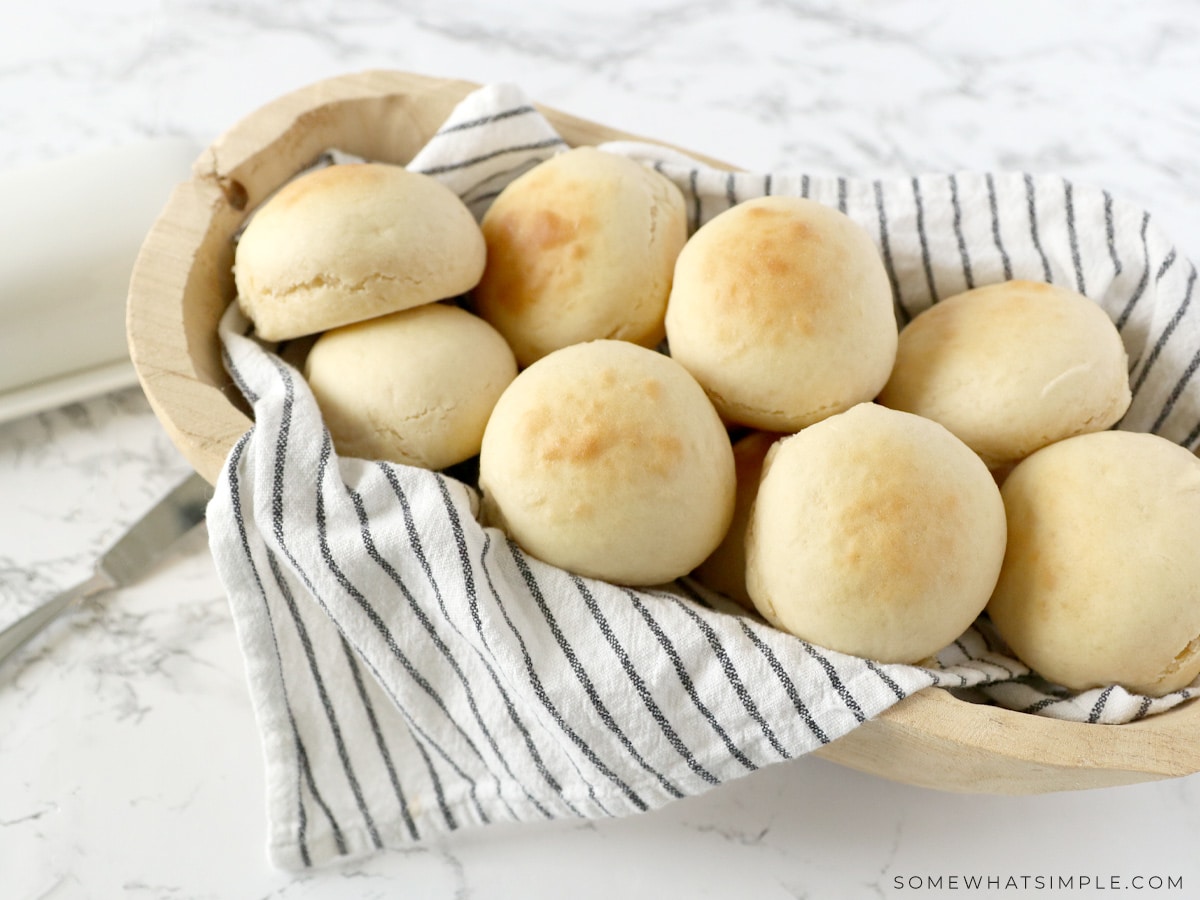 The Easiest Dinner Rolls
As much as I love cooking dinner for my family, I've never been great at baking. I do fine with recipes where measurements aren't important – a dash of this, a pinch of that – those are my jam. But baking? Those recipes have to be exact and I don't do well with those.
Needless to say, making homemade bread has always been SUPER intimidating for me. Actually, all recipes with yeast intimidate me. (Too many failed attempts over the years) But a few years ago, my friend mentioned a "fail-proof" dinner roll recipe that only takes 30 minutes to make. She said they were super delicious, but more importantly, fast and easy.
I was hesitant, but intrigued, so I gave them a try. I love them, my husband and kids love them. Our Thanksgiving guests loved them. (Yep. I even served them at Thanksgiving!!)
They kind of remind me of a Hawaiian Roll – the texture is more dough-y than fluffy, and they taste sort of sweet too!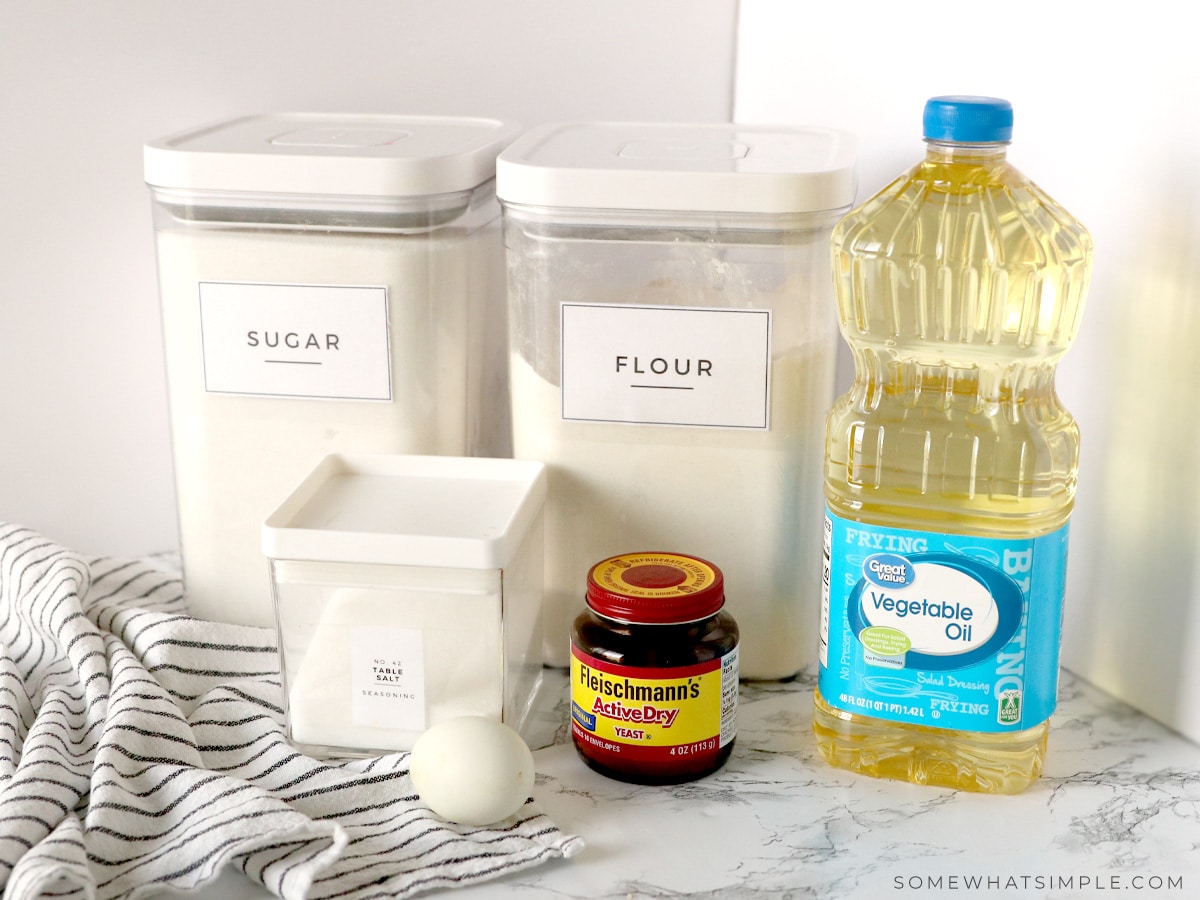 How To Make 30-Minute Dinner Rolls
Technically these dinner rolls take 35 minutes from start to finish, and while super easy to make, a batch of these homemade dinner rolls tastes just like you'd been slaving in the kitchen all day!
BASIC INGREDIENTS –
warm water
vegetable oil
active dry yeast
sugar
salt
egg
all-purpose flour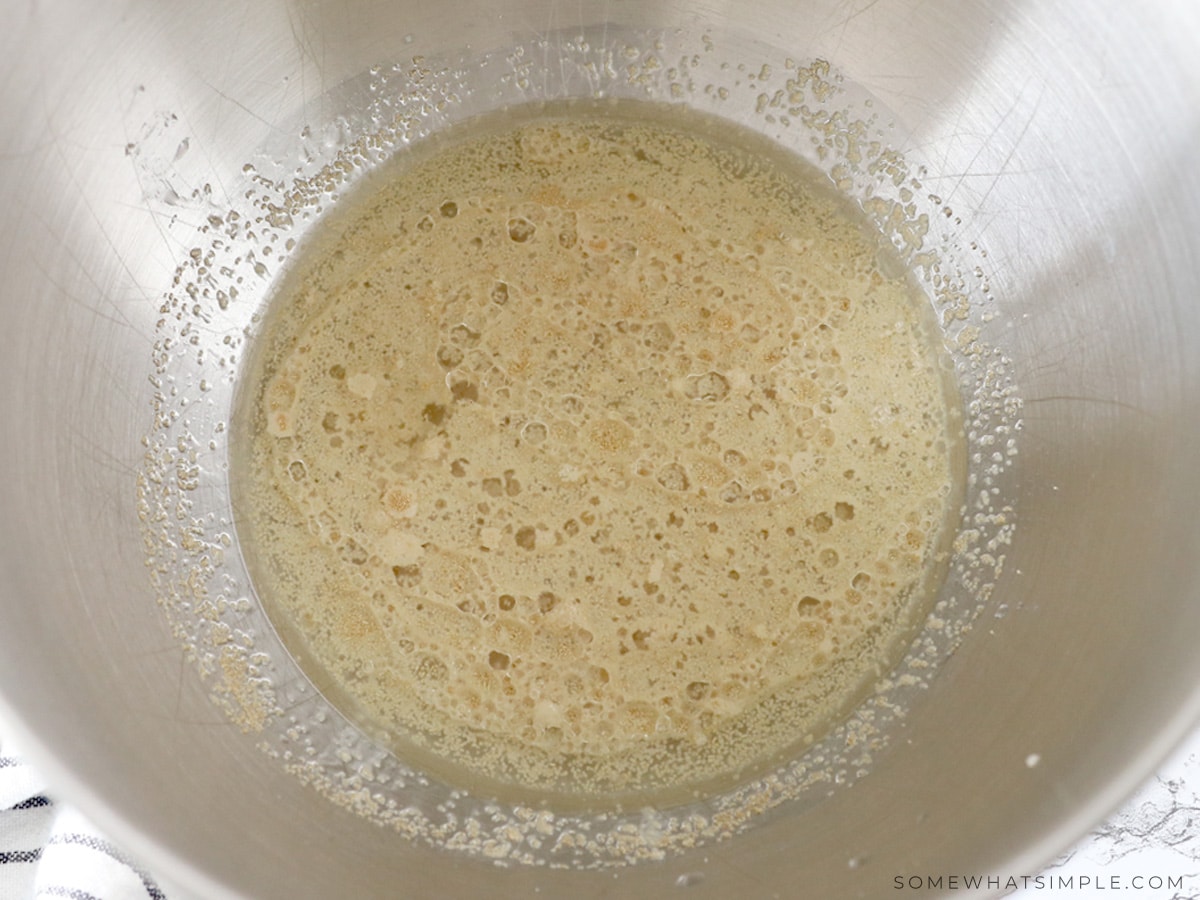 Prep – Before you get started, set your oven to 400 degrees so it's ready when you are.
Yeast Mixture – Add the yeast, warm water, oil, and sugar into the bowl of a stand mixer. Give it a good mix until everything is nicely combined, then let it rest for 15 minutes.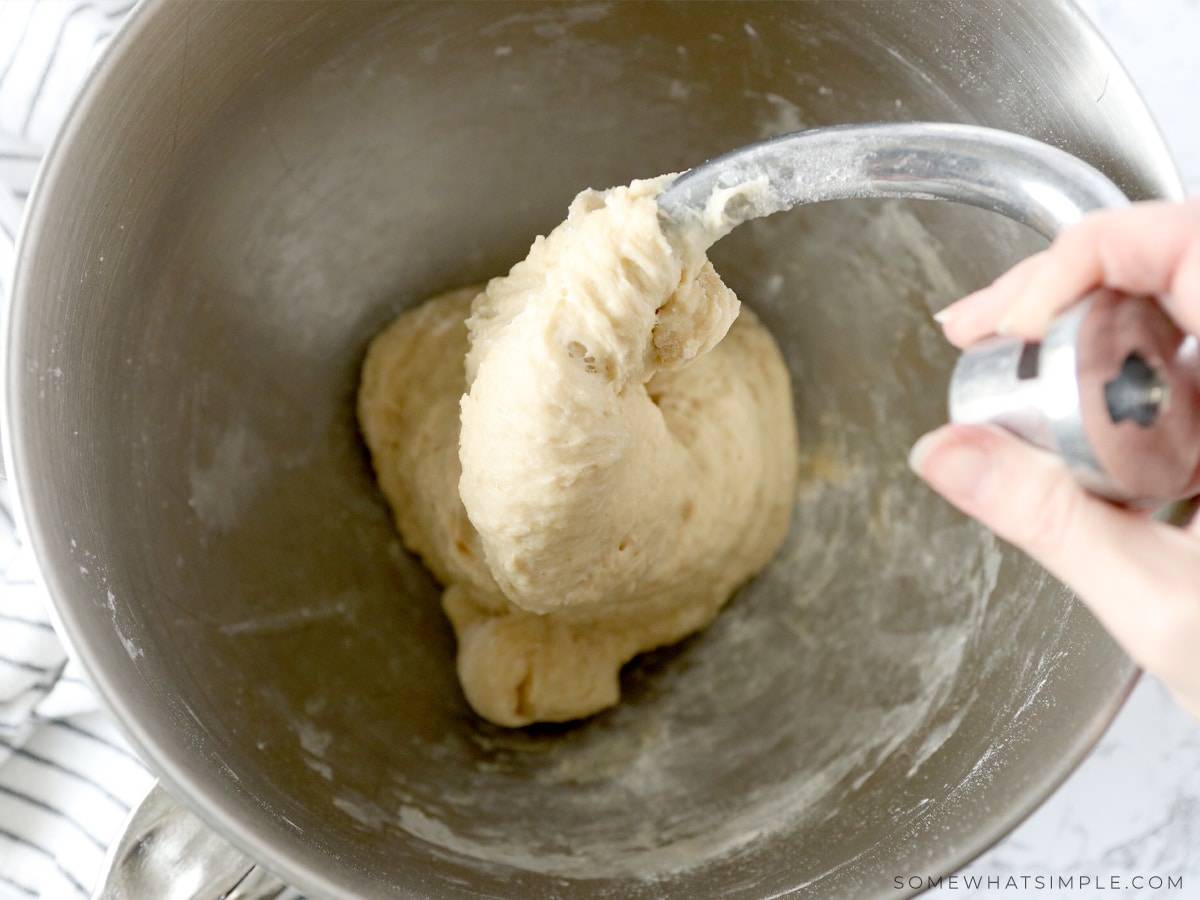 Phase 2 Ingredients – Next, add the salt, egg, and 2 cups of flour to the yeast mixture in the mixing bowl. Mix everything together using the dough hook attachment.
More Flour – Once those ingredients have been fully mixed, continue to stir the dough while adding the additional flour a 1/2 cup at a time. Let it fully mix before adding the next half of a cup. Your dough is ready when it pulls apart from the sides of the bowl and is still tacky, but not sticky. You may not use all your flour.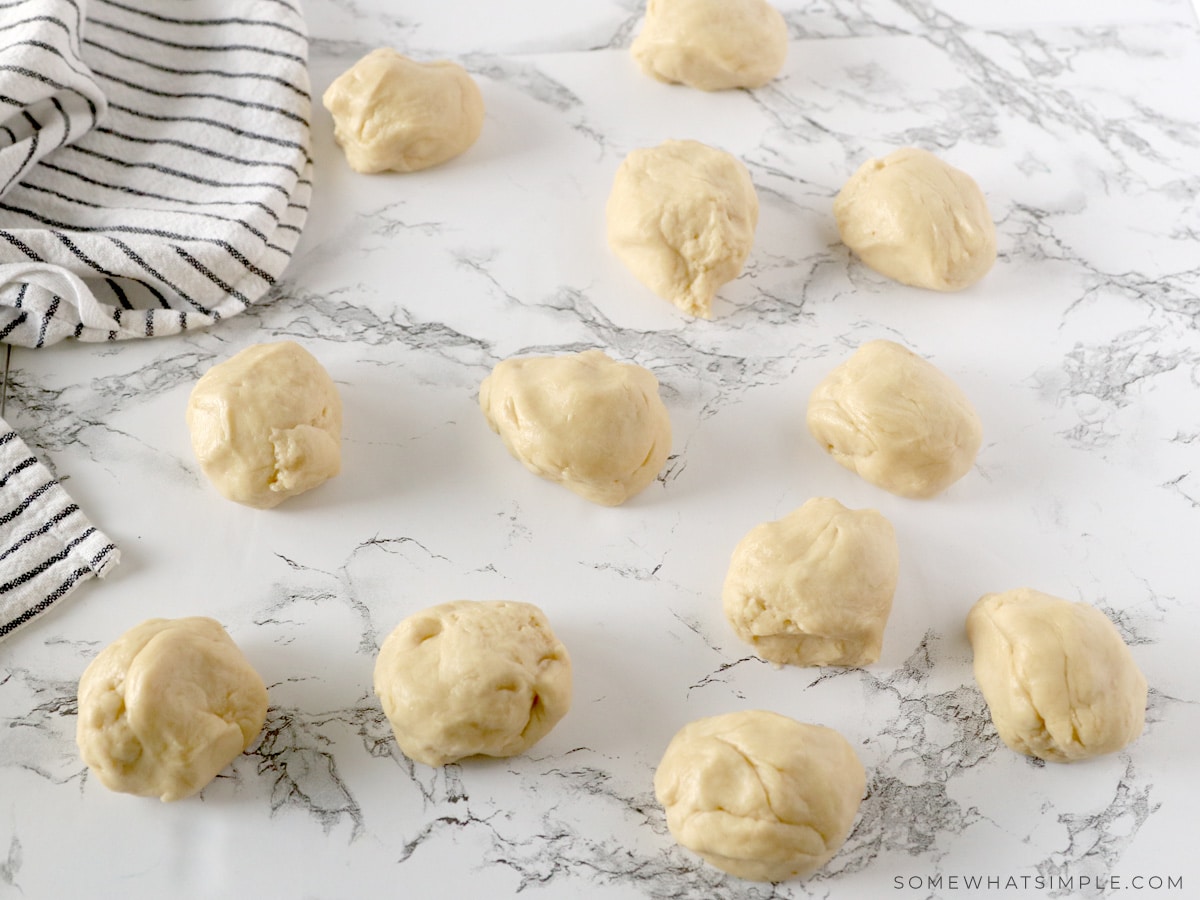 Roll It Out & Rest – Once everything has completely mixed together, roll the dough out into 12 equal-sized balls. Place them into a 9×13 baking dish and then let them rest for 10 minutes.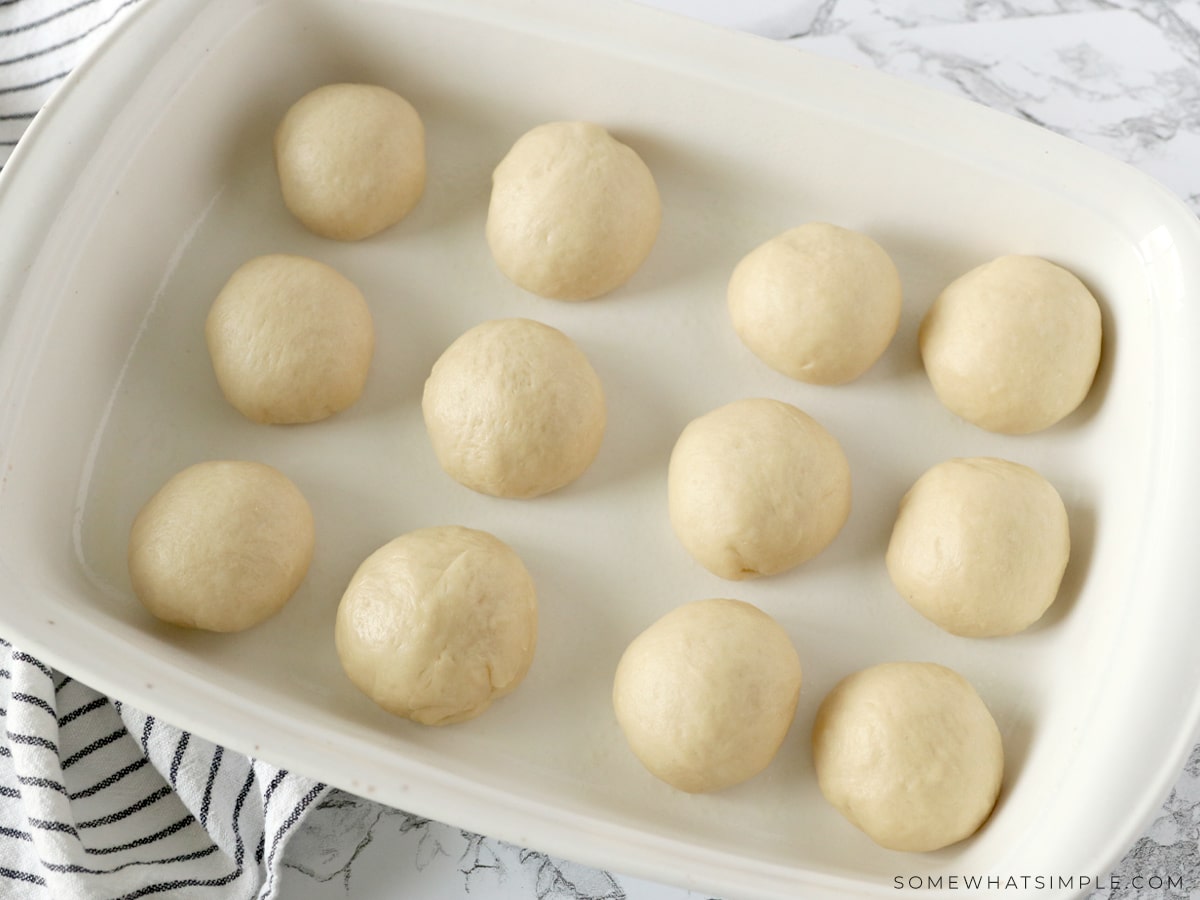 Bake – Place the dinner rolls in the oven and bake them for about 10 minutes or until they're golden brown. When they come out of the oven, you can brush melted butter on the warm rolls, or you can serve them as-is!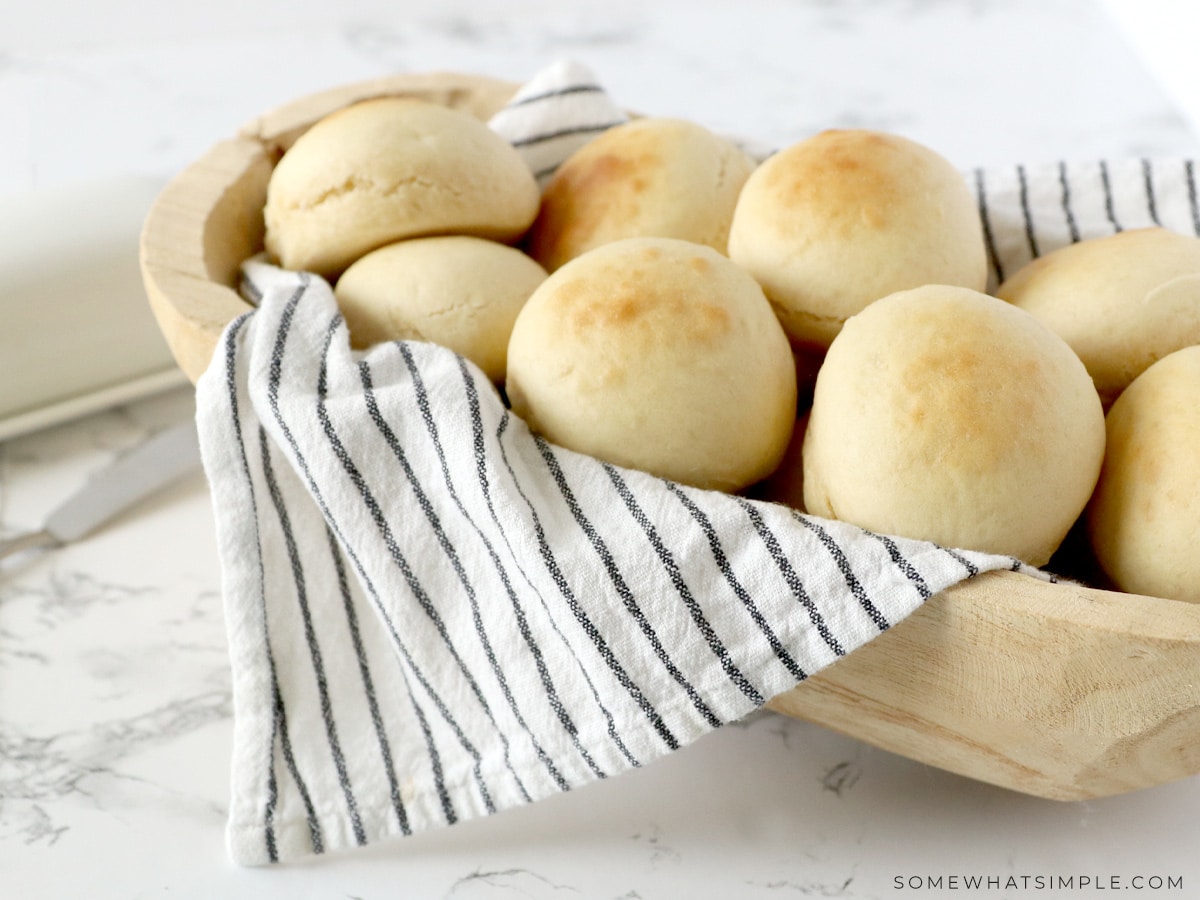 Recipe Tips
Size Matters – When making these dinner rolls be sure to roll the 12 balls of dough you place into your baking pan into equal sizes. This will ensure that they cook evenly.
The Best Toppings – After you're done making these dinner rolls, be sure to brush them with delicious whipped honey butter, blueberry butter, or seasonal pumpkin honey butter.
Reheating – If you have a few leftover and want to reheat them later, toss them in the microwave for 10-20 seconds. You could also wrap the rolls in aluminum foil and place them on a baking sheet. Heat them in the oven for about 10 minutes at 350 degrees F or until they've been heated throughout. (That method will make your house smell delicious, too!)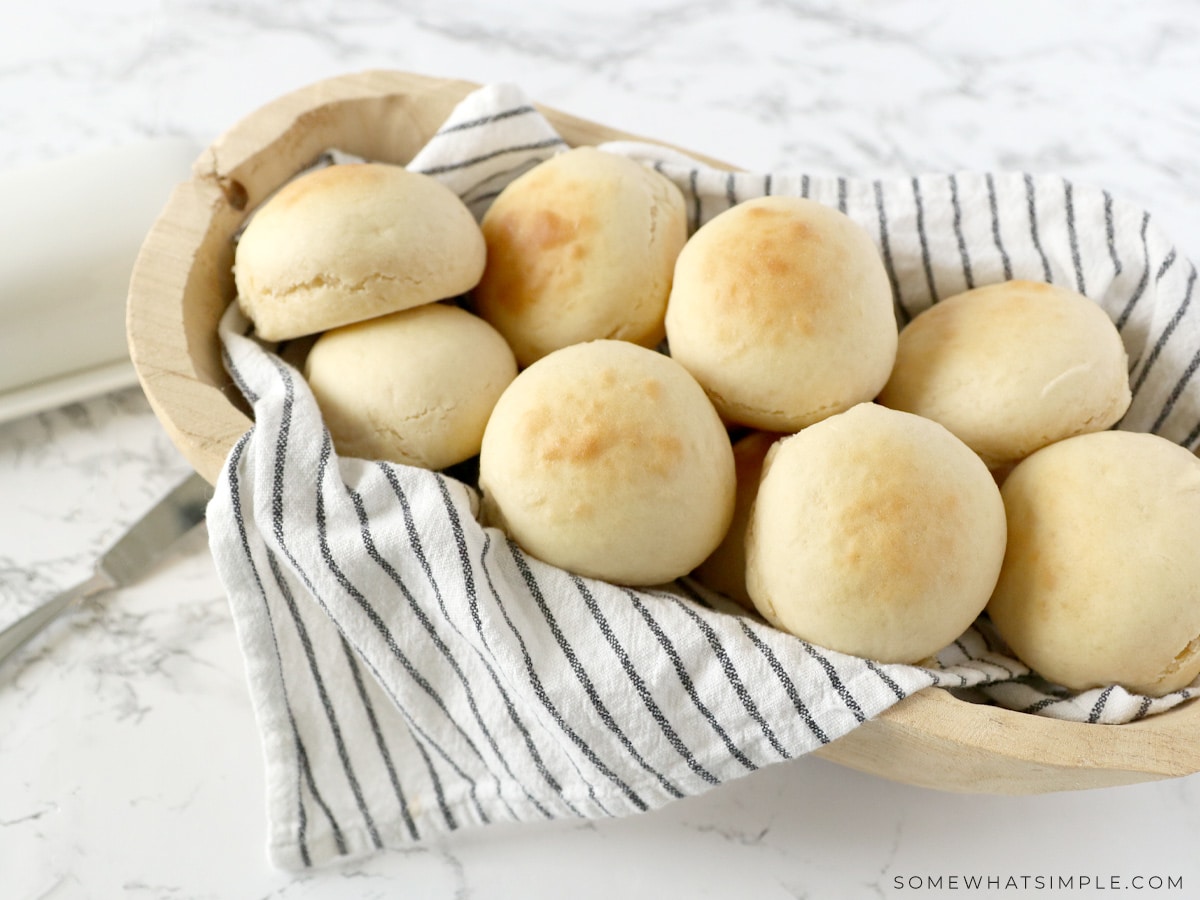 More Easy Dinner Roll Recipes
Quick Dinner Rolls Recipe
Here's a printable version of the recipe for your convenience.
This recipe has become my go-to roll recipe (ok, it's my only roll recipe!) and I am here to say that if I can make these, you can too! You can make them every day and have a delicious-smelling home all.the.time. Give them a shot and let me know your thoughts in the comments below.
30 Minute Dinner Rolls Recipe
These EASY homemade dinner rolls are fluffy and soft and are ready in just 30 minutes!
Instructions
Preheat your oven to 400 degrees.

In the bowl of your stand mixer, combine the warm water, oil, yeast, and sugar. Let the mixture to sit for 15 minutes.

Mix 2 cups of the flour with the salt and the egg into the yeast mixture using a dough hook.

Continue mixing while adding the remaining 1½ cups flour, ½ cup at a time.

Shape dough into 12 balls and place in a 9×13 pan.

Let the dough rest for 10 minutes.

Bake for 10 minutes or until tops are golden brown.
Nutrition
Serving:
1
Roll
·
Calories:
211
kcal
·
Carbohydrates:
32
g
·
Protein:
4
g
·
Fat:
7
g
·
Saturated Fat:
1
g
·
Cholesterol:
14
mg
·
Sodium:
104
mg
·
Potassium:
50
mg
·
Fiber:
1
g
·
Sugar:
4
g
·
Vitamin A:
20
IU
·
Calcium:
8
mg
·
Iron:
2
mg
Other Notes