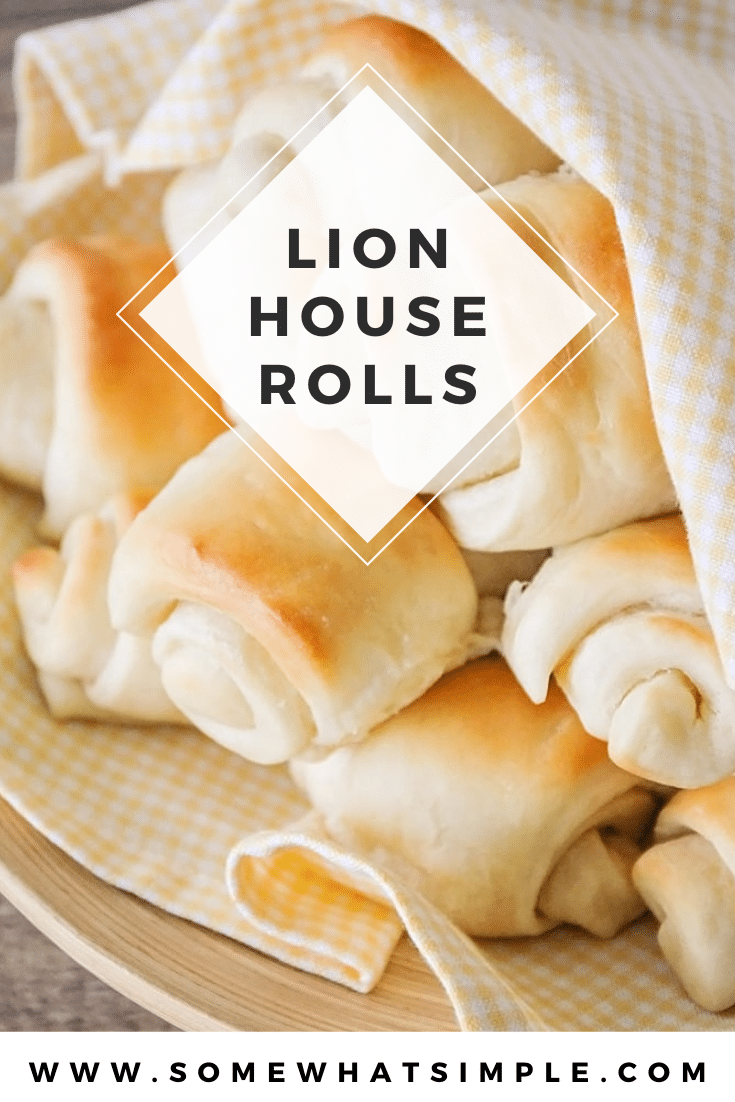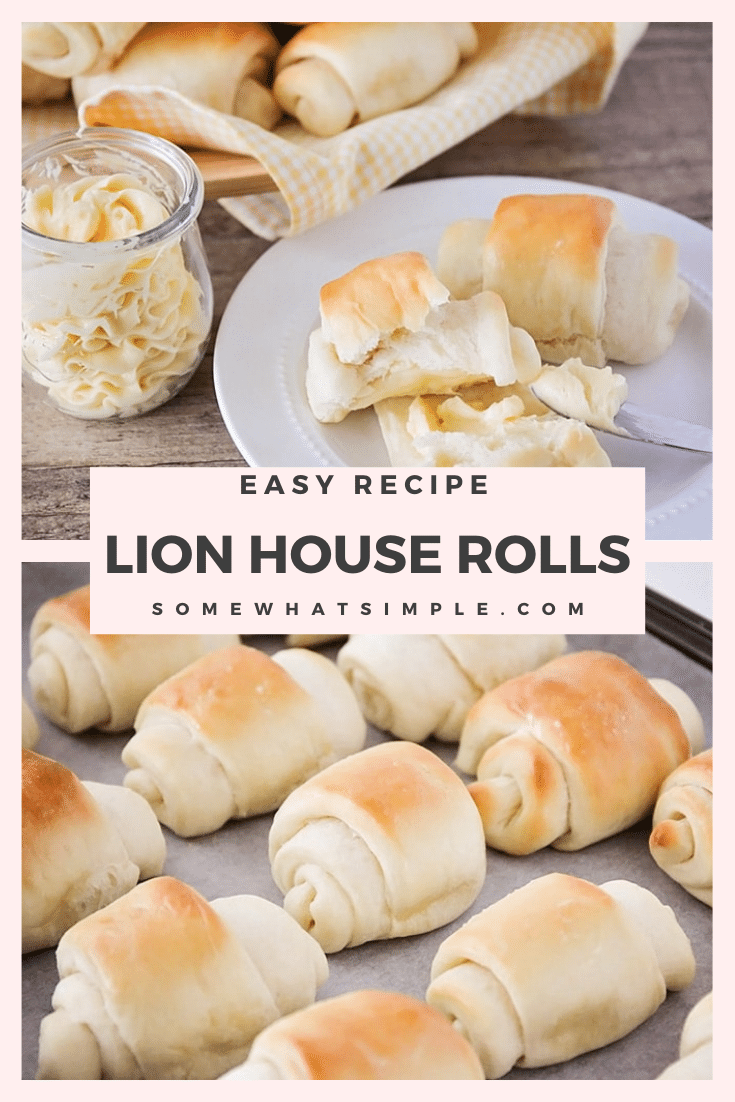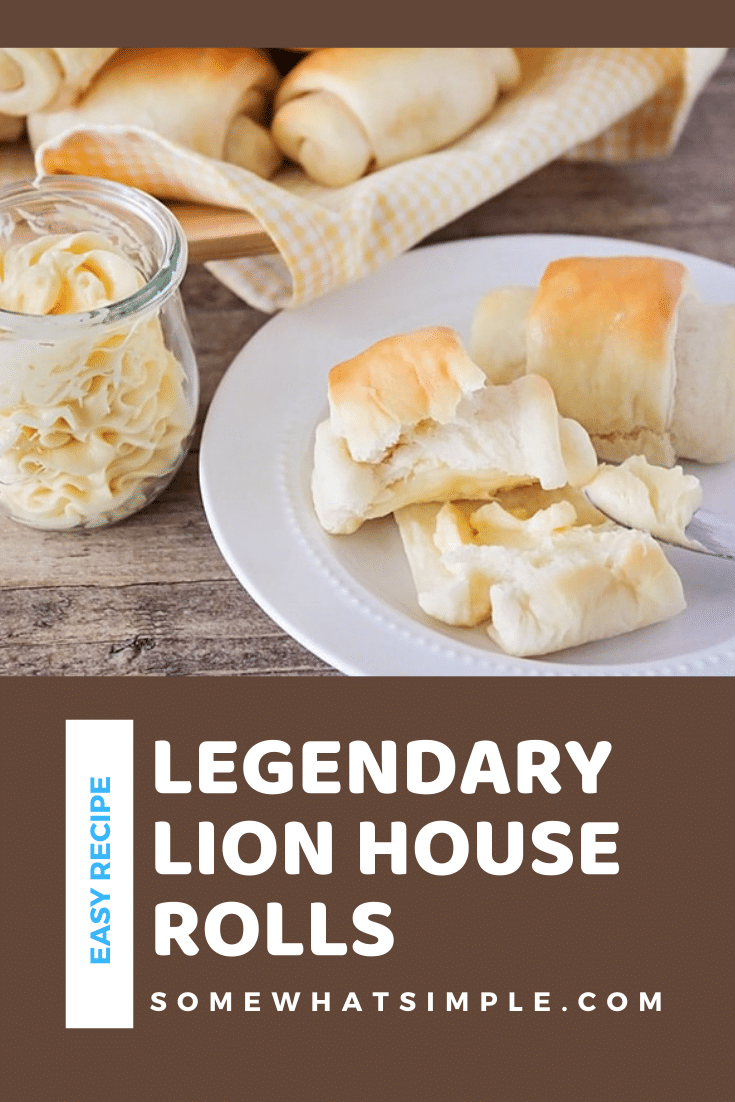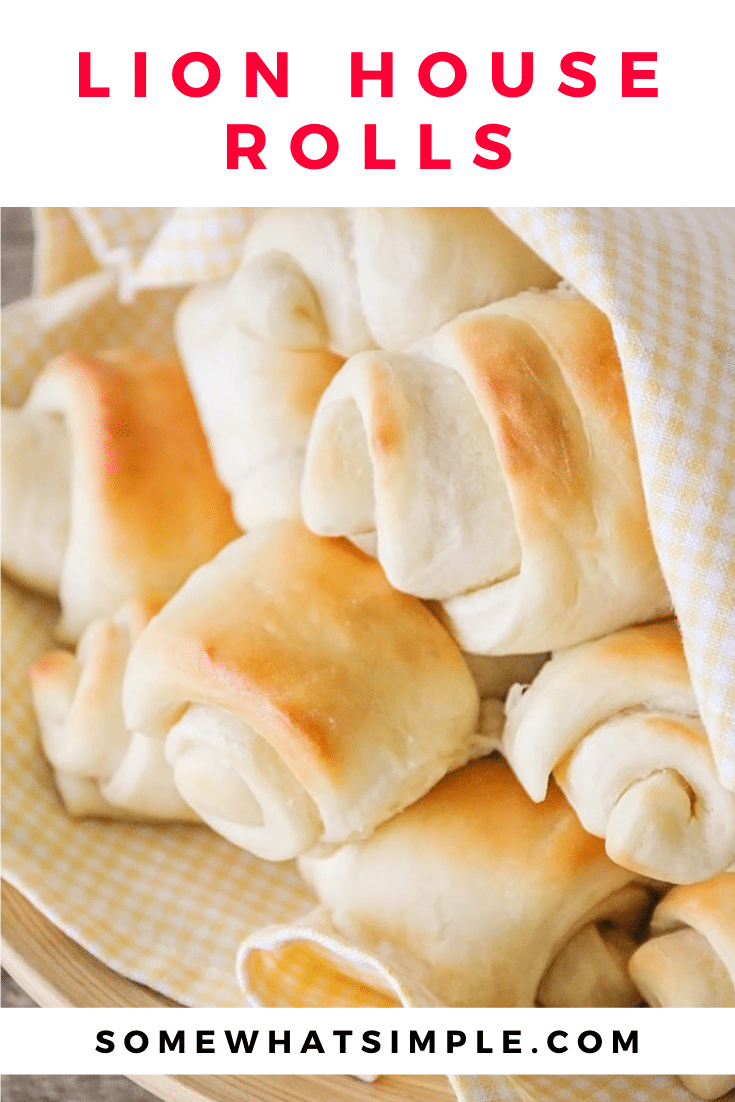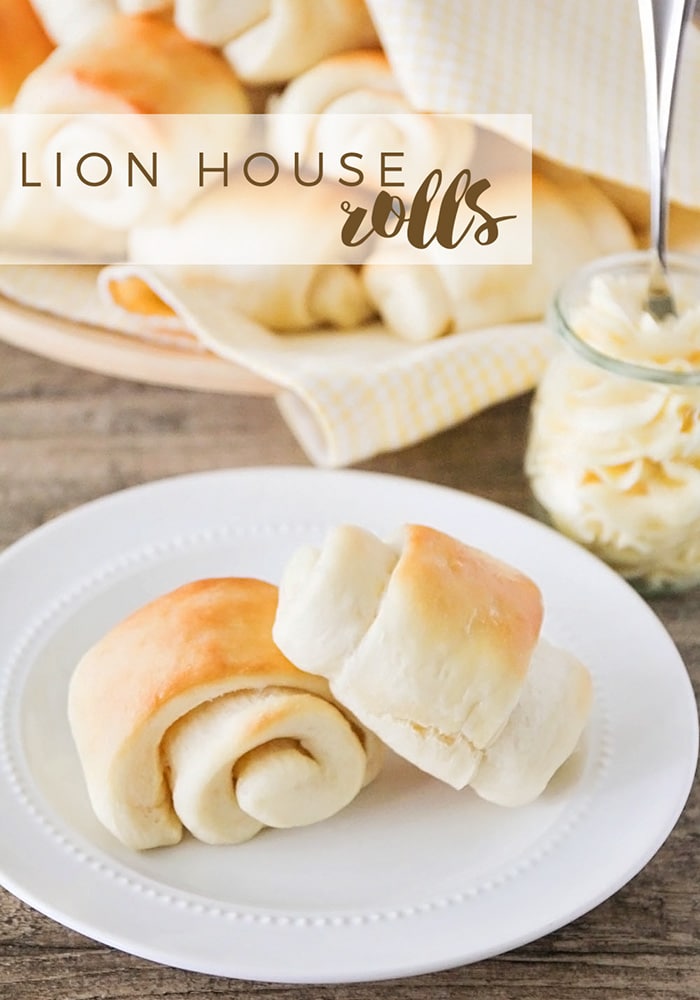 Lion House rolls are the perfect addition to any dinner or holiday meal. These legendary Lion House rolls are fluffy, DELICIOUSLY soft and sweet!
I love serving these dinner rolls during the holidays when I make a juicy Ham with a side of Cream Cheese Mashed Potatoes and Roasted Vegetables. Topped these with sweet Pumpkin Honey Butter, you won't be ale to resist them.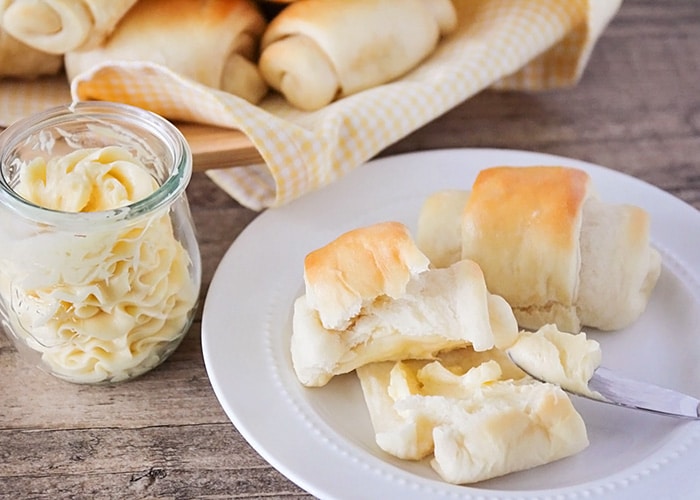 Easy Lion House Rolls
Ever since I visited the Lion House for the first time when I was a teenager, I have been in love with their rolls. They were super soft and had a hint of sweetness that made them irresistible. I just knew I had to have these dinner rolls in my life forever!
I made this copycat Lion House Rolls recipe a few nights ago, and I will shamelessly admit that I ate 3 or 4 right then and there. I actually lost count of the weekend total because I was inhaling them so fast! Warm, homemade bread is definitely my love language. 🙂 If you want to spoil yourself, be sure to top these rolls with our delicious whipped honey butter.
What Is The Lion House
The Lion House is located in downtown Salt Lake City, Utah. Built in 1856, it was the home of Brigham Young and his family. The name for the home came about because there is a statue of a lion in the front entryway of the house.
After being used for many different things over the years, a restaurant is currently operated on the first floor and they are famous for their dinner rolls.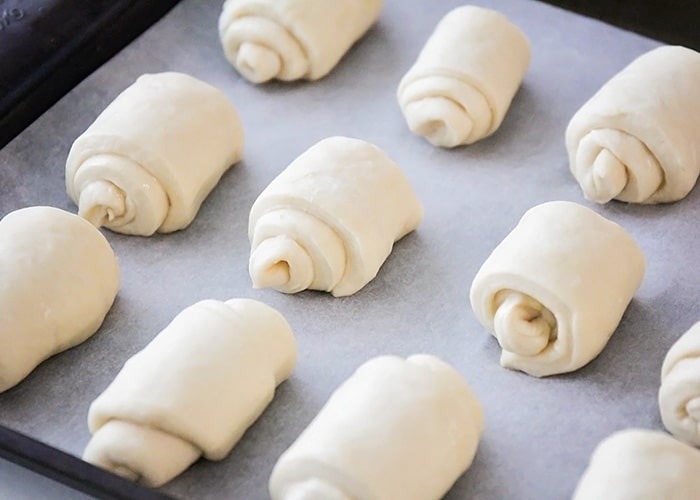 Ingredients You'll Need
Warm water
Instant nonfat dry milk
Dry yeast
Sugar
Salt
Butter
Egg
All purpose flour
How To Make Lion House Rolls
Get Started – You'll want to start by mixing the warm water with the milk powder until it has completely combined. Continue to beat the mixture until the milk powder has dissolved.
Yeast – Next, you'll want to add in the yeast while the water mixture is still warm. Then let it site for a few minutes and let the yeast react.
More Ingredients – Then you'll add in the butter, egg, sugar, salt and two cups of flour.
Stir – I used a kitchen mixer to mix everything together. I put the mixer on the low speed and kept going until everything became wet.
Faster – Once everything is wet, I turned the mixer to medium and mixed for an additional two minutes.
More Flour – Add in three additional cups of flour and then mix again using the low speed. Once everything is wet, put it back on medium for another two minutes. Right about now the dough should start to stiffen.
A Little Bit More – Add in another half of a cup of flour and keep mixing until the dough gets soft. At this point the dough should start to pull away from the sides of the mixing bowl.
Oil – Now scrape the dough away from the sides of the bowl and then pour a tablespoon of oil around the sides of the bowl. Flip the ball of dough over so that it's covered in the oil.
Rise – Put plastic wrap over the bowl and then set it in a warm place to let the dough rise. You'll want to let it sit until the dough has doubled in size.
Roll Out – Dump the dough onto a floured surface and then roll it out until it's about a quarter of an inch thick. Then brush the top of the dough with some melted butter.
Divide – Cut the dough into smaller rectangle shapes. Mine were about 2″ x 4″.
Roll Up – Roll up each rectangle piece of dough and set it on your prepared baking sheet.
Rest Again – Throw a kitchen towel over the rolls and put them back in a warm spot to rise. Let the rolls should double in size again. They should take between an hour to an hour and a half to double.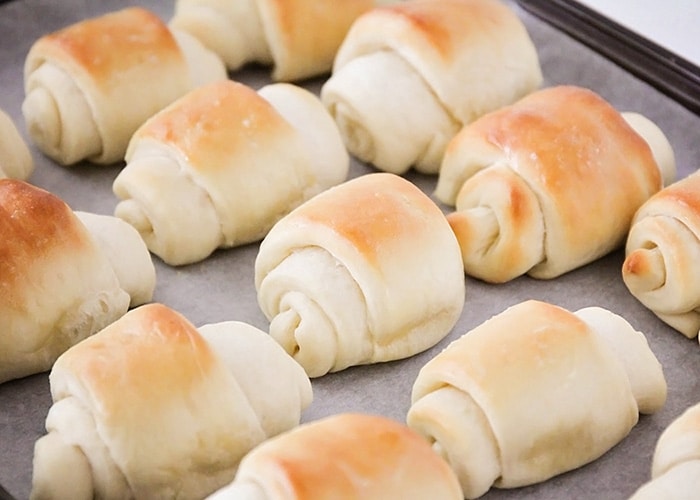 Cook – Bake the Lion House rolls for about 15-20 minutes or until they're a beautiful golden brown color.
Finish & Serve – I like to brush the tops with some melted butter while they're still hot. I love to serve them with my famous Whipped Honey Butter.
Video – Here is a video from one of the Lion House bakers to see their method on rolling the rolls. I haven't mastered this yet, but I am not opposed to baking these every week until I get it right! 🙂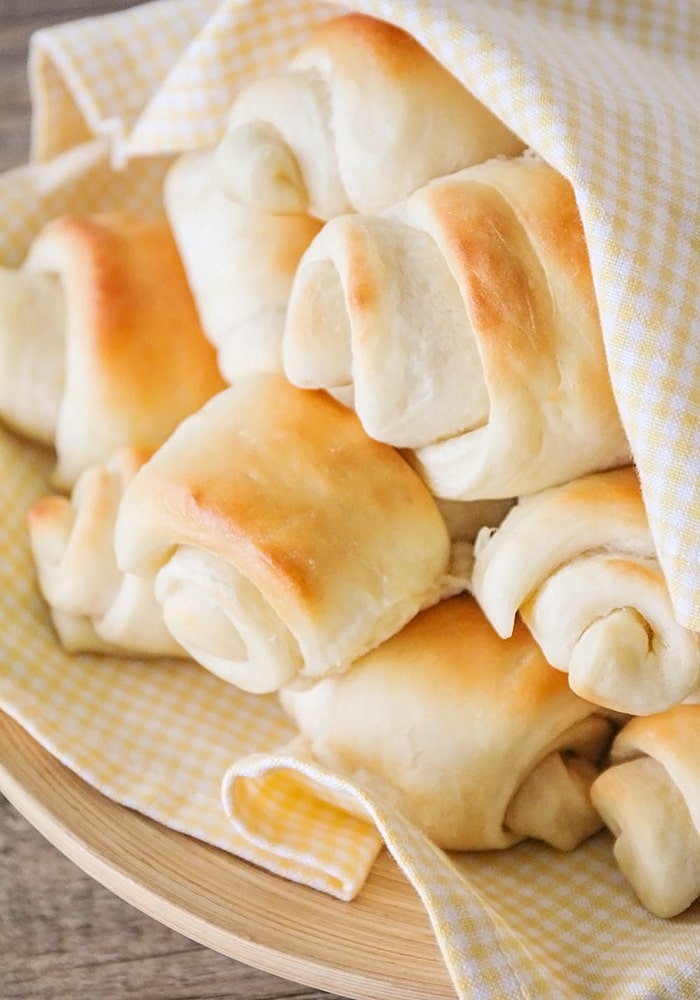 Can You Freeze Lion House Rolls
How To – Yes, you can freeze these rolls and enjoy them later. As you can see, this recipe takes a little bit of time to make, so I like to make a couple of batches and then freeze some for later. Once the bread has completely cooled, place them into airtight, freezer safe containers and then put them in the freezer.
How Long – These can be kept frozen for up to 6 months but be sure to write the date on the before freezing so you don't forget when the clock started ticking. These thaw quickly, so when you're ready to use them, just pull them out of the freezer and leave them on the counter for about an hour and they'll be ready to go.
More Delicious Bread Recipes
Go ahead, give these legendary Lion House rolls a try. Leave us a comment below and let us know if you're as addicted to these as I am or tag us on social media after you make them because we love to see what you've been up to in the kitchen!
Lion House Rolls Recipe
If you are looking for new roll recipe for Thanksgiving…look no further! These Lion House Rolls are DELICIOUSLY soft and sweet!
Ingredients
2

cups

warm water

⅔

cup

instant nonfat dry milk

2

Tablespoons

dry yeast

¼

cup

sugar

2

teaspoons

salt

⅓

cup

butter

1

egg

5-5½

cups

all purpose flour

1/4

cup

melted butter

,

approx. for brushing the rolls after they are done baking
Instructions
In a large bowl, combine water and milk powder. Beat until the milk dissolves.

Add yeast while this mixture is still warm and let it react for a couple minutes.

Add sugar, salt, butter, egg and 2 cups of flour. Mix on low speed until ingredients are wet, then turn to medium speed and mix for 2 minutes.

Add 3 more cups of flour.

Mix on low speed until the ingredients are wet, then turn mixer on medium speed and mix for 2 minutes. The dough will start to stiffen.

Add ½ cup of flour and mix again until the dough is soft – not sticky or stiff. It should be pull away from the sides of the mixer.

Scrape the dough off the sides of the bowl and pour approximately one tablespoon of vegetable oil all around the sides of the bowl. Turn the dough over in the bowl so it is covered with the oil. (This helps prevent the dough from drying out.) Cover with a kitchen towel or plastic wrap and allow to rise in a warm place until double in size.

Sprinkle a flat work space with flour and put the dough on the flour.

Roll the dough into a rectangle about ¼ inch thick and brush with melted butter.

Cut the rectangle into smaller rectangles that are 2″ x 4″ – a little smaller than a dollar bill.

Roll each rectangle and place on a greased baking pans.

Cover again with a kitchen towel and place them in a warm area until the rolls are double in size (approx. 1-1½ hours).

Bake in a 375-degree oven for 15-20 minutes or until they are browned to your satisfaction.

Brush with melted butter while hot.
Nutrition
Serving:
1
roll
·
Calories:
168
kcal
·
Carbohydrates:
26
g
·
Protein:
5
g
·
Fat:
5
g
·
Saturated Fat:
3
g
·
Cholesterol:
19
mg
·
Sodium:
257
mg
·
Potassium:
100
mg
·
Fiber:
1
g
·
Sugar:
4
g
·
Vitamin A:
225
IU
·
Vitamin C:
1
mg
·
Calcium:
52
mg
·
Iron:
1
mg
Other Notes