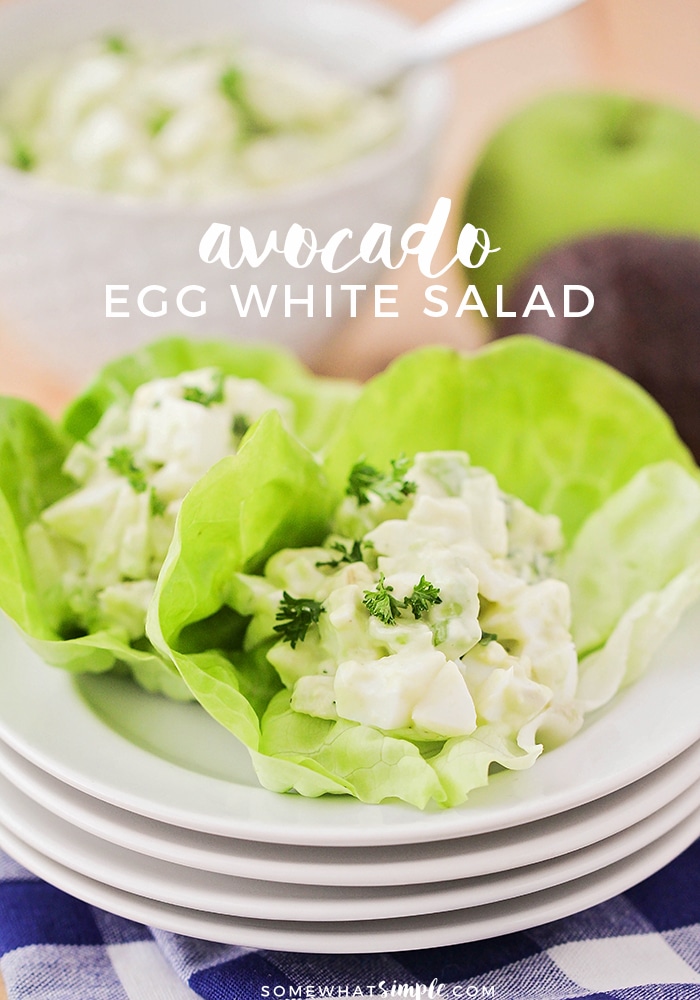 Are you looking for a delicious twist on a classic egg salad recipe? This avocado egg salad is fresh, easy to make and super delicious!
This tasty side dish is a perfect option to serve at a Summer BBQ. A few of my other favorite salads to make are these Potato Salad, Italian Dressing Pasta Salad or Caprese Pasta Salad recipes.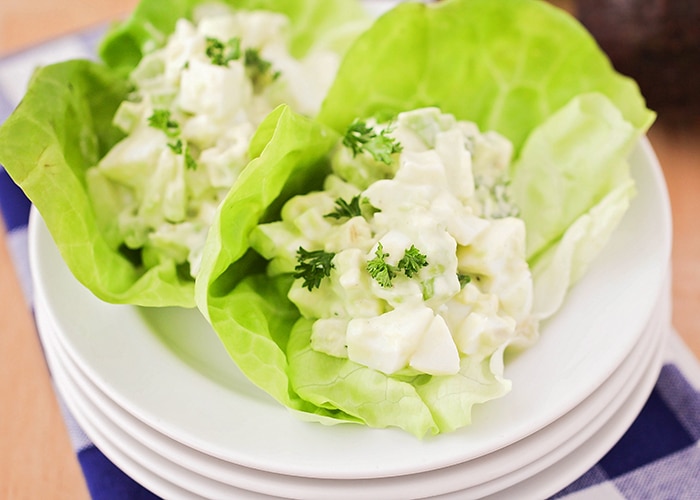 Egg Salad With A Twist
One of my favorite things to eat when the weather warms up is a sandwich made with a Classic Egg Salad. While I am a huge fan of traditional recipes, this avocado egg salad just might change the way you make egg salad forever! It has the creamy flavors of the egg and mayonnaise we know and love, but it also has a crunchy texture from the celery and apples.
This recipe also has a tart edge to it that will make your taste buds verrrrry happy! This avocado salad is perfect for spring and summer when you're looking for a delicious meal that won't heat up your entire kitchen!
How To Make An Avocado Egg Salad
The key to a great egg salad is having hard boiled eggs are perfect. If you're like me and can't remember how to do it, you can either Boil Eggs over the stove or This Method using an Instant pot.
Prepare The Eggs – Once the eggs are cool enough to handle, you'll want to peel them and then remove the yolks.
Chop & Prep Ingredients – After the eggs are ready, you'll want to chop them and the celery, avocado and apple into small pieces that are about a quarter to a half an inch big.
Mix It Together – Combine all of the ingredients together in a large mixing bowl and then gently toss until everything has combined.
Best Served Cold – While you can serve immediately, I prefer to eat this avocado egg salad once it has had time to chill in the fridge.
Storage & FAQs
Healthy Way To Serve – While I like to enjoy it on toast or a buttery croissant, but my favorite way of eating this particular avocado egg salad is wrapped up on lettuce. It is so refreshing, and one of my favorite healthy avocado recipes!
Can I Substitute The Mayo – Yes, you can substitute mayonnaise if you have a dietary restriction or just don't like the taste. A couple popular substitutes are cottage cheese, hummus or Greek yogurt.
Can I Freeze Avocado Egg Salad – Technically you can freeze this avocado salad but I wouldn't recommend it. While the ingredients will stay fresh, once it thaws, the texture of the eggs and mayo will change and it isn't something that I find appealing.
How To Store It – Egg salad can stay fresh in the fridge for up to 5 days if stored properly. Also, you don't want to leave it out at room temperature for more than 2 hours. If it's been out longer, the mayo can go bad, so you'll want to toss it.
More Healthy Avocado Recipes
Avocado Egg Salad Recipe
Avocado Egg Salad
Looking for a twist on the classic egg salad recipe? This Avocado Egg Salad is fresh, filling and super delicious!
Ingredients
6

hard-boiled egg whites

,

chopped into 1/2-inch pieces

1

rib celery

,

cut into 1/4-inch pieces

1

avocado

,

cut into 1/2-inch pieces

1

Granny Smith apple

,

cored and cut into 1/4-inch pieces

2

tablespoons

mayonnaise

,

I use light mayo

1

tablespoon

parsley

,

chopped

2

teaspoons

lemon juice

pinch

of cayenne pepper

1/2

teaspoon

coarse salt

1/4

teaspoon

freshly ground pepper

Butter lettuce

,

for serving
Instructions
Place all ingredients except lettuce in a large bowl.

Gently toss until well combined.

Serve wrapped in lettuce leaves.
Nutrition
Other Notes