This shrimp tomato avocado salad is fresh, easy and downright delicious. 
This salad is not only full of great flavors, but if you use precooked shrimp, it doesn't even require turning on the stove! It is the perfect recipe for warmer weather for spring and summer evenings. We often serve it simply with just a squeeze of lime, but it is really tasty with multigrain or sweet potato chips if you want a little crunch!
Shrimp Tomato Avocado Salad
INGREDIENTS:
12 ounces Shrimp, peeled, deveined, tail-off* 

1 pint Grape Tomatoes, halved
2 Green Onions, sliced
1 medium Jalapeño pepper, diced (leave in seeds and ribs for more heat)
2 teaspoons Raw Sugar or Granulated Sugar
1 teaspoon minced Ginger
Juice of 1 lime
1 Tablespoons Fish Sauce**
1 Avocado, diced
1/2 cup Cilantro
1 teaspoon Sriracha (optional)
Salt and Pepper, to taste
Lime wedges for serving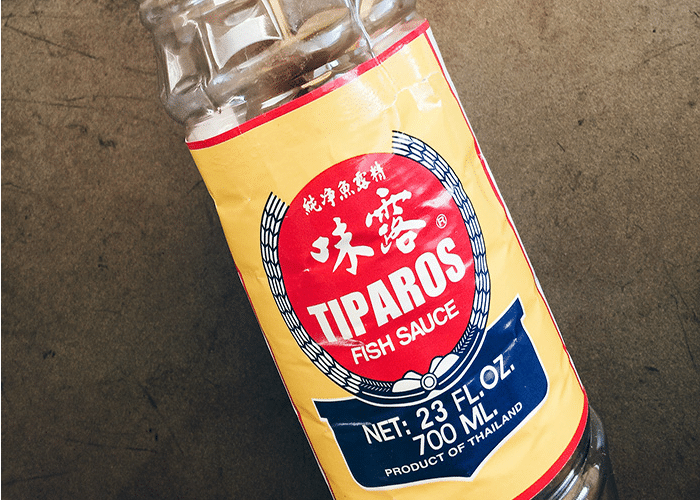 NOTES: 
*You can use precooked shrimp, or cook over the stove simply with lemon pepper until pink.
**Fish sauce is an ingredient that adds a ton of flavor and interest to a dish. It's salty, much like soy sauce, but with a different flavor profile. Don't be alarmed at the strong smell…the complexity and flavor is unmatched. Additionally, it can be sprinkled over steamed rice, added to soy sauce for dipping, or stirred into broths for soup.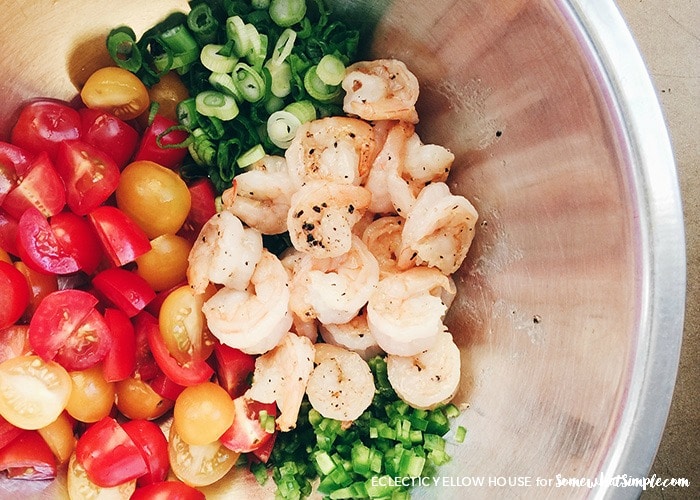 DIRECTIONS: 
Roughly chop shrimp into bite sized pieces, about the size of the tomatoes. Combine shrimp, tomatoes, green onions, and jalapeño in a large bowl. 

Add in the sugar, ginger, lime juice, and fish sauce*. Stir to combine.
Add in the diced avocado and cilantro, and combine gently. Season with Sriracha and additional salt and pepper to taste. Serve with chips, if desired and lime wedges.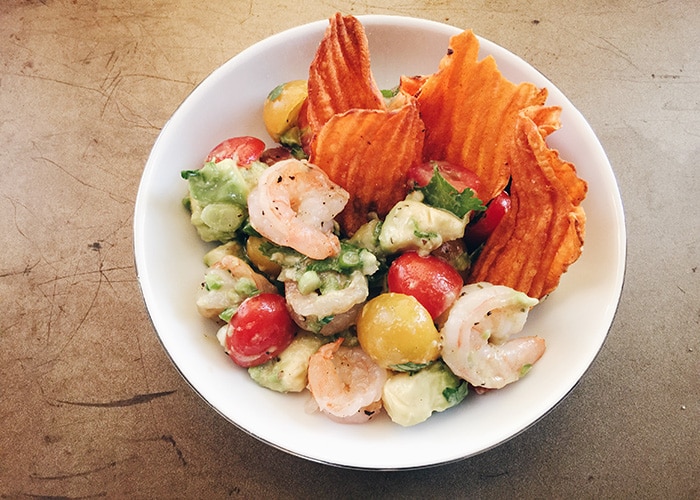 This salad is also fantastic with extra veggies. We've added sweet corn kernels, diced red and green bell peppers, diced cucumber, and even matchsticks of crunchy jicama, and they've all worked really well. If you want to take it up a level, serve this salad in leaves of romaine or butter lettuce for an insanely tasty lettuce wrap.
Enjoy!