This creamy pasta salad is a family favorite! It is simple to toss together and the flavor is amazing!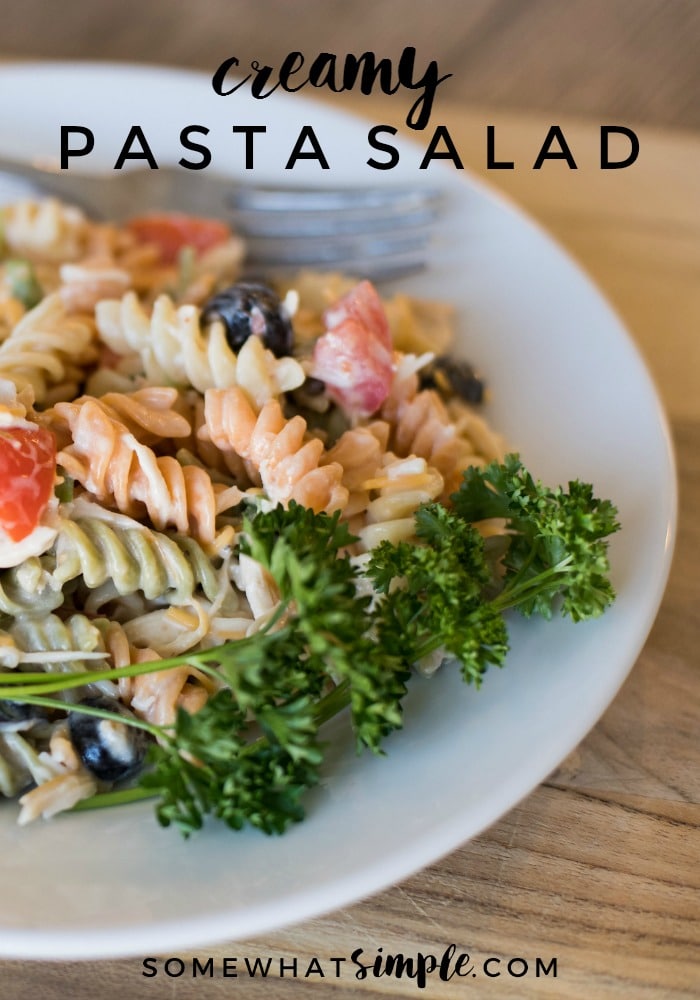 Any pasta salad lovers out there? If not, you can leave. (wink)
This creamy pasta salad has been making its presence known in my house for probably 10 years or so. I make it for every summer BBQ and probably serve it as a side-dish for a casual weeknight dinner probably once a month. It is so dang delicious!
Just like any pasta salad recipe, this one is easy to prepare and you can throw in whatever ingredients you love or have on hand!
Here is the simple recipe –
Creamy Pasta Salad
Required Ingredients:
You'll notice I'm not adding any measurements to this ingredient list, and that's simply because you should adapt this to your liking! Do you like your pasta salad full of veggies? Add a ton! Do you want your noodles extra wet? Add more dressing! This pasta salad aims to please! 
Pasta – I like the color and texture of Rotini pasta, but you can use whatever you'd like!
Zesty Italian Dressing
Creamy Caesar Dressing
Favorite Mix-Ins:
sliced olives
diced tomatoes
meat – shredded chicken, sliced lunch meat, pepperoni/salami etc.
shredded Cheddar cheese
shredded Parmesan cheese
Directions:
Cook pasta according to package directions and let it cool completely! (I usually rinse it under cold water.)
Add the cooled pasta to a big salad bowl, then mix in equal parts of the Italian and Caesar dressings. Add as much or as little as you'd like! Mix well.
Add your desired meats and veggies then mix well. Taste your pasta and add more dressing if you need to.
Lastly, add your shredded cheese.
Serve immediately or refrigerate until you're ready!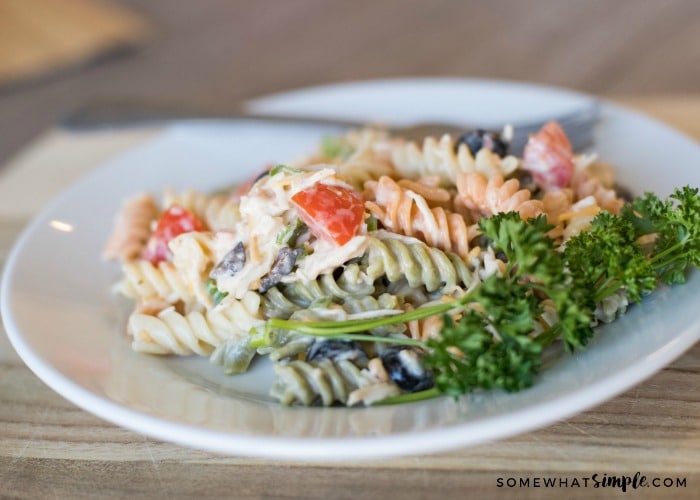 Enjoy!
Love this recipe?  Check out some of our other favorite recipes!

Chicken Bacon Ranch Pasta // Bruschetta Chicken Dinner // Honey Lime Chicken Enchiladas
This post originally published on Somewhat Simple in May of 2013. 
Hack Your Routine!
FREE E-COURSE
5 Time-Saving Tips for Crazy Busy Moms