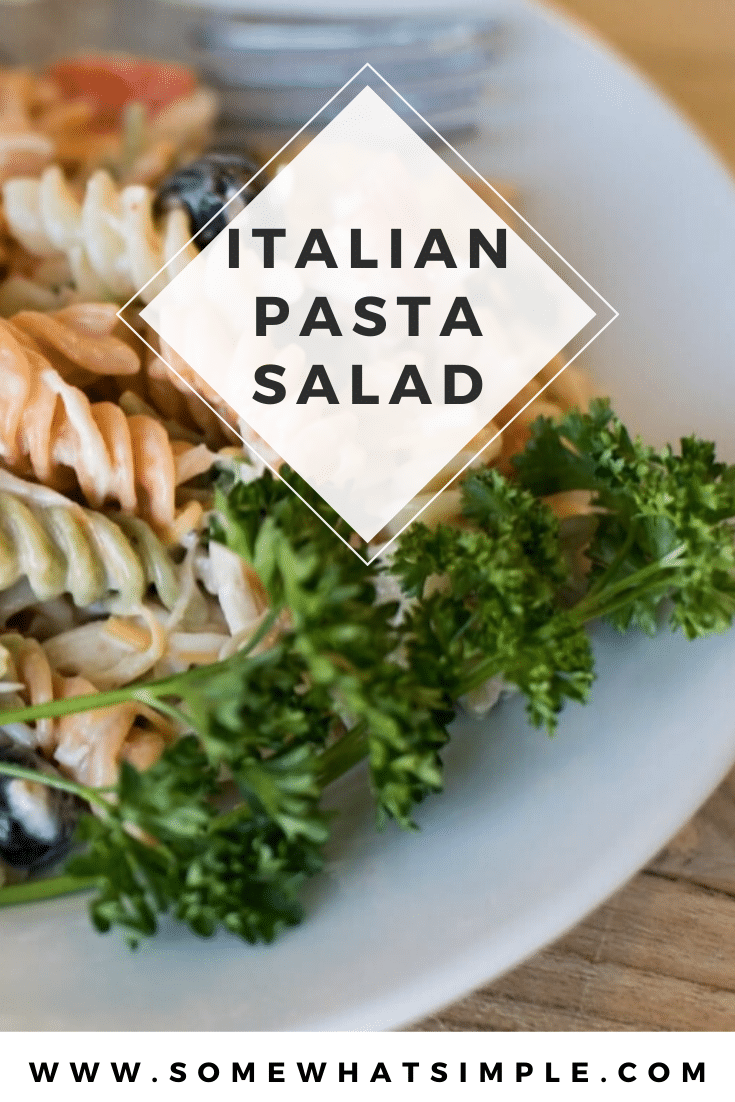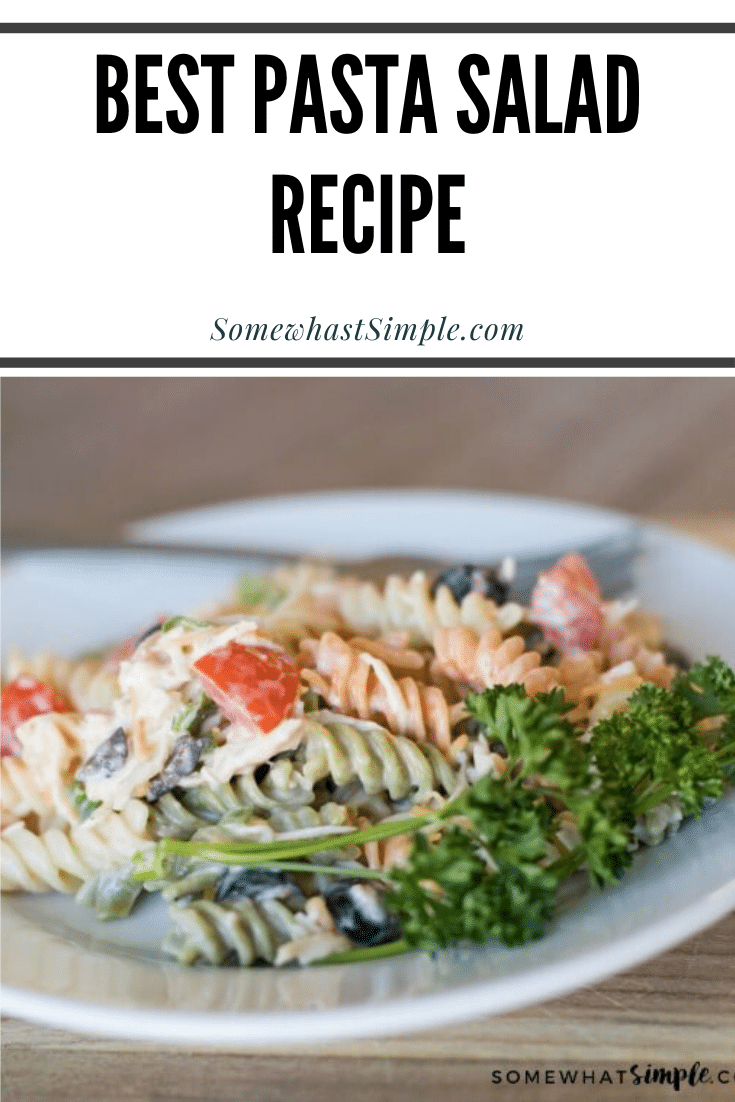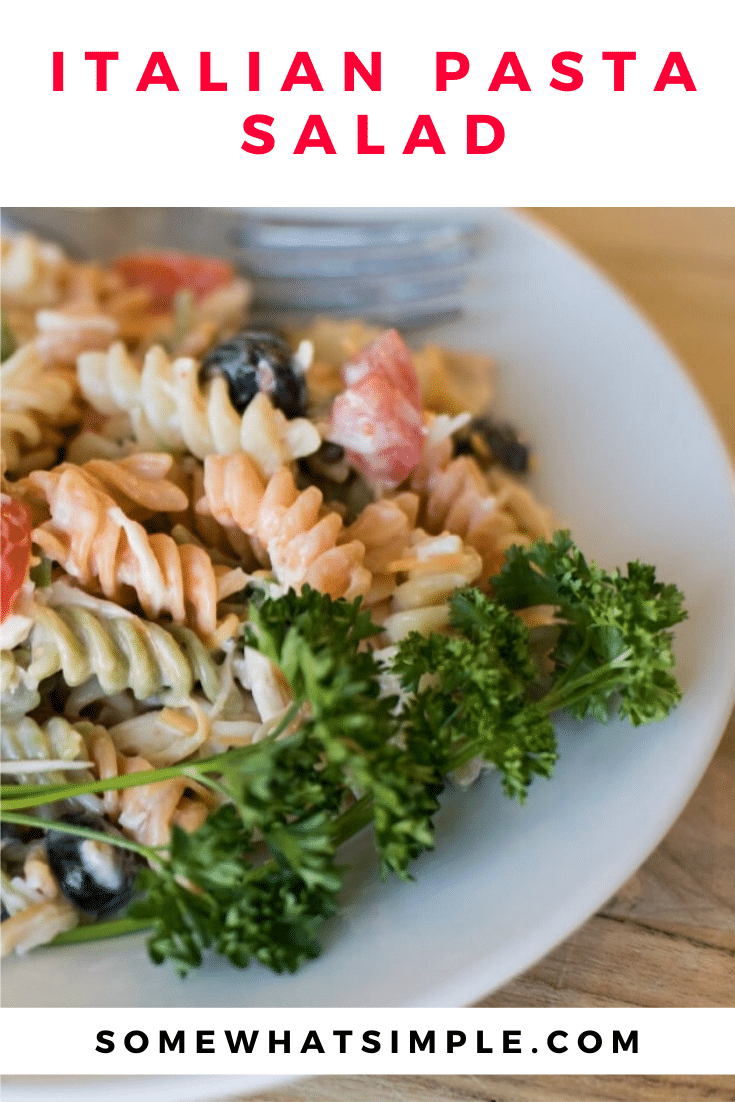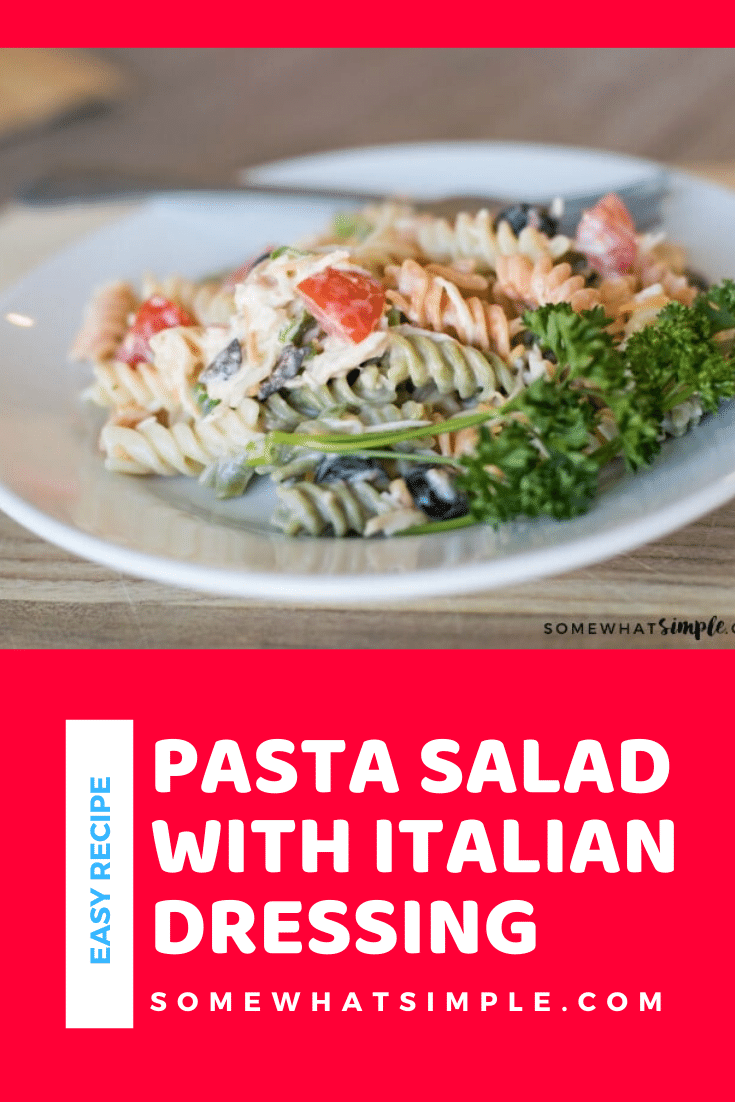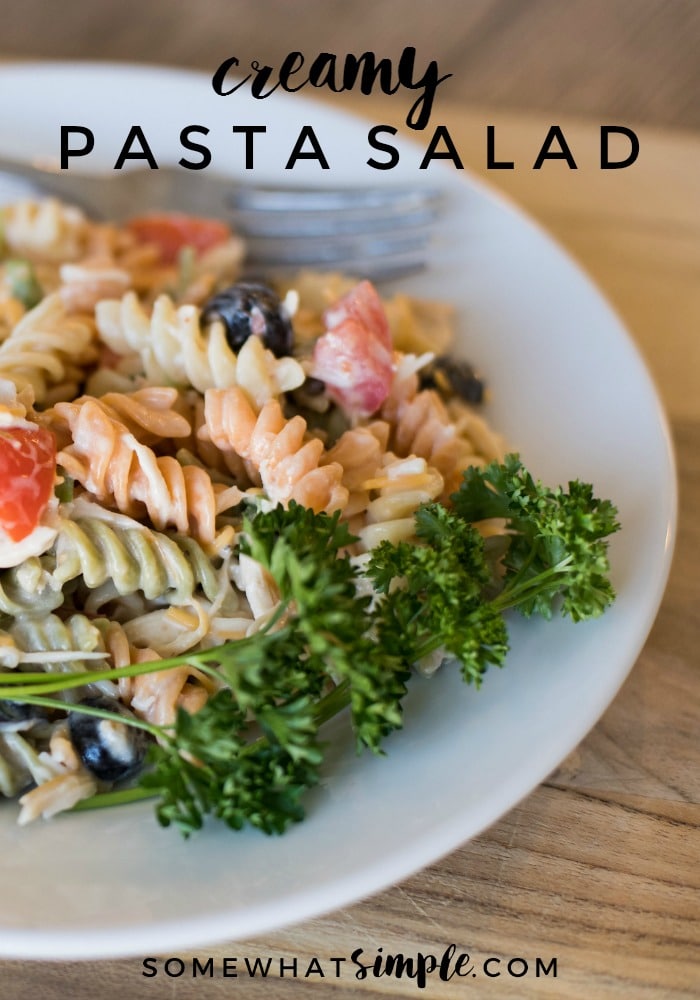 This delicious pasta salad recipe made with Italian dressing has quickly become a family favorite! It is one of the easiest recipes to make and the flavor is amazing! Simply cook the pasta and toss in a few basic ingredients and you're ready to go.
This pasta salad is a perfect side dish to serve at your next BBQ. Some of my other favorite summer sides are this Potato Salad, Sweet Potato Fries and Coleslaw recipes.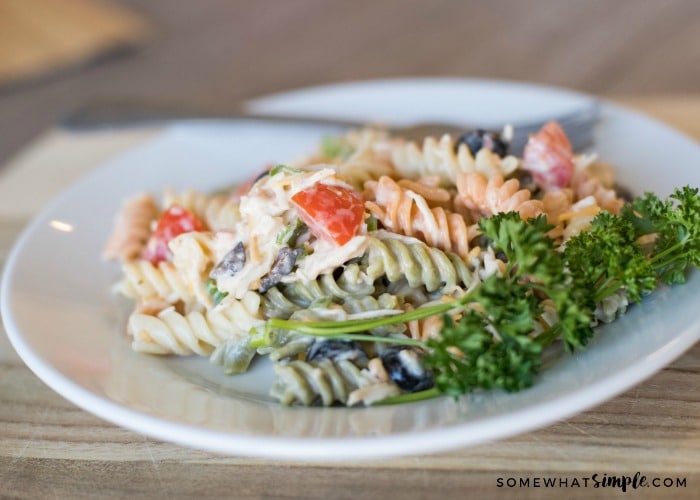 Easy Italian Pasta Salad
This creamy Italian dressing pasta salad has been making its presence known in my house for probably 10 years or so. I make it for every summer BBQ and probably serve it as a side dish for a casual weeknight dinner probably once a month. It is so dang delicious that my kids are constantly asking me to make it!
Just like any pasta salad recipe, this one is easy to prepare and you can throw in whatever ingredients you love or have on hand! What I love most about this recipe is that you are free to customize it any way you want and it will always turn great. My husband loves it when I add extra meat and cheese to mix while I prefer it with more tomatoes, olives and other vegetables.
How To Make Pasta Salad
Prep – Boil the pasta you want to use according to the directions on the box. I generally use the tri-color Rotini pasta noodles because I love their texture and color. If you prefer a different type of pasta noodle, go for it! While your pasta is cooking, you'll want to dice your tomatoes and other ingredients.
Cool – After draining the pasta, I like to run some cold water over the noodles. With the noodles being so hot, I don't want it heating the ingredients I'll be adding and ruining their texture.
Compile – Grab your mixing bowl and throw all of your ingredients into the bowl! This is where you can get creative and really make it your own. The Italian dressing really makes the flavor of whatever you add really sing. Add all of the ingredients, except for the shredded cheese. Give it a good stir until everything is mixed together. I like to add the cheese last so it doesn't soak up too much of the dressing.
Chill – When it's all done, I prefer to let it chill in the fridge for at least 30 minutes so it's nice and cool when I serve it.
Tip – You can adjust the amount of Caesar and Italian dressing you add to fit your preference. Sometimes the brand of dressing I use has a different strength of flavor, so I'll adjust for that. Start with less than you need, stir it and check the taste. You can always add more dressing!
More Easy Pasta Salad Recipes
If you loved this easy recipe, here are a few other easy salad recipes to try.
What To Serve With Pasta Salad
This Italian dressing pasta salad recipe is a perfect for your next BBQ. If you need a little inspiration, here are a few of our favorite BBQ recipes your guests will be sure to enjoy with their salad!
I have also included a quick video showing just how simple and easy it is to make this recipe. Leave us a comment below and let us know what you thought and what other mix-ins you added to your salad.
Creamy Pasta Salad Recipe
This creamy pasta salad recipe has quickly become a family favorite! It is one of the easiest pasta salad recipes to make and the flavor is amazing! Simply cook the pasta and toss in a few basic ingredients and you're ready to go.
Ingredients
16

oz

Rotini pasta

,

but you can use whatever you'd like!

8

oz

Zesty Italian Dressing

8

oz

Creamy Caesar Dressing

2

oz

sliced olives

1

cup

tomatoes

,

diced

1/4

cup

Cheddar cheese

,

shredded

1/4

cup

Parmesan cheese

,

shredded
Instructions
Cook pasta according to package directions and let it cool completely! (I usually rinse it under cold water.)

Add the cooled pasta to a big salad bowl, then mix in equal parts of the Italian and Caesar dressings. Add as much or as little as you'd like! Mix well.

Add your desired meats and veggies then mix well. Taste your pasta and add more dressing if you need to.

Lastly, add your shredded cheese.

Serve immediately or refrigerate until you're ready!
Notes
You'll notice I'm not adding any measurements to this ingredient list, and that's simply because you should adapt this to your liking! Do you like your pasta salad full of veggies? Add a ton! Do you want your noodles extra wet? Add more dressing! This pasta salad aims to please!
Nutrition
Serving:
1
serving
·
Calories:
378
kcal
·
Carbohydrates:
38
g
·
Protein:
8
g
·
Fat:
21
g
·
Saturated Fat:
4
g
·
Cholesterol:
14
mg
·
Sodium:
649
mg
·
Potassium:
162
mg
·
Fiber:
2
g
·
Sugar:
5
g
·
Vitamin A:
210
IU
·
Vitamin C:
2
mg
·
Calcium:
78
mg
·
Iron:
1
mg
Other Notes
Enjoy!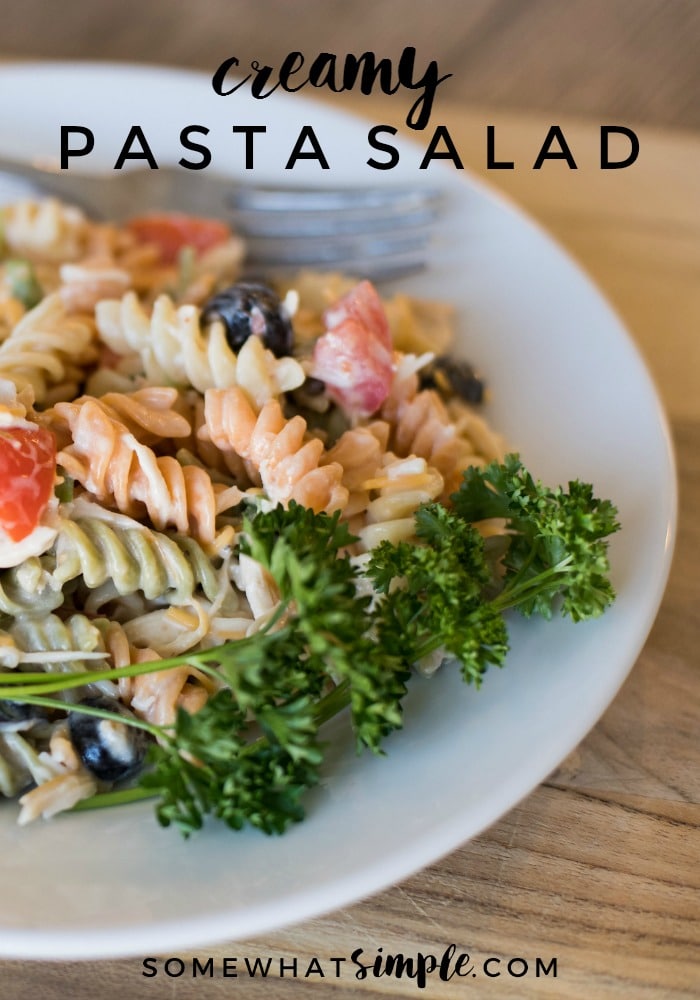 This post originally published on Somewhat Simple in May of 2013.