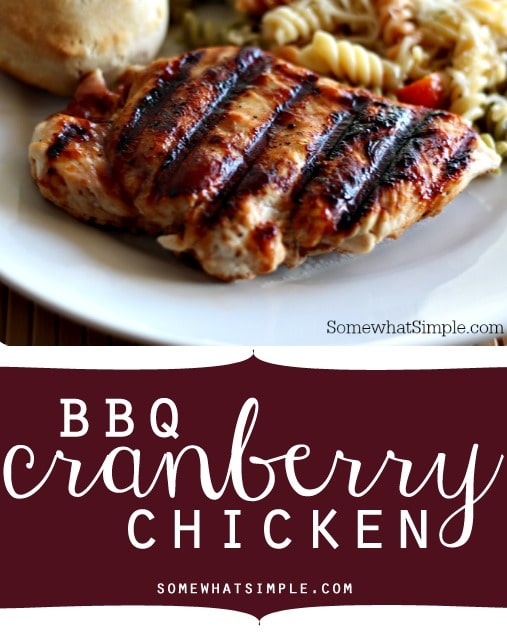 Deliciously sweet and tangy, this BBQ Cranberry Chicken is made with 3 just ingredients and could not be easier to make!
Serve this Cranberry Chicken with some creamy pasta salad, watermelon on a stick, and some sangria punch and you're next BBQ is good to go!
Every winter, Costco sells a seasonal raspberry chipotle sauce that is AMAZING!! You can use it in so many ways – brush it on grilled chicken, pour it over a brick of cream cheese and serve it with crackers, use it as a salad dressing mixed with a little vinegar and oil… it is so versatile and so delicious! But because it is a seasonal item, you can only buy it at Costco during the winter. And Amazon has it, but it's not cheap.
In an effort to recreate this sauce so I can use it year round, I did a little experimenting. First, I tried mixing some raspberry jam with some BBQ sauce and it was pretty good, but not tangy enough. Next, I tried a recipe I found online and there were a TON of ingredients. It tasted close, but the time and money it took to make wasn't worth it. The last thing I tried was swapping out the raspberry jelly for a can of cranberry sauce and mixing that with some BBQ sauce.
…and it was a match made in heaven!!!
This BBQ Cranberry Chicken recipe is as easy as they come! It literally uses two ingredients that you can keep in your pantry and pull out at a moment's notice. It's full of flavor, both sweet and tangy, and will totally knock the socks off your family and friends. Want to give it a try?! Here is how to make it –
BBQ Cranberry Chicken
Let us know if you make this chicken by leaving us a comment below or by tagging us on social media!
BBQ Cranberry Chicken
Treat the taste buds of everyone at your next summer BBQ with this tasty Cranberry Chicken! Deliciously sweet and tangy, this chicken is made with 3 just ingredients and could not be easier to make!
Ingredients
Boneless

,

skinless chicken breasts

Cranberry sauce

Salt & pepper,

to taste
Instructions
Preheat your grill for about 5 minutes. (I used my indoor kitchen grill. If you don't have one, ask your husband to get you one for your birthday or Christmas!)

Pound your chicken to be about 1/4" thick. Sprinkle both sides with salt & pepper. Place on grill and cook for about 3-5 minutes on each side.

Meanwhile, mix equal parts of cranberry sauce and bbq sauce in a small mixing bowl.

Brush chicken with bbq mixture and cook until no longer pink, approximately 5 more minutes.

Serve fresh from the grill and you're good to go!
Nutrition
Other Notes