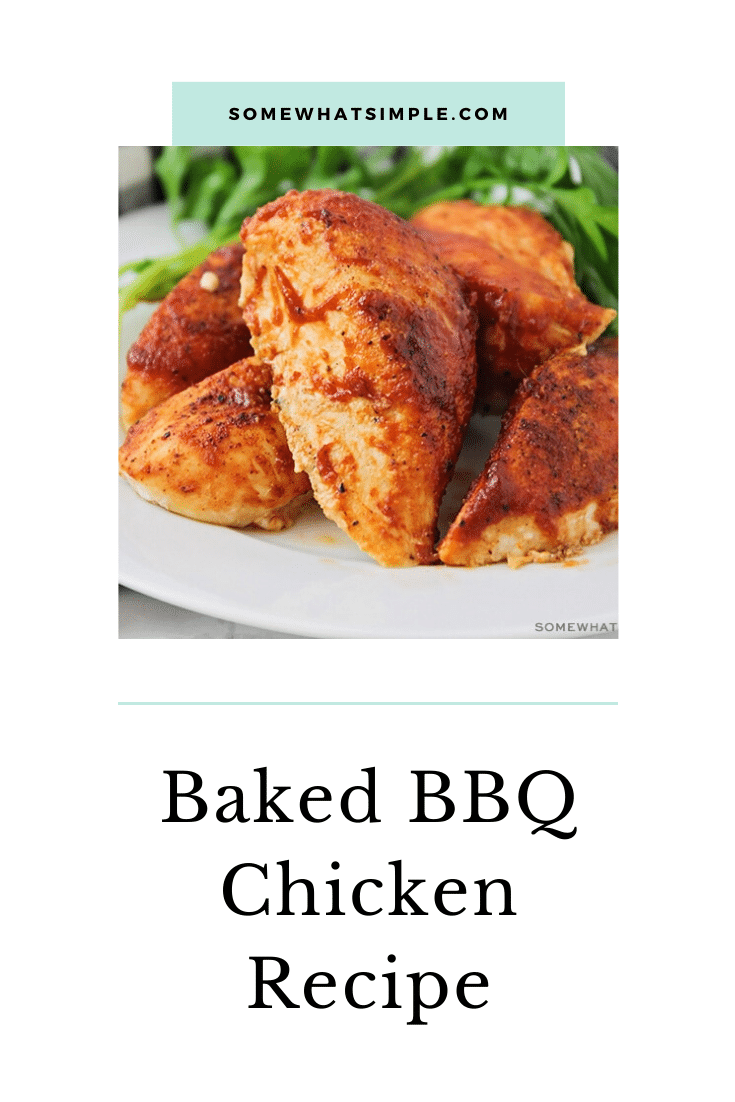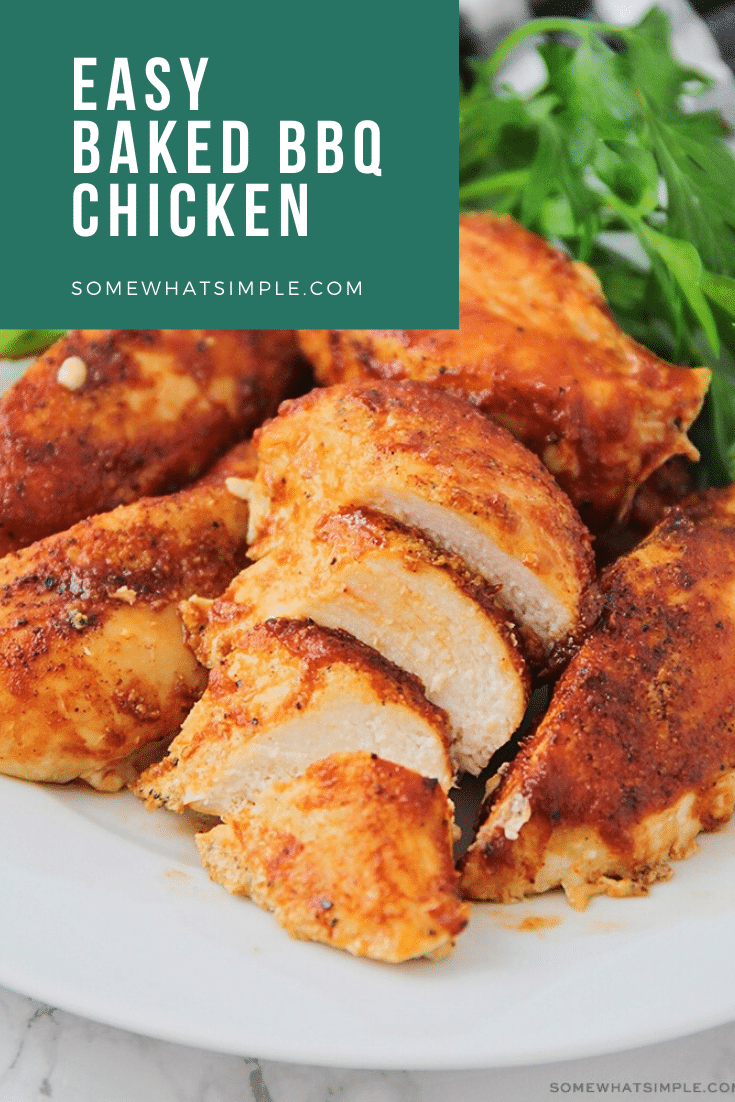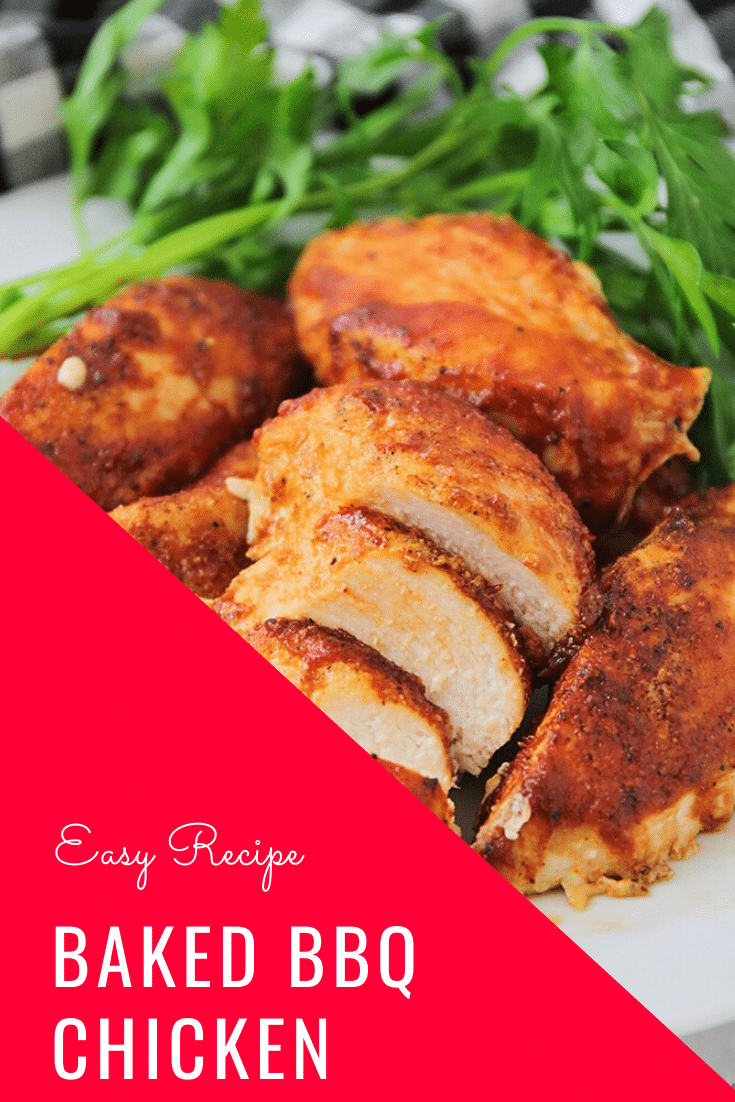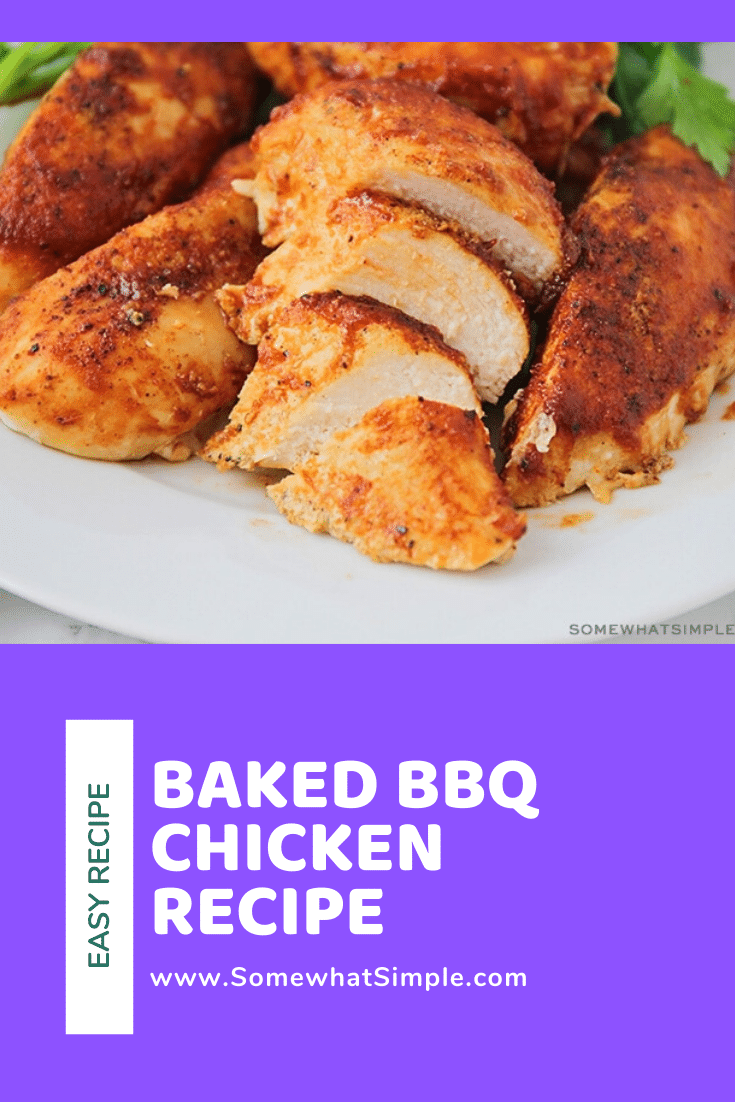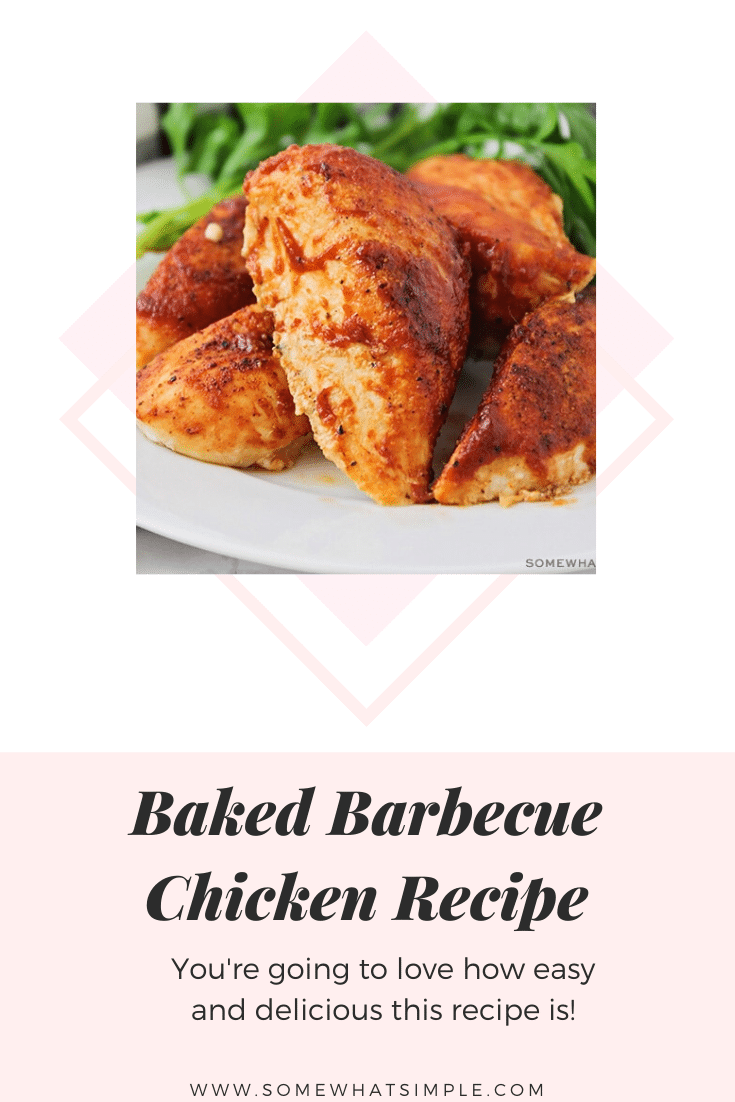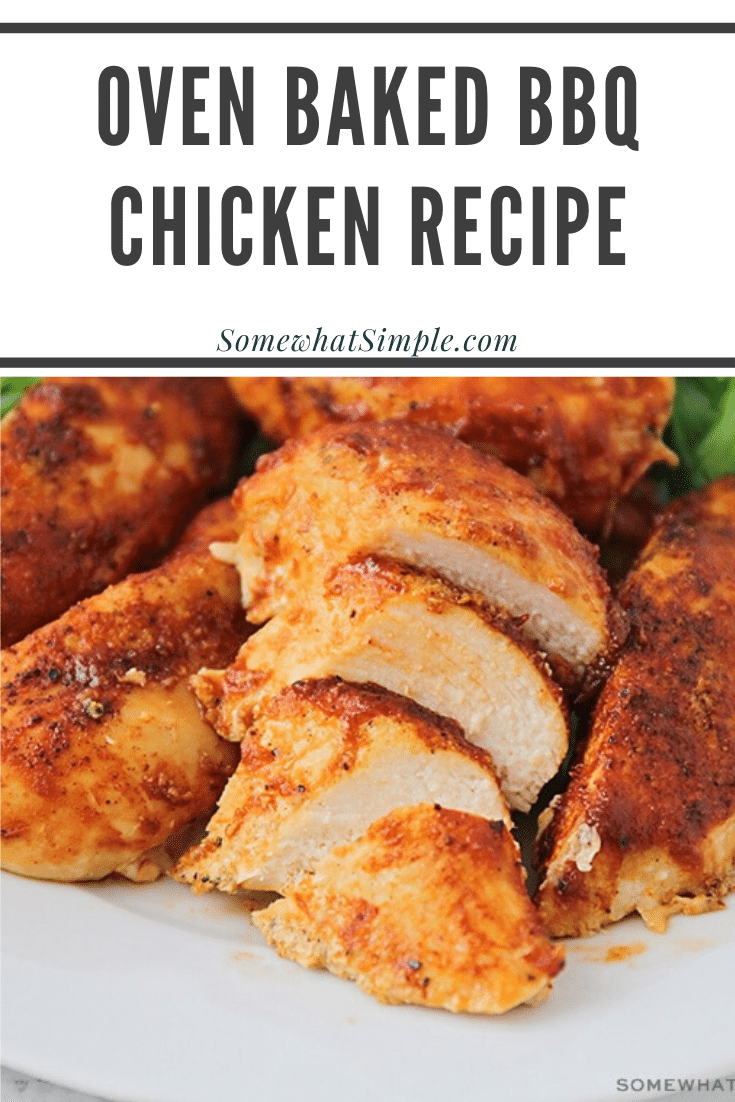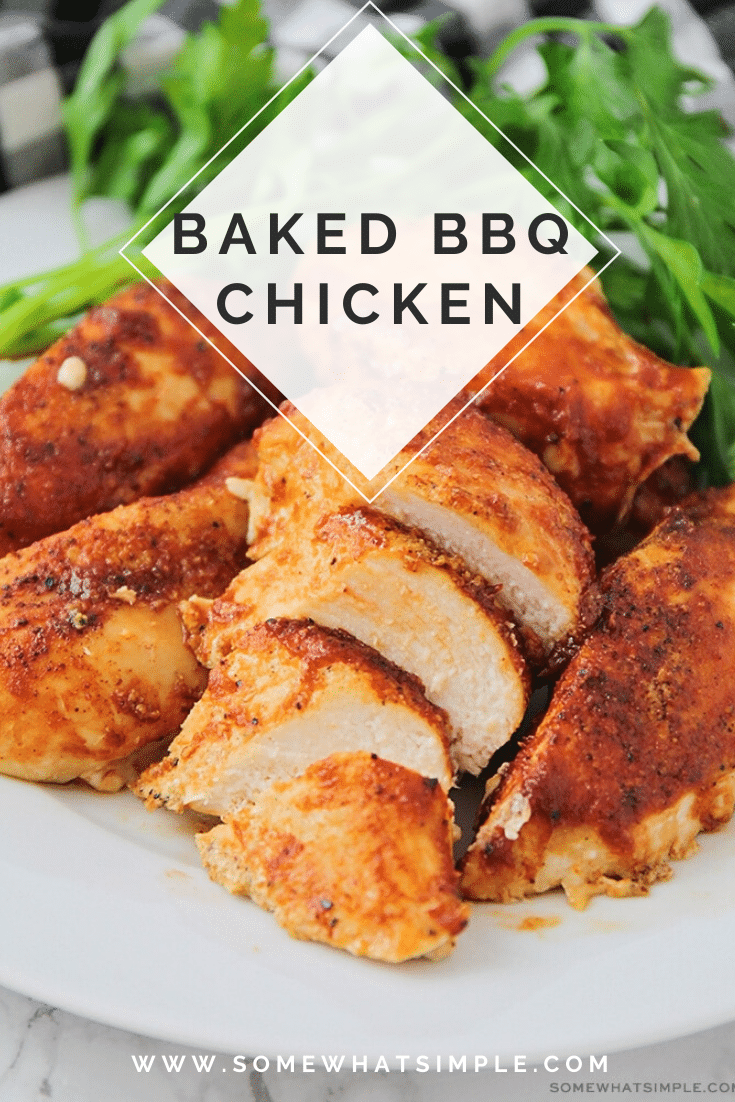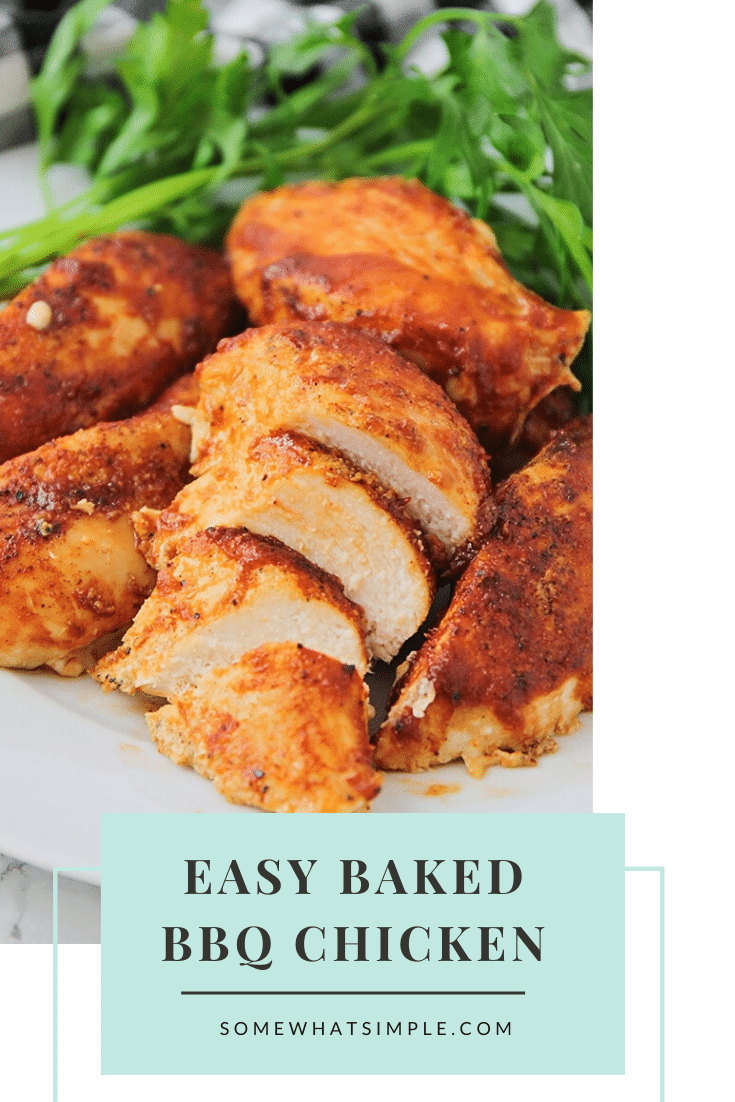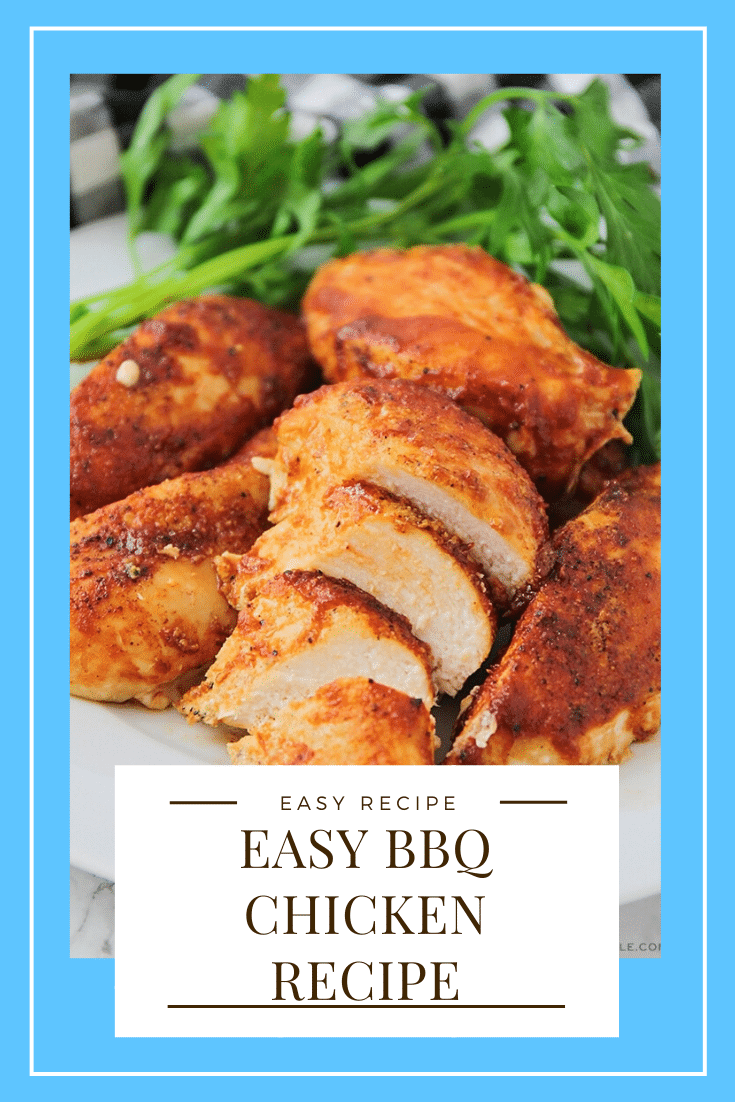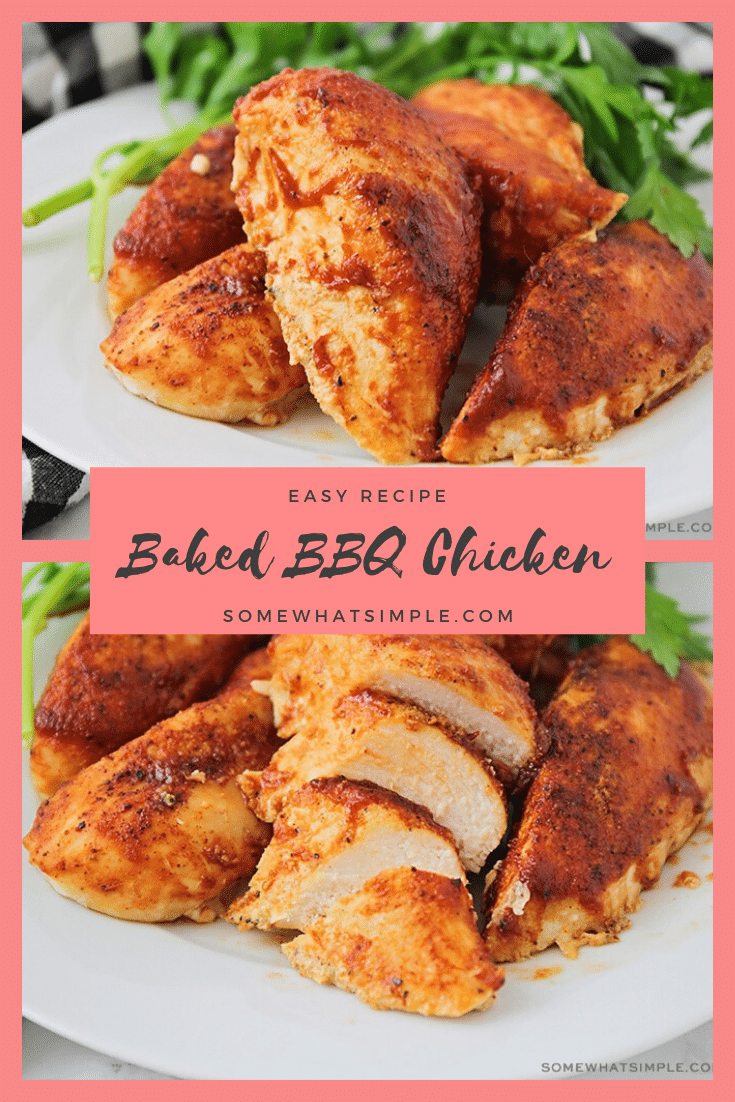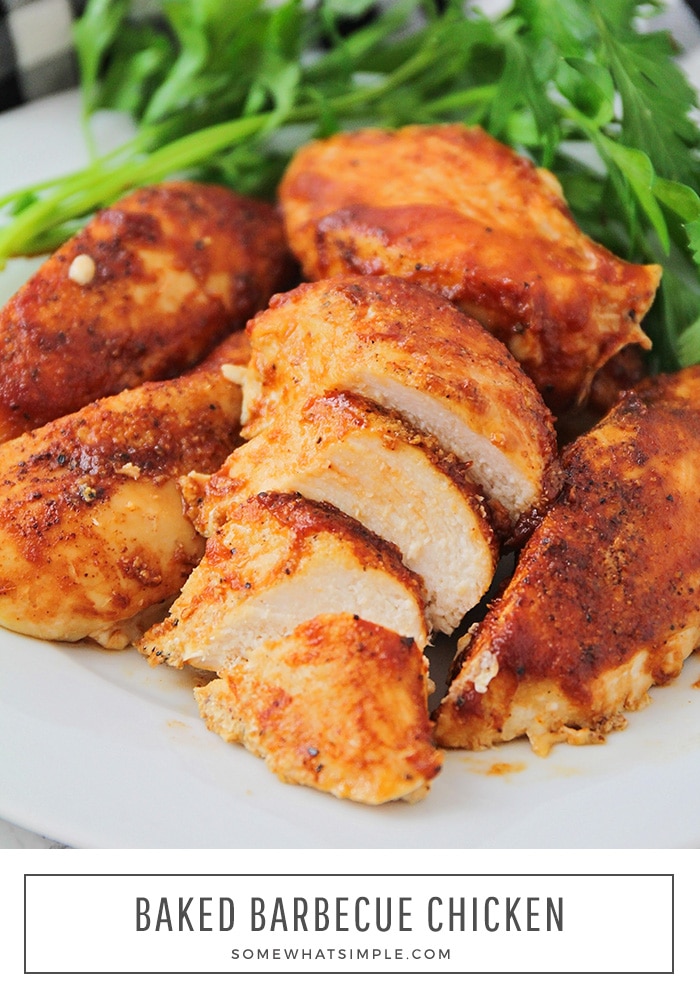 Enjoy the taste of baked BBQ chicken all year long. Using a handful of a few simple ingredients these barbecue chicken breasts are so easy to make and are perfect for a busy weeknight!
I love that I can just pop the chicken in the oven, throw together some Roasted Vegetables, a quick Green Salad or Pasta Salad to go with it, and dinner is ready in about 30 minutes. Easy peasy!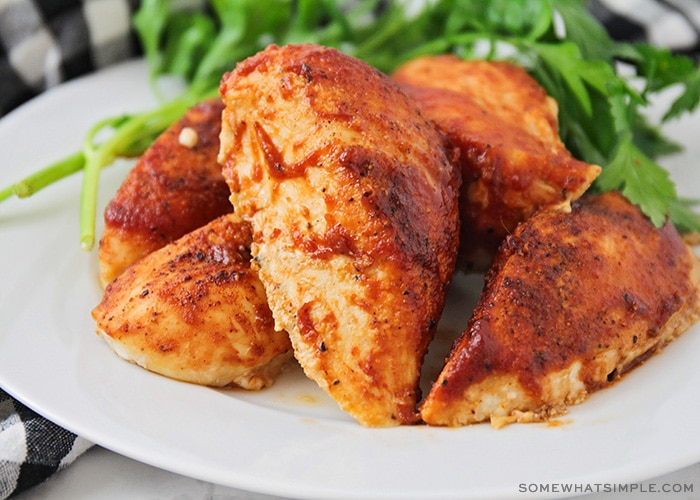 Baked Barbecue Chicken
My family loves chicken for dinner! We eat chicken several nights a week, and it's always a crowd-pleaser. I like to mix things up and try a wide variety of chicken recipes so we don't get too bored with the same recipes over and over.
This baked BBQ chicken recipes is one of our absolute favorite chicken recipes! It's quick and easy to make, with just a handful of ingredients, and it's delicious enough to win over even the pickiest eaters. (Trust me on that one – I've got a few of them living at my house!)
This oven baked BBQ chicken recipe really could not be simpler to make! Just add your chicken breasts to a baking dish, sprinkle them with a few simple seasonings, then bake them until they're cooked through. The chicken comes out of the oven so tender, juicy, and flavorful. I love how much flavor the barbecue sauce adds! It's just as delicious as chicken cooked on the grill, but with minimal effort.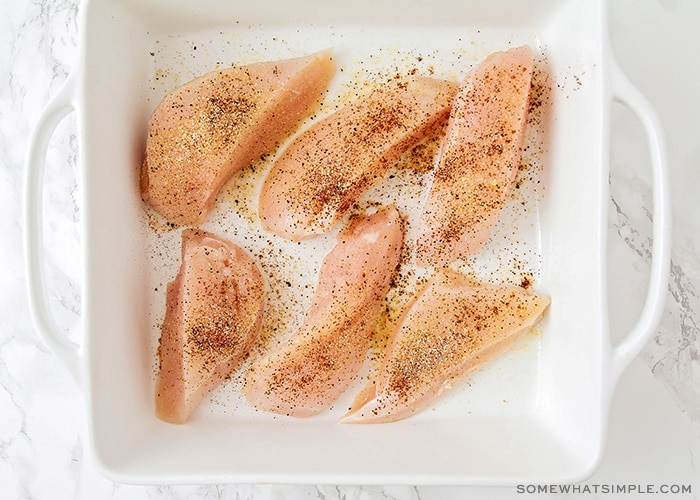 How To Bake BBQ Chicken
Preheat the oven to 400 degrees F
Cut the chicken breasts in half
Sprinkle the garlic powder, chili powder and salt & pepper over the chicken
Baked for 25 minutes or until the internal temperature of the chicken reaches 165 degrees F
Brush the barbecue sauce over the chicken and then bake for an additional 10 minutes
How To Grill BBQ Chicken
If you prefer to use your outdoor grill to cook this chicken, you can do that as well with this easy steps.
Preheat your grill to medium heat
Sprinkle the chicken breasts with the seasoning mentioned above
Bake for about 20 minutes (or once it reaches 165 degrees F) flipping the chicken once about halfway through
Baste with BBQ sauce about 5 minutes before you removed the chicken from the grill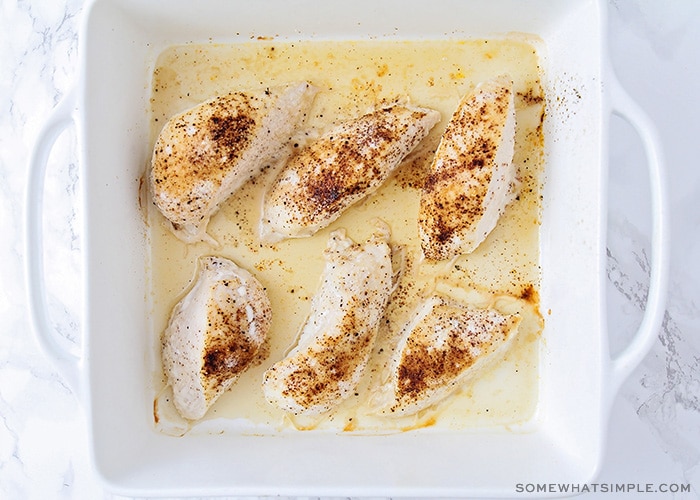 Tips & FAQs
What's The Best BBQ Sauce To Use – I used my favorite barbecue sauce from a local restaurant, but my family also loves Sweet Baby Ray's sauce.
How Do I Know My Chicken Is Fully Cooked – The best way to check and see if your baked BBQ chicken is fully cooked is to use a meat thermometer to make sure the internal temperature of the chicken has reached 165 degrees F. Once it's that hot, it's safe to eat.
Can I Use Chicken Legs Or Thighs – You definitely can! You will just need to reduce the amount of time you cook them because these cuts are smaller and will cook faster.
Why Did The BBQ Sauce Come Out Burnt – You simply cooked the chicken with the barbecue sauce on it too long. You just want to make the chicken with BBQ sauce long enough to warm it up on the chicken. If you leave it on too long it will burn and taste like charcoal and nobody wants that.
Basting Tip – I only use silicone basting brush when I'm making barbecue chicken because I've had the bristles of the traditional brushes come off one too many times while I'm basting chicken and have to pick each one out of the sauce.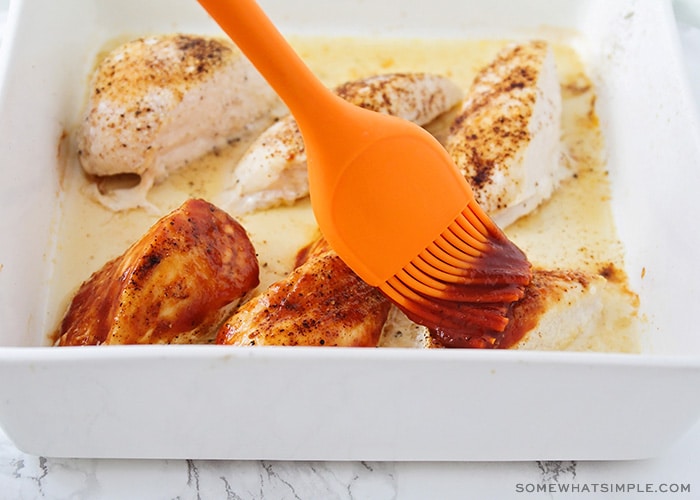 Proper Storage
How Long Will Baked BBQ Chicken Last In The Fridge – If you have any leftover chicken, simply put them in an airtight container and then put them in the fridge. They'll stay fresh for about 5 days before you'll need to throw them out. If you don't plan to eat them in the time period, consider freezing them.
Can I Freeze Chicken After It's Been Cooked – Yes, you can freeze any leftovers from this barbecue chicken recipe. I put mine into Ziploc freezer bags and just toss them in the freezer where they can be kept for about 2 months. Thaw them in the fridge the night before you want to use them and then warm them to your desired temperature.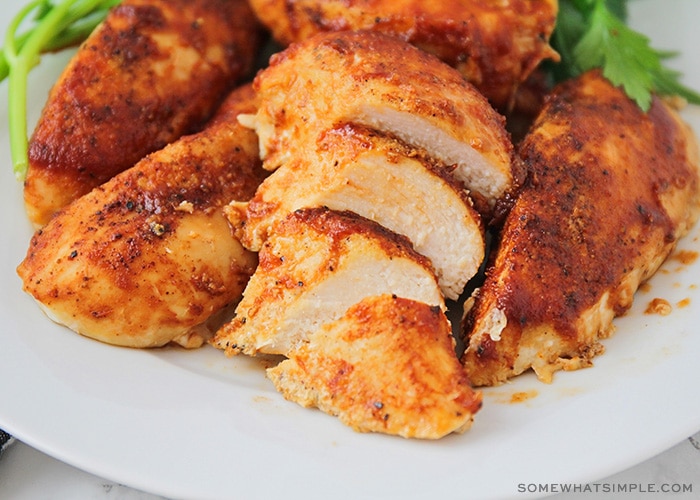 More Easy Chicken Recipe
Baked BBQ Chicken Recipe
This baked BBQ chicken is one of my favorite meals for a night when I just don't have the energy to cook, but still want something totally delicious for dinner. You've got to give it a try! Leave us a comment below and let us know how it turned out.
Baked BBQ Chicken
Using a handful of a few simple ingredients these baked barbecue chicken breasts are an easy and healthy dinner option.
Ingredients
1 1/2

pounds

boneless skinless chicken breasts

1/2

teaspoon

chili powder

1

teaspoon

garlic powder

1

teaspoon

salt

1/4

teaspoon

pepper

1/2

cup

barbecue sauce
Instructions
Cut the chicken breasts in half and arrange them in a baking dish. Sprinkle the chicken with the chili powder, garlic powder, salt, and pepper.

Bake 25 minutes, or until cooked through. Brush the barbecue sauce over the chicken pieces and bake for another 10 minutes. Serve hot.
Nutrition
Other Notes