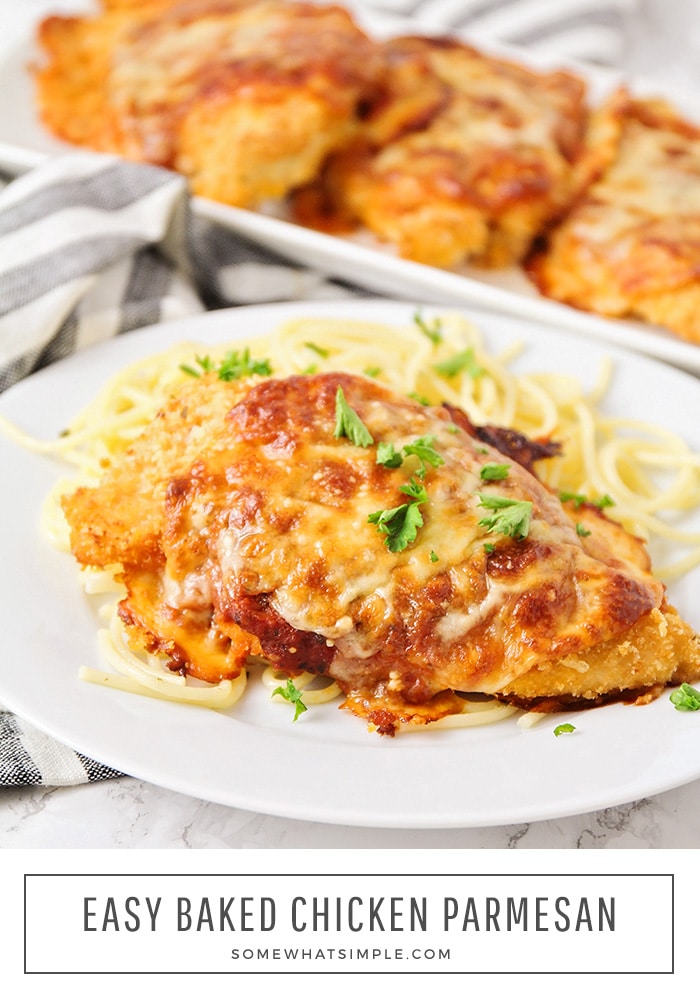 This easy baked chicken parmesan recipe is so simple it's ready to eat in about 30 minutes. Made with tender chicken breasts and topped with melted cheese and a warm marinara sauce, this recipe is loaded with flavor and will quickly become one of your favorites!
Who else loves a delicious chicken dinner? My family eats chicken for dinner at least 3-4 days per week, and it's always a favorite. Since we eat chicken so often around here, I've developed a wide variety of main dish chicken recipes – Chicken and Mashed Potato Bowls, Chicken Enchiladas, Easy Chicken Tettrazzini, and this easy chicken parmesan recipe are a few of our favorites!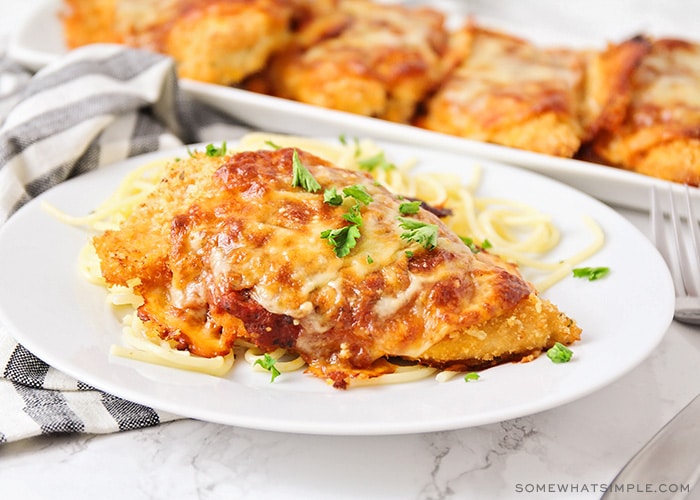 Easy Chicken Parmesan
I've always loved ordering chicken parmesan at restaurants, but I was really surprised at how easy it is to make at home! It's so cheesy and flavorful, and has a classic combination of flavors that never disappoints. It's perfect for a simple and tasty weeknight dinner! I made my homemade version as easy as possible to make, with store-bought marinara sauce and sliced provolone. It still tastes like it took all day to make, even if it only has a few minutes of hands-on time!
How to Make Chicken Parmesan
Making this baked chicken parmesan is way easier than you might think! I'm sure there are a wide variety of chicken parmesan recipes, but I love making it my way because it's simple, easy, quick, and delicious. Those are all the things I'm looking for in a weeknight dinner! You'll start by cutting your chicken into six thinner fillets, then dredging them in a mixture of flavored panko and regular bread crumbs.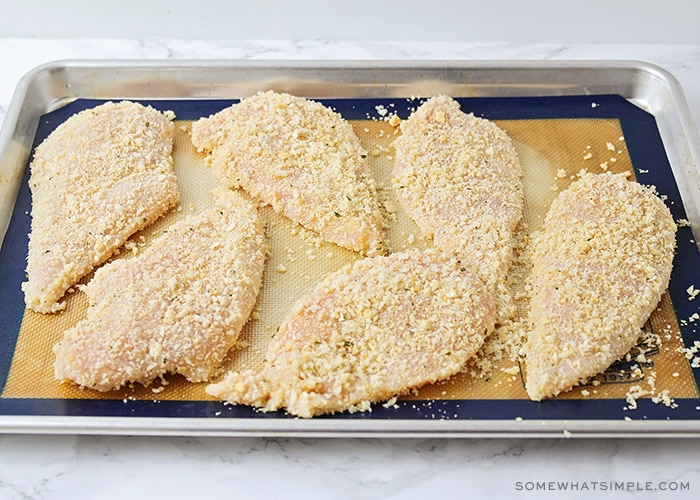 Bake the chicken in the oven until it's golden brown and crispy, then add some marinara sauce to the top. I like to leave the ends of the chicken uncovered, so I can still enjoy a bit of the crispy coating.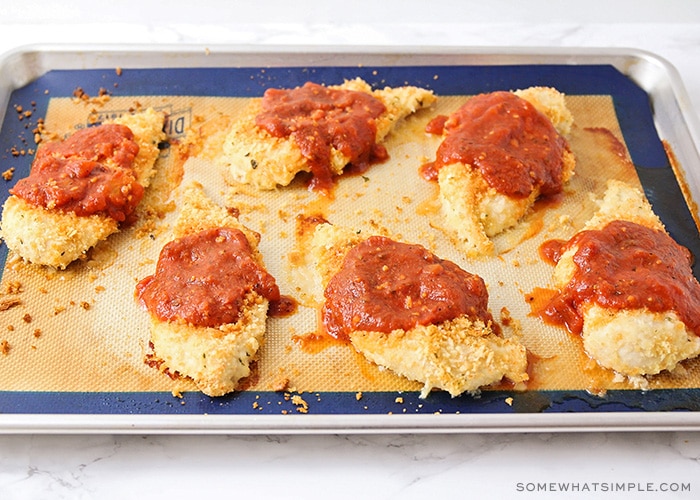 Next, layer a slice of provolone on each piece of chicken, then sprinkle parmesan cheese over the top.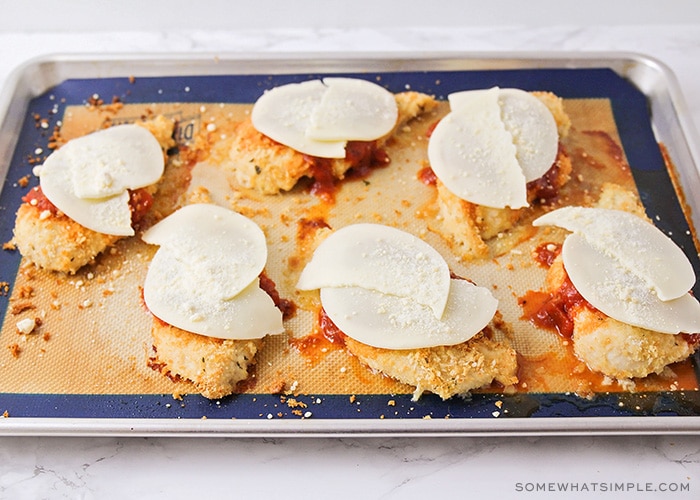 Return the chicken to the oven, and bake it until the cheese is melted and bubbling. So yummy!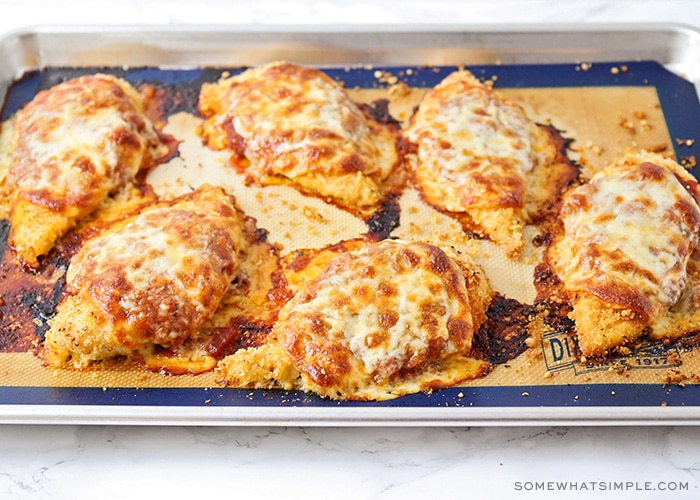 I like to serve this baked chicken parmesan with spaghetti noodles, and a green salad on the side. It's a delicious and flavorful weeknight dinner that's easy to make!
Baked Chicken Parmesan Ingredients
Chicken breasts
Olive oil
Bread and Panko bread crumbs
Salt
Dried parsley
Dried basil
Garlic powder
Cooking spray
Marinara sauce
Provolone cheese
Grated parmesan cheese
How Long Do You Bake Chicken Parmesan
You'll want to preheat your oven to 400 degree F and bake for 20-25 minutes. When the chicken has turned a golden brown color and has a crispy texture, that's a good sign that it's done. You can cut a small slice in the chicken and if the juices are a clear white color than it's been fully cooked. If you want to be extra sure, you can use a kitchen thermometer to see if the internal temperature has reached 165 degrees F.
Can You Freeze Chicken Parmesan
Yes, you can definitely freeze this recipe and save it for later. Once the chicken has been fully cooked, let the tray completely cool before tightly wrapping the baking dish in plastic wrap and foil or placing them in freezer bags. While the chicken is still delicious after it has been reheated, you do lose some of the crispness after it has been frozen.
More Easy Chicken Recipes
Best Chicken Parmesan Recipe
Now that you know how to make this simple recipe, it's time to give it a try! Leave us a comment below and let us know what delicious fruits you used or tag us on social media because we love to see what you've been up to in the kitchen!
Baked Chicken Parmesan
This easy baked chicken parmesan is so easy to make, and totally delicious! It's ready in about 30 minutes, and incredibly flavorful!
Ingredients
3

large chicken breasts

2

teaspoons

olive oil

3/4

cup

bread crumbs

1/4

cup

panko bread crumbs

1

teaspoon

salt

1/2

teaspoon

dried parsley

1/2

teaspoon

dried basil

1/2

teaspoon

garlic powder

cooking spray

1/2

cup

marinara sauce

6

slices

provolone cheese

2

tablespoons

grated parmesan cheese
Instructions
Preheat the oven to 400. Line a baking sheet with parchment or a silicone liner, then spray with cooking spray.

Cut each of the chicken breasts in half horizontally to form two thinner fillets from each breast. Drizzle the fillets with the olive oil and toss to coat. In a shallow dish or large plate, whisk together the bread crumbs, panko, salt, parsley, basil, and garlic powder.

Dip the chicken fillets in the bread crumb mixture, pressing gently to coat. Place on the prepared baking sheet, and spray the tops with cooking spray.

Bake 20-25 minutes, or until golden brown and crispy, and cooked through.

Spread a few tablespoons of marinara sauce over each chicken breast, and top with a slice of provolone cheese. Sprinkle with the grated parmesan cheese. Return to the oven for 10 minutes, or until the cheese is melted and bubbly. Serve hot.
Nutrition
Other Notes