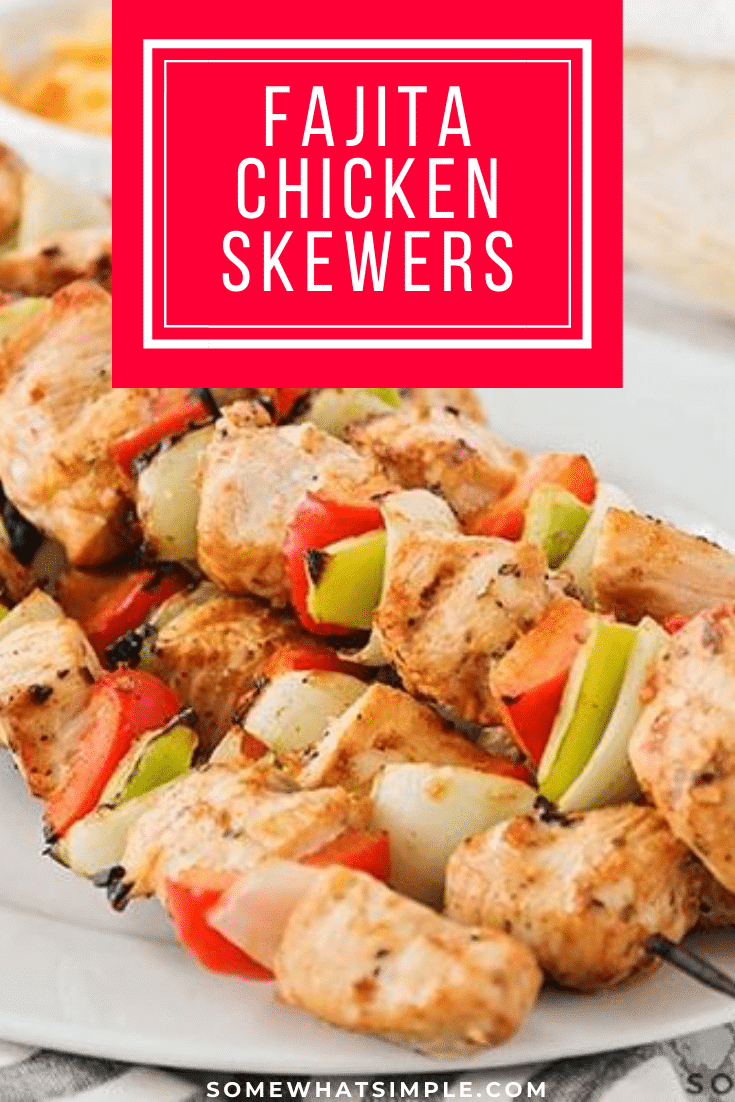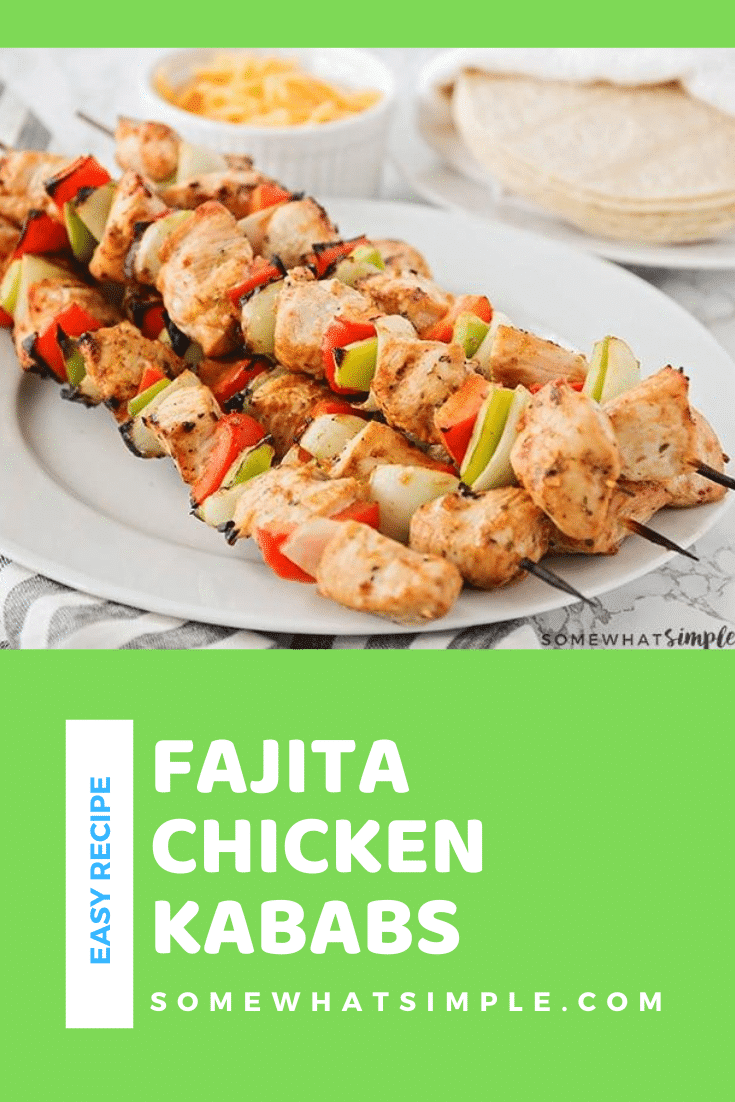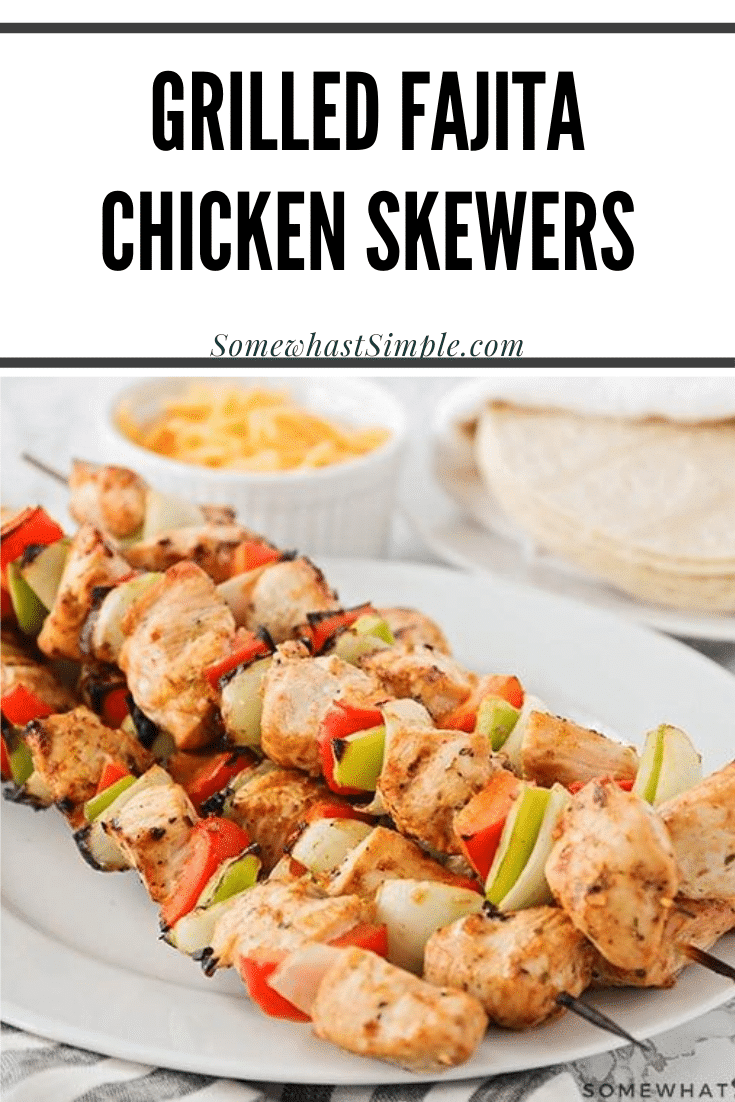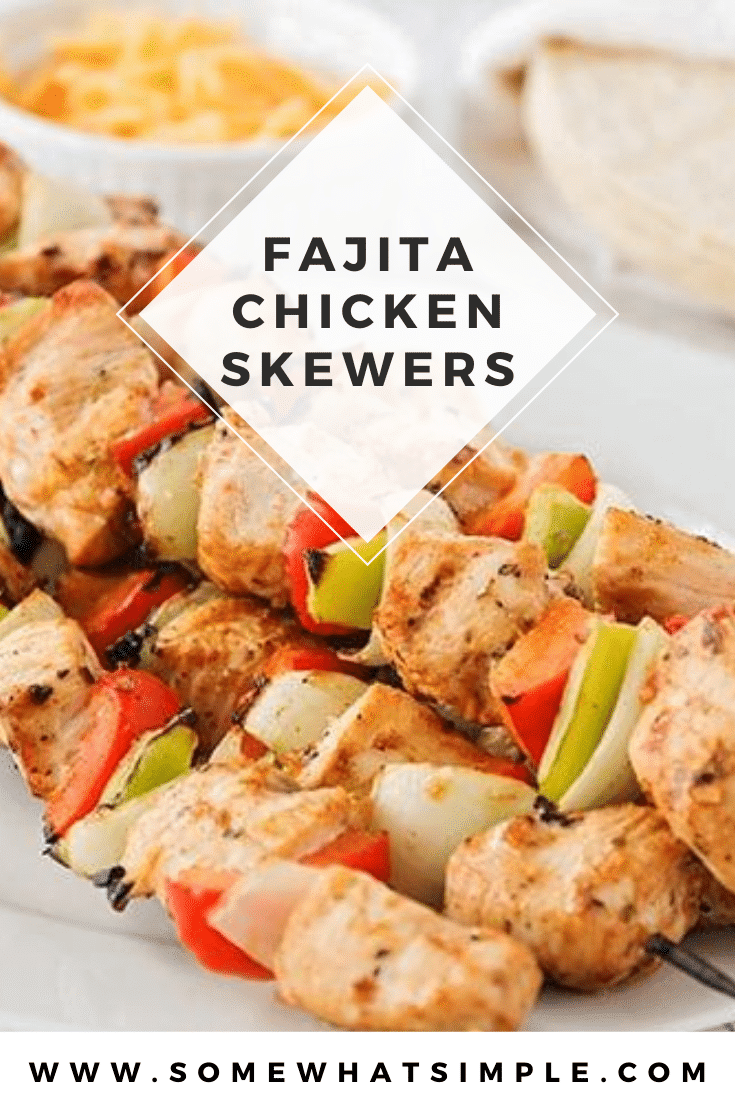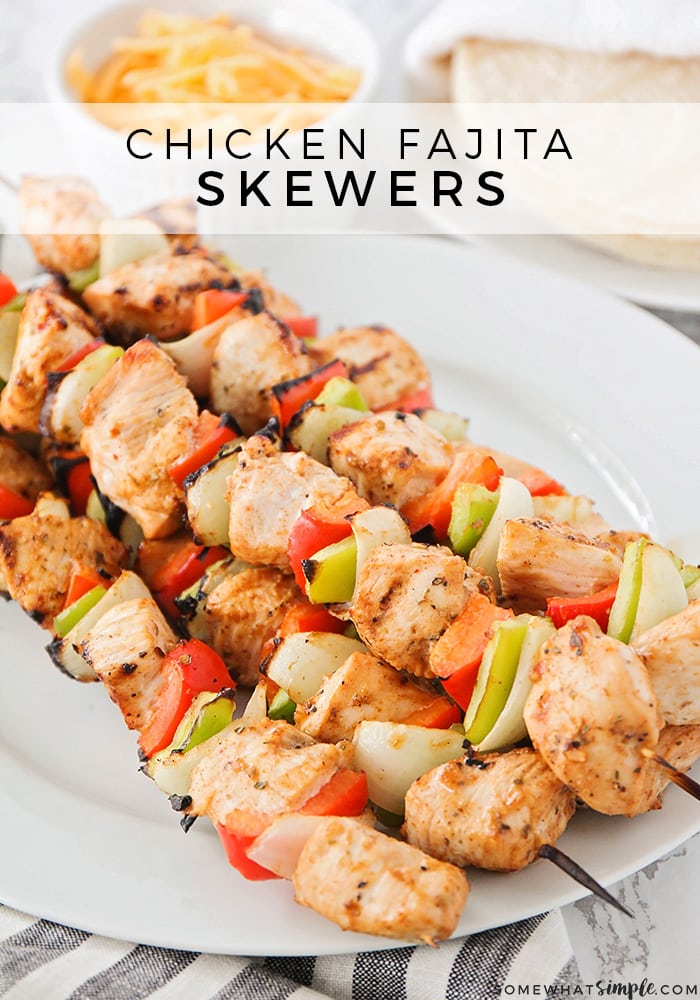 These flavorful grilled chicken fajita skewers are the perfect summer meal! Get all of the flavor of chicken fajitas without heating up the house!
Chicken kebabs are perfect to serve at a Summer BBQ. I love to serve this with a side of Homemade Coleslaw, Pasta Salad or Potato Salad.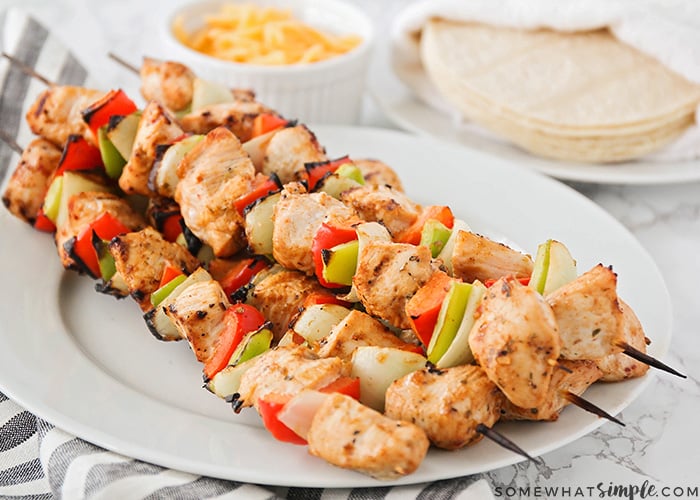 Best Chicken Skewers
Is there anyone who doesn't love a chicken skewer fresh off the grill? They are one of my favorite easy meals! I love the combination of tender chicken, crisp peppers and onions. They're fancy enough for a date night in, but easy enough for a busy weeknight.
Since it has been pretty hot in my neck of the woods lately, we've been doing a lot of grilling outside, and it finally occurred to me that I could make my beloved chicken skewers on the grill! I marinated the chicken in my favorite marinade (see below for the recipe!), threaded it onto skewers with some fresh vegetables, and grilled them to perfection. They turned out totally amazing, and were even easier than making them on the stove!
Grilling chicken on the barbecue is so easy! These chicken skewers are so simple to make for a crowd. Just give everyone their own skewer, or add a stack of warm tortillas and set out your fajita toppings, and you are all set! You can easily scale the recipe up or down, depending on how many people you are cooking for.
Grilled Chicken Marinade
I've tried a lot of chicken fajita marinades, but the one I used with these skewers is my very favorite! It's super simple to make, and adds a ton of flavor. Here's how to make the marinade for the chicken.
Simply mix a packet of fajita seasoning with 1/2 cup of zesty Italian dressing. That's it! It's super easy and is so delicious. I've found the fajita seasoning packets in the grocery store with the dry sauce mixes, or next to the taco seasoning.
How To Make Grilled Chicken Skewers
Chicken Prep – Cut the chicken breasts into smaller bite-sized pieces and then place them all into a large Zip-loc bag.
Marinade – Make the marinade using the instructions above and then pour it into the bag with the chicken. Let the chicken marinate for at least 30 minutes (the longer you let the chicken marinade, the more flavorful it will be).
Vegetable Prep – Cut the bell peppers, onions and any other vegetables you want to use into small bite-sized pieces
Assemble – Thread the chicken onto metal skewers and alternate with the bell peppers and onions.
Cook – Grill the chicken skewers on the barbecue until the internal temperature has reaches 165 degrees F
Finishing Touches – Serve the chicken skewers as is or with a warm batch of homemade flour tortillas. You can top your fajitas with Salsa, Guacamole, sour cream, cheese and all of your other favorite toppings.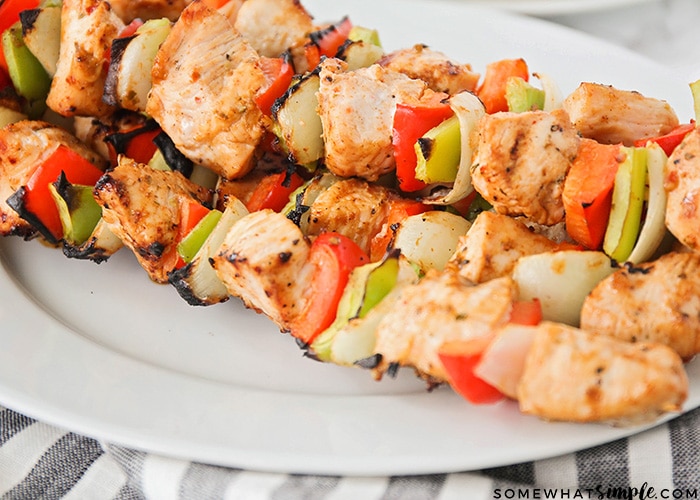 Recipe Tip
How Long Do You Grill Them – I will typically grill these chicken skewers for about 10 minutes on the barbecue. You'll want to flip them once about halfway through. Keep in mind that the necessary cooking time will vary depending on the type of grill you're using.
Just keep an eye on them because they'll cook pretty quick but you don't want to burn the vegetables either or over cook the chicken and have it dry out. To be sure it's fully cooked, you can open a couple of pieces to make sure there's no pink on the inside. You can also use a meat thermometer to make sure the chicken has reached 165 degrees F.
More Easy Grilled Chicken Recipes
These chicken fajita skewers are a new favorite at our house, and I'm sure we'll make them on repeat all summer long! Leave us a comment below and let us know if you made these delicious chicken kabobs or tag us on social media so we can see all of the fun you're having while grilling these at your next barbecue.
Grilled Chicken Fajita Skewers Recipe
These flavorful grilled chicken fajita skewers are the perfect summer meal! Get all of the flavor of chicken fajitas without heating up the house!

Ingredients
2

pounds

boneless skinless chicken breast

1

packet

fajita seasoning mix

1/2

cup

zesty Italian dressing

1

red pepper

,

cut into chunks

1

green pepper ,

cut into chunks

1

medium onion

,

cut into chunks

for serving: tortillas, sour cream, cheese, salsa, etc.
Instructions
Cut the chicken breast into bite sized pieces and place in a plastic bag. In a small bowl, whisk together the fajita seasoning mix and the Italian dressing. Pour the marinade over the chicken, and marinate for at least 30 minutes.

When you are ready to cook the chicken, preheat the grill. Thread the chicken onto wooden skewers, alternating with pieces of pepper and onion. Grill until the internal temperature reaches 165.

Serve in warmed tortillas, with the toppings of your choice.
Nutrition
Serving:
1
serving
·
Calories:
186
kcal
·
Carbohydrates:
7
g
·
Protein:
25
g
·
Fat:
6
g
·
Saturated Fat:
1
g
·
Cholesterol:
73
mg
·
Sodium:
632
mg
·
Potassium:
509
mg
·
Fiber:
2
g
·
Sugar:
4
g
·
Vitamin A:
965
IU
·
Vitamin C:
35
mg
·
Calcium:
12
mg
·
Iron:
1
mg
Other Notes